Massage insurance is a group of policies, each designed to cover the risks massage therapists face. The most common policies for massage therapists are general liability and professional liability insurance. These policies cover your legal costs when clients sue over injuries, property damage, or negligence. Together, massage liability insurance policies cost around $400 to $1,500 annually.
Finding the right massage liability insurance can be time-consuming. Insurance321 will cut down the time it takes to get covered by helping you sort through all the agents, brokers, and carriers to find complete insurance for your practice quickly. Get a free, no-obligation quote in as little as four minutes.
How Massage Insurance Works
Massage insurance is made up of many policies. Some massage therapists might only need massage liability insurance, especially if they are independent contractors working in someone else's salon. However, therapists who are also spa owners may also need a business owners' policy (BOP). BOPs combine general liability, which covers third-party lawsuits, with commercial property insurance.
Massage Therapy Insurance for Independent Contractors
According to data from the American Massage Therapy Association (AMTA), nearly 72 percent of massage therapist are sole practitioners, many of whom offer services in their clients' homes or rent space in a spa. Working this way exposes them to risks that require insurance. Plus, most owners require therapists to carry liability insurance before they'll rent them space in their spa.
Most individual practitioners can protect their business with the following policies:
General liability insurance: Covers third-party claims of property damage and physical injury
Professional liability insurance: Covers your legal fees when clients sue for negligence
Commercial auto insurance: Covers the costs of an accident when you're driving to a client's office or home
Inland marine insurance: Covers their business property when it is in transit.
Sole practitioners who regularly rent space in someone's spa will most likely need a certificate of insurance too. This is a one-page document that acts as proof of insurance and lists your policies, coverage limits, and more. Massage therapist insurance companies and business insurance brokers can usually provide certificates upon request.
Massage Therapy Insurance for Property Owners
Data from the AMTA also suggests that more than 70% of massage therapist offer services from their office or home. Those that own the location where they set up shop face additional exposures, namely the chance of damage by fire, theft, vandalism, or windstorm. The added risk means they should get a BOP, which cost $400 to $700 per year.
BOPs combine general liability and commercial property insurance for small business owners, giving them two fundamental policies at a reduced rate. However, insurers often add other industry-specific policies to BOPs. For massage therapists, that usually means adding professional liability insurance.
Top Massage Therapist Insurance Providers
| Provider | Best For |
| --- | --- |
| Insurance321 | Massage therapists or masseuses wanting a broker to shop and compare coverage |
| Hiscox | Massage studio owners who need liability and property insurance |
| AP Intego | Massage therapists who need quick, affordable coverage |
| Beauty & Bodywork Insurance | Massage therapists who want affordable coverage for damages to rented property |
| InsuranceLMT | Massage therapists who want additional benefits, like free continuing education hours |
Insurance321 is an online insurance marketplace that can help solopreneurs or small business owners find affordable coverage. Insurance321 is a good match whether you work at one or multiple offices or from clients' homes. If you're a self-employed massage therapist who wants simple, yet comprehensive coverage, fill out a short online form with Insurance321 and receive multiple quotes in as little as four minutes.
Hiscox is a leading small business insurance specialist. Personal care is one of its top industries, so it understands the ins and outs of your business. It offers tailored coverage and monthly payments options for no additional fees.
Massage therapists who've opened their own studio can turn to Hiscox for an affordable BOP to cover their property and general liability risks. BOPs start at $500 a year. Plus, the company offers professional liability that includes abuse and molestation coverage automatically.
AP Intego is a reputable insurance broker with nationally licensed agents that shop and compare your exact coverage needs to get you covered at an affordable price. The experts at AP Intego will work with their market of over 10 top-rated carriers to make sure you find the right coverage for your massage practice.
The benefit of working with a reliable broker that does the legwork for you is that you can relax knowing you'll have proper coverage to protect your business. This allows you to spend more time and energy on your actual work and keeping your practice running.
Beauty & Bodywork Insurance is the personal care industry provider for Veracity Insurance Solutions, LLC, a specialty insurer focused on niche markets. The organization offers massage liability insurance to both professionals and students at low rates.
One highlight of their coverage is the limits for damages to rented premises. Many insurers set this at $100,000 to $250,000. Beauty & Bodywork Insurance can offer coverage limits for rented premises at $300,000 for premiums starting at $96, making it an affordable option for independent contractors.
InsuranceLMT is a professional organization that also offers affordable massage liability insurance. Unlike other organizations, InsuranceLMT does not require membership to access its products.
This means any massage therapist can get professional and general liability coverage through InsuranceLMT for just $97. That low rate includes three free hours of continuing education classes, which could be a bonus for a recent grad trying to make ends meet.
Types of Massage Insurance
Before a massage therapist can purchase insurance, they need to look at how they run their business so they can figure out what risks they face. Most need massage therapist liability insurance policies simply because they work with clients. Others might also need property insurance, commercial auto, and inland marine, depending on their situation.
Most Common Types of Massage Insurance
| Type of Insurance | What it Covers |
| --- | --- |
| General Liability Insurance | Third-party claims of bodily injury, property damage, and advertising injury |
| Professional Liability Insurance | Accusations of negligence |
| Abuse & Molestation Insurance | Accusations of sexual misconduct |
| Commercial Auto Insurance | Insured value of business vehicles and the policyholder's liability in accidents |
| Inland Marine Insurance | Insured value of property when in transit |
| Commercial Property Insurance | Insured value of your business personal property and real estate |
Massage Therapist General Liability Insurance
General liability insurance is a policy most business owners get because it covers interactions with people who are not employees. It pays for your defense when clients and third parties sue over property damage, bodily harm, and advertising injuries like defamation, copyright infringement, and misappropriation of ideas.
For example, your general liability typically pays when:
A client slips on massage oil in your studio: General liability might pay for their immediate care and your legal bills if they sue
You damage your client's wall opening your massage table: General liability usually pays the cost of repairs
A competitor claims you copied their logo: General liability covers your attorneys' fees and court costs
Most general liability insurance includes product liability coverage. This covers claims of bodily harm and property damage caused by faulty products you sell, like a special massage oil that causes rashes.
Independent massage therapists may need general liability insurance, too. Many business owners often require therapists to carry coverage to rent space in their spa.
Professional Liability Insurance for Massage Therapists
Professional liability insurance, also called errors and omissions insurance, covers allegations of negligence. Clients can sue if they think your negligence caused them to lose money. For example, a client might claim you left their medical information where someone else could find it. When that happens, professional liability insurance covers your defense costs.
Clients might sue for negligence if they think:
Your massage exaggerated an injury they warned you about
You left their credit card out for others to see
They were burned by a hot stone massage
Professional liability and general liability claims are different. While general liability claims can include physical injuries, they are the kinds of claims any business might face. Negligence claims, however, stem from the services you provide as a professional massage therapist.
Masseuse Abuse & Molestation Insurance
The combination of private settings and physical contact means massage therapists can sometimes be accused of sexual misconduct. This risk is covered by abuse and molestation insurance, which covers your legal fees in a civil suit.
Abuse and molestation policies typically cover the business owner, not the alleged perpetrator, in a lawsuit over sexual misconduct. Some policies may pay the accused's legal fees but require repayment if they're held responsible.
Massage Therapist Commercial Auto Insurance
Massage therapists who go to clients' homes and offices need commercial auto insurance. This is true even if they drive their own vehicles because most personal auto insurance excludes business-related driving.
State laws usually require business owners to carry liability coverage, but insurers also offer:
Medical payments: For injuries you and your passengers sustain
Collision: For damage to your car
Uninsured & underinsured motorist: For when the other driver is responsible for damage but cannot pay
Comprehensive: For damages caused by events other than accidents
The least expensive option is getting just liability coverage, but you want the additional coverages if you rely on your car for work.
Masseuse Inland Marine Insurance
Inland marine insurance is a property policy that moves with your belongings. Commercial property insurance is tied to the location listed on the policy, which means your property is uncovered when it's in transit. Inland marine covers this gap.
Massage therapists need inland marine and commercial auto if they regularly make appointments in clients' homes and offices. They may also need this coverage if they rent space in multiple spas and studios.
Commercial Property Insurance for Massage Therapists
Commercial property insurance covers the insured value of the items your business owns. Massage therapists usually need at least some property insurance for business personal property, such as massage tables and sound systems. However, you only need coverage for buildings when you own the space. Damage to rented space is covered by general liability.
Most commercial property insurance covers damage caused by certain events, like:
Hail
Wind
Theft
Vandalism
Fire
You can insure your property for its replacement value or actual cash value. Replacement value is typically more expensive because it pays the amount required to replace your business property. Actual cash value subtracts depreciation.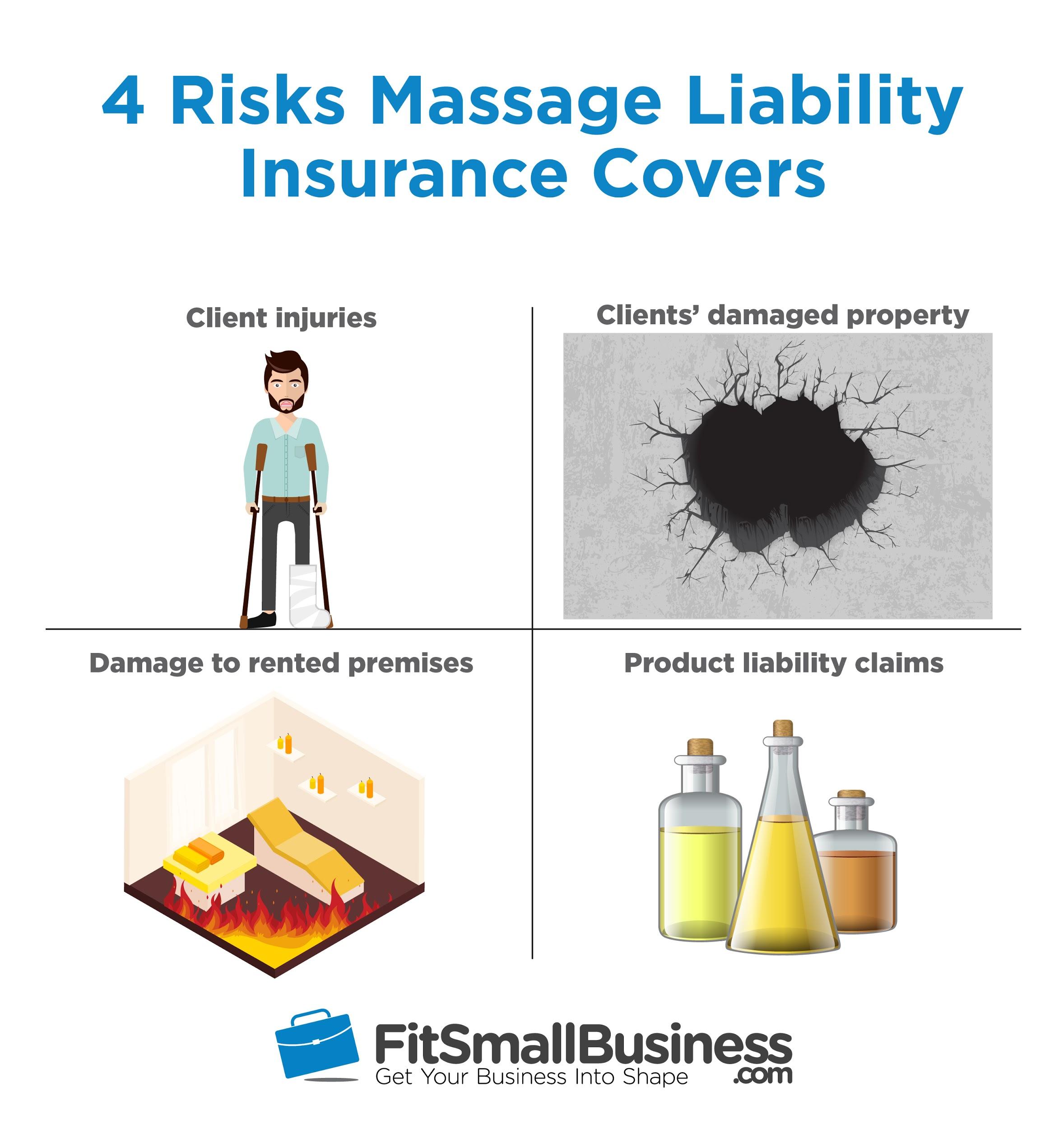 Additional Massage Liability Insurance Types
Depending on your business operations, you may need additional massage insurance, such as:
Workers' compensation insurance: This is a state-mandated coverage that typically pays medical bills and lost wages for employees who suffer work-related illnesses and injuries
Cyber liability insurance: Cyber liability covers the cost of data breaches that compromise client information; this may be especially important for therapists whose services are covered by health insurance because many cyber policies pay HIPAA fines
Not every massage therapy business needs every type of massage insurance. The key to getting the appropriate coverage is to identify your risks and match them to the right policy.
Massage Insurance Costs
Premiums can vary for massage insurance based on the number of policies you choose and the coverage limits you select for each. General liability on its own can cost anywhere between $100 to $500. Professional liability has an even wider range, typically costing anywhere between $100 to $2,000. You may be able to keep costs down by purchasing policies through trade associations.
Massage Insurance Costs & Deductibles
Insurance Type

Coverage Amount

Premium Cost

Deductible

General liability insurance

$2 million aggregate

$100 - $500

$0*

Professional liability insurance

$1 million aggregate

$100 - $2,000

$500 - $1,000

Professional + general liability insurance

Professional liability: $3 million aggregate

General liability:
$2 million aggregate

$100 - $1,500

$500 - $1,000

Business property coverage

$10,000 - $25,000

$95 - $250

$500 - $1,000
*General liability does not usually require a deductible; however, small business owners may be able to request one.
Trade associations can usually offer massage liability insurance for less because they bring in greater volume. This doesn't mean their coverage is any better or worse, but you should still research the organization offering coverage to make sure they are financially stable. You may also want to look for massage liability insurance that includes coverage for business property. Many insurers add this to massage liability policies when the exposure is limited.
Other things that can impact your massage liability premiums include:
Insurance waivers: Insurance companies may reduce your premium if you require clients to sign waivers
Your coverage amount and deductibles: Opting for a higher deductible or lower limits can reduce your premium; however, you can also end up either underinsured or paying more than you can afford on a claim
Your employees: Massage liability insurance typically covers employees, so adding staff almost always increases your cost
Your revenue: How much money you make indicates how much you have to protect, so your premium usually goes up with your yearly revenue
Massage insurance is crucial for protecting your business. While premiums can seem high, they're usually less expensive than paying for lawsuits out of pocket. Plus, most masseuses can save money by getting a BOP that combines general liability and commercial property.
Tips on Getting Massage Insurance
The first step in getting massage insurance is to identify your risks so that you know what policies you need. After that, it's a matter of applying to carriers for coverage. The process can be lengthy, so you want to prepare before you start applying.
Get Massage Liability Insurance When You Start Massage School
Claims can pop up the moment you start seeing clients. For most massage therapists, that begins when they're students. Massage students who aren't insured by their school can apply for coverage when they join trade associations like the ABMP and AMTA. Most of these organizations offer student discounts that include insurance.
Compare Quotes from Multiple Massage Insurance Providers
It's a good idea to work with an independent broker who can compare quotes from multiple providers. This lets you find the policies that fit your risks and your budget. Not only do they have access to multiple carriers, but they can also walk you through the various proposals so that you know exactly what you're getting.
Be Clear About Your Operations
Some modalities are inherently riskier than others. One carrier may be willing to cover Swedish massage but balk at hot stone or Thai. Another might cover a wide range of massage types but pass on massage therapists who offer additional services, such as acupuncture, or who sell products. While you don't want to be declined, you need to be honest about your services; otherwise, your insurer may not pay your claim.
Review Your Contracts Before You Set Your Liability Limits
Spa owners may rent space, but they usually protect their business by requiring booth renters to carry their own massage liability insurance. If you're an independent contractor moving between multiple salons, you need to read each contract to be sure you have the right amount of coverage.
Massage Liability Insurance Frequently Asked Questions (FAQ)
Every spa owner and massage therapist has their own way of running their business, so you may have more specific questions about the appropriate coverage for yours. Some of the most frequently asked questions are listed below.
Do Massage Therapists Need Malpractice Insurance?
Massage therapists need malpractice insurance to cover allegations of negligence. Malpractice insurance is simply another name for professional liability insurance. The term is often used for legal and allied health professions, so you may hear it if your massage services are sometimes covered by health insurance.
According to Joan Nichols, president of AMTA, getting massage liability insurance is becoming more important in the industry:
"Massage therapists need liability coverage in their profession, especially as more of them work in collaboration with other health care providers to address complicated client health concerns. And, it is required for them to practice as licensed providers."
Do Booth Renters Need Massage Liability Insurance?
Most spa owners have massage liability insurance for their employees. However, booth renters are independent contractors, so they usually aren't covered. This makes it a good idea for massage therapists who contract with spas to get their own liability insurance.
Do I Need Massage Liability Insurance for Independent Contractors?
Spa owners can include independent contractors on their massage insurance but adding them typically increases your costs. Instead of covering booth renters, spa owners can require massage liability insurance in their contracts. You might also want to check your contractors' certificates of insurance before you let them work in your space.
The Bottom Line
Liability insurance policies are essential for massage therapists in case they're ever sued by clients over injuries, property damage, or professional negligence. However, masseuses may need policies for their equipment and cars too. To make sure they get the appropriate coverage for their businesses, massage therapists should work with agents who know their industry.
The experts at Insurance321 will make sure you're covered by providing quotes from multiple carriers that offer massage liability insurance. They will help you shop for the right coverage and find an affordable price. Get a free, no-obligation quote in as little as four minutes.