Filing taxes is a hassle. On the one hand, you want to finish them as soon as possible and get back to running your business. On the other hand, the more time you spend finding deductions and applying for tax credits, the greater your reward.
So what if you could do both? We interviewed CPAs and tax experts and found out how small business owners can maximize their tax refund in 3 easy steps. We'll also show you how to find deductions and submit tax forms automatically using simple tax software.
Before we dive into the details on this topic, we also suggest you check out Quickbooks, our recommended accounting software. Visit Quickbooks to learn more.
Step 1: Find All Possible Deductions
As you probably already know, many business expenses can be deducted from your income. This helps you save money when it comes time for taxes, since a lower claimed income means less money getting sent to Uncle Sam. What you may not have known, however, is the sheer number of possible deductions and the different ways you can calculate them.
Common Business Expenses
Contrary to popular belief, the IRS does not have a master list of everything a business can deduct. Instead, the IRS simply defines a business expense as anything that incurs a "cost of carrying on a trade or business." This includes things like:
Wages, Salaries, Bonuses, Commissions

Property Rental or Mortgage Payments

Utilities

Office Supplies

Furniture / Equipment

Software

Advertising Costs

Employee Health Insurance Premiums
Business Deduction Calculations
While the above expenses can generally all be deducted for 100% of their value, there's other deductions that get a bit more vague: In particular, home offices and auto expenses.
The IRS gives you two ways to calculate these deductions: a standard method, which can usually be done in a couple minutes, and an actual method, which requires digging up lots of receipts and bills. If you have the ability to try both, you should see which one gives you the larger deduction:
Auto Gas Deductions

: If you've racked up a lot of miles driving to meet clients, or to attend conferences or training courses, you can deduct these costs. This does not include your commute to work, however, or your commute home.

Standard Method:

57.5 cents per business mile + tolls and parking

Actual Method:

add up all actual auto expenses (gas, repairs, oil change, car insurance, car washes, etc.) and then multiply it by your business percentage (business miles / total miles for the year)

Home Office Deduction:

If there's an area of your home that is used exclusively and regularly for business, you can deduct certain expenses pertaining to that space.

Standard Method:

$5 per square foot (max. 300 square feet, or $1,500)

Actual Method:

add up all home expenses (rent, mortgage, insurance, utilities, repairs, depreciation) and then multiply it by your home office percentage (home office sq footage / total home square footage)
Even More Deductions
As we said above, anything that incurs a "cost of carrying on a trade or business" can qualify as a business expense. The only other requirements are that these costs are "ordinary and necessary." As the IRS states, "an ordinary expense is one that is common and accepted in your trade or business. A necessary expense is one that is helpful and appropriate for your trade or business."
With this in mind, get creative and start brainstorming any additional business expenses you've incurred this year. Some more examples include:
Meals & Entertainment:

50% of the cost of meals and entertainment can be deducted, provided that the event is associated with the business and entertainment takes place immediately before or after a business discussion. Some examples include catered meals at your office, or a round of golf with a client.

Business Books & Learning Materials:

A business owner can deduct books, magazines and educational programs that are helpful in running your business. (

see more here

)

Start-Up Costs:

Business expenses only exist while your business is up and running. Before that, while you're still launching, any costs are considered "Capital Expenses" and you can deduct up to $5,000 the first year you're in business (

see more here

).
Step 2: Find All Possible Tax Credits
A lot of businesses qualify for tax credits without them even knowing it. If you set up a retirement plan, made your business more accessible or hired a veteran in the last year, you could save save a hefty sum on taxes.
Tax credits are used by the IRS to give businesses an incentive to complete certain objectives, like hiring disadvantaged workers, or installing an energy-friendly system. Unlike a tax deduction, which reduces the amount of taxable income you claim by adding business expenses, tax credits directly reduce how much you owe.
You could qualify for tax credits in 2015 if you've…
Hired a Veteran, Food Stamp Recipient or Ex-felon in the last year

The

Work Opportunity Tax Credit (WOTC)

aims to empower groups who have significant barriers to employment.

Businesses can receive a tax credit from $1,200 to $9,600, depending on the employee hired.
Set up a Retirement Plan in the last 3 years
Installed an Energy-Friendly System

Receive a 30% rebate for solar, fuel cells or small wind turbine energy systems

Receive a 10% rebate for geothermal, microturbine or combined heat and power (CHP) energy systems (

see more here

)
Made your Business More Accessible

Small businesses (those with no more than 30 full time employees or $1 million in revenue) who removed physical barriers or installed any device/fixture to make their workplace more accessible can recoup

50% of their costs

Includes the cost of providing qualified-interpreters or readers, installing braille signs or audio systems

$5,000 maximum
Provided Child Care Services to Your Employees

The

Employer-Provided Child Care Tax Credit

is awarded to businesses who pay for a child care facility to provide services to their employees

Save up to 25% of the child care expenditures, with a limit of $150,000
In order to receive a tax credit, you need to submit a couple of forms to the IRS. You can find these forms here on the IRS website. Aside from the 5 tax credits listed above, you'll find several more tax credits for niche businesses, including biodiesel plants and businesses in the distilled spirits industry.
Tip 3: Watch your Tax Bracket
This tip applies mostly to businesses who undergo lengthy and expensive projects for their clients – such as architects, engineers, graphic designers, lawyers, contractors, consultants, etc. For such businesses, it's not uncommon to experience an income spike when, say, 3 major projects all wrap up in the same year.
This can put your business in a higher tax bracket than normal, which means you'll have a higher tax liability for that year. Instead, consider billing your clients at a later date so that some of the income gets "spaced out" into the following year (deferring income). If you have an abnormally low income one year, consider billing some clients in advance so you can avoid a spike in ensuing years (accelerating income).
See tax rates for individuals and tax rates for corporations.
How to Save Time and Hassle with Tax Software
Tax preparation software like TurboTax is hugely popular amongst small business owners for a few key reasons:
It finds deductions automatically.

Just by entering your personal information and business expenses, the system will automatically find you deductions and add them to your refund.

It fills out forms automatically.

Filling out a Schedule C and Form 1040 requires tax experience. With TurboTax, on the other hand, you never have to interact with these forms. Instead, you're asked a series of questions and the program uses your responses to fill out your tax forms behind-the-scenes.

You get audit-protection.

Before submitting your return, TurboTax error checks all of your forms. In the event of an audit, you'll have free

one-to-one guidance

from an experienced tax professional. For an additional fee, TurboTax also offers

full audit defense

in which a tax professional will communicate with the IRS on your behalf.
While there's a few different tax preparation programs out there – including H&R Block and TaxACT – we recommend TurboTax because of their ability to find the most deductions. Multiple reviewers and tax professionals compared the programs and found that TurboTax produced them the largest return (see this example in The Atlantic). For more information, read our full comparison of tax preparation programs.
How to Use TurboTax Home & Business
Step 1. Choose Your Edition
Which edition of TurboTax you need depends on the ownership status of your business. If you are the sole owner of your business (sole proprietor) you can use TurboTax Home & Business. If you're a partnership or corporation, you'll need TurboTax Business. If you're a sole proprietor, but your net income is below $400, you can get by with the consumer edition of TurboTax (Deluxe).
| Edition | TurboTax Deluxe | TurboTax Home & Business | TurboTax Business |
| --- | --- | --- | --- |
| Can be used by... | Freelancers with net income below $400 | Sole Proprietors and Single-member LLCs | S Corp, Partnership, C Corp and multi-member LLCs |
| Price (2015 editions) | $54.99 (+$39.99 for state tax filing) | $104.99 (+$39.99 for state tax filing) | $149.99 (+$49.99 for state tax filing) |
Since the majority of small business owners are sole proprietors or single-member LLCs, we'll be explaining how to use the Home & Business edition. If you're a partnership or corporation, however, you can read more about their Business edition here.
Step 2. Personal Information
TurboTax works by asking you a long series of questions about your business and personal finances. Based on your responses, the system fills out your tax forms automatically.
The "interview" process begins with very basic questions about you and your family. If you used TurboTax last year, you can import this data and save yourself some time. Also, note that you do need have to answer every question in one sitting. TurboTax will remember where you were, so you can always pick up where you left off.

Step 3: Business Information
Before you dive into the business menu, make sure you have all the records you'll need to fill out the ensuing questionnaire. Intuit has a handy checklist of which documents you should find before beginning your return. The key documents are:
Last Year's Business Tax Return

Income & Expense Records

Payroll Reports

Vehicle information (if relevant)
Once you find all of this information, click the "Business" tab on the main menu. The first question you'll have to answer is if you want walk through every question, or jump directly to a topic. First-time users should select "Walk me through everything" so that they don't miss any important steps. This is also a good idea for seasoned users who do not want to miss a potential deduction.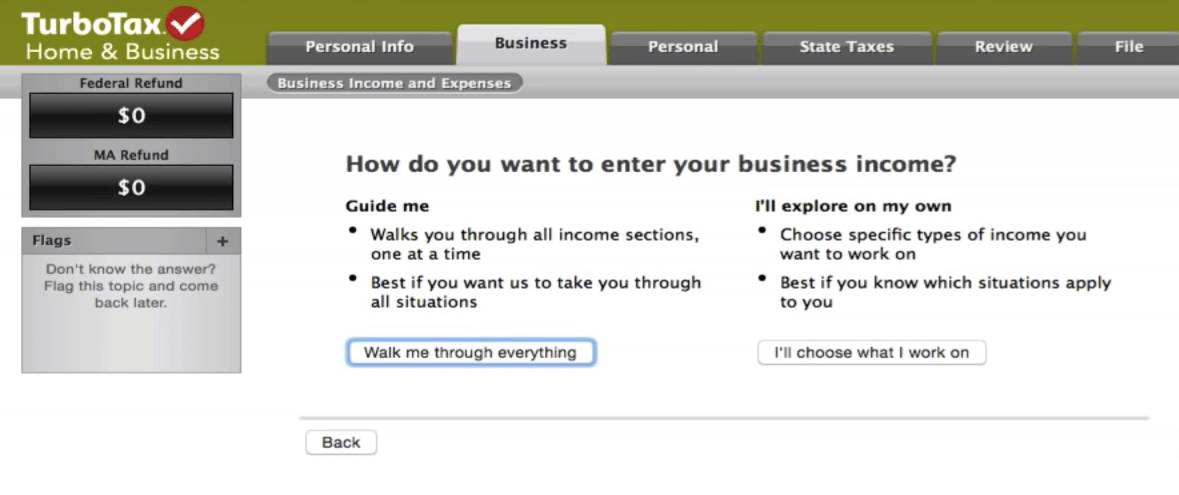 By going step by step, the rest of the process should be very straightforward. When it comes to entering your expenses, for example, TurboTax will show you a list of potential expense categories. Simply choose which ones apply to your business and answer the ensuing questions.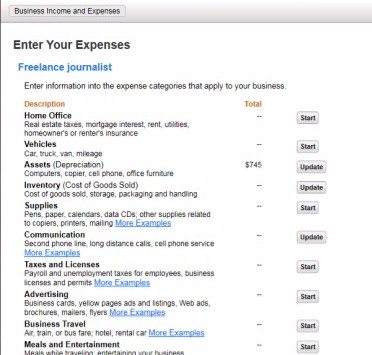 As you submit this information, TurboTax will immediately begin finding deductions. On the upper left hand side, you'll see your federal & state refund (or liability) amount. These values gets updated automatically as you complete each step. This enables you to optimize your deductions to get the best possible refund. For example, you can try-out both the standard and actual home office deductions and see which one is higher.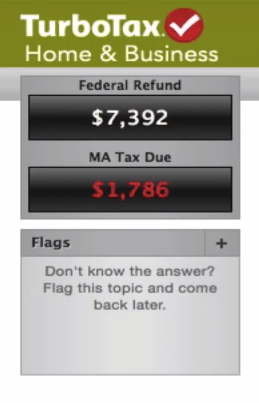 Step 4: Submitting your Return
When you finish your federal return, the system will run an error check. If there's anything that's missing or incorrect, you'll be directed specifically to those places. TurboTax will explain what the error is (i.e. "value should not be greater than the taxable amount") so you get a good idea of how to fix it.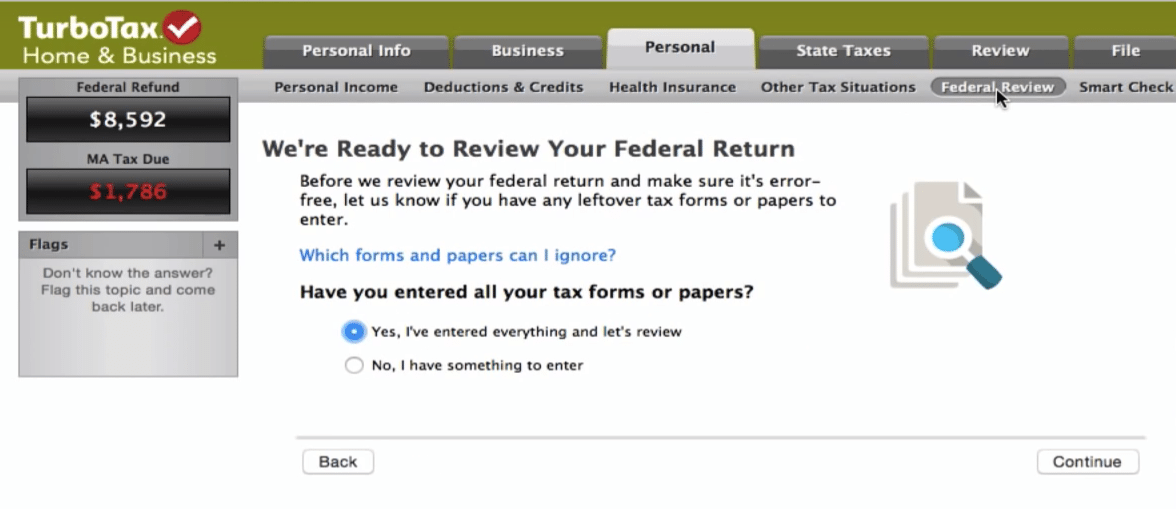 If you live in Alaska, Florida, Nevada, South Dakota, Texas, Washington, Wyoming and (in most cases) New Hampshire and Tennessee, you'll now be done filing your return.
If you don't live in one of these states, you'll next need to complete your state tax return. TurboTax automatically copies all the relevant information from your federal return, so finishing the state return shouldn't take too much time. You may just need to input some additional information, as per your state's unique requirements. Once complete, you'll run a final "master check" over both your state and federal forms – then you're good to click submit!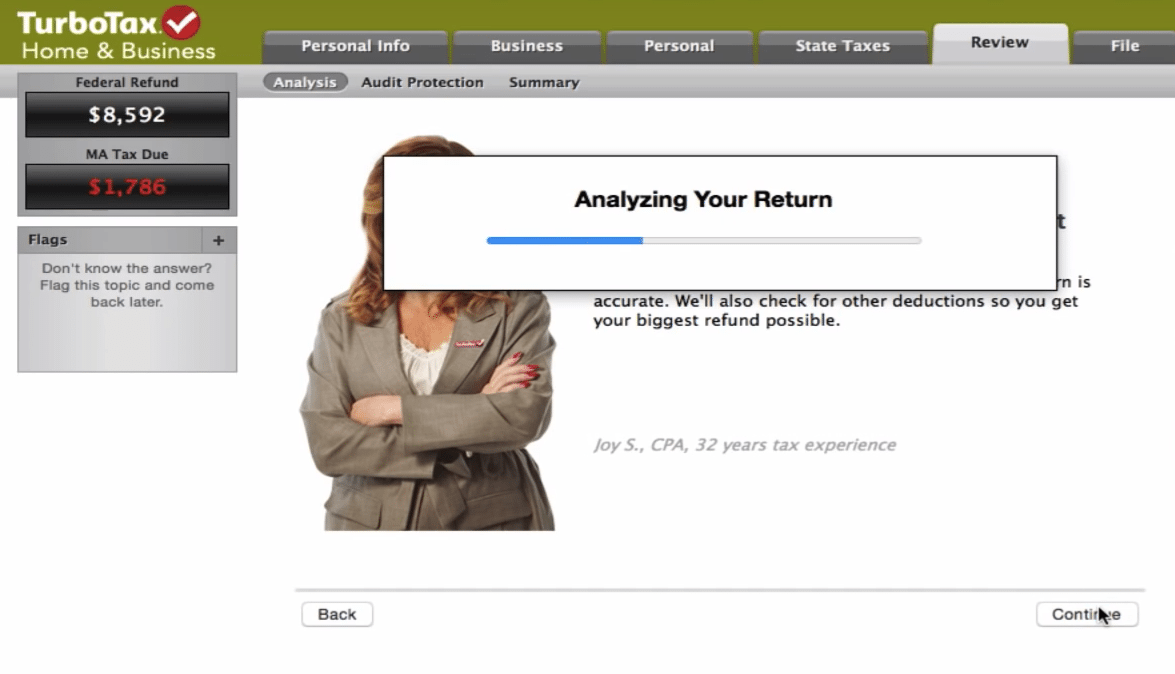 The Bottom Line
What's great about using tax prep software like TurboTax is that it appeases both of our tax instincts: 1. to maximize our tax refund and 2. to finish as soon as possible. It probably won't be the most fun you have this spring, but TurboTax can at least bring a big hassle down to a small hassle.