McKissock Learning Review: Is It Right for Your Real Estate Education?
McKissock Learning is one of the country's top accredited online real estate education schools offering continuing education (CE) courses. Prelicensing, post-licensing, broker licensing, and exam preparation courses are completed through its partnership with Colibri Real Estate. Course features include an online learning hub, text and video learning format, and learning aids. Based on our McKissock Learning review, we found that it's best suited for agents needing a flexible course schedule and self-paced learning.
Pros
Courses are iPad compatible
Ability to extend courses for a small fee
1:1 instructor assistance and printed online course materials are available
Customer service is available by phone or email
Cons
Live Q&A sessions with instructors are only available with some packages
Livestream learning is available in only a few states
Limited states covered for broker licensing
Software is not supported on smartphones
CE membership renews automatically, causing difficulties if agents forget to cancel
Who McKissock Learning Is Recommended for:
Students interested in pursuing real estate-related careers
Those looking for a CE membership to renew their real estate licenses
Busy students who prefer learning at their own pace
Who McKissock Learning Is Not Recommended for:
Students who learn better with a live class experience
Students looking for budget-friendly courses
Agents wanting to complete broker licensing at the same school as prelicensing education
Quick Look at McKissock Learning Pricing
Prelicensing courses: Starting at $139
Post-licensing courses: Starting at $19.95
Broker licensing courses: Starting at $199
Continuing education courses: Starting at $19.95
Exam prep: $99
---
Other Articles Featuring McKissock Learning
---
McKissock Learning Reviews: What Users Think
Most McKissock Learning reviews say the courses are easy to understand and thorough. They found the courses prepared them for the licensing exams. Some students mentioned appreciating the online format and flexibility, which allowed for some freedom to complete the courses and easily retain the course information.
Indeed: 4.5 out of 5 based on 60+ McKissock Learning reviews
Agent Advice: 2.75 out of 5 based on eight McKissock Learning real estate reviews
There were very few negative McKissock Learning real estate reviews regarding its real estate program. One student mentioned that online learning requires self-motivation to finish the course in a reasonable amount of time. For students who prefer live online sessions, consider Kaplan's livestream courses for real estate licensing.
Would Our Expert Use McKissock Learning?
McKissock Learning is a one-stop shop for students looking to have a successful real estate career. Our favorite feature is that it provides the required real estate learning hours, supplemental e-books, and resources needed to understand the coursework. Additionally, the multiple plan options allow you to pick and choose which plans are best for your learning styles.
Moreover, beyond real estate licensing, McKissock Learning offers courses on appraisals, home inspection, land surveying, and engineering for various real estate career paths. However, even though the starting packages with McKissock Learning real estate school can be affordable, they are limited in features. For more affordable learning packages, consider Aceable Agent's prelicensing courses for similar formatting but at a more affordable price point.
Types of Education Available at McKissock Learning
McKissock Learning and its partner school, Colibri Real Estate, support agents through every stage of their real estate careers⁠—from prelicensing to exam preparation in multiple states. Some states may not require specific courses to be completed, like post-licensing education. Therefore, the course is offered in a limited number of states. We've identified which type of McKissock education is provided along with the states they are available.
Prelicensing
Prelicensing courses are offered through McKissock Learning's partner company, Colibri Real Estate, and the courses cover national and state-specific topics to prepare you for your licensing exam. These classes are offered online in a self-paced format to be completed at the student's leisure. Some states, like Alabama, Georgia, and Missouri, provide a livestream option.
Some prelicensing packages include a live instructor Q&A option that supplements the self-paced format, enabling students to interact and post questions to a live instructor. Prelicensing courses should be sought by students looking to obtain their licenses for the first time.
For more information on prelicensing options through partner school Colibri Real Estate, read our Colibri Real Estate Review article.
If you're looking for additional education, such as post-licensing, continuing education, exam prep, or broker licensing, McKissock Learning is an option for you. Page through the images and descriptions below to see if McKissock real estate education offers the required courses in your state.
McKissock Learning Alternatives
Schools

Best for

Real estate agents who prefer a technology-focused learning platform

The ability for agents to choose between a variety of learning formats

Students who prefer having a pass guarantee

Key Features

30-day refund
Mobile application for learning on the go
Smart technology helps students focus on areas needing improvement

Multiple course formats
Courses available on various devices
Courses taught by experienced real estate professionals

Live chat support is available
Self-paced class format
Affordable licensing courses

Starting Price*

$24

$16

$9

Learn More
*Pricing here is for comparable options; exact price depends on location, course selection, and learning format.
McKissock Learning Pricing & Plans
The pricing structure for McKissock Learning real estate courses varies based on your state, the plan chosen, and the type of education you're looking to obtain. The prelicensing courses start at $139 and could increase based on additional features like the instructor Q&A, pass or don't pay guarantee, textbooks, and a real estate dictionary.
Students can choose the courses according to their budget and plan package inclusions. Generally, the programs available through McKissock Learning school will provide students with a self-paced learning format, a learning hub, electronic textbooks, customer service support, and access to courses 24/7.
Types of Education Plans*

Prelicensing*

Post-licensing

Continuing Education

Broker Licensing*

Exam Prep

Who It's Best For

Agents looking to complete their real estate licensing strictly online

For students who want to keep their license active in a state that requires post-licensing requirements

For realtors wanting to improve their professional development or renew their license

Agents looking to further their career

Best for students with the desire to complete the residential appraisers program

Annual Price Range

(per Course)

$139 to $883

$19.95 to $239.95

$19.95 to $379.95

$199 to $399

$99

Learning Hub

✕

✕

✓

✕

✕

User Controlled Pacing

✓

✓

✓

✓

✓

24/7 Access to Courses

✓

✓

✓

✓

✓

Real Estate e-Books

✓

✓

✓

✓

✓

CE Membership

✕

✕

✓

✕

✕

One-on-one Instructor Assistance

✓

✕

✕

✓

✕

Customer Service Support

✓

✓

✓

✓

✓

Pass or Don't Pay Guarantee

✓

✓

✓

✓

✕
*Courses offered by partner, Colibri Real Estate
General McKissock Learning Features
McKissock Learning developed a robust online program providing students with learning resources, all created and taught by real estate professionals. Its membership options allow students full access to continuing education, and its programs are all state- and board-approved and certified by ARELLO and IDECC. Instructor access supplements online learning, so students can interact with text-based learning. The coaching and training services ensure agents can develop their careers beyond state requirements.
Here are the standout McKissock Learning features that help students excel:
Learning Hub
Can add courses for multiple states
Shows course completion percentages
You can contact customer service through hub
Simple and easy-to-navigate interface
The learning hub students use for McKissock Learning's CE program keeps all courses in one place while tracking your progress. All states will require a set number of continuing education hours to renew your license. Therefore, having a single location that tracks your hours and course completion helps you stay on track.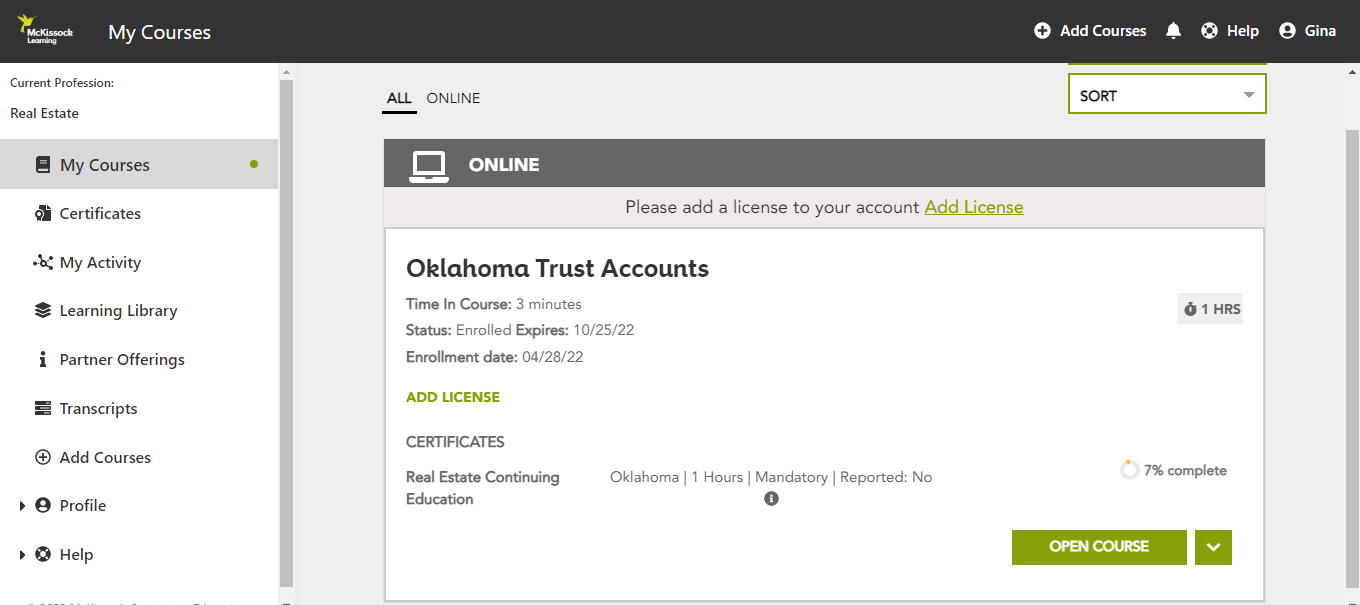 ---

---
The learning hub also becomes your go-to resource for professional development. Coupled with the continuing education membership, agents will have ample resources to reference when needed, covering various topics.
---
One-on-one Instructor Assistance
Instructors are real estate professionals
Live session or email options
The instructor will respond within 24 hours
Students participating in the prelicensing and broker prelicensing courses through the partner school Colibri Real Estate will receive one-on-one instructor assistance to supplement their online learning. Some students may thrive in an online learning environment with the freedom of the self-paced format, but if students have a question, they can feel supported by this feature. Depending on the plan chosen, students can email or have live sessions with an instructor to ask questions.
---
Customer Service Support
Live chat and email options
Extended phone hours
Comprehensive FAQs (frequently asked questions) section on the website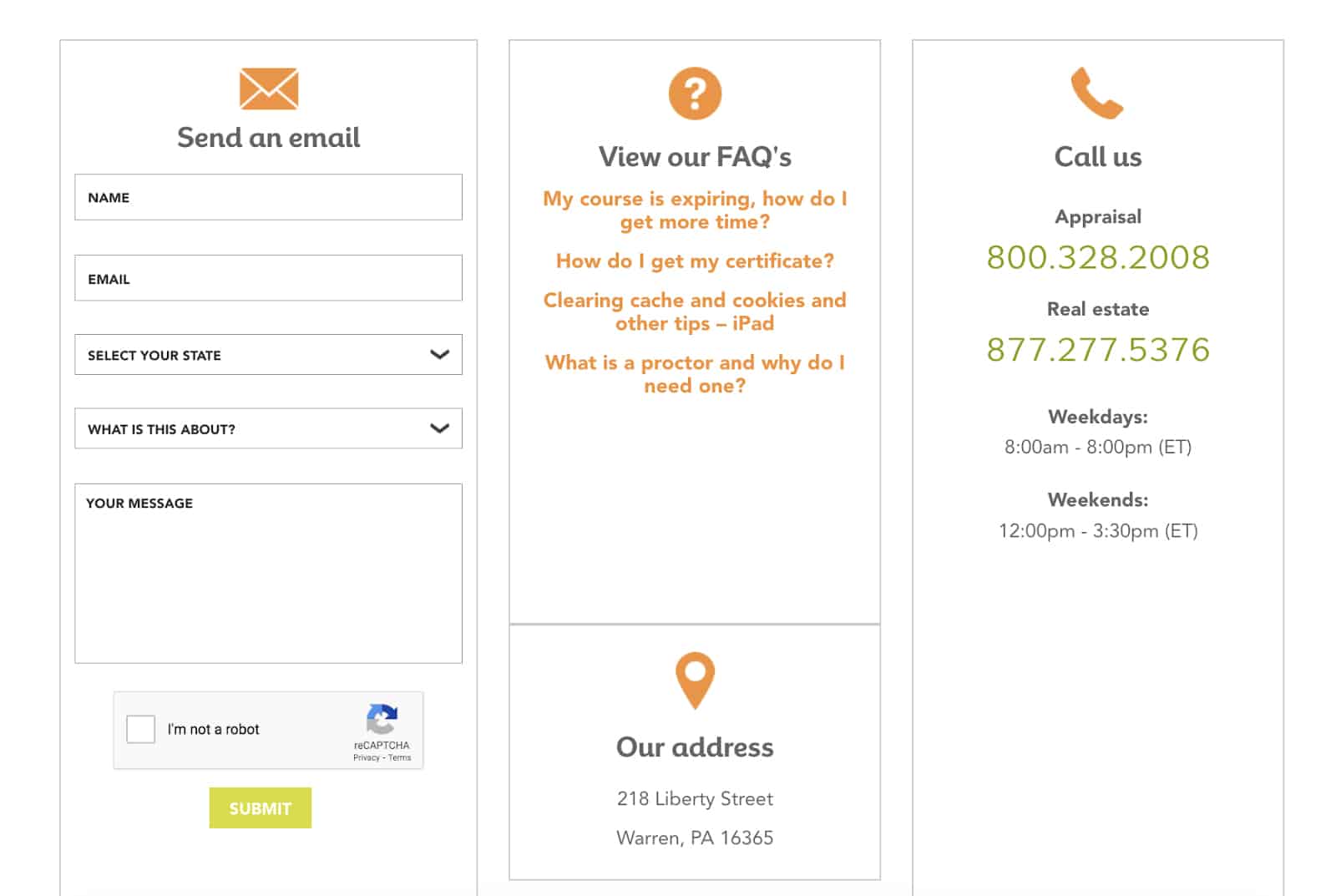 ---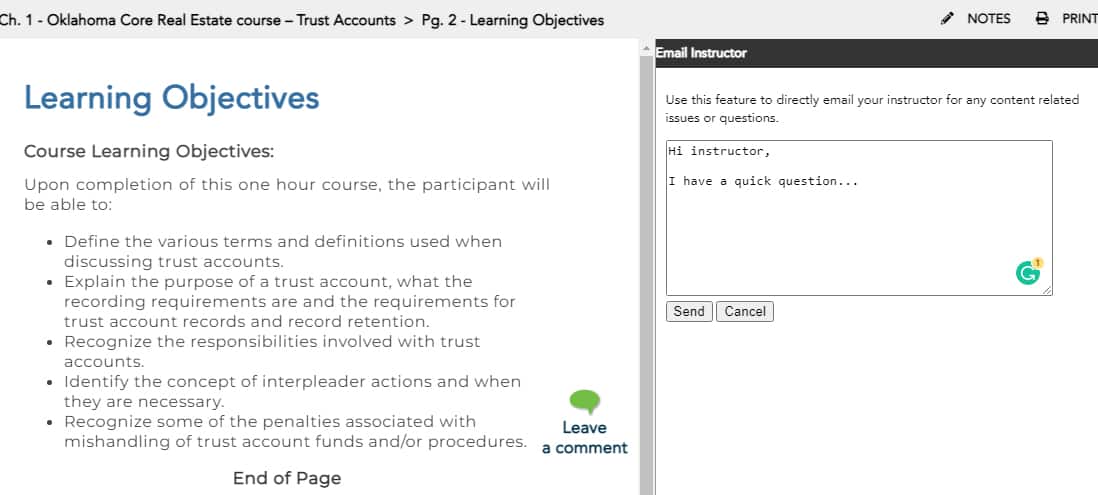 ---
McKissock Learning's customer support options help students get all their questions answered. Students can send an email or call during extended business hours or even on the weekends, and the FAQ contains answers to the most asked questions. If nearby, it even has an office location located in Warren, Pennsylvania. Having support available is helpful if there are ever questions regarding the plans, program, or state requirements for licensing.
---
Continuing Education Memberships
Access to all CE materials
12-month memberships
Continuously updated with new materials
The McKissock Learning continuing education membership is available for students who want unlimited access to all the education materials, webinars, and over 500 professional development resources. The membership provides training for sales, marketing, and technology, along with toolkits to help educate your clients on the home buying and selling process.
The membership comes at a flat annual fee, which varies per state, and is a resource for reference as you navigate your real estate career to build your business and gather more leads.
---
Coaching & Training
Assist with career advancement
Connect with real estate coaches
Increase real estate earnings
To assist with the advancement of real estate careers, McKissock Learning offers coaching and training to students interested in additional professional development. Agents can connect with real estate coaches, participate in non-credit webinars, and select several online courses to refresh their skills. The extra coaching and training are created to help you grow your business, generate more leads, and efficiently develop your real estate career.
---
Live Q&A With Instructors
Available with specific plans
Over 40 hours of instructor access
Live interaction
Combining online components with live interaction adds to the overall learning experience. Instructors can fill in any gaps and provide deeper insights that may arise while learning online. Live Q&A with instructors is only available on specific prelicensing plans through McKissock Learning and partner Colibri Real Estate.

Students may also email instructors throughout the program. Each instructor is well-versed in their licensing states and can provide insights on passing exams and becoming a successful real estate career.
---
Ease of Use
At first glance, navigating the McKissock Learning website can be overwhelming because of the number of course options and states covered. But once you locate your program and understand how to navigate the plans, it's a reasonably straightforward process to sign up and check out.
McKissock Learning's learning hub allows you to access your continuing education courses and resources in one location. The hub shows your productivity to track which courses you're enrolled in and your progress. It also lists your state's education requirements and any newly released resources. If you exit your course before completion, your progress will be saved so you can return at your convenience.
Launching and completing the courses are extremely easy for students. The courses are completed directly using your website browser, so no additional software is needed. The page has easy-to-find navigation buttons along with a progress tab to identify how far along you are in the course.
A table of contents for each chapter in the course is displayed prominently on the right side of the screen, so you can jump to each chapter to review it if needed. Students can also easily print chapter materials with a simple click of a printer icon on the bottom of each web page.
Bottom Line
For those interested in obtaining their real estate license or furthering their real estate careers, McKissock Learning has the necessary programs to help you achieve that. Courses are easy-to-follow online, and they supplement online learning with instructor interaction to help students further understand the material to pass their licensing exams successfully.