The success of any customer relationship management (CRM) software is based on whether it helps you to better serve your customers and meet your company's goals. Now that you've chosen and implemented a CRM and trained your team on how to use it, it's time to track and analyze the business results generated by your CRM. To measure CRM success, you must create and analyze specific metrics to determine if they're increasing and at what percentage.
Measuring Business vs Operational Outcomes
There are two ways you can measure whether your CRM helps your team be successful, both of which should be based on your company's overall goals. The first is by helping you achieve business outcomes. These are outcomes like your closing rate or customer satisfaction rate. The second is through operational outcomes, which are things like how often your team is using your CRM or the quality of your leads.
Both are important to measure when considering the success of your CRM implementation, and we'll look at examples of each. Here are 11 ways you can measure the success of your CRM:
1. Close Rate
Since a CRM is fundamental to the sales process, the number of sales opportunities you close is often regarded as one of the most important metrics to measure. In other words, your CRM should be enabling your team to close deals with more velocity. The best way to determine whether the close rate is impacted using a CRM is to compare metrics before and after.
To understand your close or conversion rate, the reports feature within your CRM can be very helpful. Calculate your close rate from six months before implementing the CRM and six months after. You should see your close rate increase. If it hasn't, it's an indication that some CRM processes need to be improved.
For example, using a CRM like Pipedrive, you can customize reports to quickly see how many deals you've won or lost, and the reasons why. This can give you valuable insight into how successful your sales efforts are, and whether your CRM is helping you move opportunities through your pipeline.
2. Upsell & Renewal Rates
Since the primary purpose of a CRM is maintaining relationships, upsell and renewal rates are key metrics to measure. Upselling refers to increasing the revenue generated from a customer by encouraging additional purchases that complement the customer's needs. For example, it could mean upgrading to a higher-end model or selling an additional service on top of a product purchase.
CRM can aid the upsell process by providing analytics that help predict customer behavior and buying intent. Using the gathered data on customer purchase history, you can accurately predict which customers are more likely to upgrade or purchase additional products. This information helps you focus your efforts on specific customers so you don't waste time and energy on those who don't fit the criteria.
To judge your CRM's success in upselling and renewing customers, work backward to identify the actions that lead to your wins. Your CRM report should generate predictive analytics on which segments are more likely to buy. You'll want to track those percentages and determine how accurate the predictions were. Good indicators of upsell opportunities come from tracking renewal periods, website habits (where they click and visit the most on your site), and customer feedback.
3. Pipeline Stage Length
The length of time a sale opportunity spends in different stages within your pipeline is a crucial metric for your CRM. One of the most valuable assets to the sales function within your business is visibility into the pipeline. Your pipeline gives useful insight into the current and future state of your business based on sales. For example, using the visual pipeline in Pipedrive, sales reps can easily see exactly where each deal is and which require action based on how long they have been in each stage.
To know if your CRM is helping with pipeline stage lengths, start by gathering past data. Compare how long it used to take deals to close before implementing the CRM. From there, you can identify which deal stages take the longest. Identifying these bottlenecks allows you to improve your sales process.
For example, maybe your pipeline gets "stuck" on the proposal creation stage and is taking an average of four days to create a proposal. To reduce the length of that stage, you may decide to hire a sales assistant to help with proposals or implement proposal automation software that integrates with your CRM.
To measure your sales cycle, you must run a report that includes the opportunities won within a set period. Add up the number of opportunities and calculate how many days occurred between "create date" and "close date." Take the total number of days and divide them by the number of won opportunities. From there, you can calculate your sales cycle. The length of your sales cycle is something that should be continually monitored over time, especially if you're measuring CRM success.
As you do, consider the amount of time your deals spend in the following six pipeline stages:
Prospecting
Initial contact
Lead qualification
Nurturing leads
Objection handling and negotiation
Closing the sale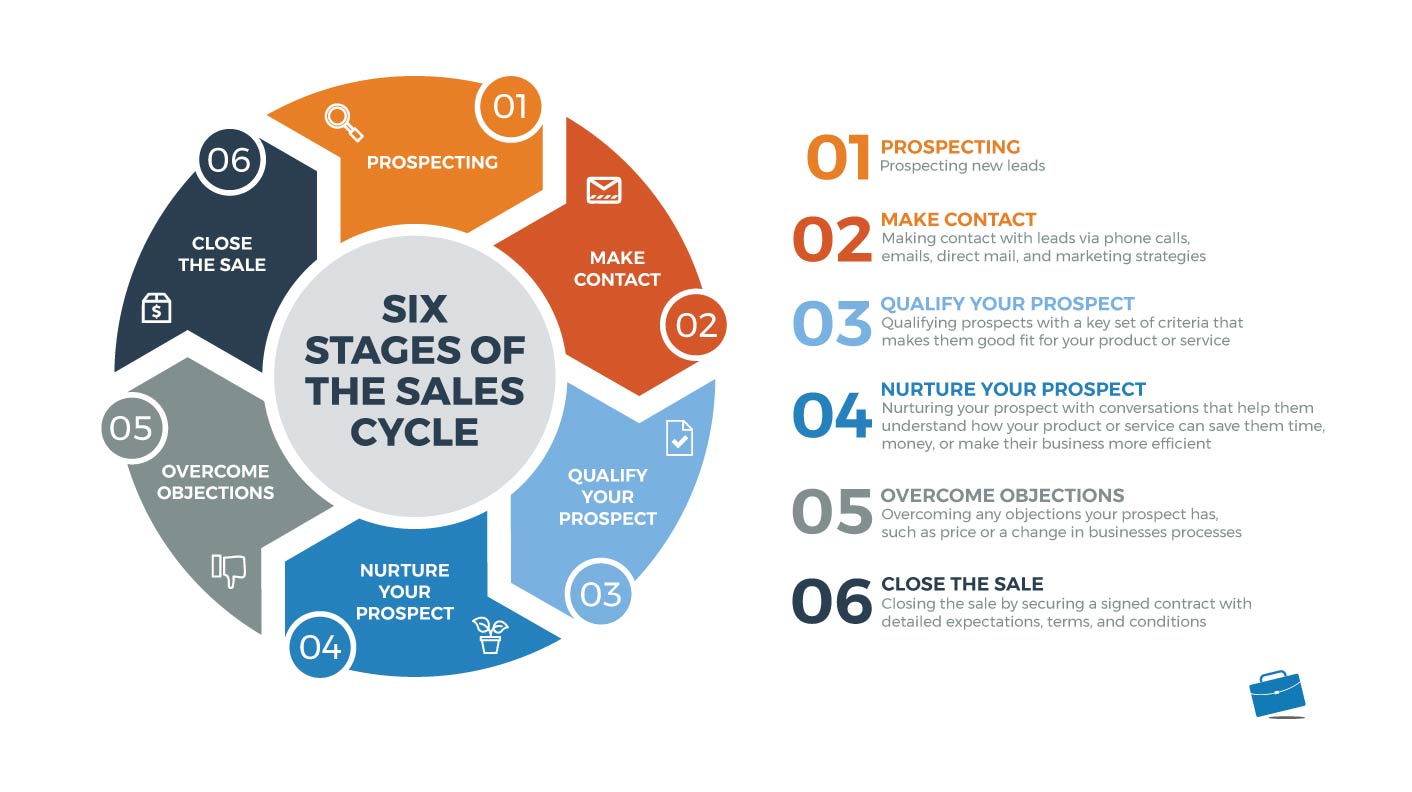 4. Customer Acquisition Cost (CAC)
Customer acquisition cost (CAC) is calculated by dividing all expenses spent on acquiring a new customer by the number of new clients won in a specific time frame. For example, if you spent $1,000 on marketing in September and acquired 20 customers, your CAC would be $50.
CAC should always be calculated alongside customer lifetime value (CLV). CLV refers to the total revenue a company can expect from a single customer. To calculate CLV, consider the revenue value of the customer against the predicted lifespan of the customer. CLV is a valuable metric to determine which customer segments are most relevant to the company.
Especially for companies whose pricing model is built on monthly recurring revenue (MRR), success is measured by keeping the lifetime value of your customer higher than the cost of customer acquisition. Keeping CAC low is critical to scaling your business. That's why this is an important metric to measure using your CRM. To determine if the CRM is helping to decrease your CAC, calculate how much it costs to acquire customers before you started using a CRM.
5. Customer Satisfaction
Your CRM plays a significant role in the overall satisfaction of your customers by helping your sales team stay on top of their needs. Specifically, your CRM can help you manage the tasks and activities related to providing the best level of service to your customers while also anticipating customer needs moving forward. Both of those are important to ensuring the highest level of customer satisfaction.
In order to measure how your CRM is impacting customer satisfaction levels, you can establish targets for things like customer loyalty, customer retention, and overall value. Then, using reporting features, you can measure against them. For example, you can measure customer satisfaction through direct feedback, surveys, and social media sentiments.
6. Usage Rate
To interpret the value of your CRM, you must know your company's usage rates. Usage rate indicates adoption by department and individual usage per employee. You should measure usage rates to understand the return on investment (ROI) of your CRM as well as if it's being used correctly. If adoption and usage rates are where they're supposed to be, they can be ruled out as probable issues within your business.
To improve business processes, a CRM needs to be fully utilized by each department. For example, if a member of the sales team isn't entering complete customer data and interactions, it will have a negative impact on departments like account management and marketing. The entire team should use the CRM correctly as it pertains to their roles to see maximum results. Set adoption and usage key performance indicators (KPIs) for each department within your business and continually measure the outcomes as they relate to your overall business goals.
If departments aren't using the CRM correctly, determine the reasons why. Employees use tools that make their lives easier, so low CRM usage could indicate an ease-of-use issue. One way to increase CRM usage is to implement a mobile-friendly CRM. By having the CRM at their fingertips, on-the-go or remote employees can stay connected. Other than usage itself, mobile accessibility has been proven to increase quota attainment.
7. Lead Quality
Calculating the quality of your leads is essential because it helps to identify the likelihood of prospects becoming paying customers. The goal of your business should be higher-quality leads. Therefore, this should also be a measurable goal for your CRM. A CRM helps you identify the actions that eventually turn leads into sales. That data can be used to fast-track the sales process to convert leads quickly and efficiently, leading to time and cost savings.
Criteria for high-quality leads are:
The richness of data: How much information did the lead provide? The more information you have on their demographic, the more useful the lead data is. Leads considered high quality reveal a prospect's demographics, buying intent, and contact information.
Accuracy of lead information: Since marketing and sales dollars are spent going after prospects, the information they provide must be accurate. If lead information is inaccurate, your company will waste time and money going after the wrong people at the wrong times.
Repeatability: Companies are ever-changing. Employees change roles, budgets get cut, and needs shift. Your method of capturing leads must take into account that lead information is not static. Being able to continually gather accurate, relevant leads is a staple in the lead generation process.
8. Customer Response Times
There are several ways that a CRM improves your communication with customers. Faster response time is one of the most critical metrics to focus on. Setting up notifications within your CRM can be beneficial to enhance the flow of communication between the customer and your customer success and account management teams.
Notifications can be set ahead of time and prompt your team to reach out periodically or after specific events. Notifications will prompt a check-in after a problem has been solved as well as any previous interactions. Visibility into logged information and prior communications gives your team a 360-degree view of the customer. This holistic view enables your team to quickly review accounts, reach out, and service customers promptly.
9. Fulfillment
Fulfillment is the business strategy used to get products and services into the hands of customers. Fulfillment strategy is essential because, as a company scales, new challenges to delivering to customers arise. A CRM helps with fulfillment by measuring and tracking customer data.
Your CRM assists in:
Processing orders
Logging shipping and tracking information
Inventory tracking
Running reports
Before using a CRM to assist in fulfillment, know which delivery metrics you're going to track. Which part of your fulfillment process is posing the most problems? Which bottlenecks in your process are costing you the most money or slowing your growth? These are the metrics you'll want to track closely to see how the CRM is working and at what rate. It may be a good idea to use a CRM on one product line at first; that way, you can gauge the effectiveness and compare processes to see the results.
10. Payment
Some companies have their CRM directly integrated with payments. Even if your payments are processed separately, there are ways to utilize the CRM to optimize this process. There are a few different metrics to measure to gauge whether the CRM is improving your payment process:
Speed of deposits
Security risks eliminated
Time saved on generating reports and summaries
Length of time required to locate and track invoices
Speed and efficiency of customer interactions regarding payments
Time saved with taxes and other accounting functions
Reduction in human error due to automation
Increased cash flow due to predictability of payments
11. Employee Satisfaction
A CRM isn't typically thought of as improving employee experience; a CRM is viewed as a customer-centric tool. However, when your team is productive and gets better results in their day-to-day activities, it leads to increased job satisfaction. A CRM allows for realistic targets, quotas, and expectations, reducing the overall stress among the team, especially for salespeople. It also results in better coordination between departments, especially marketing, sales, and service.
To understand your CRM's impact on employee satisfaction, consult with your human resources (HR) department. HR uses tactics like surveys, Glassdoor reviews, and focus groups to understand employees' overall sentiments about working for the company. HR should include specific questions about company-provided tools and how those tools impact their productivity and overall satisfaction. You can even ask them specifically how they feel about using the CRM and how they would rate the experience.
Bottom Line
A CRM helps achieve your company's goals both from a business and operational standpoint. Although a CRM is a tool that gathers and measures data, the CRM itself must be measured to ensure maximum ROI. To gauge the success of your CRM, you should track business metrics such as close rate, upsell rate, pipeline stage length, and customer satisfaction. The best operational metrics to track are usage rate, lead quality, fulfillment, and employee satisfaction. Measuring the success of your CRM ensures that you're correctly using powerful business software and yielding the best possible results.