Doctors who own their own practice can generally qualify for most medical practice loans because of their high earning potential, strong net worth, and stable revenue. A Small Business Administration (SBA) loan typically will give a doctor the lowest monthly payment of most term loans. However, alternative lenders offer quicker business loans for doctors with less paperwork.
Where to Get Medical Practice Financing for Doctors
Doctors usually have plenty of financing options when they're looking for money to fund their practice. This is due to the medical field being a safe bet for lenders and the fact that doctors are likely to make enough money to cover any potential debt payments. This means physicians can be selective in finding a small business loan or other financing that fits their exact needs.
Traditional Bank or SBA Business Loans for Doctors
The best long-term financing option will generally be a loan from your traditional bank or an SBA loan through a traditional lender. These financing options typically offer the lowest rates and longest repayment terms available. However, they can take longer to fund and require much more documentation than alternative loan options.
These traditional medical practice loans are a good option for doctors who can wait for 30 to 90 days or more to get funded, and who are looking for a long-term financing solution. This makes them great if you're buying into a private practice or if you're financing a brand-new practice and need to buy real estate or expensive equipment.
In this article, we will focus on SBA loans, instead of traditional bank financing, as our long-term financing example. This is because SBA loans are the most readily available traditional loan option for doctors looking to start or buy a practice.
Alternative Business Loans for Doctors
Another option for medical practice financing is an alternative business loan, which is a short-term loan or line of credit used for immediate cash flow needs. These loans typically have higher interest rates and shorter repayment terms, making them a good fit for short-term financing needs like replacing inventory or paying for marketing efforts.
Doctors with a significant amount of debt may not qualify for SBA loans, possibly making these alternative loans their only option. This is especially important to physicians looking to start a practice out of school because 83% of doctors have more than $100,000 in student loans. That amount of debt could make it more difficult to qualify for an SBA loan or a traditional bank loan.
If you only need to finance a short-term solution, alternative loans will probably have a smaller total cost of capital than SBA loans. Alternative loans typically are only in repayment for up to three years while SBA loans can have repayment terms of up to 10 years. The additional interest accrued over an extended period of time increases your total cost of capital and can reduce the amount of money left over to invest in your business.
SBA Loans vs Alternative Business Loans for Doctors
Both SBA loans and alternative loans can be beneficial for doctors, depending on their goals, credit profile, and funding needs. SBA loans offer lower rates, longer repayment terms, and higher loan amounts. Conversely, alternative loans can offer quick funding―as quick as one day―with prime borrowers being offered rates comparable to the interest rates for SBA loans.
Funding Speed for Medical Practice Loans
The funding speed is most important if you have an immediate need like a cash flow problem or if an essential piece of equipment breaks. Alternative loans will fund much faster than SBA loans. Time savings result from shorter applications and faster processing times. While an SBA loan can take up to 90 days, an alternative lender can offer funding as soon as the same business day.
Application Process for Medical Practice Loans
The application process for medical practice loans varies widely when comparing an SBA loan to an alternative loan. An SBA loan will require several in-person visits to the bank and extensive paperwork submitted via email, fax, or in person. Meanwhile, an application for an alternative loan with an online lender can be completed entirely online, often in a matter of minutes.
Medical Practice Loan Rates
With an SBA loan, you can expect to get the lowest monthly payment, but a short-term loan can have a lower total cost of capital. While the overall rates of SBA loans are lower (6% to 12%), the repayment terms are longer, which can result in higher overall costs. Alternative loans can have higher interest rates (10% to 100%), but for very short-term needs, this can result in lower overall costs.
Medical Practice Loan Minimum Qualifications
Minimum qualification requirements for a loan often won't be your top concern as a doctor, unless you're just out of medical school, have a limited income history, or a large amount of medical school debt. SBA loans will be more difficult to qualify for under these circumstances, due to their higher minimum credit score requirements.
According to a survey by the United States Census Bureau, independent medical practices have average profit margins of 9%. This means that to qualify for the SBA debt service coverage ratio (DSCR) of 1.25x on the smallest loan amount of $30,000 and an interest rate of 8%, your medical practice will need at least $50,000 in annual revenue.
Which Medical Practice Loans Are Right for You?
Medical practice financing helps doctors start a new practice, purchase a practice, or to expand their current practice. Short-term funding with alternative business loans for doctors is best for equipment repair, working capital, inventory, and marketing. Long-term SBA loans should be used for purchasing equipment, buying out a partner, and purchasing commercial real estate.
Physicians have many reasons for obtaining financing, and you should typically weigh whether yours is a short-term or long-term financing need. For instance, if you need funds to market your new practice or to replenish inventory while you wait on insurance payments, then short-term financing is a good solution.
However, if your needs are longer term, then you'll want to consider other financing options like an SBA loan. Longer-term needs may include buying real estate or funding large equipment purchases that have a long shelf life like X-ray machines. This will keep your immediate costs low on those assets you plan to hold for a long period.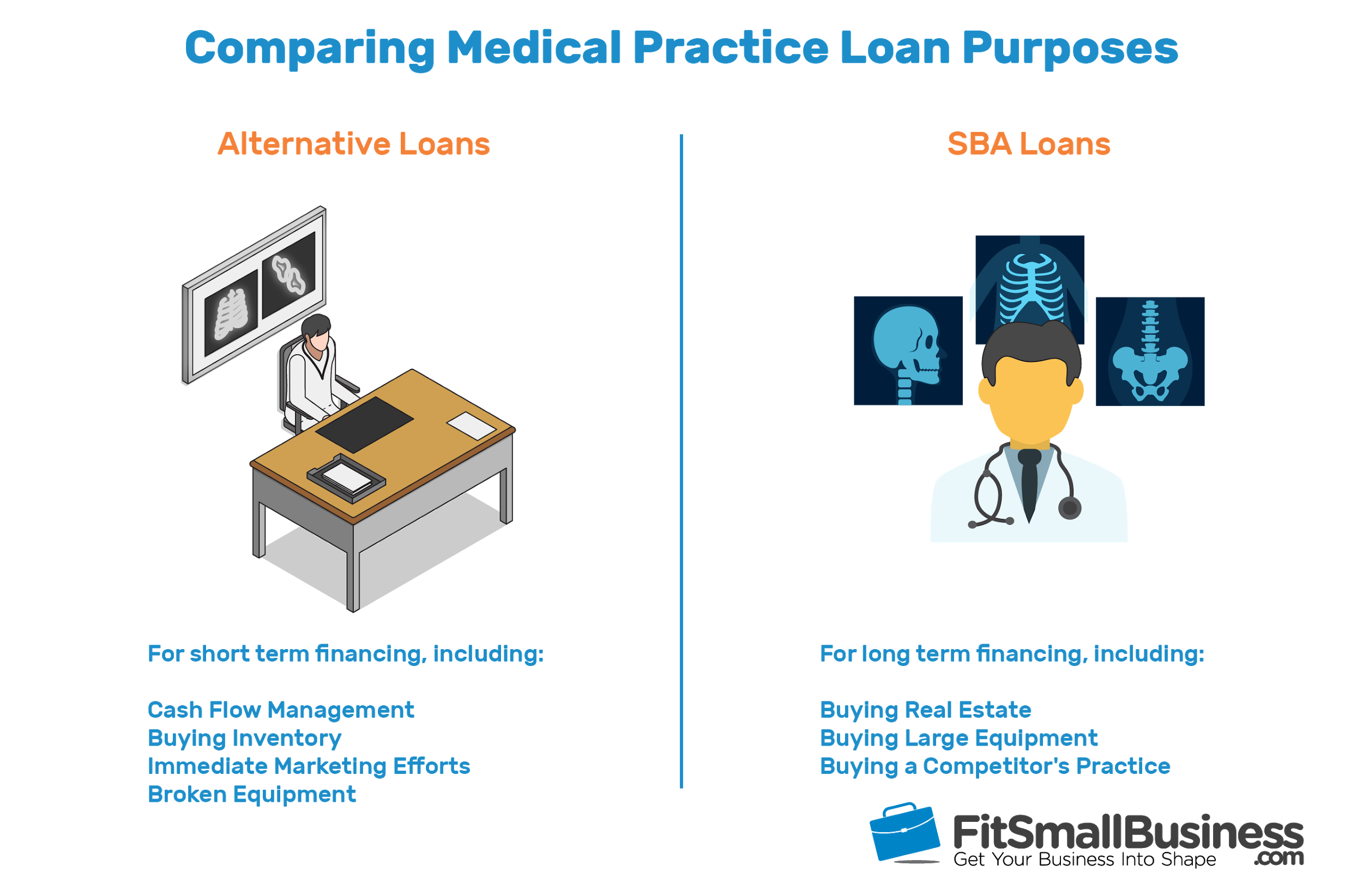 There are five main reasons you're likely to need medical practice financing.
1. Manage Cash Flow While Waiting for Payments
Many medical practices, whether generalists or specialists, can occasionally run into trouble receiving timely payments for the services they provide. Even a healthy practice with a steady stream of patients can have a tight cash flow. Short-term alternative loans can cover cash flow shortages caused by slow payers, bounced checks, and billing issues with insurance companies.
Having the right financing available to help manage cash flow is critical. While it might make sense to charge some regular expenses to a small business credit card, other expenses will require immediate cash available in your business checking or savings accounts. From making sure that payroll is met to covering your lease, it's helpful to have access to quick capital.
Some situations that may delay payments and affect cash flow include:
Patients paying their medical bills late
Issues collecting from insurance companies
Patients waiting on a legal settlement for payment
Bounced checks or other collection issues
A long-term loan, like an SBA loan, is an acceptable tool for this job. However, because it can take upward of three months to obtain, you need to have it in place before your cash flow gets tight. Even then, you're potentially sitting on unused capital and being charged interest the whole time, thereby increasing your total cost of capital.
2. Acquire Another Medical Practice or Buy Out a Partner
Acquiring a competing medical practice or buying out a partner is a great way to grow your business. It can mean serving new territories, offering new services, and acquiring new patients. Some opportunities are planned out, but others are unexpected, such as a competitor retiring early. The amount of time you've had to plan has a large impact on what financing is best for the opportunity.
If the acquisition or buyout has been part of a plan being developed with other partners or mentors, you will probably have time to organize long-term, low-rate financing with an SBA loan. While SBA 7(a) loans often take two to three months to obtain and require a great deal of paperwork and effort during the application process, you can borrow up to $5 million at great rates.
3. Purchase Equipment for Your Practice
Having the right equipment for your office is critical. If an important piece of equipment fails, you're losing revenue. If you're not investing in new equipment, you're limiting your maximum revenue capabilities. Whether you are delaying repairs, or replacement, of aging equipment or waiting for financing for expansions, you are limiting the range of patients you can diagnose and treat.
Some situations in which you can use a medical practice loan to finance an equipment purchase are:
Office expansions or new locations: If you need equipment to fill out your new office or an expansion location, then you probably have enough time to get an SBA loan.
Repair and replacement: The best way to deal with large equipment that breaks, such as an infusion pump, is by having a small business line of credit on hand to prepare for these events.
Besides medical equipment, your medical practice will have a large annual expense for information technology (IT) equipment and software. The Health Insurance Portability and Accountability Act of 1996 (HIPAA) laws are strict, and it is important to keep a patient's health information secure. You can expect to spend as much as 10% to 12% of your gross revenues every year on IT expenses. If you have time to prepare for larger purchases, then look into an SBA loan.
4. Buy Commercial Property for Your Medical Practice
Purchasing commercial real estate for a medical practice is an excellent way for doctors to grow their net worth, and it could lower your monthly expenses if you're currently renting the space for your practice. By owning the space, you stand to benefit from a reduction in overhead and the growth of your business and property as an asset.
When the right real estate opportunity comes along, you don't want to pass on it due to a lack of funding. Like SBA loans, most commercial real estate loans have lengthy application processes and can take a long time to fund. If the purchase of your next office or clinic is planned far enough in advance, timing shouldn't be an issue.
5. Marketing and Advertising to Grow Your Medical Practice
You might need money for various marketing activities when you want to grow your practice, acquire a new practice, relocate, or when expanding and opening up a satellite office. You can use financing for online advertising, including building a new website or hiring someone to manage your social media, or on more traditional advertising like billboards.
Why Doctors Use Medical Practice Loans
Doctors are graduating from medical school with more debt and fewer assets. This gives them fewer opportunities to save money to open a medical practice. Established medical practices have low-profit margins, especially when they are small. This increases the need to borrow to meet working capital, expansion, and emergency funding needs.
According to the American Medical Association, fewer doctors are operating their own practices than in the past. Its Physician Practice Benchmark Survey found that only 47.1% of physicians are practice owners, due largely to the rising student loan debt of recent graduates. More than 75% of medical students graduate with an average of $196,520 worth of debt, according to the Association of American Medical Colleges.
An annual survey prepared by the Census Bureau indicates that individual medical firms reported average expenses of $2,685,000 and revenues of $2,950,000. The gap is even smaller when large firms are excluded. This means many offices of physicians—excluding mental health professionals—are operating on average profit margins of 9% or less.
This leaves a small margin for individual practitioners to fund the purchase of equipment, regular payroll and supply expenses, and any emergencies that occur. Of the 165,326 individual practices in 2017, 55% (or 92,280 firms) had four or fewer employees. These firms rely on timely payments from insurance companies and patients to meet their obligations. The need for funding to startup, expand, maintain, and operate these medical practices is clear.
Bottom Line
Doctors who own their own practice will generally have no shortage of borrowing options. SBA loans, with their low rates and long repayment terms, are an attractive option, but the lengthy and involved application processes can make SBA loans feel like too much work. This is especially true when you're juggling the day-to-day operations of your practice.