Doctors who own their own practice can generally qualify for most medical practice loans because of their high earning potential, strong net worth, and stable revenue. An SBA loan will typically give a doctor the lowest monthly payment of most term loans. However, alternative lenders offer quicker business loans for doctors with less paperwork.
If you can't wait for the two to three months for a United States Small Business Administration (SBA) loan or want physician business loans with no collateral, consider a short-term loan from OnDeck, who sponsored this article. OnDeck offers prime borrowers rates that are as low as 9.99% and can get you funded quickly, in as quick as one business day.
Where to Get Medical Practice Financing for Doctors
Doctors usually have plenty of financing options when they're looking for money to fund their practice. This is due to the medical field being a safe bet for lenders and the fact that doctors are likely to make enough money to cover any potential debt payments. This means physicians can be picky in finding a working capital loan or other financing that fits their exact needs.
The two primary types of medical practice loans are traditional bank or SBA business loans or alternative business loans.
1. Traditional Bank or SBA Business Loans for Doctors
The best long-term financing option will generally be a loan from your traditional bank or an SBA loan through a traditional lender. These financing options typically offer the lowest rates and longest repayment terms available. They also can take longer to fund and require a lot more documentation than alternative loan options.
These traditional medical practice loans are a good option for doctors who can wait for 30 to 90 days or more to get funded, and who are looking for a long-term financing solution. This makes them great if you're buying into a private practice or if you're financing a brand-new practice and need to buy real estate or expensive equipment.
In this article, we will focus on SBA loans, instead of traditional bank financing, as our long-term financing example. This is because SBA loans are the most readily available traditional loan option for doctors looking to start or buy a practice.
2. Alternative Business Loans for Doctors
Another option for medical practice financing is to get an alternative business loan, which is a short-term loan or line of credit used for immediate cash flow needs. These loans typically have higher interest rates and shorter repayment terms. This makes them a good fit for short-term financing needs, like replacing inventory or paying for marketing efforts.
Doctors with a significant amount of debt may not qualify for SBA loans, possibly making these alternative loans their only option. This is especially important to physicians looking to start a practice out of school because 83% of doctors have more than $100,000 in medical school loans. That amount of debt could make it more difficult to qualify for an SBA loan or a traditional bank loan.
If you only need to finance a short-term solution, then these loans will probably have a smaller total cost of capital than SBA loans. Alternative loans typically are only in repayment for up to three years, while SBA loans could be spread out over 10 years. Making that many more interest payments increase your total cost of capital of the loan and can reduce the amount of money left over to invest in the business.
To learn more about the right physician business loans for your medical practice, we've created a free, five-minute webinar. Join our expert, Megan Hanna, as she covers your loan options and how to qualify for funding.
×
FREE Ebook: How To Get a Business Loan
×
FREE Ebook: How To Get a Business Loan
SBA Loans vs Alternative Business Loans for Doctors
Both SBA loans and alternative loans can be beneficial for doctors, depending on their goals, credit profile, and funding needs. SBA loans offer lower rates, longer repayment terms, and higher loan amounts. Conversely, alternative loans can offer quick funding―as quick as one day―with rates comparable to SBA loans for prime borrowers.
Medical Practice Financing: SBA Loans vs Alternative Loans
Alternative Loan
SBA Loan
Time for Initial Approval
One day
One week
Time to Receive Funds
One to two business days
30 to 90 days or more
Loan Amounts
$5,000 to $500,000
$30,000 to $5 million
Repayment Terms
Three months to three years
Seven to 10 years
Average APR Range
Average of 30% to 50%
(As low as 9.99%)
8% to 11%
Credit Score Required
At least 600
At least 680
Annual Gross Revenue
$100,000
Approximately $50,000
Time in Business
At least one year
At least two years
Visit OnDeck
Apply for an SBA Loan
Funding Speed for Medical Practice Loans
The funding speed is most important if you have an immediate need, like a cash flow problem or if an important piece of equipment breaks. Alternative loans will fund much faster than SBA loans. Since there are many alternative loan providers out there with varying rates and terms, we'll look at one provider, OnDeck.
OnDeck Funding Speed
OnDeck can typically get you funded in one to three business days. If you need the funds for something immediate, like purchasing new scopes or replenishing inventory, a fast business loan from OnDeck could be a good choice for your medical practice.
OnDeck Funding Speed at a Glance
The funding speed you can expect for a medical practice loan with OnDeck is:
Prequalification: A few minutes
Time for approval: One day
Time to receive funds: One to two business days
SBA Loan Funding Speed
A major downside to an SBA loan is how long it takes to both go through the application process and get funded. It's common for the process to take 30 to 90 days or more from beginning to end. This makes it difficult to take advantage of the lower rates if you have time-sensitive financing needs.
SBA Loan Funding Speed at a Glance
The funding speed you can expect with a medical practice loan with the SBA is:
Prequalification: One week
Time for approval: One to two weeks
Time to receive funds: 30 to 90 or more days
Application Process for Medical Practice Loans
The application process for medical practice loans varies widely when comparing an SBA loan to an alternative lender like OnDeck. An SBA loan will require several in-person visits to the bank and extensive paperwork submitted via email, fax, and at the branch. Meanwhile, an application with OnDeck can be completed entirely online, often in a matter of minutes.
OnDeck Application Process
Applying for an OnDeck loan requires some basic personal and business information, which is submitted entirely online. OnDeck then analyzes your business cash flow by syncing with your accounting software and bank account. As an alternative, you can also upload your most recent bank statements for review.
If convenience is important to you, OnDeck can be a good choice to get medical practice financing. OnDeck can lend you up to $500,000 for your medical practice without you having to go through the headaches that an SBA loan requires. Your basic personal and business information, including bank statements, is enough to get you approved.
OnDeck Application Process at a Glance
The application process you can expect for a medical practice loan from OnDeck is:
Application: Completed 100% online
Document collection: Full integration with accounting software and bank account is completed 100% online
Underwriting: Automated
Closing: 100% online and is done quickly, usually one to three days after you're approved
SBA Loan Application Process
Getting an SBA loan will require a lot of documentation, and your lender will likely have many questions for you and your business. The more complicated your financial situation is, the longer it will take to get funded. Although preparing some documents early speeds up the process, it will still take at least 30 days.
After your initial application submission, your SBA lender will typically need the following documents for each business, you own:
Ownership information
Year-to-date (YTD) balance sheet
YTD profit and loss (P&L) statements
Projected financials (one to three years)
Business licenses
Business history and overview
All business leases
Business tax returns (last two years)
Personal tax returns for all owners with at least 20% ownership (last two years)
Resumes for all owners with at least 20% interest in the company
If you plan to purchase another medical practice with the SBA loan proceeds, you will be required to provide the following information about the medical practice being purchased:
Purchase agreement
Current balance sheet
YTD P&L statement
Federal tax returns (last two years)
Schedule of inventory, equipment, fixtures, and other assets
Once you submit all the required documentation, your lender will underwrite the loan and request the SBA's approval to receive the SBA guarantee. The entire process can take up to 90 days. It can take longer if you have multiple legal entities for multiple medical practices, investment properties, etc.
SBA Loan Application Process at a Glance
The application process you can expect for a medical practice loan from the SBA is:
Application: Often requires many trips to the bank
Document collection: Emailing, faxing, and turning in hard copies at a physical branch location
Underwriting: Lots of follow up from your loan officer and the lender's underwriting team
Closing: Requires the review of more than 90 pages of loan documents, if closing documents are approved by the lender
Medical Practice Loan Rates
With an SBA loan, you can expect to get the lowest monthly payment, but a short-term loan with a lender like OnDeck will likely have a lower total cost of capital. This is because you can repay the OnDeck loan within three years while you may pay interest on an SBA loan for up to 10 years.
Costs of an Alternative Loan From OnDeck
The costs you can expect for OnDeck business loans for doctors are:
Origination fee: 0% to 5% of the total loan
Typical APR range: 30% to 50% (rates start at 9.99% for prime borrowers)
Repayment terms: Three months to three years
Calculate your costs: Prequalify with OnDeck within five minutes and see how much it may cost you.
SBA Loan Costs
The costs you can expect with SBA loans for doctors include:
Origination fee: 0.5% to 3.5% of the total loan; an additional SBA guarantee fee of 2% to 3.5% on the guaranteed portion of the loan
Typical APR range: 8% to 11%
Typical repayment terms: 10 years
SBA Medical Practice Loans vs Alternative Loans: Minimum Qualifications
Minimum requirements for a loan won't often be your top concern as a doctor unless you're out of medical school and have a limited income history or a large amount of medical school debt. SBA loans will be more difficult to qualify for under these circumstances, due to their higher minimum credit score requirements.
Qualification Requirements for an OnDeck Loan
The qualifications for medical practice loans with OnDeck are:
Credit score: At least 600 (check your score for free)
Annual gross revenue: At least $100,000
Time in business: At least one year
SBA Loan Qualification Requirements
The qualifications for SBA medical practice loans are:
Credit score: At least 680 (check your score for free)
Annual gross revenue: At least $50,000
Time in business: At least two years
According to a survey by the U.S. Census Bureau, independent medical practices have average profit margins of 9%. This means that to qualify for the SBA debt-to-service coverage ratio of 1.25x on the smallest loan amount of $30,000 and lowest rate of 8% your medical practice will need at least $50,000 in annual revenue.
Even though the annual gross revenue is potentially lower, alternative loans from OnDeck are much easier to qualify for than SBA loans. Plus, funding is much quicker with OnDeck. If you have a short-term financing need for your medical practice, then you can apply online and prequalify within five minutes. OnDeck can get you funded for up to $500,000 in as quick as one day with no collateral. If you're a prime borrower, your rates can be as low as 9.99%.
Which Medical Practice Loans Are Right for You?
Medical practice financing helps doctors start a new practice, purchase a practice, or to expand their current practice. Short-term funding with alternative business loans for doctors is best for equipment repair, working capital, inventory, and marketing. Long-term SBA loans should be used for purchasing equipment, buying out a partner, and purchasing commercial real estate.
Physicians have many reasons for obtaining financing, and you should typically weigh whether yours is a short-term or long-term financing need. For instance, if you need funds to market your new practice or to replenish inventory while you wait on insurance payments, then short-term financing is a good solution.
However, if your needs are longer term, then you'll want to consider other financing options like an SBA loan. This includes buying real estate or funding large equipment purchases that have a long shelf life, like X-ray machines. This will keep your immediate costs low on those assets you plan to hold for a long period.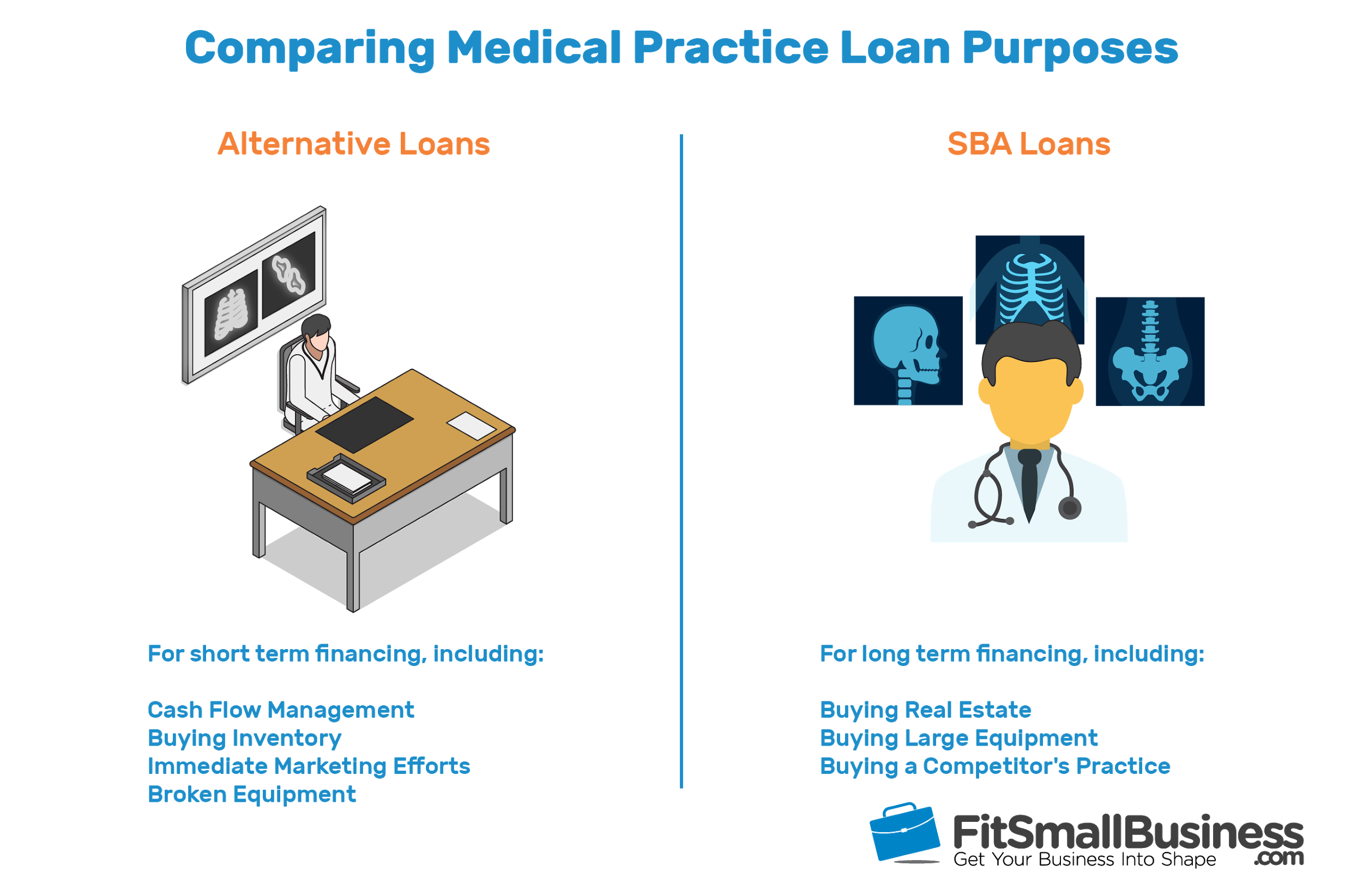 There are five main reasons you're likely to get medical practice financing.
1. Financing to Help Manage Cash Flow While Waiting on Payments
Many medical practices, whether generalists or specialists, can occasionally run into trouble receiving timely payments for the services they provide. Even a healthy practice with a steady stream of patients can have a tight cash flow. Short-term alternative medical practice loans can cover cash flow shortages caused by slow payers, bounced checks, and billing issues with insurance companies.
Having the right financing available to help manage cash flow is critical. While it might make sense to charge some regular expenses to a small business credit card, other expenses will require immediate cash available in your business checking or savings accounts. From making sure that payroll is met to covering your lease, it's helpful to have access to quick capital.
Some situations that may delay payments and affect cash flow are:
Patients paying their medical bills late
Issues with collecting from insurance companies
Patients waiting on a legal settlement for payment
Bounced checks or other collections issues
A long-term loan, like an SBA loan, is an OK tool for this job. However, because it can take upward of three months to obtain, you need to have it in place before your cash flow gets tight. Even then, despite that low APR, you're potentially sitting on unused capital and getting charged interest the whole time, thereby increasing your total cost of capital.
In that situation, a line of credit could be a better alternative. A small business line of credit is a good tool to help manage cash flow. OnDeck offers a line of credit product that has an easy online application. You can get a line of up to $100,000, with rates as low as 13.99% in as little as two days.
With an OnDeck line of credit, you only pay interest on the amount you draw, and you have six to 12 months to repay your balance after each draw. Having access to a line of credit before you need the funds means you're never in danger of coming up short because of delays in accounts receivable.
2. Acquire Another Medical Practice or Buy Out a Partner
Acquiring a competing medical practice or buying out a partner is a great way to grow your business. It can mean serving new territories, offering new services, and acquiring new patients. Some opportunities are planned out, but others are unexpected, such as a competitor retiring early. The amount of time you've had to plan has a large impact on what financing is best for the opportunity.
If the acquisition or buyout has been part of a plan being developed with other partners or mentors, you will probably have time to organize long-term, low-rate financing with an SBA loan. While SBA 7(a) loans often take two to three months to obtain and require a great deal of paperwork and effort during the application process, you can borrow up to $5 million at great rates.
Not every acquisition or buyout is the result of a well-planned transition. Sometimes opportunities present themselves suddenly, and delays in funding can mean losing out to a competitor. In these cases, the speed of obtaining financing with OnDeck is hard to beat. The borrowing limit of $500,000 may limit certain buyouts, but it is enough for most medical practices.
3. Purchase Equipment for Your Practice
Having the right equipment for your office is critical. If an important piece of equipment goes down, you're losing revenue. If you're not investing in new equipment, you're limiting your maximum revenue capabilities. Whether you are delaying repairs or replacement of aging equipment or waiting for financing for expansions or new locations, you are limiting the range of patients you can diagnose and treat.
Some situations in which you can use a medical practice loan to finance an equipment purchase are:
Office expansions or new locations: If you need equipment to fill out your new office or an expansion location, then you probably have enough time to get an SBA loan. However, if some of your expensive equipment like your X-ray system breaks suddenly, you may find that you need funds much quicker to prevent a loss in business.
Repair and replacement: The best way to deal with large equipment that breaks, like an infusion pump, is by having a small business line of credit on hand to prepare for these events. If you do not have a line of credit at your fingertips, then you likely will need to access a small business loan quickly.
Besides medical equipment, your medical practice will have a large yearly expense in information technology (IT) equipment and software. The Health Insurance Portability and Accountability Act of 1996 (HIPAA) laws are strict, and it is important to keep a patient's health information secure. You can expect to spend as much as 10% to 12% of your gross revenues every year on IT expenses. If you have time to prepare for larger purchases, then look into an SBA loan.
However, if you have equipment that breaks, and you need funds to replace it quickly then you likely can't wait for the 30 to 90 days an SBA loan typically takes to fund. In these special cases, visit OnDeck to see how much you can get funded for, in a day or two. Its business loan and line of credit don't require you to put down collateral or prepare extensive paperwork.
4. Buy Commercial Property for Your Medical Practice
Purchasing commercial real estate for a medical practice is a great way for doctors to grow their net worth, and it could lower your monthly expenses if you're renting. By owning the space, you stand to benefit from a reduction in overhead and the growth of your business and property as an asset.
"The majority of doctors do not like to lease office space. We like to see everything in our business grow in value, and leasing does not help us do that. The downside is that our business continues to grow, and we need more space, but buying new real estate is expensive. A long-term loan is ideal to help us to grow at the right rate, and it allows us to keep cash in the business."
―Dr. Vik Tarugu, owner, Detox of South Florida
When the right real estate location comes along to expand your business, you don't want to pass on it because of a lack of funds. Like SBA loan, most commercial real estate loans have lengthy application processes and can take a long time to fund. If the purchase of your next office or clinic is planned far enough in advance, timing shouldn't be an issue.
If an unexpected opportunity arises and you need funding quickly, an alternative loan from OnDeck may be a good fit. Medical practice facilities are typically affordable enough that short-term financing could be used as a bridge loan until you can get funded for a commercial real estate loan with longer repayment terms.
5. Marketing and Advertising to Grow Your Medical Practice
You might need money for various marketing activities when you want to grow your practice, acquire a new practice, relocate, or when expanding and opening up a satellite office. You can use the financing for online advertising, including building a new website or hiring someone to manage your social media, or on more traditional advertising like billboards.
Online Marketing and Advertising Activities for Medical Practices
The online marketing and advertising activities medical loans for doctors can help facilitate are:
Building a new website
Local search engine optimization (SEO) efforts
Paid advertising on Google
Paid advertising on Facebook
Social media management
Offline Marketing and Advertising Activities for Medical Practices
The offline marketing and advertising activities medical loans for doctors can help facilitate are:
Flyers
TV commercials
Billboards
Vanity phone numbers
Donations to gain local press
If your medical practice is fairly new, then you may not have the working capital funds to give your marketing efforts what they need to help your business grow. Getting quick access to capital from a lender like OnDeck can get you financing when you need it so that you don't miss a growth opportunity.
Why Doctors Use Medical Practice Loans
Doctors are graduating from medical school with more debt and fewer assets. This gives them fewer opportunities to save money to open a medical practice. Established medical practices have low-profit margins, especially when they are small. This increases the need to borrow to meet working capital, expansion, and emergency funding needs.
According to the American Medical Association, fewer doctors are operating their own practices than in the past. Its Physician Practice Benchmark Survey found that only 47.1% of physicians are practice owners, due largely to the rising medical student loan debt of recent graduates. More than 75% of medical students graduate with an average of $196,520 worth of debt, according to the Association of American Medical Colleges.
According to an annual survey prepared by the U.S. Census Bureau, individual firms reported average expenses of $2,685,000 and revenues of $2,950,000. The gap is even smaller when large firms are excluded. This means many offices of physicians, excluding mental health professionals, are operating on profit margins of 9% or less on average.
This leaves a small margin for individual practitioners to fund the purchase of equipment, regular payroll and supply expenses, and any emergencies that occur. Of the 165,326 individual practices in 2017, 55% or 92,280 firms had four or fewer employees. These firms rely on timely payments from insurance companies and patients to meet their obligations. The need for funding to startup, expand, maintain, and operate these medical practices is clear.

×
FREE Ebook: How To Get a Business Loan
×
FREE Ebook: How To Get a Business Loan
Benefits & Drawbacks of Alternative Business Loans for Doctors
Whether the benefits outweigh the drawbacks when considering alternative loans for medical practices depends on what the funding is used for. Alternative loans for doctors are best used for smaller, short-term expenses or when funding needs to be obtained quickly and without collateral. For larger loan amounts and longer repayment terms, traditional loans are a better alternative.
Benefits of an Alternative Loan for Medical Practices
Both long-term financing, like SBA loans, and short-term financing, like alternative loans from OnDeck, can be good options for doctors. Alternative lenders have fast funding time and simple application process, in addition to offering competitive rates to prime borrowers. Unlike traditional lenders, if you have another loan outstanding, an alternative lender may take a second collateral position.
Knowing when to use long-term and short-term financing is key to maximizing the value of your medical practice. While many will want to wait for long-term financing to save on their monthly payments, you may find the benefits of an alternative loan as helpful.
Offer Fast and Easy Funding
Alternative loan providers can get you funded in as little as one business day. They also have a much simpler application process, allowing you to apply online in about five minutes. All of this means you have more time to treat patients, manage your medical practice, and grow your business.
May Take a Second Collateral Position
While doctors can often have their pick of financing, many traditional lenders―banks, credit unions, SBA loan providers, and son on― will want to take a first lien position on all collateral. This may be difficult for some doctors with multiple loans, and it could be too restrictive for others looking for a quick financing solution. Some alternative lenders are comfortable taking a second position to other lenders.
Have Competitive Rates for Prime Borrowers
More often, alternative lenders are offering prime borrowers rates that are as competitive as most bank financing. For example, OnDeck offers rates as low as 9.99% to well-qualified borrowers. If you qualify, then it's difficult to justify the extra hoops you must pass through to get an SBA loan, including the collateral requirement.
Drawbacks of an Alternative Loan for Medical Practices
Alternative loans for doctors have some drawbacks and are not the best for certain financing situations like those requiring longer terms or large amounts of capital. Alternative loans for medical practices have higher rates, smaller funding amounts, and shorter repayment terms than their traditional counterparts.
Typically Cost More Than Traditional Financing
An alternative business loan for doctors typically has an APR between 30% to 50%, compared to a traditional loan with an APR that's usually less than 15%. This does not mean it's not worth it, most times the lost business from broken equipment or the time spent applying and receiving a traditional loan will cost you more than the APR from an alternative lender.
Offer Smaller Amounts of Funding
The longer underwriting time and stricter requirements allow traditional lenders to extend more credit to prime borrowers than available via most alternative lenders. This makes traditional lenders a better choice for large capital intensive purchases like real estate. However, for smaller expenses, it's difficult to match the convenience of an online lender.
Characterized By Shorter Repayment Terms
Many traditional lenders require monthly payments over five or more years for a business loan for doctors. Alternative lenders rarely extend credit for longer than three years and usually require weekly payments. Planning your cash flows to meet these obligations is important. However, keep in mind that longer repayment terms can increase your total costs, even if they are offered at a lower interest rate.
Frequently Asked Questions (FAQs) About Medical Practice Loans
In this article, we dove into the details of medical practice loans for doctors. Each business and financing situation is different, and while this article is a good starting point, you will inevitably have more questions. Below are the most frequently asked questions about medical practice loans.
Can you qualify for a medical practice loan as a startup?
It's tougher to qualify for a medical practice loan as a startup than if your business is already established. However, because the industry is considered low risk, it's easier to qualify than other industry startups like restaurants. With an established credit history and some income or collateral, you should be able to qualify.
Can recent medical school graduates receive a medical practice loan?
Recent medical school graduates may have some difficulty qualifying if they have substantial outstanding student loan debt or insufficient industry experience. Most lenders, especially those offering SBA loans, will require that you make up for a lack of experience by using an outside management firm or by partnering with a more experienced practitioner.
Are medical business loans an affordable way to finance equipment?
Business loans for doctors are one of the best ways to finance equipment, often offering better rates and terms than manufacturers. Besides considering the payments you will need to make on a business loan for medical equipment, you should factor in the additional income that will be earned with it.
Bottom Line
Doctors who own their own practice will generally have no shortage of borrowing options. SBA loans, with their low rates and long repayment terms, are an attractive option, but the lengthy and involved application processes can make SBA loans feel like too much work. This is especially true when you're juggling the day-to-day operations of your practice.
OnDeck is meeting the needs of prime borrowers, like doctors looking for medical practice loans, all the time. It offers rates as low as 9.99%, an application process that takes minutes instead of months, and can get loans approved and funded within one to three days. These loans are becoming more competitive with traditional financing options every day. Qualify online today for up to $500,000 with OnDeck.