Meta tags are snippets of text added to your website's code to help search engines more easily identify the types and purpose of your site content; this improves your ability to rank. The meta tags all small businesses should use include meta descriptions, title tags, content type tags, and viewport tags.
Identifying the best meta tags for your site and implementing them correctly can be confusing. For help, you should reach out to the experts at HostGator. Just call for a free consultation. From there, an experienced marketing project coordinator will develop a custom strategy for optimizing your site around meta tags as well as your content and keyword strategy. Click here to set up a free consultation.
How Meta Tags Work & How They Help SEO
Meta tags are snippets of HTML code text placed within website code that tell Google what your content is about, thereby increasing your ability to rank well in search results. A plugin like WordPress's Yoast plugin helps you implement the basic meta tags on every piece of website content. Just install the plugin, then fill out a simple form underneath each piece of content as you get it ready for publishing. Finally, publish your content to make your meta tags live.
Start by identifying the meta tags that are important for all websites, like title tags, meta descriptions, and viewport tags. Then, determine if there are any others that would be useful for your specific site. For example, a geotag is a good tag for local businesses trying to attract local customers while a language meta tag is useful if you need to declare a foreign language as your primary site language.
Next, add relevant tags to your site content using a tool like Yoast. Yoast is a popular plugin that can be used on the most popular content management system, WordPress. To use Yoast, simply set up your content to publish like normal, then scroll down below the body of your website content and fill out the box that says "Meta description" and "SEO title." Finally, publish your content with the added meta tags.
With meta tags in place for each piece of content, you will enjoy features and benefits that drive more potential customers to your small business website. This includes greater visibility in search engine results pages, fast content load times, and greater access to your website from all devices.
Meta Tag Types
There is a long-list of potential meta tags you can add to your website, including title tags, meta descriptions, viewport tags, meta content types, and robots tags, among others. Some offer great benefits like helping your content rank higher in search engine results pages (SERPs), but others are no longer useful for business at all. Below is a list of common meta tags and what they can do to help your business, if anything.
Here are 10 meta tags and their purposes:
Title Tag
A title tag is the title of a website page and appears across the header of a page, as well as in that page's browser tab. It tells both Google and Google searchers what your webpage is about. It also appears on search engine results pages (SERPs) as linked text that searchers can click on to view your site. As such, a strong title tag can entice Google searchers to click on your page.
There are some best practices when choosing a title tag. To avoid your title tag from being cut off with ellipses (…) in Google search results, keep it under 60 characters. While it's advisable to include a keyword within the first three words of your title, don't stuff your title with keywords. Google doesn't favor keyword stuffing and so the practice could jeopardize your ranking. Further, it doesn't create a great user experience, which could deter clicks.
Meta Description Tag
A meta description is a summary of a webpage. It appears under a page's listing in SERPs and serves to entice search users to visit a site based on its relevance to their search term and the value it provides. While Google reports that meta descriptions do not directly affect a webpage's ranking, click-through rates do. If your meta description entices more clicks, your webpage is deemed relevant and so could earn higher rankings.
A meta description should be a maximum of 160 characters. To entice clicks, include a focus keyword people are likely to use when searching for your webpage; an active-voice, unique, and non-sales-y description of the value your content offers; and a call to action. Example calls-to-action might be "Learn more" or "Try it for free." Each webpage should have its own unique description to ensure relevance to searchers' queries.
Viewport Tag
A viewport tag controls the width of a webpage based on the device being used to view it. When a viewport tag is not set, images and copy will not be rearranged or re-sized to fit each device; instead, the page elements will simply shrink, making them difficult to read. In the end, this creates text and images that are very small, so visitors must pinch and expand the screen to see everything properly.
Below is a comparison of a mobile device experience with a viewport tag and without. On the left-hand screen, the images and text are tiny so visitors have to expand the screen to comfortably view the content. On the right-hand screen, the layout of the webpage expands text and images so visitors can easily consume content.
Meta Content Type
The meta content type tag tells Google what character set (set of punctuation marks, letters, numbers, and so on) are used on your site. Leaving the character set off a page within your website could create problems with your website content loading correctly. For the most part, this is for sites that are designed from scratch and your web designer will know which meta content type tag to use for your particular site.
Robots Tag
Robots meta tags tell Google what content to note or ignore when assessing content for listing in SERPs. They tell Google to note links in articles (follow tags), to ignore links (nofollow tags), to ignore website images (noimageindex), and to ignore webpages (noindex). Without these tags, Google will assess all links, images, and pages when determining where to rank content in SERPs. In most cases, businesses that publish their own quality content don't need them.
Robot tags are useful if you've sourced images from other sites and don't want Google to rank them as your own, or if you've republished website content from other sites (syndication). By telling Google to ignore syndicated content, you help to avoid your content being flagged as duplicate content, which hurts ranking.
Rel="canonical" Tink Tag
When you have more than one URL on your website that includes the same or extremely similar content, designating one with a canonical tag tells Google which one you want the most traffic sent to. For example, different ecommerce pages featuring the same product may be confusing to Google. A canonical tag will help Google determine which page is the primary one for showcasing that specific product.
Other Meta Tags
The following is a list of less-frequently-used meta tags. Some of them are supremely useful in certain situations—like when you want to target certain regions or languages. Others, however, are better not used and should be replaced with other tactics, like verifying your content via Google itself or using redirect codes.
Here are six less-frequently-used meta tags:
Site verification: Google and Bing offer site verification tags you can use to verify your site with them. This helps ensure your content will be quickly discovered (crawled) for ranking in search engine results pages.
Refresh: The refresh tag sends a user to a URL after they've been on a page for a set amount of time. It is a form of URL redirection and is used when you've moved a page. However, this can create a confusing experience for site visitors; a 301 redirect should be used instead.
Geo: A geotag is used to specify your business's location. For example, you can specify a place name geotag (city or state, for example), position geotag (latitude or longitude of a business), and region geotag (a province of Canada, for example). While Google does not recognize these, Bing does, and helps with targeting local customers.
Language: This tag allows you to declare a major language for your site so that Google bots know in what language to analyze and rank its content. This is most often used for companies wishing to target a specific regional or national audience.
No-caching: This tag is used to tell your browser not to cache a website page. Page caching creates a static version of a page so it loads quickly. However, this static version may not always have the latest information. So, for sites that need to have up-to-the-moment real-time information on display—like breaking news sites—this tag is helpful.
How to Add Meta Tags In WordPress in 4 Steps
The primary meta tags you should add to every webpage before publishing are title tags and meta descriptions; these drive more traffic to your site from Google SERPs. Since WordPress is the most popular type of website, the easiest way to add these is via a WordPress SEO plugin like Yoast. To add meta tags using this plugin, you can fill out a simple form located below each piece of content before publishing to add meta tags.
Here's how to add meta descriptions and title tags to your website in four steps:
Install Yoast
Begin by installing Yoast on your WordPress website. To do so, log in to your WordPress website. On the left-hand menu inside your dashboard, click "Plugins," then click "Add New."
The next screen will present you with a plugin database. Use the search bar at the top of the plugin database to search "Yoast SEO."
Once you've located the Yoast SEO plugin in your WordPress database, click the "Install Now" button within the Yoast SEO box. Wait for it to install. Once it's installed, your "Install Now" button will change to an "Activate Now" button. Click it to activate Yoast SEO on your website.
Add Meta Descriptions to Blog Posts or Pages
Now that you have installed Yoast, you can begin using the simple form located below each blog post or page to add/edit meta tags. To open a blog post, click "Posts" from the left-hand menu in your WordPress dashboard. Then, click "All Posts." You can also click "Pages" instead of "Posts," then "All Pages" to add meta tags to website pages. Scroll down the list to find posts or pages you'd like to add meta tags to. Click the title of the post/page to open it.
We'll use a blog post as an example. Once you've opened your blog post, scroll down past the body of the post to locate the "Snippet Preview" box. Underneath this header, locate the "Edit Snippet" button and click it.
Once you've clicked "Edit snippet" a form will expand with a box labeled "Meta Description." Begin writing your meta description in the box. Once your description reaches an optimum length, the bar underneath the snippet will turn from red to green.

Add Title Tag to Blog Post
Next, scroll down underneath the meta description box to the SEO Title section. Here you can enter your title tag. Your title tag will appear as the primary title of your content in SERPs and is the link people click to access your content. You have a couple of options here: You can simply type your title tag into the box provided or you can use the "+ Insert snippet variable" drop-down menu to tell Yoast what elements to list here.
If you choose to insert variables instead of typing out your title tag, you can choose from four variables. The "Site Title" variable adds the title of your website. The "Title" variable adds the title of your post or page. The "Primary Category" adds the category under which the post you're editing falls on your blog. Finally, you can use "Separators" to add a bar between each variable.
To view how your title tag will appear in the SERPs as you add variables, simply view the "Snippet Preview" above where you input your title tag. It will change as you add variables, delete variables, or type in your title tag.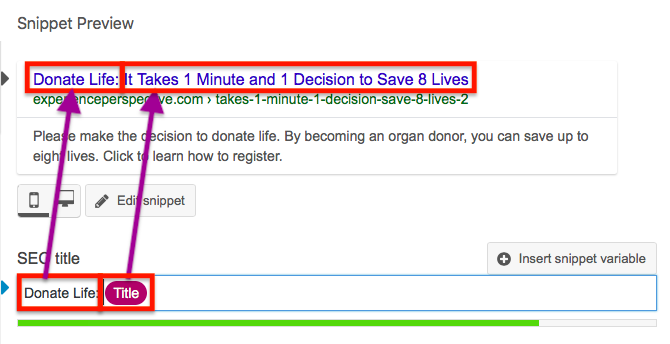 Save Your Post or Page
You must update your article or webpage again to make sure your title tag and meta description are included in search engine results pages. To save your post or page with your new title tag and meta description, scroll back up to the top of the screen. On the right-hand side, you should see an "Update" or "Publish" button. Click the button to publish your updated post or page.
As a final check, use the title of your post to search for your content in Google. Check to ensure you're satisfied with the meta tags you've added. If you are not, simply go back into your post and repeat the meta tag editing process, starting with step two.
Pros & Cons of Meta Tags for SEO
Some meta tags have a positive affect on your website's user experience; others, however, can make your user experience clunky and hurt your content's ranking in SERPs. For example, by driving more traffic to your site and helping your content rank high in SERPs, meta descriptions and title tags are good for SEO. However, the refresh tag slows website load times, creating a negative user experience likely to disappoint Google.
Here are the pros and cons of meta tags for SEO:
Meta Tags Pros
Some meta tags offer direct SEO value, improving content ranking in Google SERPs. For example, title tags are used by Google bots and searchers to evaluate the relevance of your content to search terms used by search engine users. If title tags are of the right length and include the right keywords, associated content can be more prominently featured in search results.
Other meta tags help your webpage rank indirectly. The meta description tag, for example, simply helps your webpages garner more clicks. A higher click-through rate tells Google your content is deemed relevant, authoritative, and valuable by search engine users, and so can lead to Google ranking your page higher in SERPs.
Meta Tags Cons
While several meta tags help SEO, others can hurt it by slowing load times or creating confusing experiences for site visitors. For instance, the refresh tag may create a less-than-ideal user experience by re-routing visitors to different, unexpected pages—but only after they land on an interim page that appears before the re-route can be completed. Avoid this by doing a 301 redirect, which automatically pushes visitors to the right URL without an interim page.
Top 3 Free SEO Meta Tag Tools for Small Businesses
SEO meta tag tools help small business owners or marketers that lack coding skills add and manage their website tags. Some do so by giving you simple forms to fill out, while others help you identify and fix meta tag errors already present on your website.
Here are the top three free meta tag tools for small business:
Yoast: Best for WordPress Websites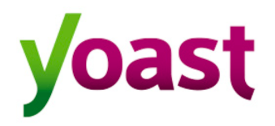 Yoast is a free WordPress plugin with simple forms for adding meta tags like title tags and meta descriptions to webpages. The forms also guide users on meta tag guidelines (like character count) so simple mistakes don't hinder content's SERPs ranking. Other SEO and metadata tools include simple forms for adding canonical tags and instantly creating and submitting sitemaps to help Google to index key webpages. Click here to try Yoast for free.

SEOCentro is a free tool for checking if meta tags are present and properly applied to a single webpage. Simply enter a URL of a page on your site or that of a competitor. Then, each tag will be color-coded to indicate if it has been applied properly (green), needs work (red), or is missing (red). For example, meta descriptions with excessive characters are marked in red. It checks meta descriptions, title tags, and viewport tags. Click here to try SEOCentro for free.
Screaming Frog: Best for Tech-Savvy Businesses With Ranking Issues

Screaming Frog is a free website crawler that allows you to generate one report that analyzes every post/page on your website for broken links (that may need redirects), title tag errors, duplicate content (that perhaps need canonical tags), and robot tag errors that could keep Google from discovering your content (like misplaced noindex or nofollow tags). Click here to start using Screaming Frog for free.
Frequently Asked Questions (FAQ)
What is a meta tag?
Meta tags are snippets of HTML code that tell search engines like Google what your webpages are about, what content is important for listing in SERPs, and how a webpage should be rendered for website visitors. Most meta tags do not appear in the body text of a webpage, but instead, are hidden from visitors in the page's code. Some common types of meta tags include viewport tags, title tags, and robots tags.
Meta tags are primarily useful for search engine optimization (SEO). They either tell Google how to categorize your webpages on SERPs or give your website instructions on how to offer a better user experience—like how to display your website on mobile apps. In turn, Google factors in the resulting positive user experience when deciding where to place (or rank) your content in SERPs.
What is a meta tag example?
A common meta tag used in webpages is a title tag. A title tag appears along the header of a webpage and in the browser tab of the webpage. It is also the anchor text of the link that people click to access the content as it appears on Google SERPs. For example, the title tag of this article is "What Are Meta Tags? Ultimate Guide."
How do I write a meta tag description?
A meta description is a summary of a webpage's content that entices a search engine user to click to read more. To write a meta description, craft a non-salesy description of the page's content in 160 characters or less. Aim for an explanation that defines the webpage value people will experience when they click. Use a focus keyword people likely use to search for the page content, the active voice, and a call to action like "Learn more."
Bottom Line – SEO Meta Tags
Meta tags are snippets of HTML that are added to website code and tell search engines what your content includes and how it's relevant to searchers. They provide huge SEO and website experience benefits, including greater visibility in SERPs, proven relevance to website searches, faster website load times, and optimal website experiences on all devices. Each should be crafted uniquely for each website page you publish.
While some meta tags are easy to optimize and place, others take technical expertise. To find that expertise, give HostGator a call. A marketing project coordinator will review your site for free, then offer a strategy to move your website toward greater visibility in SERPs. These services include meta tag crafting and placement as well as original content development centered around deep keyword research. Click here to set up a free consult.