MHelpDesk is a field service management and invoicing software for small businesses. We compiled MHelpDesk reviews from our website and available reviews from around the web to determine what their customers think about the company. We also compared the most popular pricing options for small business owners.
For an in-depth comparison of three top invoicing software, read our invoicing software buyer's guide.
MHelpDesk Customer Reviews
Overall Experience: Great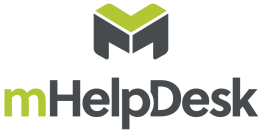 Ease-of-Use: Great
Customer Service/Reliability: Good
Rates: High
Summary of MHelpDesk Reviews
We scoured reviews online and found that MHelpDesk has generally positive ratings. Here's what we found:
What MHelpDesk does well:
Users who gave MHelpDesk a positive review liked how it helped organize their workflow with immediate notifications, and by having invoicing and scheduling in one place.
What MHelpDesk does not do well:
There aren't many negative reviews about MHelpDesk. Users who did give a negative review had varying issues which ranged from complaints about the glitchy software to thinking the reporting feature lacked necessary capabilities.
Other MHelpDesk Reviews From Users Around the Web
Here are a few other resources for finding helpful MHelpDesk reviews from customers. We rated the review sites on a scale from poor to excellent based on how trustworthy and useful the reviews seemed.
Review Website

Average Rating

Number of Reviews

Quality of Reviews

Software Advice

4.5 out of 5

456 reviews

Great

Trustpilot

9.1 out of 10

61 reviews

Good

Get App

4.4 out of 5

457 reviews

Good

*Average rating as of date article was written: July 6, 2017
MHelpDesk Pricing
MHelpDesk has one pricing option on a per user basis. Clients can start off at $95 per month for one user, and add on additional users for $25 per user per month.
MHelpDesk
Price
$95/month
Users
1
Additional Users
$25/user/month
Invoicing
✔
Scheduling
✔
Recurring Invoices
✔
Custom Reporting
✔
Multi-currency
✕
Optional Setup Fee
Prices range from $749 to $2,499
(Highest plan includes lifetime support)
Customer Support
Phone, email, premium
A subscription to MHelpDesk comes with the full suite of services and is not limited to invoicing. Services include CRM, work order management, contact management, field service automation and more. Features include the following:
Job Tracking
Quote Management
Secure Data Storage
Electronic Payments
Website Integration
Signature Management
Customer Database
Real Time Reporting
Location Awareness
Clients can opt to purchase premium support when setting up the service. With the more expensive plans, you get branding and lifetime support. Premium support comes with full service setup and data migration assistance.
Compare MHelpDesk Competitors
Not sure if MHelpDesk is the right invoicing software for your small business? Check out our invoicing software buyer's guide comparing three top providers.