Microsoft Dynamics 365 and Salesforce are customer relationship management (CRM) platforms that can work for some small businesses but are, in most cases, better suited for larger enterprises. When comparing Microsoft Dynamics vs Salesforce, we found that Dynamics 365 is good for managing operations in Microsoft-dedicated environments, and Salesforce is the better choice for sales teams.
When to Use Salesforce
We recommend Salesforce for small businesses wanting enterprise-level features and for medium- to large-sized sales organizations with multiple sales teams and dedicated administrative resources. Its enterprise-level features include granular sales reporting, approval and workflow automations, with an end user experience built around cross-departmental collaboration.
When to Use Microsoft Dynamics 365
Due to Dynamics 365's high introductory price of $65 per user, per month, it's the better fit for small businesses already heavily invested in the Microsoft ecosystem. It offers a modular CRM solution with functionality around the management of accounts, deals, products, and quotes. As a Microsoft product, Dynamics 365 works well with Office applications like Word and Excel, and supports add-ons for accounting and inventory management.
When to Use an Alternative Option
Microsoft Dynamics and Salesforce are suited for larger teams and come with hefty price tags. Smaller groups are better off considering an alternative CRM for small business like Freshworks CRM. Freshworks CRM offers comprehensive CRM functionality like task management, sales pipeline stage visibility, activity tracking, and built-in voice-over-internet-protocol (VoIP) calling at a fraction of the price. Sign up to try Freshworks CRM for 21 days, free.
Microsoft Dynamics vs Salesforce at a Glance
Microsoft Dynamics 365

Salesforce

Pricing

$6–$135 per user, per month

$25–$150 per user, per month

Hosting

On-premise or cloud

Cloud

File Storage

10GB shared storage*

1GB data per user
11GB shared storage

Contact and Task Management

✔

✔

Lead, Opportunity, and Case Management

✔

✔

Quotes Management and Order Processing

✔

✔

Operations Management

✔

✔

Sales Process Automation

✔

✔

Mobile Access

✔

✔

Third-party Integration

✔

✔

Entry-level Plan Designed for Small Teams

N/A

✔

Customer Support Included

N/A

✔

Ease of Use

Training recommended

Training recommended
*Storage is for 1 to 20 users. 5GB can be added for each additional 20 users up to 5TB.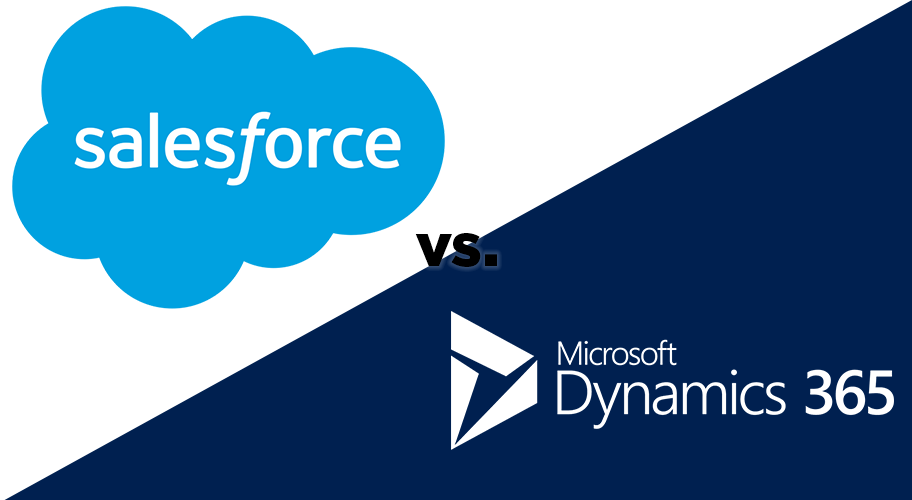 How We Evaluated Microsoft Dynamics 365 & Salesforce
Microsoft Dynamics 365 is touted as an intelligence-driven solution for corporations and Salesforce is heavily marketed to information technology companies of all sizes. Despite these associations, both Dynamics 365 and Salesforce have core functionality that helps teams tackle account, task, and deal management with customized dashboards and analytics.
When comparing Microsoft Dynamics vs Salesforce in terms of small businesses, we used the following criteria:
Price: The per-user cost for each product was compared, as well as whether there were any minimum license requirements or additional fees.
Features: We researched how well each product handles core CRM functionality like contact management, deal and activity tracking, process automation, customization capability, and system integrations.
Ease of use: We evaluated how easy it is to set up both tools and compared the look, feel, and function of user interfaces as well as the availability of mobile access and training resources.
Customer service: Each tool's customer service and technical support policies were assessed and compared.
User reviews: We evaluated a mix of positive and negative CRM software reviews from real users of both products.
We determined that of the two tools, Salesforce is the better CRM for small businesses because of a small business-dedicated solution with its introductory tier and its ability to help them organize accounts, leads, deals, and user permissions by team. Microsoft Dynamics 365 remains a solid option for large sales teams also responsible for maintaining awareness of accounts receivables and accounts payable, as well as inventory and general operations.
Microsoft Dynamics 365 vs Salesforce: Pricing & Features
Salesforce offers a plan with entry-level pricing that is small business-friendly. Microsoft Dynamics 365, in stark contrast, is priced for corporations. Because of the inherent scalability of its pricing structure, we recommend Salesforce as the clear choice for small teams.
Salesforce Pricing
Salesforce offers limited free trials, a small to medium-sized business (SMB)-focused introductory plan at just $25 per user, per month, and two higher-end plans at $75 and $150 per month. Unlimited use of the platform in its entirety is also available for $300 per user, per month.
Salesforce Tiered Features
| | Essentials | Professional | Enterprise |
| --- | --- | --- | --- |
| Pricing | $25 per user, per month | $75 per user, per month | $150 per user, per month |
| Account, Contact, Lead, and Opportunity Management | ✔ | ✔ | ✔ |
| Customizable Reports and Dashboards | ✔ | ✔ | ✔ |
| Customizable Sales Process | ✔ | ✔ | ✔ |
| Email Integration with Gmail or Outlook | ✔ | ✔ | ✔ |
| Salesforce Mobile App | ✔ | ✔ | ✔ |
| Task Management, Activity Feed | ✔ | ✔ | ✔ |
| Web-to-Lead Capture | ✔ | ✔ | ✔ |
| Collaborative Forecasting | N/A | ✔ | ✔ |
| Orders, Price Books, Products, and Quotes | N/A | ✔ | ✔ |
| Lead Registration and Rules-based Scoring | N/A | ✔ | ✔ |
| Workflow and Approval Automation | N/A | N/A | ✔ |
Essentials
Salesforce's Essentials plan includes basic contact, task, and opportunity management functionality and costs $25 per user, per month. It does not, however, include the sales forecasting or quotation management tools found in the higher-end plans, nor does it integrate with Google Apps or allow for configurable profiles based on roles and responsibilities.
Additionally, the Essentials plan is limited to 25 users. For this reason, it is best for smaller sales teams that do not require sales forecasting analytics but want a tool to help them manage contacts and stay on top of follow-up tasks. A team of this size may be better off using an alternative like Freshworks CRM, which offers similar features at a lower cost.
Since we last updated:
Freshworks CRM, formerly Freshsales, recently rebranded with a new name, new service plans, and access to Freshmarketer automation software. Forever-free plans are still available and include mobile apps, 24×5 support, live chat, and more.
Professional
Salesforce's Professional plan costs $75 per user, per month and includes additional lead management tools like lead routing and rules-based scoring not offered in the Essentials plan. There is a knowledge base feature to help sales people with cross-sell efforts and collaborative forecasting. Additionally, the Professional plan includes email marketing campaigns, quotations, dashboard reports, and case management as well as Google and Outlook integrations.
Unlike the Essentials plan, there is no user license limit. However, this plan does not include team or territory management. There is also no workflow automation. Therefore, this plan is best for highly independent sales teams who want a centralized system for managing quotes, customer relations, and marketing campaigns and do not need a tool to automate the process.
Enterprise
Salesforce's Enterprise plan includes the same contact management features as the Essentials plan with the addition of the marketing and lead scoring tools found in the Professional plan. The package also includes team and territory management and shared calendars at a per user cost of $150 per month. For $300 per user, per month, the plan includes 24-hour, unlimited customer support.
For this reason, the Enterprise plan and its unlimited counterpart are best for large team-based sales groups. The Enterprise plan also supports Salesforce's Lightning Platform and third-party app integration tool, and it offers unlimited use of the process builder, also making this plan a solid choice for organizations wanting to integrate Salesforce CRM with other applications.
Microsoft Dynamics 365 Pricing
Microsoft Dynamics 365 for Sales tiered pricing plans range from $65 per user, per month to $130 per user, per month. Additional support can be added on to any plan for a monthly subscription fee ranging from $5 to $9 per user, guaranteeing users fast support and direct advice from Dynamics 365 experts.
Microsoft Dynamics 365 Tiered Features
| | Dynamics 365 for Sales Professional | Dynamics 365 for Sales Enterprise | Microsoft Relationship Sales |
| --- | --- | --- | --- |
| Pricing | $65 per user, per month | $95 per user, per month | $130 per user, per month |
| Personalized Seller Dashboards | N/A | With Conversation Intelligence Add-On $50/user/month | With Conversation Intelligence Add-On $50/user/month |
| Pipeline Analysis | N/A | With Conversation Intelligence Add-On $50/user/month | With Conversation Intelligence Add-On $50/user/month |
| Customization | ✔ | ✔ | ✔ |
| Lead and Opportunity Management | ✔ | ✔ | ✔ |
| Office 365 Integration | ✔ | ✔ | ✔ |
| Products, Price Lists, Product Bundles | ✔ | ✔ | ✔ |
| Quotes, Orders, Invoices | ✔ | ✔ | ✔ |
| Unlimited Users | ✔ | ✔ | ✔ |
| Real-time Sales Reports and Dashboards | ✔ | ✔ | ✔ |
| Competitors, Sales Goals, Territory Management | N/A | ✔ | ✔ |
| Knowledge Management | N/A | ✔ | ✔ |
| Marketing Lists, Quick Campaigns | N/A | ✔ | ✔ |
| Partner Relationship Management | N/A | ✔ | ✔ |
| LinkedIn Sales Navigator | N/A | N/A | ✔ |
Dynamics 365 for Sales Professional
The Sales Professional plan costs $65 per user, per month and provides robust lead and opportunity contact management. It also includes quote and order management as well as some canned reports that can be exported to Excel with the click of a button or reviewed with a Power BI license.
The Sales Professional plan does not include features like mobile offline sync, unlimited customizations, territory management, or social engagement as is found in the other Dynamics 365 plans. For this reason, it is best for independent sales groups that want a centralized tool for managing customer relations, price quotes, and inventory, and those who are more comfortable managing reports, analytics, and social integrations through another tool.
Dynamics 365 for Sales Enterprise
The Sales Enterprise plan adds territory management to the Sales Professional features and costs $95 per user, per month. This plan also provides more automation and engagement tools, such as social connections, automatic email logging, customer surveys, and sales team gamification. Custom fields can be added to any form, which provides you with additional insights, lead scoring, and customer segmentation, all viewed in dashboard-styled reports.
The Enterprise plan is built with hierarchical sales teams in mind as it includes sales goal and territory management. However, the plan is also good for groups that want to conduct regular in-depth strengths, weaknesses, opportunities, and threats (SWOT) analysis, as it also provides tools to help you track your performance against specific competitors on an opportunity-by-opportunity basis.
Microsoft Relationship Sales
The Microsoft Relationship Sales from Dynamics 365 is offered at $130 per user, per month and includes the same features as the preceding plans. It also includes LinkedIn Sales Navigator, a component that can help businesses better nurture new relationships.
LinkedIn Sales Navigator makes it possible for individual users to import new accounts, leads, and contacts from LinkedIn into the CRM itself. Although this functionality can help to fill sales funnels and generate new leads, the price may be too high for many small businesses. We only recommend the Microsoft Relationship Sales plan for companies that need this specific social integration and prefer the idea of staying with a largely Microsoft environment.
Microsoft Dynamics 365 vs Salesforce: Ease of Use
Salesforce and Microsoft Dynamics 365 both have web-based user interfaces that group information such as accounts and related follow-up activities in a single page. Depending on the pricing plan, additional fields and customized dashboards can be added by users with administrative privileges. Both tools are loaded with functionality that can overwhelm the average user, and training is therefore recommended for either tool.
Salesforce Ease of Use
Salesforce is a cloud-based tool rather than a desktop app, which means it is accessible wherever internet service is available. The user interface itself is an easily navigable web page, and links grouped by headings, such as accounts, leads, campaigns, forecasts, and reports, are displayed in a dashboard format.
Salesforce hosts an app exchange marketplace featuring various third-party applications that can be used to improve Salesforce's core functionality. It is important to note, however, that adding features may increase your monthly cost.
Microsoft Dynamics 365 Ease of Use
Microsoft Dynamics is offered either hosted in the cloud, as an on-premise solution, or a combination of both, enabling businesses to control and protect their own data rather than rely on Salesforce servers. Like Salesforce, Microsoft Dynamics 365's user interface is browser-based, though navigation options appear more like buttons than links.
Microsoft Dynamics 365 vs Salesforce: Customer Service
Salesforce does not require an additional monthly subscription for access to technical support and customer training, and you can work directly with a Salesforce agent rather than being forced to go through a third party. Dynamics 365, however, does not offer the same support options. Therefore, Salesforce is the clear winner between the two products in the customer service category.
Salesforce Customer Service
Salesforce customers on any plan can access online communities to interact with other Salesforce users, documentation, and training videos from a self-service portal. From the self-service portal, users can also engage technical assistance with a response guaranteed within two business days as part of any Salesforce license. Additional support, like 24-hour assistance, can be purchased for a fee based on the particular needs of your business.
Microsoft Dynamics 365 Customer Service
Microsoft Dynamics offers additional small business support plans at an added monthly cost ranging from $5 per user to $9 per user. These add-on service plans provide users with access to community forums and self-help portals, service dashboards, unlimited online training, and phone support during local business hours.
Microsoft Dynamics 365 vs Salesforce: Customer Reviews
Customer reviews of Salesforce and Dynamics are similarly mixed, and neither tool stands out as a clear crowd favorite. Salesforce scores better in terms of task management. Dynamics 365 is said to be easier to customize. Reviewers of both products, however, recommend that anyone considering a purchase take the time to clearly define a sales process before implementing either product.
Salesforce Customer Reviews
Salesforce users really enjoy the amount of customization offered by the tool and the available integrations with third-party products. However, users also report there is a steep learning curve and that defining your sales process prior to implementation can pave the way to a smoother implementation.
Microsoft Dynamics 365 Customer Reviews
Microsoft Dynamics 365 users appreciate flexible hosting options and how seamlessly the service works with other Microsoft products like Excel and Outlook. However, some users wish for more natural search functionality and for more hands-on help when first getting started.
"A CRM is a critical tool for modern-day sales professionals and serves as a prospecting database. You have to plan to prospect. Most new sales occur after more than six times reaching out, and the timing has to be reasonable. My CRM lets me keep all notes from conversations and marketing activities, and lets me schedule follow-up tasks in one place so that I can see the history and plan the future easily."

– Marybeth Whelan, National Sales Rep, Tapecon, Inc.
Bottom Line
When comparing Microsoft Dynamics 365 vs Salesforce, we recommend Salesforce for core functionality that can support large or growing businesses and for its a team-focused design. However, Salesforce does commonly require additional training in order to maximize adoption rates, productivity, and the return on investment. For businesses looking for a simpler user experience, there are Salesforce alternatives that might offer a better fit.
Small business owners and sales managers who want to spend less time reading software manuals or watching training videos may be better served with a more user-friendly CRM like Freshworks CRM. Freshworks CRM is a budget-friendly alternative to both Salesforce and Microsoft Dynamics 365, with all of the features small businesses need to manage customer relationships and at a fraction of the cost. Try Freshworks CRM for free by visiting their website today.