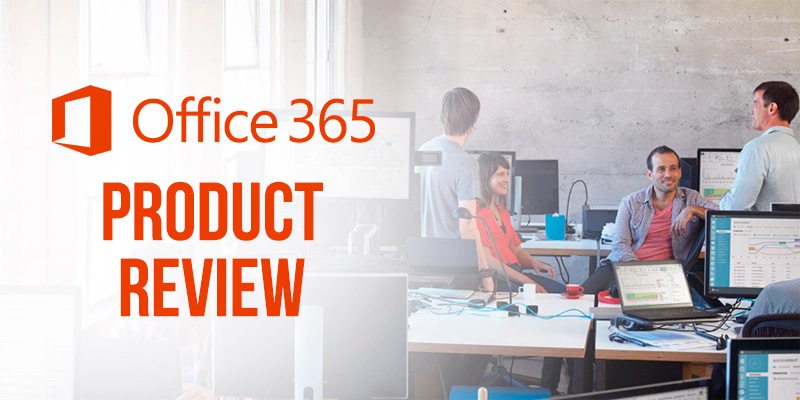 Microsoft Office 365 is Microsoft's monthly subscription for office software. We'll look at a couple Microsoft 365 options for small businesses and break down the cost and features available.
Traditionally, Microsoft Office has offered software such as Word, Excel and PowerPoint. For a long time, this would have been purchased on a disc for a few hundred dollars and installed on your computer.
Today, Office 365 Business lets you pay a monthly fee ($8.25/month) instead of making a one-time purchase. On top of getting the programs installed on your desktop, you also get access to online versions of Office programs, including Word and Excel. And with Office 365 Business Premium ($12.50/month), you also get a professional business email system that includes your custom domain, as well as other features for web conferencing and collaboration.  Purchase Office 365
Click Here to get our FREE Google advertising guide and discover the 6 steps you can use to show up #1 in Google search
What is Office 365 Business Premium?
Office 36
Business Premium
(monthly plan
service)


Office Home
& Business 2016
(traditional
desktop software)

Price (per user)

$12.50/month

$229.99
(one time)

Features

Word, Excel,
PowerPoint, Outlook,
Publisher & OneNote
(desktop applications)

Word Online, Excel Online,
PowerPoint Online,
OneDrive (web applications)

Business Email with
Shared Calendars

Video Conferencing &
Corporate Social Network

Word, Excel,
PowerPoint, Outlook
& OneNote (desktop
applications)

Word Online, Excel
Online, PowerPoint
Online, OneDrive
(web applications)

Software License

Install software
on up to 5
computers per user

Automatically updates
when new edition
is released.

Install software on
1 computer per user

Must purchase new
edition to upgrade.

Storage

1 TB per user
(file storage)
50 GB per user
(email inbox)

15 GB per user

Mobile Apps

Full mobile
apps for
iOS, Android
& Windows Phone

Limited mobile apps
for iOS, Android
& Windows Phone
Office 365 Business is similar to the traditional Office desktop suite. Both products give you the latest software installed on your computer (Word, PowerPoint, Excel, Outlook & OneNote). With Office 365 Business Premium, you also get bonus features such as business email, and you pay a monthly fee ($12.50) instead of the $230 upfront cost.
Here's all of the bonus features you get from Office 365 Business Premium:
Business Email

featuring your own custom domain. You get an ad-free inbox, generous 150mb limit for message attachments and shared calendars to use between you and your employees.

HD Video Conferencing

with screen sharing and instant messaging.

Yammer Private Social Network

for team collaboration. (

see here

)

1.5 TB of storage

per user, for documents & emails.

5 Licenses per user.

Each user can install the desktop programs on up to 5 different computers.

Mobile Apps

for Word, PowerPoint, Excel, Outlook. Available for iOS, Android and Windows Phone.
There are mobile apps available for free, although they have limited features. The free Word app, for example, does not let you work in landscape orientation. It also has limited formatting options and no Word Art. The Excel app has limited controls for Pivot Tables and the PowerPoint app does not include Presenter View. With an Office 365 subscription, however, you get all of these features.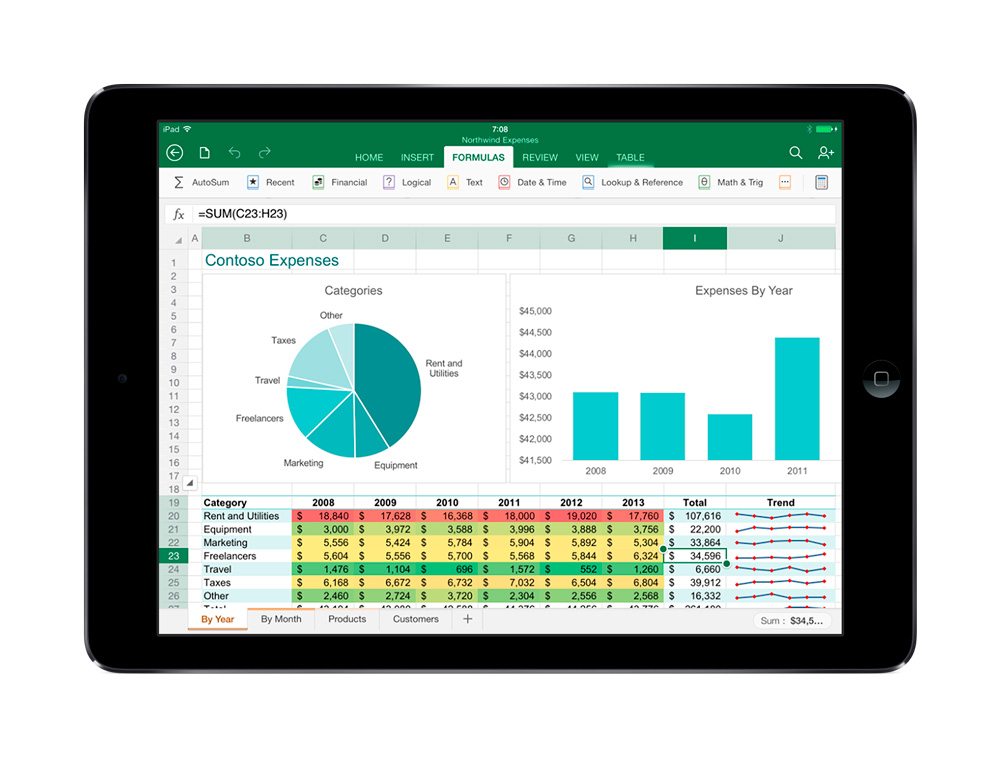 Why Pay a Subscription?
As a subscriber to Office 365 for small businesses, you get the latest desktop software as soon as it's released. You never have to pay for an upgrade.
By contrast, without an Office 365 account, you have to pay in order to upgrade to each subsequent release ($230 or more).
Now, Microsoft releases a new edition of Office every 3 years. So in the long run, buying the product upfront can be cheaper than subscribing: $12.50 x 36 months = $450 vs. $230 one-time purchase. However, only with a subscription to Office 365 Business Premium do you get the bonus features listed above, including Business Email, 1 TB document storage and mobile apps.  Click here to purchase.
Business Email
One of the major perks of subscribing to Office 365 Business Premium is that you get a professional business email system. What this means is you can create email accounts for you and your employees that feature your small business website's domain.
For example, if your domain was www.lcrlakegaston.com, you could create the email address Tim@lcrlakegaston.com.
You can also create "shared" emails like Inquiries@lcrlakegaston.com. This email address wouldn't be assigned to a particular user, but rather to a group of employees. These users can access a separate email folder titled "Inquiries" and reply to messages from their personal email address, or from the shared address "Inquiries@lcrlakegaston.com." (see more here)
Each user gets to use Microsoft's email client Outlook, which can be installed on their computer or used from a web browser. Outlook gives each user 50GB of storage for their emails and attachments (enough for over 600,000 emails, or 50,000 PDF documents.)
Setting this up is a simple process. The only tricky part is that you need to prove the domain belongs to you before you can start using it as your email address. If you registered your website with GoDaddy, you can do this all from your GoDaddy account menu (explained here.) For other domain services, you'll need to enter a short passcode (known as  "TXT record") provided by Office 365. This video from Microsoft explains the process.
Microsoft Office Online Apps
In addition to mobile apps for Android, iOS and Windows Phone, Microsoft offers browser-based versions of their Office programs. You can use a simplified version of Word, PowerPoint or Excel from your web browser.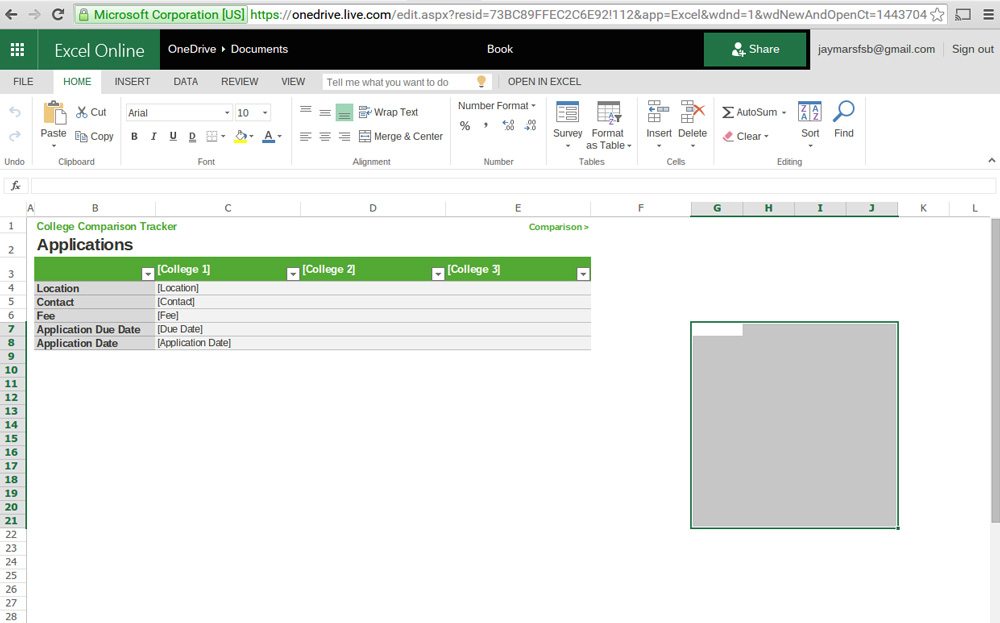 Along with the convenience of being able to work on your documents from any internet connected computer, the online apps let you collaborate with other users. You can invite multiple people to view or edit a document at the same time. Edits are made in real time, so you can see as another user is typing.
Best Used Alongside Desktop Apps
Although the online apps are available for free, you get extra functionality by using them alongside the desktop versions. By default, the online apps save files to OneDrive – Microsoft's cloud storage service. The desktop programs, likewise, have a feature that automatically backs up your documents to OneDrive. So if you're working on a spreadsheet on the desktop, then get called out of the office, you can easily pick up on the same spreadsheet from any device.
Likewise, if you're working on a document online you can click "OPEN IN WORD" and immediately switch to the desktop program. This can be very helpful if, say, you're about to head out on a flight and want to keep working without relying on an internet connection. The online apps can function with a spotty connection, but not if your internet connection is gone completely.

Office Online vs. Desktop: Features
Another reason you might need to switch from the online app to the desktop app is to use more advanced features. While the online apps have most of the core functions, there's some advanced things you can't do. Most notably:
In

Word Online

, you cannot run macros, edit footnotes/endnotes or create shapes, equations, text boxes, symbols or WordArt.

In

Excel Online

, you have limited graphing functionality.

In

PowerPoint Online

you cannot embed audios or videos, there's few animation effects and there's no "Presenter View" to see your notes while giving a presentation.
The desktop version, on the other hand, still carries all of these advanced features. So ifyou're working online and need to add a text box or footnote, you can just click "OPEN IN WORD" and immediately switch to the desktop app without closing the document.
Microsoft Office 365: Other Editions
The main edition of Office 365 is called "Business Premium." At $12.50/month, it includes business email, Office desktop programs, Office mobile/online apps, 1 TB document storage, HD video conferencing and more. While this gives you the most bang for your buck, if you already have business email or you don't need the desktop programs, you can save money by going with a lower tier plan.
Here are the other Office 365 Editions. We'll also compare them to a free Office Online account, which lets you access the Word, Excel and PowerPoint online apps:
Office 365
Business
Essentials

Office 365
Business

Office Online
(free account)

Business Email,
Video Chat,
"Yammer"
social network

Yes

No

No

Office Online Apps

Yes

Yes

Yes

Office
Desktop
Programs

No

Yes

No

Mobile Apps

Basic

Full-featured

Basic

Document
Storage (via
OneDrive)

1 TB per user

1 TB per user

15 GB

Price

$5/month

$8.25/month

Free
If you don't need business email or the desktop apps, you can get by with a completely free Office Online account. Just note, if you were previously using the desktop version, you'll notice some key features are gone (as noted above). Also, the online apps will not work when you aren't connected to the internet
To try the apps for free, just go to Office.com and scroll to "Get started with the online apps now."
Click Here to get our FREE Google advertising guide and discover the 6 steps you can use to show up #1 in Google search
The Bottom Line on Office 365 for Small Business
Subscription-based pricing is a relatively new idea for Microsoft users. Although it can be a little more expensive over a few years than the one-time purchase, you get a full-on business system. Having business email with a custom domain, 1 TB online document storage per user and online collaboration tools would normally cost you heck of a lot more than $12.50/user/month. Get Office 365