Microsoft Teams Channels: A UCaaS Feature Spotlight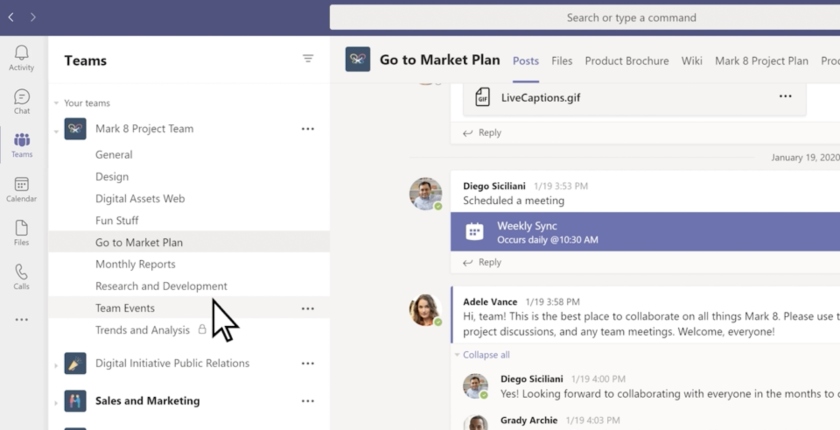 Conversation channels in Microsoft Teams are sections within a team that help organize the exchange of messages and files. Channels are created based on topics, like specific department or project names. This feature is included in Microsoft Team's free version.
What Is a Channel in Microsoft Teams?
A channel is a single space for topic-focused discussions, typically found in unified communications systems' messaging tools. It can be organized based on projects, features, or whatever purpose you intend your channel to address.
Microsoft Teams channels let you set the privacy settings to Standard if you wish to provide access to everyone on your team or Private if you prefer to share it with specific team members.
Key Features
While a Microsoft Teams channel is a straightforward tool, there are capabilities that it comes with that you should note. Let's review what you can do with this capability.
Channel Creation
When creating a new team through templates, Microsoft Teams also presents channel suggestions. You can keep the preconfigured channel names or rename them according to your needs.
Additionally, those with an existing team can add more channels through the specific team menu, prompting users to create one.
Adding a Channel When Creating a New Team
Adding a Channel in an Existing Team
All teams come with a General channel that displays details based on the team size. For large teams with many members, it shows the information on who joined and left the team. Meanwhile, for smaller teams with fewer channels, it can be the main space for announcements and conversations.
Adding Channel Tabs
Tabs—found at the top of your channel—are links to files, apps, and services. This grants easier and quicker access. There are three default tabs in each channel:
Posts: This tab acts as a group chat with threaded conversations. All replies will stay connected to the original post, making it easier for users to follow these conversations.
Files: This tab stores all the files shared in the channel, either through file links or actual document uploads.
Wiki: This tab is a smart-text editor that allows you to draft, edit, and chat in a single space.
You can easily add more tabs through the plus button beside the last existing tab.
Customizing Channel Notifications
You can adjust alerts you are receiving from a channel through the ellipsis icon that displays a menu with Channel notifications. Once its window appears, you may modify its settings, including banner and feed (which will send notifications to your device and your Teams app Activity section) or only show in feed.
Showing or Hiding Channels
Keep your platforms organized by showing or hiding channels as needed. The General channel always appears at the top; the rest are displayed in alphabetical order.
To hide a channel, simply click on the ellipsis button on the right side of the channel, and click the Hide option. On the other hand, selecting the hidden channels link will display the list and the Show icon while you hover on the specific channels.
Pinning or Unpinning Channels
Make your important channels easy to find by pinning them. Users can pin and unpin channels easily through the ellipsis button beside the channels and by clicking Pin or Unpin.
Initiating Channel Meetings
Microsoft Teams allows users to initiate video or audio meetings from the channel window. It also uses the channel's name as the default, making it easier for you to start the session in no time.
If you are looking for more video conferencing options, check out our list of the best video conferencing software to find out which best suits your needs.
Microsoft Teams Channels vs Group Chats
Microsoft Teams channels and group chats are confusing for some users. Both can be topic-focused and allow you to initiate meetings within their window. However, it still has its differences. Let's discuss some of these contrasts.
Microsoft Teams group chats are more casual. Unlike channels, it is set to private, and only group members can view files and conversations. Additionally, it only allows up to 250 members, unlike channels that let you invite 25,000 users. Microsoft Teams also turns off some features—like video and audio calling—when over 20 users are in a group chat.
When to Use Microsoft Teams Channels
If you think that group chats aren't enough, then Microsoft Teams channels are your best bet. Learn when to use a channel—instead of a group chat—with some use cases below to help guide you. Go for a channel, instead of a group chat, when:
You need to communicate and share information with a wider team
You need conversations for long-term collaboration
Your team are collaborating on files that need to be uploaded and updated during the project duration
You want all users, including newly added ones, to be able to see previous messages and files shared within the channel, a feature that group chat lacks
You prefer specific message notifications, like getting an alert only when mentioned or tagged
You want to share structured messages that follow formatting rules and start threads for a more organized conversation
You need extended third-party integrations, as group chats only have a limited list of allowed app connections
Not sure if Microsoft Teams is for you? Read our list of the best Microsoft Teams alternatives to analyze more options.
Bottom Line
Microsoft Teams channels help businesses organize conversations for a more efficient workflow. It also consists of tools like tabs and notifications to ensure that no one misses important messages and files. Microsoft Teams also makes it easier to create channels or initiate meetings within their windows with prepopulated fields for team templates, suggested channels, and channel meeting name.