The dream of running a mobile business usually goes something like this: You wake up on a resort in the mountains and check email over coffee. You have a few quick calls between rounds of golf and later that evening, run over reports amid the sea breeze of a sandy beach.
Sound like a dream? Well, that's probably because, by and large, it is. Save a few top-earning executives, the idea of a leisure-filled pina colada-sipping business day isn't going to fly for most small business owners. You have responsibilities and lots of hands-on duties you can't cater to 1,000 miles away.
Or so you think. Though the 'day of leisure' may be a myth, the idea of taking a business on the go is not. Thanks to cloud business applications, it's possible to perform just about any job – from accounting and payroll to project management, sales and more – from a mobile device. You can be home one day, in Bahamas the next, and nobody, from your employees to your customers and clients, would have to know that you ever left.
Before we dive into the details on this topic, we also suggest you check out Nextiva, our recommendation for the best small business phone service provider. Visit Nextiva to learn more.
Here are some of the popular mobile apps that make it possible to run your business from a mobile phone:
If you oversee a sales team I don't have to tell you how important is to take your CRM with you on the go. Whether you're taking calls from clients and need to recall your notes, send out an employee for an onsite demo or just manage your sales team in general, a cloud-based CRM will keep you (and everyone else) on top of things.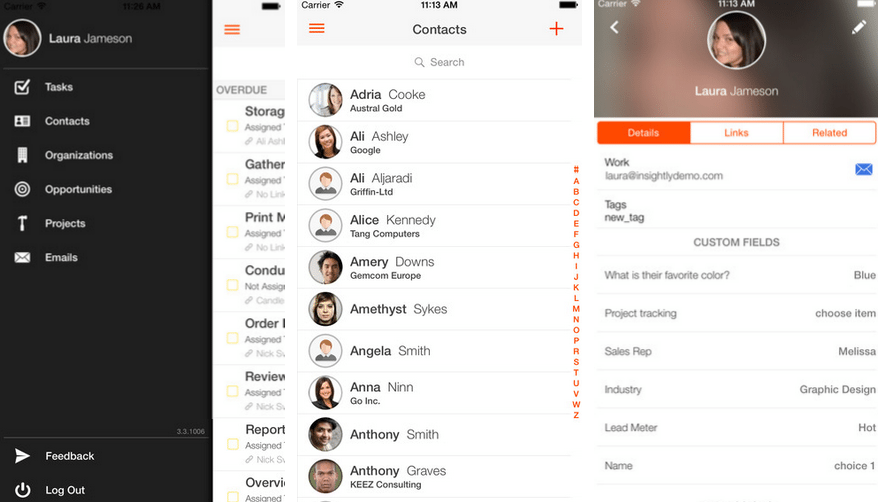 Insightly (pictured above) is ideal if you just need to track your interaction with clients and manage the various tasks of a sales team. Zoho is for business owners who want to take this a step further by adding follow-up reminders, marketing automation, and more.
Both have top-notch mobile apps that give you just about all the tools you need to manage from afar. With Insightly you can view/edit all your records (contacts, tasks, opportunities, emails etc.) and assign tasks. With Zoho (pictured below), you can do all this and more. A map tool displays nearby contacts and integrated calling lets you dial contacts straight from the CRM and log the conversation afterwards with notes. Zoho even works offline, so you can view records and add notes even if you lose a signal.
For a full review of  the best CRM providers, check out our in-depth Buyer's Guide.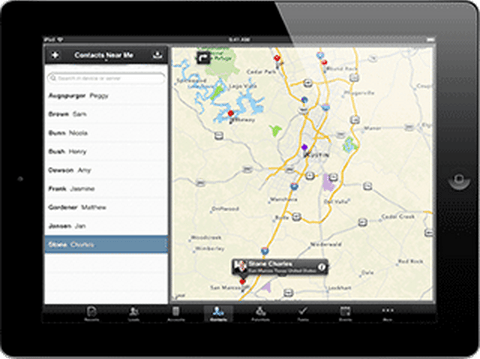 Project Management: Basecamp
Perhaps you've left on trips before and found it difficult to work through email. No doubt, email can get messy, especially when you need to share files or hold group conversations. This is why many teams have opted for project management software – for use both inside and outside the office.
Basecamp is one of the most popular cloud-based project management programs. It functions kind of like a closed-off social network for your business. Each project has a "profile" page where you can view the latest updates, check off tasks on a to-do list, host team discussions and share files.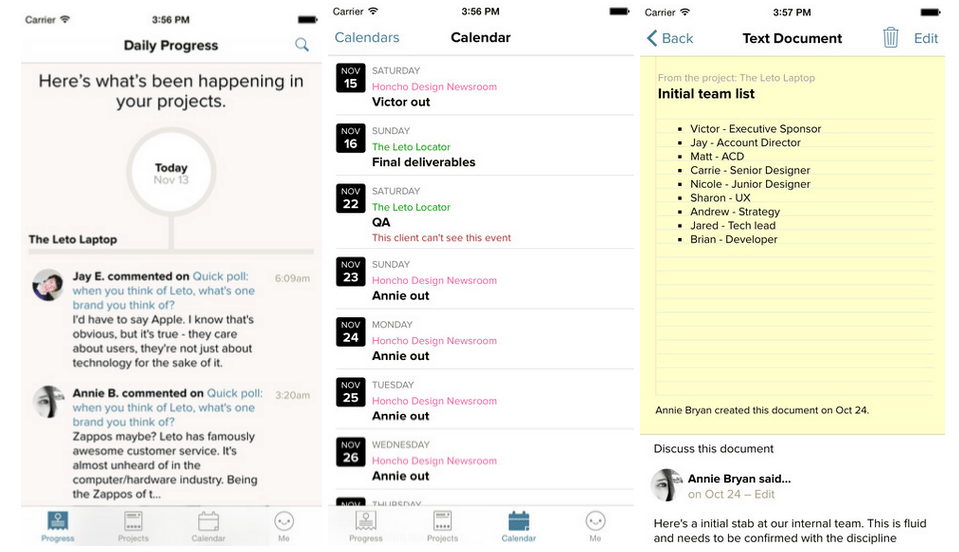 The mobile app (pictured above) gives you all these tools and more. You can view a calendar of your team's daily to-dos, open text documents, and view live updates on a simple dashboard. At just a quick glance to your smartphone, you can check in on everybody's daily activities.
If you're looking for a way to communicate with your team without the emphasis on projects, Slack is a good alternative. It's a simple & sleek group messaging app where you can host numerous private or time-wide discussions with your employees. Some of the perks are the ability to upload files by dragging & dropping, and the ability to embed YouTube videos or Soundcloud songs just by posting a link. Like Basecamp, it's fully accessible through a mobile app. For more information on the best project management options, check out our complete guide to the best project management software.
VoIP & Auto-Attendant: Phone.com
So let's say you're gone on a trip and need to take a few emergency calls from clients? Do you give them your personal cell phone number, or wait until you're back so you can call them from your office phone?
If you use a VoIP phone system, such as Phone.com or Nextiva, the solution is simple: Using a mobile app, you can make outbound calls with your office number, even if you're thousands of miles away from your office phone.
The mobile apps offered by these VoIP systems gives your smartphone much of the same functionality as your office deskset. With Phone.com, for example, you can join conference calls, transfer calls, manage your voicemail and contacts, view faxes and more. If you log in through the browser, you can completely set up or edit your auto-attendant that will route calls for you automatically – no additional tools required besides an internet connection.
Quickbooks Online, the cloud-based counterpart to the popular desktop program, was released in 2004. It's taken some heat from desktop users who found the tools and interface unfamiliar, but it's since been embraced by many small business owners.
The program includes a mobile app where you can view accounts with daily imported bank feeds, add transactions, send invoices, generate reports and even process payments on the spot. This gives you most financial tools you need on the go, however, for all other features, you can simply login via your mobile browser and use the full version.
Quickbooks has traditionally been a popular choice for small businesses owners due to their large professional support network, including Quickbooks-certified accountants and bookkeepers. If you're comfortable handling things on your own, however, there are more affordable solutions. Wave, in particular, is a completely free accounting program. You can log in via a mobile browser or install their apps to track receipts, manage receivables and send invoices. It can be a great solution for small enterprises, though it lacks the advanced features and larger support network of Quickbooks Online.
For more about online accounting solutions see our Small Business Accounting Buyer's Guide.
Industry Specific Apps:
It doesn't end here. There's countless other business programs that include strong mobile apps. Even when it comes to more niche industries, more often than not, you can find a solid mobile solution. Here's just a few examples:
Shopify

– For retailers, both internet-based and brick and mortar, Shopify gives you a full-powered POS system that you can manage from a smartphone

Freshbooks

– For B2B businesses that need to bill clients for projects, Freshbooks lets you track time and send invoices using their mobile app.

mHelpDesk

– For mobile/field service businesses, this app gives you everything you need to schedule and manage projects.

Booker – For salons, spas and fitness centers, Booker's mobile app enables you to manage appointments, payments and your webstore on the go.
We know there's many many more, so feel free to share your favorite business apps in the comment section below.