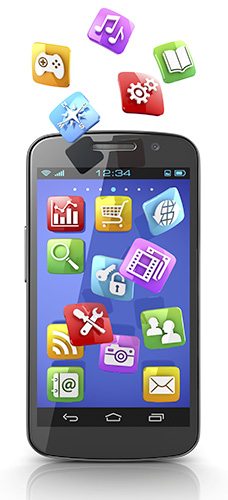 According to the Digital Marketing Report Q4 2014, 42 percent of organic searches are now performed on mobile devices. To anyone who has noticed the sheer number of people engrossed in their smartphones or tablets on the go, this will come as little surprise: mobile search is now a major channel that businesses need to embrace.
The same report also revealed that mobile-driven organic traffic rose 54 percent during the year's final quarter. Another report, released by Google, revealed that 48 percent of all mobile users begin their research into a product or service on search engines, highlighting the role good optimization plays in driving traffic to sites.
Engaging users and striving to convert them into customers is key—as is keeping existing customers satisfied enough to remain loyal to your business. How can you do this?
Here are five expert techniques:
Click Here to get our FREE Google advertising guide and discover the 6 steps you can use to show up #1 in Google search
1: Keep it Simple, Keep it Quick
This is a key technique to remember when formulating your mobile marketing plan: mobile users should not be treated exactly the same as those sitting at a desktop PC or laptop. When we use our mobile devices to browse, we're usually on the move or looking for quick information; this means your site must provide users content that is easy to read in just moments.
While longer-form content is becoming more and more important (due to changes in Google's algorithms), mobile-focused content should be designed for easily digestible reading. 
2: Employ Click-to-Call Features
Most of the time, when we use our mobile browsers and apps to search for a company, we want to get in touch with them for a specific reason. If a business site has a clumsy layout with hard-to-find contact details, the user is likely to become frustrated—perhaps enough to abandon the search and try an alternative company.
A click-to-call feature is an ideal way to allow users a quick, simple connection with your business. Embedded real-time communications, including voice, video and messaging, gives users an opportunity to get the information they need, direct from the source, with a minimum of fuss. Platforms like Agora.io provide a fast, powerful worldwide network that optimizes real-time communication between mobile devices, helping businesses communicate with their customers from the "palm of their hand".
3: Offer Mobile-Only Discounts or Offers
Not only should you provide mobile users with a site optimized for high-quality, fast performance on smaller screens, you should also give them an incentive to return. Offering discount codes or digital coupons for your products or services is a fantastic way to increase conversion rates. Even if a user only takes advantage of this once and fails to make subsequent purchases, giving them freebies or discounts will help to reinforce your brand in their minds.
4: Ensure All Marketing Emails are Mobile Compatible
Email marketing is a powerful channel to exploit: one survey revealed that 44 percent of email recipients were inspired to make at least one purchase from a business based entirely on a promotional email.
As most consumers read emails on their mobiles, whether away from their laptops or on the move, making your marketing messages mobile-compatible is essential—one that takes time to fully open or needs to be viewed in a browser is less likely to be read. You should also personalize messages by putting customers' names in the subject line; one report showed messages carrying these are 22 percent more likely to be opened.
5: Use Social Media Apps to Connect with Users
Social media networks like Twitter, Facebook, and Instagram are standard apps on many phones today, with millions of users just a tap away from your business. Connecting with existing and potential customers via social media is a low-cost, effective way to build your brand.
Sharing company news, special offers, images, and discount codes with your followers offers them real incentive to view your posts. If one follower finds a post interesting or believes their friends will enjoy it, they can share it in a second or two—potentially driving fresh traffic your way with little input from you.
Customers are increasingly going mobile only, or relying heavily on their mobile devices more so than ever. It's important that every business knows how to effectively reach and engage them, no matter how big or small a business is. Social engagement, connections and communications are key elements to keep your customers tuned in and engaged, helping to keep your business in the forefront of their minds. If your competition aren't doing these things, and you are, you'll reap the benefits.
Click Here to get our FREE Google advertising guide and discover the 6 steps you can use to show up #1 in Google search