Mortgage statistics can help real estate investors and homebuyers who are looking to borrow money to buy a house or rental property research and find the best rates and terms. Having data on mortgage trends can also help to determine the best time to buy an investment property and evaluate a property's positive cash flow.
Here are 21 mortgage statistics that you might not know.
1. The United States housing market will slow
Since the beginning of 2019, home sales declined as home selling prices increased. This is in part due to 74% of wage earners not being able to afford to buy a house. Housing prices have increased year-over-year since 2012, but the trend has begun to slow. This slowing is good news for buyers and real estate investors who are looking for a good deal.
—Sources: Global Property Guide and ATTOM Data Solutions
2. Housing prices, new mortgages, and refinance 2019 trends
The Federal Housing Finance Agency (FHFA) House Price Index (HPI) reported housing price increases of 4.6% from August 2018 to August 2019. Freddie Mac reported in November 2019, new mortgage applications rose 15% from the previous year, and cash-out refinances have begun moderating due to not many borrowers can get a lower interest rate through a refinance. About 40% of cash-out borrowers used the money to pay off bills or other debt.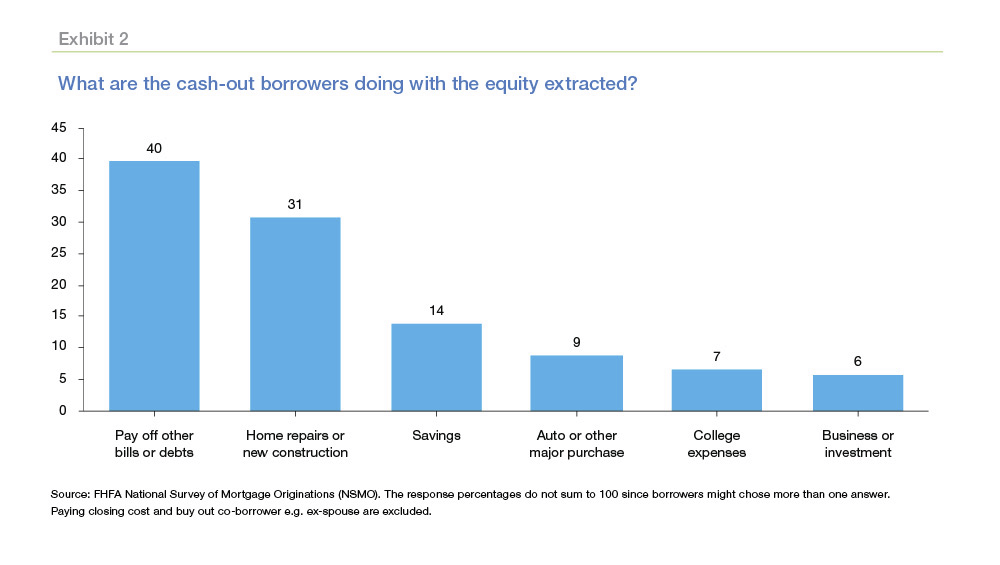 —Sources: Federal Housing Finance Agency and Freddie Mac
3. Interest rates increasing
Interest rates averaged 4.1% for the first three quarters in 2019. Freddie Mac reported that the uptick in mortgage rates from September 2019 to November 2019 reflects declining fear of a recession. It also stated that the improving housing market is a strong reassurance that the economy will remain solid. Consumer confidence is also higher with mortgage balances continuing to increase.
— Sources: Freddie Mac and Experian
4. Nonbank loans account for 44% of borrowing
Nonbanks are originating almost half of all mortgage loans. Nonbanks are lenders who don't offer full-service banking like savings, checking, and deposit accounts. Nonbank mortgage providers streamline their mortgage originating process, making it easier for borrowers to obtain financing. Private money lenders are nonbanks and have more lenient borrowing guidelines on investment properties than traditional banks. Rates and fees can be higher, but borrowers can get funded in just a few weeks.
— Sources: The Economist, Investopedia [https://www.investopedia.com/terms/n/nonbank-banks.asp], and The Wall Street Journal
5. The average down payment is around 6%
Nonowner-occupied investment properties often require a larger down payment—sometimes 25% to 30%. The average down payment for buying a house is currently around 6%. Many first-time homebuyers think they have to save 20% to buy a home, but some mortgages require as little as 3.5% down. Borrowers who put down less than 20% will have to pay private mortgage insurance.
— Sources: National Association of Realtors [https://www.nar.realtor/blogs/economists-outlook/61-percent-of-first-time-buyers-made-a-low-downpayment-in-november-2017] and HousingWire
6. The median down payment is $15,490
In 2018, borrower down payments were a median of $15,490 when buying a new property. The average 6% down payment made the average home selling price in 2018 around $258,000. The average home selling price dropped in 2019 to approximately $234,000.
—Source: HousingWire
7. All-cash sales were 22% of all transactions
Individual real estate investors buying non-owner-occupied properties were 13% of the 22% of all-cash buyers in 2018. This was a decrease from 16% in 2017. Owner-occupied homebuyers for single-family homes and condos made up the remaining 9% of all-cash buyers.
With nonbanks making it easier for buyers to obtain financing, and lenders softening somewhat on the strict guidelines that were established after the subprime mortgage crisis, the reason for the drop in all-cash sales is likely due to a more favorable lending landscape.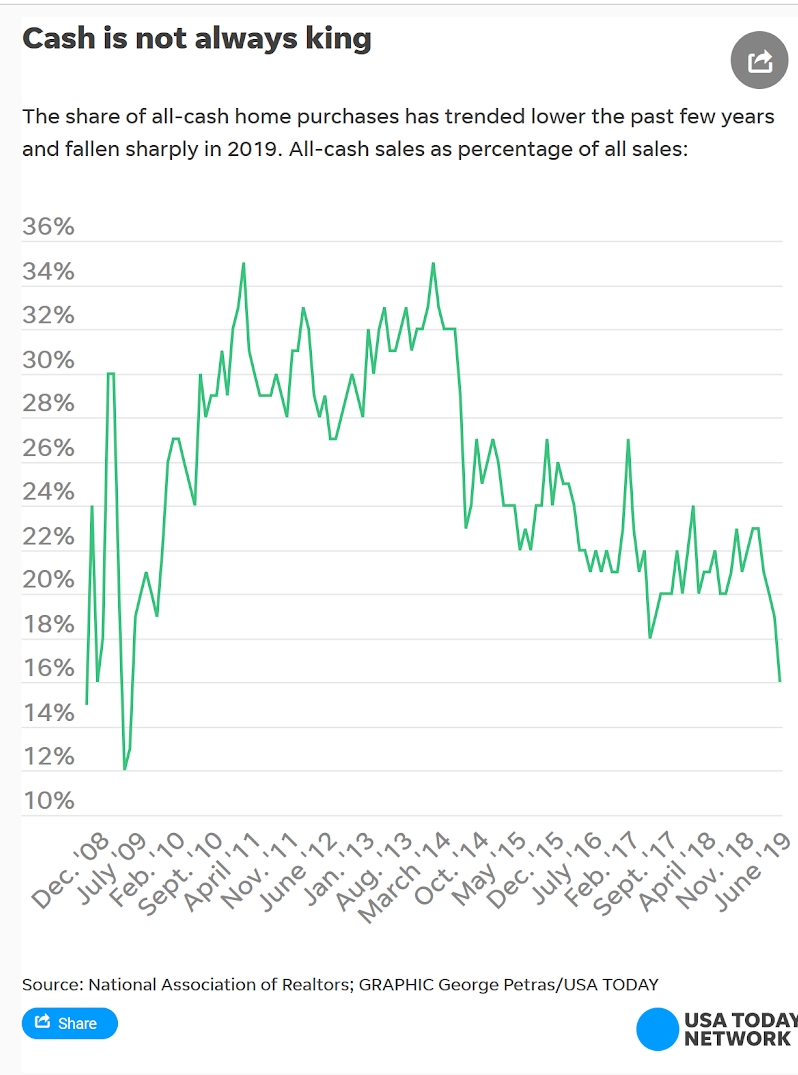 — Sources: ATTOM Data Solutions, Global Property Guide, and USA Today
8. First-time investors purchased 20.3% of starter homes
Small startup firms and individual investors buying fewer than 10 properties purchased 20.3% of starter homes in 2017 and 2018, accounting for 60% of all investor-purchased homes. Investors are buying more starter homes than larger properties. Startup investors purchasing medium-tiered and high-end properties were 7.8% and 6.3% in 2018, respectively.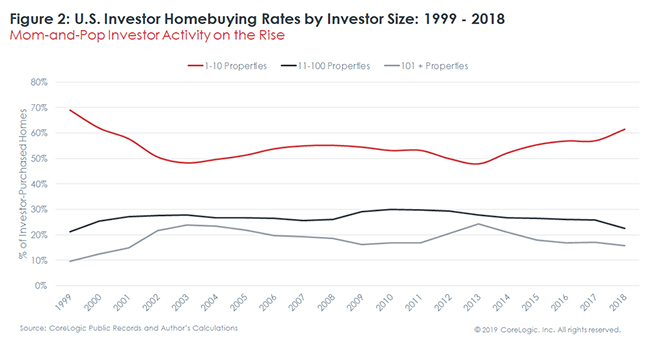 — Sources: CoreLogic and MarketWatch [https://www.marketwatch.com/story/americans-now-have-more-mortgage-debt-than-ever-before-2019-08-13]
9. Average mortgage debt increased 2.4%
In the second quarter of 2019, Americans held more mortgage debt than ever before, totaling $9.4 trillion. This is up the previous quarter from $9.24 trillion. This is a historical high with the previous highest mortgage debt of $9.3 trillion in the third quarter of 2008. The average mortgage amount carried by US borrowers was $202,284, with the average home selling price of $255,000 and an average interest rate of 4.37%.
— Sources: Federal Reserve Bank of New York and Experian
10. Median borrower's credit score is 759
While the average FICO score is 705, borrower credit scores have been higher so far in 2019, with the current median score of 759. Mortgage borrowers with scores below 651 are less than 10%. According to Experian, a national credit reporting bureau, Americans' credit scores are higher than in the past and increased 2% overall in 2019.
— Sources: Federal Reserve Bank of New York and Experian
11. The median monthly mortgage payment is $1,003
The median monthly mortgage payment for US homeowners in 2019 was $1,003. Median monthly mortgage payments include principal and interest payments and does not include other expenses such as taxes and homeowners insurance. When planning to get a mortgage for a property, be sure to include taxes, insurance, and other property expenses when determining affordability.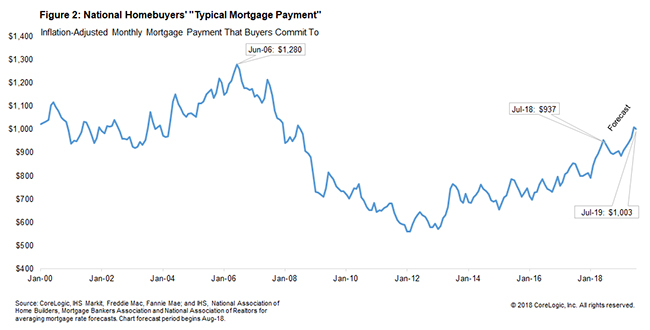 — Source: CoreLogic
12. Homeowners carrying mortgage debt is 63%
Some 63% of homeowners in the US have a mortgage on their property in 2019. Forecasts predict this number will continue to increase into the new year and beyond. With higher housing prices, it makes sense that more buyers and investors are getting mortgages. Leveraging property by borrowing allows buyers to keep more of their cash for necessities and other expenses.
— Sources: Harvard University and Federal Reserve
13. The average mortgage interest rate dropped in 2019
In January of 2019, the average 30-year fixed mortgage rate was 4.55%. By November of 2019, the rate dropped to 3.75%, down from September's high of 3.73%. This is a sharp decline from October 2018 rates of 5%, making it a good time for buyers to get a house. The rates for a 15-year fixed mortgage are currently 3.32%, and 5/1 adjustable rate mortgages (ARMs) are 3.676%.
— Sources: YCharts and Fit Small Business
14. Smaller banks lend 62% of commercial real estate
Small to medium-sized banks provide 62% of all commercial real estate (CRE) loans while the largest banks hold only 38% of all CRE bank loans. CRE loans include multifamily, construction, and nonresidential commercial loans. This means investors can consider their local banks for an investment property mortgage, in addition to private money lenders.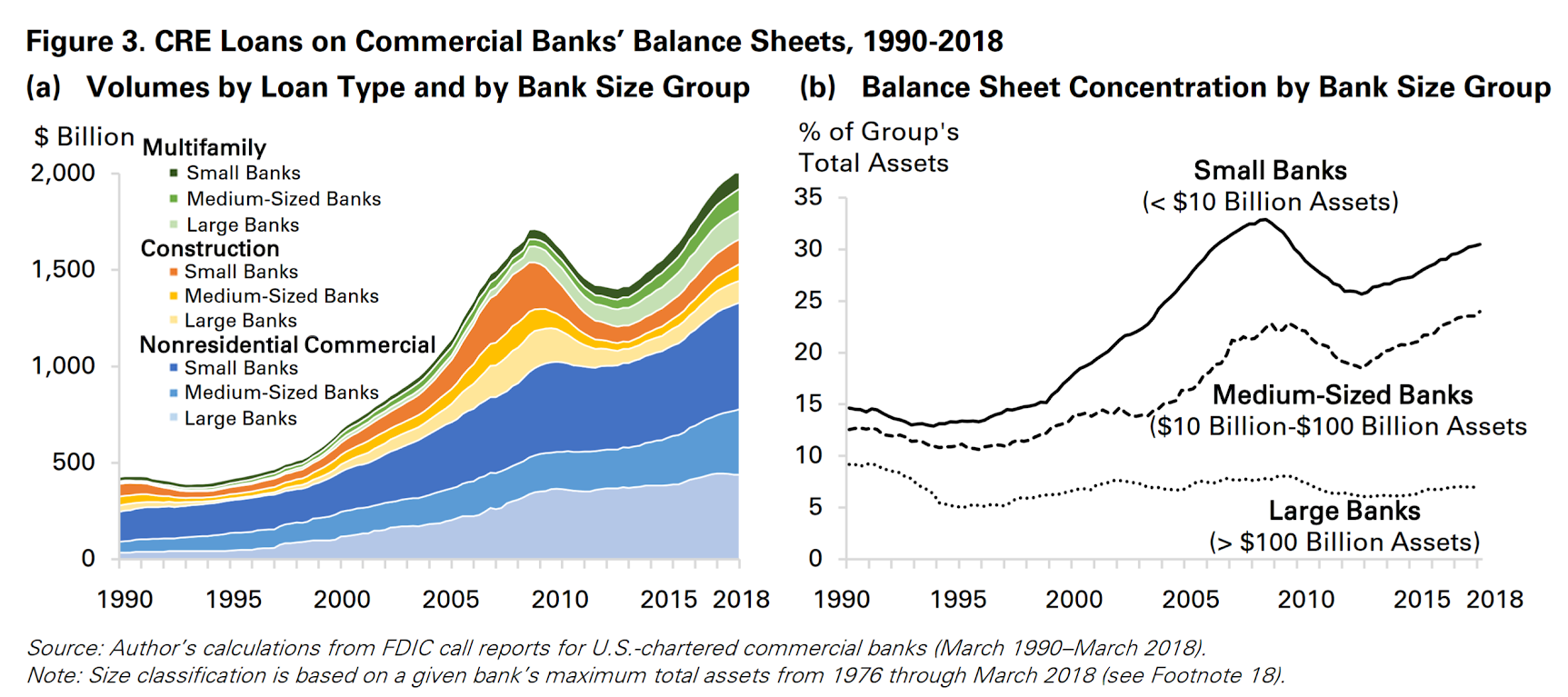 — Sources: Milken Institute and Mortgage Bankers Association
15. Average government loan interest rates remain low
In 2019, the average interest rate for a US Department of Veterans Affairs (VA) home loan was 4.56%. Federal Housing Administration (FHA) loan rates were 4.83%, and nongovernment backed conventional financing averaged 4.79%. In 2020, it's anticipated that VA loan limits will be removed, making this a good option for veteran owner-occupied investors and homebuyers.
— Sources: EllieMae and Housing Wire
16. Lenders lose $50,000 or more on one foreclosure
Lenders and bank investors typically lose money on foreclosures at approximately 20 to 60 cents on the dollar. They don't make money on these deals. This is why many lenders will work with low- to mid-income borrowers helping them get into some kind of a repayment plan. Borrowers who enter repayment plans are 68% less likely to lose their homes.
— Source: Federal Deposit Insurance Corporation (FDIC)
17. Six in 10 borrowers want to understand their mortgages
One out of every 200 homes is foreclosed upon. Every 90 days, 250,000 homeowners enter into foreclosure. More than six in 10 of these borrowers are unaware of services lenders can offer to help them avoid foreclosure and wish they understood the terms of their mortgages better. Lenders losing money on foreclosures and borrowers losing their homes shows a critical need for borrower education.
— Source: FDIC
18. Approximately 37% of Americans have paid off their mortgage
About 37% of Americans have paid off their mortgages. This is a 5.5% increase during the past 10 years. With an aging population and fewer younger Americans able to afford a house, renting instead of buying, older Americans have had more years to pay off their mortgages. Paying a mortgage off early can save a lot in interest payments, but it is essential to weigh the pros and cons.
— Source: Portland Press Herald
19. 30-year mortgages are the most popular
Although buyers can save a fortune in interest payments by getting a 15-year mortgage over a 30-year note, mortgage statistics show that 15-year fixed-rate mortgages are less popular than their 30-year counterpart and account for only about 15% of all mortgages. One reason may be that 15-year mortgages carry about 1.5% higher monthly payments than 30-year mortgages, even though they typically have lower interest rates.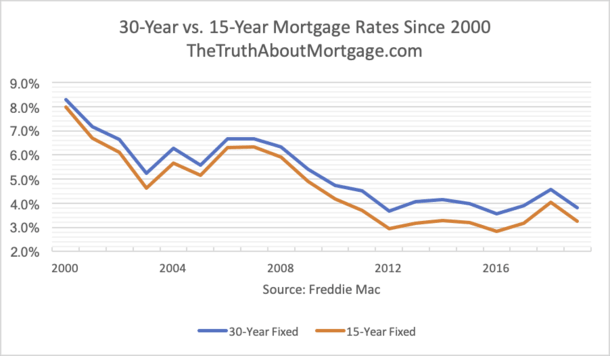 — Source: The Truth About Mortgage
20. Seller closing costs average $18,342
Sellers pay a real estate commission, tax stamps, and deed recording fees, depending on their state. Real estate commissions run between 4% and 10% of the selling price, depending on the type of property being sold. The 2019 average of these expenses is $18,342. Some sellers will have additional expenses if the home needs repairs, or they give a seller's concessions to the buyers, helping pay the buyer's closing costs.
— Source: Zillow [https://www.zillow.com/sellers-guide/closing-costs-for-sellers/]
21. Buyer closing costs average $3,700
While homebuyers will typically pay between 2% and 5% of the loan amount toward closing costs, the national average is $3,700. This does not include the buyer's down payment. These costs cover expenses incurred with loan origination through closing, plus escrows for property taxes, title, and mortgage insurance. Many first-time buyers ask the sellers to cover this expense.
— Source: Zillow [https://www.zillow.com/mortgage-learning/closing-costs/]
Bottom Line
These mortgage statistics should help real estate investors and homebuyers when considering if 2020 is the best time to buy an investment property or house. With housing prices declining, we'll enter a buyer's market. Interest rates will remain low in 2020, with only slight increases. With 44% of loans originating from nonbanks, and small banks loaning the majority of commercial real estate loans, there are many options for homeowners and investors to buy property.