A mutual fund is a professionally managed investment fund that holds a diversified basket of stocks and bonds. Using mutual funds, investors get more diversification, which lowers investors' risks of losing money. Mutual funds are also more cost-efficient than buying individual stocks and bonds, making them ideal for investors who don't have millions to invest.
What Is a Mutual Fund?
A mutual fund is an investment that pools money from individual investors and invests it in stocks, bonds, and other securities. Using mutual funds, investors can achieve broader diversification than they could by investing in stocks or bonds themselves. This reduces the risks of loss in their portfolios and helps their investments to grow over time.
As part of providing broad diversification that wouldn't be possible for most retail investors, mutual funds also offer investors added protection. If a single company in a fund portfolio goes broke, that likely won't bankrupt the fund. Even if the fund company goes broke, assets are held in individual funds that are owned by investors.
Mutual Funds Investment Options
There are many different types of mutual funds from which investors can choose. There are funds that focus on stocks, bonds, domestic or international investments or large or small cap companies. For investors who want to focus on certain sectors, there are also mutual funds that focus on specific industries.
Some of the different types of mutual funds investment objectives include:
Growth: Funds that focus investments in stocks that are well-known and should appreciate in value
Value: Buy stocks that are out of favor and undervalued
Income: Income funds buy stocks or bonds with the growth of earning interest or dividend income for the portfolio
Domestic: Focus on investments within the United States
International: Invest only in stocks or bonds outside of the U.S.
Global: Global funds invest in stocks and bonds from anywhere in the world, both inside and outside the U.S.
Tax-free funds: Tax-free funds invest in public debt to provide investors within certain states tax-free income
Industry-specific: Some mutual funds focus on specific sectors like real estate, gold and precious metals or technology
Investors can use these different types of mutual funds to invest alone or in combination to invest according to their individual circumstances and objectives. Investors can also use these mutual funds to invest in particular industries.
Types of Mutual Fund Investments
In addition to different types of mutual funds, there are also other types of investments that mutual funds use to pursue their mandate. Most mutual funds invest heavily in stocks and bonds. However, depending on their objectives mutual funds may also invest in Treasury bonds, options or futures.
Some of the different investments used by fund managers include:
Stocks: Shares in individual companies can fluctuate in value and also pay dividends
Bonds: Bonds pay interest to investors and can increase in value as interest rates fluctuate
Options: Options give investors the right to buy investments at a particular price and can be used to reduce risk or benefit more from price increases
Futures: Futures give investors the right to an investment at some point in the future; these are particularly common for commodities like oil, gold or livestock that will be delivered on a future date
Treasury & municipal bonds: Mutual funds can invest in debt issued by countries, states, counties or cities
When deciding what mutual funds to use, it's important for investors to look at the individual investments that are held by various funds. Using lists of fund holdings, investors can determine whether an individual fund is right for them.
When to Use Mutual Funds
Mutual funds are ideal investments for individual investors because they're accessible and offer great diversification. Using mutual funds, you can own a broad basket of investments that are less volatile than individual stocks or bonds. Unless you have hundreds of thousands of dollars to invest, you should probably invest in mutual funds for diversified, cost-effective investing.
Some cases when you should use mutual funds include:
If you're an inexperienced investor: If you're just starting out investing, mutual funds will help get you comfortable with market fluctuations and how investments work
When you're investing without the help of an advisor: Mutual funds can help reduce your risk if you aren't using a financial advisor to help you choose the right investments
When you're investing through an employer-sponsored plan: If you're investing through a 401(k) or another employer-sponsored retirement plan, mutual funds are probably your only option
If you don't want to review your investments frequently: Mutual funds are professionally managed so that you don't need to review your portfolio or make changes constantly
If you want to invest in mutual funds, one of the best ways to do so is through a diversified financial services firm like TD Ameritrade. TD Ameritrade offers a trading platform that you can use to buy or sell mutual funds as well as investment advisory services to help you choose the mutual funds that are best for you.
Mutual Funds Costs
Mutual fund costs vary but can be up to 5 percent upfront. In addition, funds charge annual expense ratios that are often 0.5 percent to 1 percent per year to cover the fund's management and trading costs. Instead of commissions, some funds charge a trading fee of up to $25 to $50 per transaction.
"Investors should carefully review the fund's prospectus, which includes a detailed description of the fees a fund charges. Mutual funds must provide a copy of the fund's prospectus to shareholders after they purchase shares, but investors can — and should — request and read the fund's prospectus before making any investment decisions. Some fees are charged at specific times, based on your situation or actions you take, and some are charged on an ongoing basis."

— Gerri Walsh, Senior Vice President for Investor Education, Financial Industry Regulatory Authority
Some specific fund costs include:
Commissions: 0 to 6 percent one-time fee
Front-end or back-end loads that investors pay when buying or selling shares through a brokerage firm. These fees tend to be higher among smaller fund companies or for investors with smaller accounts.
Fund expense ratio: 0.05 percent to 1.85 percent
These fees are automatically deducted from the fund share price and are used to cover fund management and trading costs. These fees are typically lower among larger fund companies like Vanguard and Fidelity.
Trading fees: Up to $25 per trade
Transactions fees aren't usually charged in addition to commissions, but some no-load funds charge fees for buying or selling shares. Vanguard, for example, charges fees of 0.25 percent to 1.00 percent for transactions in some Admiral class shares.
How to Invest in Mutual Funds in 4 Steps
If you're investing through an employer-sponsored retirement plan, then investing in mutual funds is usually very easy. You just enroll in your plan and start contributing. However, investing in mutual funds on your own is more involved. You have to find your own provider and open your own account before you can start contributing.
1. Identify a Mutual Funds Provider
Once you've decided to invest in mutual funds, the first step is to compare providers. In addition to considering their respective fund offerings, be sure to check on price, fund objectives, average returns and quality of management. The right provider needs to offer funds that fit your objectives and price structure that works for your investing style.
2. Complete the Provider's Mutual Fund Application
When you settle on a provider, the next step is to complete an account application to purchase funds from your chosen mutual fund company. This application includes information on you as an investor, your fund selections as well as tax information like the account type. If you're buying shares through a platform, you probably won't need to complete this step.
3. Fund your Mutual Funds Account
This is when you actually invest and acquire your first shares in a mutual fund. If you're investing in mutual funds directly with a provider, you can often fund your account as part of the application process. If you're buying shares on a platform or through an employer-sponsored retirement plan, then you can probably skip the application step and go right to this step.
4. Continue Making Regular Contributions to Your Account
In order to use your mutual funds account to your maximum benefit, you need to contribute regularly over time. You also need to periodically review your holdings and make any necessary changes to your portfolio. This is the only way that you can ensure your mutual funds continue to work for your investment objectives.
Top Mutual Funds Providers
If you're going to invest in mutual funds on your own, it's important to work with a reputable provider. The best mutual funds providers are large companies that use sophisticated techniques to manage investor money professionally. These companies do their best to be cost-effective for investors, maximizing their returns while minimizing volatility within a portfolio.
1. Vanguard
Vanguard is the largest and one of the oldest mutual fund companies in the world. It's known for offering low-risk, efficient, cost-effective mutual funds and exchange-traded funds (ETFs). Its funds are professionally managed and available directly or through a brokerage firm.
Vanguard is an ideal provider for investors who are risk-averse. Using Vanguard, investors can buy relatively safe, conservative mutual funds and don't need to review their holdings frequently. Investors can make regular contributions to steady funds and focus on low-cost investing.
2. American Funds
American Funds is another one of the largest fund companies in the world. The company is very reputable and as a wide selection of funds with professional management and similarly low cost. Like Vanguard, American Funds are available through most independent financial advisors.
American Funds is a terrific option if you have these mutual funds available through your 401(k) or your financial advisor. American Funds are also relatively low-risk, although it's not quite as well-known for low cost as Vanguard. However, American is still an ideal company for conservative, cost-conscious investors.
3. Franklin Templeton
Franklin Templeton is another large mutual fund company. Franklin Templeton has acquired other fund companies and, as a result, has a very wide selection of mutual funds available. One of Franklin Templeton's strong suits is that it offers more specialty funds than most other providers — especially sector-based funds that focus on things like gold, oil, real estate or technology.
Mutual fund shares from Franklin Templeton are widely available and can be purchased directly or through most brokerage firms. It's an ideal fund company if you want to focus on investments in particular industries because it has an excellent sector fund section. It's also good if you plan to take a more active approach to investing.
4. Fidelity
Fidelity is a huge diversified financial services company. It offers banking, brokerage and investment advisory services in addition to its own line of mutual funds. Of the mutual fund providers on our list, Fidelity also has the widest network of offices where investors can go to get individual guidance.
In addition to banking and brokerage services, Fidelity also offers its own line of mutual funds as well as mutual funds from a number of other providers. If you want a provider that can offer additional services besides mutual funds or want to be able to meet with a financial advisor for assistance, Fidelity is a great option.
5. E-Trade
E-Trade started as an online discount brokerage firm that offers investors cost-effective trading and the ability to trade from anywhere. E-Trade is predominantly used for buying and selling stocks but is also an excellent platform for investing in mutual funds — especially if you also want the flexibility to trade individual stocks.
If you already trade stocks online and want to start investing in mutual funds, E-Trade is a superb option. If you think that you may also want to trade stocks in addition to mutual funds, E-Trade has a very cost-efficient trading platform and offers thousands of no-load mutual funds that you can use.
Mutual Funds Share Classes
Mutual fund share classes are the pricing structures offered by mutual funds or fund company. Most mutual funds have multiple share classes available, each with its own cost structure. Some shares charge upfront commissions while others charge trading costs or commissions if investors sell shares within a certain timeframe.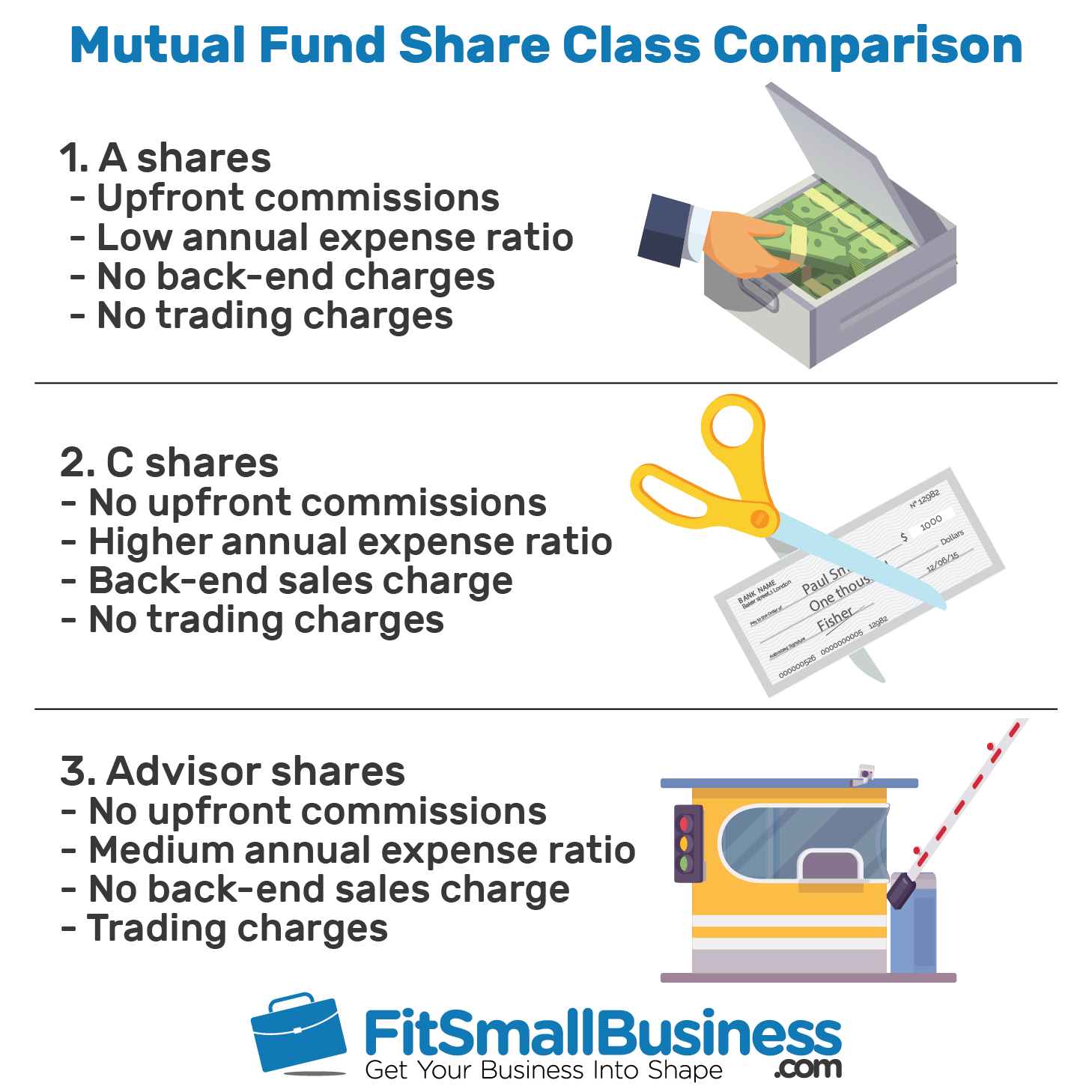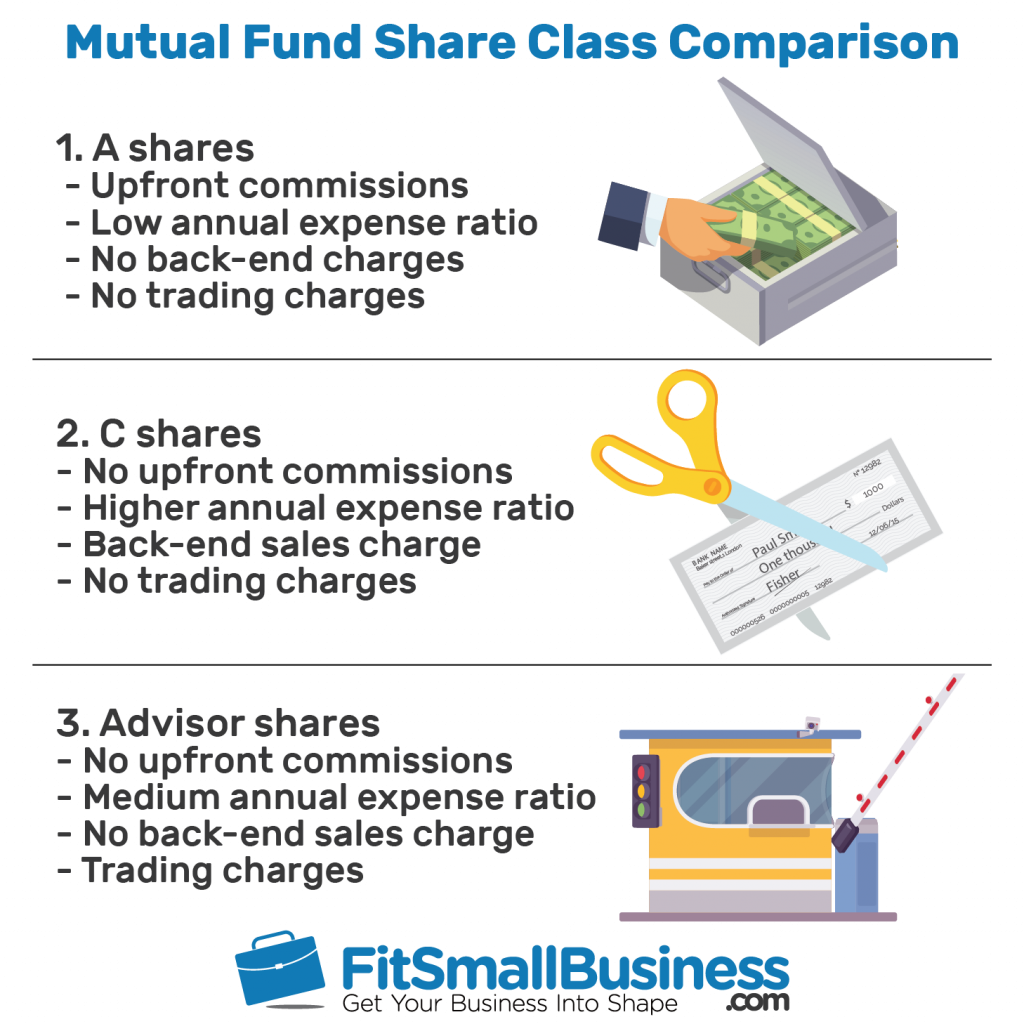 The three most common mutual fund share classes are mutual fund A shares, C shares and advisor shares.
1. Mutual Fund A Shares
Mutual fund A shares are some of the most common shares that you can purchase through a brokerage firm. A shares charge up-front commissions that typically range from 1 percent to 6 percent and vary based on the amount that you invest. Once you buy A shares, you can sell them at any time at no cost.
A-class shares are structured so that investors pay a one-time commission when they invest in a fund company. Investors can then exchange shares for A shares of different funds within the same company without ever paying addition commissions. A shares are typically the most cost-effective for investors who plan to hold their shares for longer than four or five years because of their total fees.
2. Mutual Fund C Shares
C-class shares are shares that charge back-end loads rather than upfront commissions. These charges are also called contingent deferred sales charges (CDSCs). They're paid when investors sell their C shares within three to four years of purchase and decrease over time until they're phased-out entirely.
In addition to back-end loads, C shares also typically charge higher annual fees than other share classes. These fees mean that C shares typically aren't the best option for many investors — they're generally only beneficial if you're going to own your shares for two or three years. If this is the case, you may want to rethink your investment strategy.
3. Advisor-class Mutual Fund Shares
Mutual fund advisor shares are a relatively newer structure. Historically retail investors couldn't buy advisor shares the way they could other share classes. Advisor shares were required to be held by an intermediary.
Advisor class shares are structured without upfront or back-end commissions. Instead, most fund companies just charge a nominal fee — usually about $25 — for any transaction involving advisor shares. Any investor who doesn't plan to do much trading in mutual funds should use advisor shares. They're the best shares to purchase online or through third-party platforms unless you plan to do a lot of trading.
Ways to Invest in Mutual Funds
There are many types of mutual funds available and many different ways to invest in mutual funds. You can buy shares directly from a mutual fund provider, through an independent financial advisor or online using an automated platform. There are also many different types of investment accounts that you can use to invest in mutual funds.
Some of the different types of accounts you can use for investing in mutual funds include:
Some of these plans are subject to compliance testing like top-heavy testing, which may not allow you to contribute as much as you want. However, you can always set up a nonqualified account for additional savings. This is an individual brokerage account just like a personal bank account. These accounts don't get preferential tax treatment but allow you to save as much as you want without restrictions.
Mutual Funds Alternatives
Mutual funds are great tools for most investors — especially for people who are investing through an employer-sponsored retirement plan or don't have much experience investing. Mutual funds add another layer of management for picking individual stocks and bonds. However, there are other types of investments you can use in addition to or instead of mutual funds.
Some of the most common mutual funds alternatives are stocks, bonds ETFs and target date funds.
Stocks
Stocks are shares in individual companies that trade on exchanges or over the counter. When you buy a share of stock, you own a piece of a company and are entitled to a share of the company's earnings in the form of dividends.
Stock trading has been extremely popular at different times and is often viewed as a way for investors to make a lot of money quickly. However, investing in individual stocks is typically a bad idea for retail investors unless they are very knowledgeable investors or have a lot of money to invest.
Bonds
Bonds are debts issued by countries or companies to finance new initiatives or ongoing operations. When you buy a bond, the issuer pays you back over time with interest. If you buy a bond issued by a government, the interest earned on that bond may be tax-free.
Bonds can be ideal investments for more conservative investors who just want to produce a steady income. However, like stocks, they can be riskier than bond-based mutual funds and are generally better for wealthier, experienced investors.
Exchange Traded Funds
ETFs are similar to mutual funds except they trade like individual stocks. ETFs generally represent baskets of underlying stocks or bonds that are constructed in a portfolio to mirror an index or another metric.
ETFs are ideal for investors who want to trade more frequently but don't want the risk of holding individual stocks or bonds. By using ETFs, these investors can still reduce their risk through diversification but also make bets based on the direction they think the market or a particular index will move.
Target Date Funds
Target date funds are a subset of mutual funds that are constructed specifically to help investors who plan to retire in a certain year. Target date funds start heavily weighted in stocks and gradually shift more to bonds as the target retirement date approaches, reducing risk in the portfolio and moving more toward a steady income.
Target date funds mimic traditional strategies that investors use as they age. By using target date funds, investors don't have to consciously realign their portfolio away from stocks and more towards bonds. Instead, everything is done automatically on their behalf and often at a lower cost.
Mutual Funds Frequently Asked Questions (FAQs)
If you still have questions after reading this article, here are some of the frequently asked questions that we get about mutual funds. If you don't see an answer to your question, be sure to post it in the comment section.
Can You Lose Your Money in a Mutual Fund?
It is theoretically possible to lose all of your money in a mutual fund, but it's essentially impossible. Mutual fund investors own a small piece of every stock or bond held within the fund portfolio. The value of every portfolio holding would have to go to zero for you to lose all your money.
How Much Should I Invest in Mutual Funds?
Most individual investors should use mutual funds for investing most or all of their net worth. Mutual funds help investors to build broadly diversified portfolios at a fraction of the cost that investors would incur to build a similar portfolio. Unless you have hundreds of thousands or are a very sophisticated investor, mutual funds are ideal.
How Are Mutual Funds Taxed?
Investors are taxed on mutual fund dividends, interest income they receive from the fund and any gains from selling shares. These gains are taxed as income or long-term capital gains depending on how long you owned the shares. Taxes are different for shares held in a qualified account like an IRA or 401(k).
The Bottom Line
For most investors, mutual funds are the only options available through an employee retirement plan. However, mutual funds are also ideal investments that help build a cost-effective, diversified portfolio. There are many types of mutual funds available, and investors can typically find a fund and price structure that is consistent with their investment style and objectives.
If you want to open an account and start in mutual funds, TD Ameritrade is a great platform for individual investors. TD Ameritrade offers independent research, investment advisory services and a strong online platform for investors to buy and sell mutual funds. Visit TD Ameritrade today and open your account in minutes.