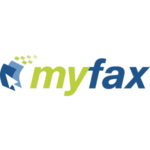 MyFax is an internet fax service that allows users to send and receive faxes using a phone, tablet or laptop. We compiled MyFax reviews from our own website and around the web to determine what their customers think about the company. We also compared the most popular pricing options for small business owners.
Want to know the top online fax services for small business? Read our MyFax alternatives guide.
Summary of User Reviews
We scoured available reviews online and found that MyFax has generally mixed ratings. Here's what we found:
What MyFax does well:
Users who recommend MyFax liked its affordable pricing plans and easy-to-use interface. Many users also appreciate the helpful knowledgebase on their site as well as the video tutorials.
What MyFax does not do well:
Most users who left a negative review said that the process of subscription cancellation was quite difficult. According to unhappy customers, there is no way to cancel online or via email. You need to call support to process the cancellation request. Some users also reported that they have been charged during the free trial or have been charged inaccurately.
Most Helpful Positive User Review
"I needed to send a fax yesterday and I don't have a fax machine, nor any idea where to find one. I was about to jump in my car and head over to an office supply store when I thought there must be a way to email a fax….or some sort of work around to be able to communicate with a fax machine using more modern technology. A quick search led me to MyFax.com and within 5 minutes I was able to scan my document and upload it (for free!). Just a few minutes later, I received an email, clicked to confirm and my fax was sent. Easy! Convenient!"

— Lori D.
Most Helpful Negative User Review
"This company made me not trust other companies with my credit card. After cancelling for almost a year, they charged my credit card for the service. This service did not work for me as I cannot send a fax to government fax numbers and their tech support, after trying to fix this issue told me that there is no fix for this and advised that the account will be cancelled as it won't work for me as I only use it for faxing 1 number and it a government office number. Now, they are refusing to reverse the charge stating that there is no record that the account has been cancelled! Lesson learned! Do not trust companies such as this with your credit card information."

— Chona
Other MyFax User Reviews From Around the Web
Here are a few resources for finding MyFax helpful ecustomer reviews. We rated the review sites on a scale from poor to excellent based on how trustworthy and useful the reviews seemed.
User Review Website

Average Rating

Number of Reviews

Quality of Reviews

SiteJabber

1 out of 5

44

Excellent

TrustPilot

5.1 out of 10

3

Good

iTunes

1.5 out of 5

404

Good

*Average rating as of date article was written: July 17, 2017
MyFax Pricing
MyFax has three pricing options that range from $10-$40 per month. The main difference among their packages is the number of pages you can send and receive per month. The Best Value allows you to send 100 pages and receive 200 pages a month, the Most Popular plan allows you to send 200 pages and to receive 200 pages, and the Fax More plan allows you to send and receive 400 pages each monthly.
Best Value

Most Popular

Fax More

Monthly Fee

$10/mo

$20/mo

$40/mo

Included Pages

Send 100, receive 200
pages/mo


Send 200, receive 200
pages/mo


Send 400, receive 400
pages/mo

All plans include a local or toll free fax number, international fax numbers, lifetime online fax storage, free setup, MyFax mobile app, and 24/7 customer support.
After you've used the allotted number of included pages in your plan, each additional page you send or receive will cost $0.10 per page.
Compare MyFax Competitors
Not sure if MyFax is the right online fax service for your small business? Check out our online fax service buyer's guide comparing other three top providers.