National Funding is an online lender that helps small businesses prosper. It's committed to the values of hard work, ethics, mutual respect, and transparency when helping small business owners. David Gilbert founded the company in 1999 with a focus on equipment loans and has grown the business by offering business loans and equipment financing.
Based in California, National Funding is one of only a few online lenders that expanded during, survived, and thrived through a major recession. By offering equipment financing and business loans, National Funding has developed an expertise in many industries making it a reliable lending partner. Since its founding, National Funding has provided more than $2.5 billion in working capital to more than 40,000 small businesses nationwide.
David Gilbert, Founder & CEO of National Funding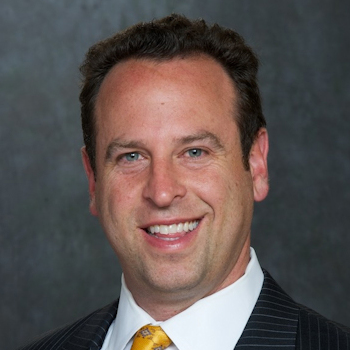 David Gilbert is the Founder and CEO of National Funding. As CEO, Gilbert is responsible for the strategic direction of the company. He received a Bachelor of Science degree in Business Administration with an emphasis in Entrepreneurship from the University of Southern California in 1997. In 2017, Gilbert received the Ernst & Young Entrepreneur Of The Year® Award in the Finance category in San Diego.
We sat down with Gilbert and found out about what makes National Funding different and what he expects to be the future of alternative lending.
Looking Beyond Traditional Metrics to Fund Small Businesses
Fit Small Business: In what circumstances is National Funding able to help small business owners who wouldn't otherwise get access to funding?
David Gilbert: "We can help customers that get declined for traditional financing because of the way we underwrite our loans. We aggregate different data points and work with our underwriters to produce a snapshot of your business beyond the credit score and annual revenue that most traditional lenders rely on.
"On the credit side, we take the time to examine how people bank, the business cash flow, any online presence for the business; and by leveraging algorithms, we enable our underwriters to look beyond the basics to fund your business."
Offering Borrowers Long-term Partnerships With a Balance Sheet Lender
FSB: National Funding distinguishes itself from competitors by keeping loans on its balance sheets. What are the benefits for the small business owners you work with?
Gilbert: "The benefit of being a balance sheet lender is that the lender lives or dies by the risk of financing that it makes. The primary benefit for small business owners is that they are working with a partner for both the short- and long-term. Many brokers offer multiple financing options, but when the funding dries up, they cannot offer their customers funding.
"A balance sheet lender doesn't have to rely on that and can continue to tailor loans to their customers. Balance sheet lenders are also more disciplined in their practices because they keep the risks of the loans they make."
Selecting Financing Products That Serve Business Owners
FSB: In recent years, National Funding has transformed itself into a full alternative lender; but for a long time, the company specialized in equipment financing. What do you think the near future holds in store for both sectors?
Gilbert: "We've seen explosive growth in working capital since 2012 and continue to manage both the alternative lending and equipment financing divisions. The near future for lending depends on the needs of our customers and the credit cycle.
"Sometimes, companies are expanding and need to purchase major equipment, or they need to grow and meet payroll and other expenses for their businesses. We continue to offer and develop products that best meet the needs of our customers."
Expanding Financing Options for Small Businesses
FSB: Are there any new and interesting loan products on the runway from National Funding for small business owners to take advantage of?
Gilbert: "National Funding has two upcoming products that will help small business owners get financing that better fits their needs. The first is a term loan with interest-only payments, which will allow business owners to finance projects with low initial payments and higher principal and interest payments once the project is bringing in revenue.
"The second is a long-term loan, with expected terms of five to 10 years and amortized monthly payments for the life of the loan. We designed the product for small business owners that have a large project to finance like renovations or opening a new location. Offering new and accommodating loan products to fit the needs of small business owners is more difficult for nonbalance sheet lenders."
Learning and Thriving After a Recession
FSB: Unlike many alternative lenders, National Funding has weathered an extended recession. What are some lessons learned from that process and how have they shaped the company?
Gilbert: "During a recession, you need to manage your credit discipline. This includes managing your marketing spend, loss rate, and providing your loan specialists the tools they need to help small businesses achieve their goals. Having a strong balance sheet is also very important and, as customer acquisition costs rise, matching financing products to a customer's needs becomes even more critical to success."
Building Customer Trust With Lending Experience
FSB: What sets National Funding apart from other alternative lenders in the industry?
Gilbert: "National Funding has more than 20 years of total lending experience and a strong background in credit. Through the years, we've accumulated experience working with businesses in almost every industry, which gives us a deeper understanding of our customers and the financing products that can solve their problems.
"As the CEO, my professional background is in credit, which is unusual in the alternative lending industry, and I emphasize that focus at the company. This gives business owners confidence that we are a good long-term partner for them to work with."
What National Funding Does for Small Businesses

Founded in 1999, National Funding is a leading U.S. specialty finance company serving small- and medium-sized businesses. The company's foundation is designed to serve American small business owners, by providing funding solutions to meet their needs to re-invest in their day-to-day operations and help them grow. National Funding's digital loan process has elevated the company's digital capabilities by delivering a simple and fast online application.
Since 1999, National Funding and its subsidiary, Quick Bridge Funding, have helped more than 60,000 small- to medium-sized businesses get access to over $3.5 billion in capital they need. In 2019, National Funding closed its first asset-backed securitization for $120 million, expandable up to $500 million, positioning them for continued exponential growth.