The National Insurance Crime Bureau (NICB) is a not-for-profit, membership organization that works with government officials and law enforcement agencies to combat insurance fraud. Members include property and casualty insurers, vehicle rental businesses, auto auctions, vehicle financing companies, self-insurance groups, and strategic partners, including CARFAX, Boat History Report, Experian, and LexisNexis Risk Solutions.
What the National Insurance Crime Bureau Is
The NICB is a membership-based organization dedicated to fighting insurance fraud and crime through five core functions: data analytics, investigations, education, advocacy, and public awareness. In addition to supporting legislation aimed at reducing fraud, the NICB works with law enforcement organizations, carrier investigation units, and the public to identify, prevent, and prosecute insurance crime.
"The insurance industry estimates fraud accounts for 10% of property/casualty (P/C) losses per year, amounting to $30 billion between 2013 and 2017. Forty-six states and the District of Columbia have created insurance department fraud bureaus. Many P/C insurers have also established special investigative units within their companies to examine suspicious claims, then work with law enforcement officials and organizations like NICB to catch perpetrators." — Scott Holeman, Director of Media Relations, Insurance Information Institute
How the National Insurance Crime Bureau Works
The NICB's goal is insurance fraud prevention, and while they mainly focus on providing services that assist their 1,100 members, the organization uses a variety of strategies to fight insurance crime. For instance, members have access to NICB-published data reports designed to establish fraud trends and enhance awareness of criminal activity.
5 Ways the NICB Fights Insurance Fraud
| Method | Function |
| --- | --- |
| Data analytics | Compiles, analyzes, and shares information to help identify and prevent insurance fraud |
| Investigations | Conducts multiclaim, multicarrier investigations into major criminal activity |
| Education | Creates and delivers customized in person training for members |
| Advocacy | Supports state, local, and national initiatives that prevent insurance fraud |
| Public awareness | Develops media campaigns to inform the public about insurance crime |
The five core fraud prevention strategies the NICB focuses on are:
1. Data Analytics
The NICB's data analytics team compiles claims information, looking for patterns and statistics to help develop better fraud-prevention strategies. They share their findings with NICB members through reports and alerts that provide details on suspected scams and the individuals involved to increase general awareness.
In addition to reports and alerts, the NICB has partnered with several technology and aviation companies and the Federal Geographic Data Committee to create the Geospatial Intelligence Center (GIC). The GIC collects high-resolution benchmark images of 150 metro areas each year, as well as comparison photos after a disaster. The goal is to speed up claim processing and reduce fraud while also providing first responders and humanitarian organization information they can use to assist victims.
On the one hand, insurers can use GIC's high-resolution images to gain insights into property risks to improve their underwriting. But the images are also often available within 24 hours of a catastrophe, which allows insurers to start the claims process sooner. Humanitarian groups and first responders to find safe pathways to help those in need.
2. Investigations
Many trade groups focus on combating one particular type of fraud or instances of fraud for a single carrier, but the NICB takes a multicarrier, multiclaim approach to insurance fraud investigation. This gives them a broader perspective than organizations focused on solving a particular crime or reducing fraud for a single carrier. NICB agents collaborate with representatives from member companies, insurance carrier claim investigation units, and law enforcement agencies to investigate fraud and prosecute perpetrators.
"Working with NICB special agents has been great! They've assisted us on several large investigations and training presentations. One investigation, for example, involving the NICB was a large water fraud loss. A group of individuals opened several water restoration companies and began billing for services not rendered and equipment not used. An investigation into these companies showed a pattern of fraudulent activity which led to the filing of a $14 million civil suit in which Mercury was victorious. The NICB continues to be an asset in our investigations." — Pete Galassi, Director of Special Investigations Unit, Mercury Insurance
3. Education
The NICB provides a wide range of continuing education and professional development opportunities for their members and law enforcement agencies. Both NICB members and law enforcement officials can take part in online courses or request in person training and download resources such as fraud indicators, investigation guides, and case studies.
Some of the NICB member training topics include:
Galassi says, "The NICB has been an integral part of my ongoing education as an investigator. Their training has helped me learn how to identify and catch criminals committing insurance fraud. For industry personnel, I strongly recommend developing a contact with your local NICB special agents and build a relationship with them."
4. Advocacy
The NICB's government affairs team fights insurance crime by supporting anti-fraud laws and regulations. Part of this work includes monitoring and promoting proposed state and federal legislation that helps combat insurance fraud and vehicle theft. However, the group also hosts summits that attract insurance professionals, government officials, and law officers solving the problem of fraud.
Public affairs director for the NICB, Frank Scafidi, says one of the team's current priorities is tightening the laws in states with high incidents of auto insurance fraud. No-fault insurance states, such as Florida and New York, see more than their fair share of fraud through medical providers and attorneys willing to bill insurance companies for medical procedures that are never performed.
5. Public Awareness
The NICB also fights insurance crime by educating the public about the issues surrounding insurance crime, especially about the impact on premiums for all consumers. Estimates of how much insurance fraud costs policyholders vary, but Galassi says fraud "costs the average U.S. family $700 per year in increased premiums."
Three ways the NICB hopes to raise public awareness are:
Media campaigns: The NICB regularly provides commentary on insurance crime, auto theft, and pending insurance legislation
VINCheck: The public can use this service to determine if a vehicle has been reported stolen and not recovered or salvaged
Fraud reporting: Consumers can report criminal behavior anonymously to the NICB via text, phone call, email, online form, or mobile tip-reporting app
Scafidi says the NICB will look into each tip regardless of whether it impacts a member insurance company. If they find credible information, NICB representatives will notify the appropriate authorities.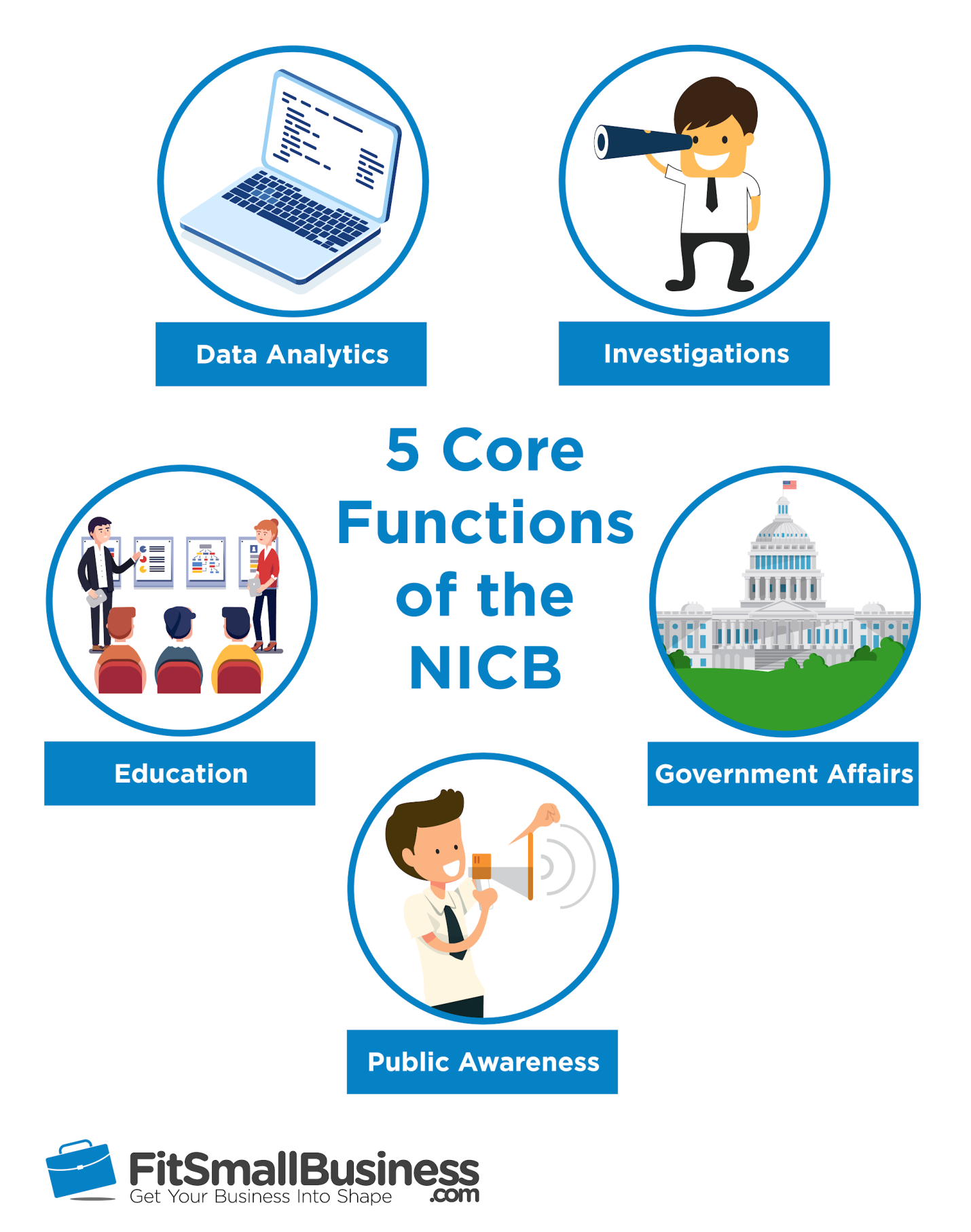 Insurance Crime Concerns for Small-Business Owners
Insurance fraud isn't just a worry for insurance companies. Small-business owners need to be concerned as well because they can be the victims of fraud. In fact, the Insurance Information Institute says workers' compensation and auto insurance are two of the policies most vulnerable to fraud, mostly through fake injuries and padded repair or medical bills.
Moreover, insurance fraud isn't just a problem for victims. It ends up costing property and casualty insurers millions of dollars every year, and insurance companies need to cover the expense.
"We work for our member insurance companies first and foremost, but a lot of what we do creates a benefit for everyone in the community, especially when we break up chop shops and big insurance fraud rings. Insurers are going to pass the cost of insurance fraud onto the consumer, and if there are a lot of claims in an area, then premiums are going to increase." — Frank Scafidi, Director of Public Affairs, NICB
NICB Insights for Avoiding Insurance Fraud
Slip-and-falls are common sources of insurance fraud for small-business owners, says Scafidi. People are especially susceptible if they are underinsured or have high deductibles. When someone claims to have fallen on their property, the business owner is so worried about costs they settle with the "injured" party without bothering to get proof that an accident actually occurred.
While this scheme is fairly simple, Scafidi's solution is even easier. "The best way to combat these scams is with a video surveillance system. It can be expensive, but the video shows what really happened. When you play it back for them, they're going to back down."
NICB Investigation Examples
NICB agents are strategically located in regional offices across the U.S. so they assist law enforcement agencies and member companies' special investigation units with insurance fraud investigations and prosecution. They are also commonly called upon to participate in national task forces as they investigate criminal activity.
Some of the investigations NICB has assisted include:
Additional Tips for Avoiding Insurance Fraud
Every type of insurance coverage is vulnerable to fraud, and perpetrators can be anyone from a lone employee claiming an injury is work related when it's not, to large criminal enterprises. Small-business owners need to be vigilant so they can identify and avoid potential scams.
Five tips to help you protect your business from insurance fraud include:
Know Who's Calling
The good news about insurance fraud for small-business owners is that most scams target insurance companies, according to Logan Sachon, Insurance Editor at Policygenius. However, she adds that consumers still need to protect themselves, and one of the best ways is to be skeptical of anyone offering coverage over the phone.
"Scam calls are one of the most common ways for people to fall victim to fraud of many kinds, and this also applies to insurance. For example, one of the big health insurance scams reported during open enrollment was scammers calling consumers to sell 'Trumpcare' plans. Want to make sure you're speaking with someone who is legit? Tell the caller you'll get back to them at a more convenient time and call the number on the website, not one they provide, to ensure you're speaking with a licensed insurance agent."
Stay Away From Aggressive Agents
Insurance agents are largely compensated through commissions, so they can be tenacious when it comes to sales. However, that doesn't mean you should tolerate pushy, overly-aggressive sales tactics. In general, if an agent makes you uncomfortable, it's best to walk away. Even if they aren't scamming you, they probably don't have your best interests at heart.
"Agents should be educators and provide you all your options. Watch out for any agents who are trying to get you to buy a policy immediately with scare tactics. Be careful when an agent says you need to sign immediately." — Michael Quinn, Owner and Director of Marketing, Life Insurance Blog
Read Your Application
Another way agents can exploit small-business owners is by falsifying items on insurance applications so policies that would otherwise be denied are actually issued so agents earns their commission. Unfortunately, policyholders may not notice any discrepancies until it's time to file a claim, and then it may be too late.
"Full disclosure is required on the application to make sure any claim you file is paid. Once the policy is approved, the consumer has the right to read the contract and the application which is stapled to the back of the policy. Even though you may have told the truth on the application initially, it does not mean the application wasn't altered after you signed it. So read the contract and the application again! Then and only then can you be assured that that a claim will be paid. If not and an error or misrepresentation is discovered by the company at claim time, the company may deny the claim due to insurance fraud by you." — Edward F. Musleh, Founder and CEO, IncomeProtectionSpecialist.com
Perform Thorough Background Checks of New Hires
One way to reduce workers' compensation insurance fraud it to find out as much as you can about job applicants before you hire them. Small-business owners might want to hire a company that specializes in background checks to learn about an applicant's credit history, driving record, and any criminal records.
Learn How to Identify Insurance Fraud
Despite your best efforts to weed out bad candidates, employees may still try to take advantage of workers' compensation insurance benefits. They may think their actions only hurt the government, but workers' comp fraud actually has a ripple effect. According to David Stacey, director of the special investigation unit with Sentry Insurance, "Premiums go up, employee productivity can decrease, and the cost of goods and services can rise, to name a few of the impacts."
These situations should raise red flags for small-business owners:
Injury inconsistent with description of accident: If an employee's injury doesn't quite fit the scenario they describe, or if the scenario seems far-fetched, you may want to investigate the incident further.
Claimant is extremely demanding: While injured employees can have urgent needs, ones who seems especially anxious to get their benefits may be worried about getting caught.
Injury is unwitnessed: Injuries that occur without any witnesses can be an opportunity for someone to commit workers' compensation fraud.
Claimant is familiar with insurance terminology and the claims process: Workers' compensation regulations can be complicated. If injured employees seems to know each step, they may have a history of committing fraud.
Delayed report of injury: A delay between incident and report may mean your employee was working on a scheme.
Monday morning accident: You may want to look twice at Monday morning accidents. Sometimes workers try to get workers' compensation for injuries suffered over the weekend.
Claimant has an extensive claims history: Even in a high-risk industry like construction, employees with multiple workers' comp should get greater scrutiny.
NICB Frequently Asked Questions (FAQs)
Hopefully, we've answered any questions you have about the National Insurance Crime Bureau and its major role in combating insurance crime. Below are some of the most frequently asked questions about the NICB.
What is insurance fraud?
Insurance fraud is any deliberate act committed by a carrier, agent, broker, adjuster, or consumer designed to illegally obtain money. These acts can occur during any stage of the insurance process, including buying, selling, and underwriting.
Can I check a VIN history for free?
The NICB's VINCheck is a free service that allows the public to check vehicle identification numbers to see if a vehicle has been reported stolen but not recovered or salvaged. Individual IP addresses can check up to five VIN numbers in a 24-hour period.
How can I report insurance fraud to the NICB?
The National Insurance Crime Bureau offers four options for reporting insurance fraud. Witnesses can call 1-800-TEL-NICB (1-800-835-6422) or text the keyword "fraud" to TIP411 (847411). They can also complete an online form or download the NICB Fraud Tips app. All tips can be made anonymously.
Bottom Line
The National Insurance Crime Bureau membership may be mostly made up of insurance carriers, but the service the organization provides benefits everyone. Its anti-fraud efforts keep life, health, and property and casualty premiums down, and their public education campaigns can help business owners avoid falling victim to insurance scams.