NeatFiles Review: Pricing & Features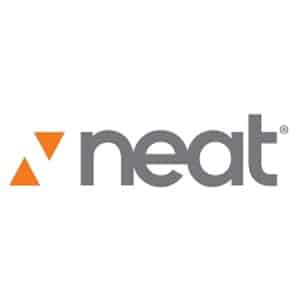 What We Recommend NeatFiles For
NeatFiles is our overall best receipt scanner app, and we recommend it for companies or individuals working mainly in the cloud. Additionally, with a free NeatInvoices subscription, you can create invoices and store them in NeatFiles afterward.
Hence, we think that NeatFiles is best for:
Companies looking for an invoicing and file storage system: NeatFiles comes with the features of NeatInvoices. If you're looking for storage software with invoicing features, NeatFiles is the best app. It saves you money because you need not get another invoicing app.
QuickBooks Desktop Users: NeatFiles can export data into QuickBooks Online and QuickBooks Desktop easily. NeatFiles is a great complement to QuickBooks Desktop because you can store your receipts or documents in the cloud and attach them to your QuickBooks Desktop entries.
Organizations that store large volumes of documents: NeatFiles offers unlimited monthly storage for its single plan. Moreover, NeatFiles uses bank-level encryption, making your files safe from hackers and cybercriminals.
NeatFiles Alternatives
NeatFiles Pros & Cons
PROS

CONS

Clean interface
Not a complete bookkeeping system
Subscription to NeatFiles includes features of NeatInvoices
Lack of appropriate migration options from legacy desktop software to cloud-based system
Detailed reporting system based on different categories
No invoice reconciliation unless subscribed to NeatBooks
Multi-user account access
Free trial and unlimited customer support
NeatFiles Pricing
NeatFiles is available at $29 per month for unlimited users. There's a 14-day free trial to test out the following key features:
Unlimited storage per month
Bank-level security encryption
Access files anytime, anywhere
Best-in-class data capture and human verification
Personalized support
All NeatInvoices features
You can opt to pay $288 for a one-year subscription, which effectively reduces the price to $24 per month. A credit card is required upon signing up for the 14-day free trial. After the trial, NeatFiles will charge your card automatically. Cancel before the trial ends if you don't find NeatFiles suitable for your business needs.
Since Our Last Update
NeatFiles has recently dropped its pricing. As of our last update in September 2021, NeatFiles pricing was $30 per month or $300 per year if billed annually.
NeatFiles Features
NeatFiles promises to keep your business documents safe and organized. Let's look at NeatFiles' features in greater detail.
Dashboard
Upon logging in to NeatFiles, you'll see the dashboard. It'll give you updates about Neat and your account: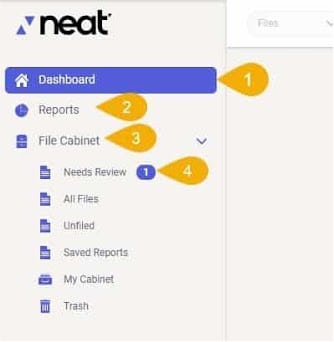 ---

---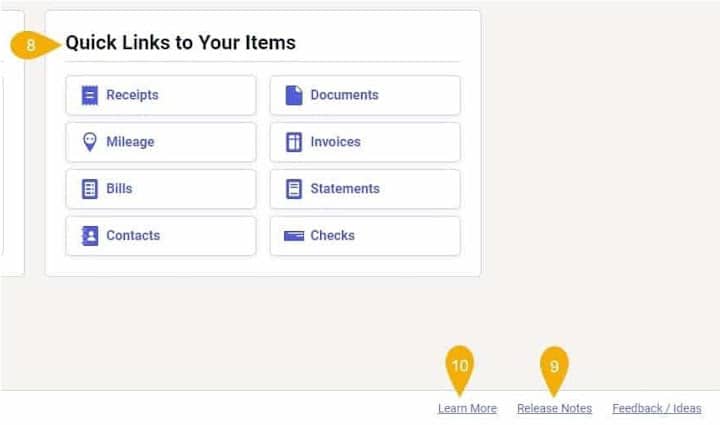 ---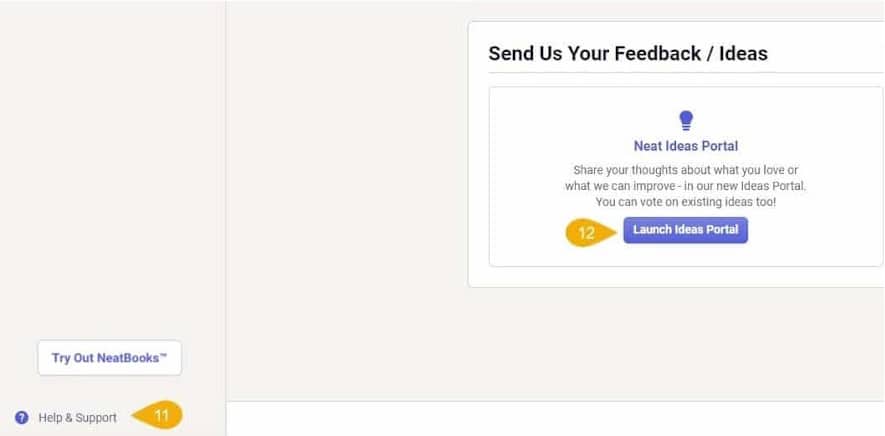 ---
---
Item Management
On the dashboard, you can use Quick Links to access frequently used items quickly. If you wish to add a new item, you can send items to Neat in four ways: by direct email, mobile app, direct import, or desktop scan utility.
---
Email directly to Neat
Every Neat account has a NeatCloud Email. You can use this email to send files and upload them directly to your NeatFiles account. By default, Neat will auto-detect the file type in any of the following: receipt, bill, contact, document, invoice, statement, or check.
Alternatively, you can set a specific type instead of "Auto-detect" for ease of use. All files sent via NeatCloud Email will be marked as "Unfiled." You'll need to file them to their corresponding folders once you get back to your account.
---
Neat Mobile App
You can use the Neat mobile app to scan and upload items to your NeatFiles account directly:
After taking a snapshot of the document or receipt, you can crop it by moving the blue borders. Once everything is good to go, select the item type and destination folder. By default, it will go to the Unfiled folder. However, you can also choose a specific folder.
---
Direct Import
Through the drag-and-drop method, you can upload files from your desktop to NeatFiles easily. Alternatively, you can choose files manually. It's nice that you can immediately file items before uploading, saving you time from sorting unfiled things later on.
---
Desktop Scan Utility
The desktop scan utility is a free utility that works with your scanner. You can use this to edit scanned items, crop and adjust skew, adjust their colors, and upload them to NeatFiles.
---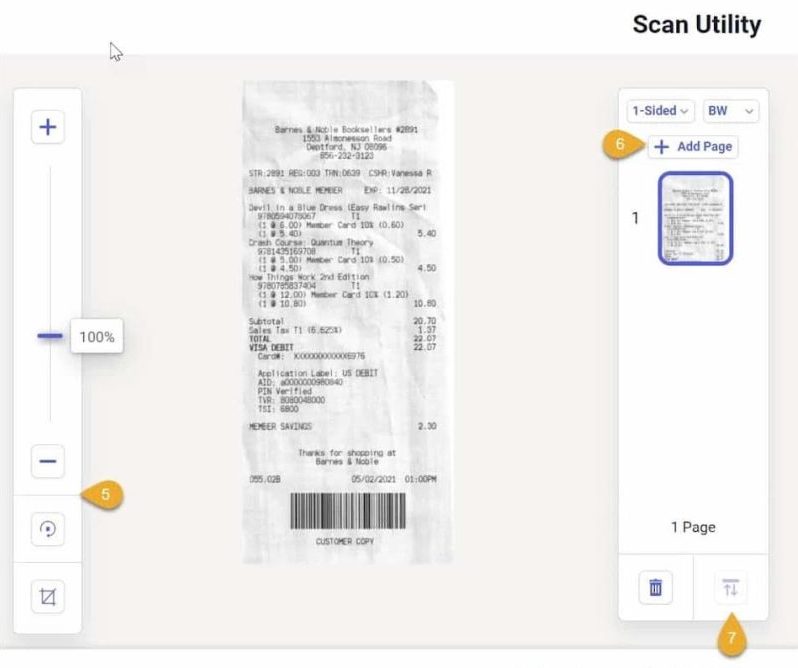 ---
---
Multi-user Account Access
Account owners can invite unlimited users to access the NeatFiles account. Moreover, if you have multiple NeatFiles accounts, you can also invite other users to access these accounts.
---
Item Filters
Managing items is easy with item filters. You can set filters on all your items based on type or other filter categories.
---
Invoicing
With a NeatFiles subscription, you can also enjoy NeatInvoices features. You can generate professional invoices that contain your logo, address, and other business information. Moreover, you can set invoice reminders to remind customers about their obligations automatically.
---
Reporting
Neat also offers reporting features that can help in accounting and decision-making. Below are the reports you can generate on Neat:
Expense Report: Shows column information from your grid and scanned images for your items.
Tax Category: Shows items in groups based on their tax category and percentage.
Sales Tax: Shows the sales tax reported for transactions, including the date, subtotal, and the total tax for each group.
Spending Detail: Shows items in groups, including a vertical analysis of subtotals expressed in percentages.
Spending Summary: Shows a summarized report of your aggregate spending, including a vertical analysis of subtotals expressed in percentages.
---
What Users Say in NeatFiles Reviews
Trustpilot reviews are generally positive for NeatFiles; however, reviews in ConsumerAffairs are mostly negative. The NeatFiles support team replies to both positive and negative comments about the software, providing a full explanation of the software's true functionality.
Overall, we think that NeatFiles is a well-loved software among users. Its high ratings in Trustpilot and G2 show that the software does what it's supposed to do. For the negative reviews in ConsumerAffairs, most reviews pertain to software-related problems, such as problems with receipt scanning and switching from legacy software to a cloud-based system.
Frequently Asked Questions (FAQs)
Is there a free app to scan receipts?
Wave is our best free receipt scanner. Its receipt scanning capabilities are built within its accounting software environment. However, you can try NeatFiles for 14 days and cancel before the free trial ends.
What is NeatFiles?
NeatFiles is a document management and cloud storage system with receipt and document scanning features. If you get NeatFiles, you'll have a place to store documents and receipts and receipt scanning capabilities. Aside from storage, you can also organize documents into folders and tags.
What apps integrate with NeatFiles?
NeatFiles can integrate with QuickBooks Online, QuickBooks Desktop, Campaign Monitor, Constant Contact, Google Contacts, MailChimp, and Outlook.com.
Bottom Line
Being one of our best overall receipt scanner apps, NeatFiles offers features that are vital to every business. Its file storage service works best with its invoicing features through NeatInvoices. Making invoices and storing them in your cloud storage will be easier and more comfortable than using two separate software. Therefore, we highly recommend NeatFiles if you're looking for a receipt scanner and invoice software.