Small business owners who use invoice factoring will be required to authorize a notice of assignment the first time a lender factors an invoice. This notice is intended for the business's customer and informs them the invoice is now payable to the factoring company instead of the business.
How a Notice of Assignment Letter Works
A small business that completes an application, receives an offer, and accepts a factoring facility must start factoring invoices. The first time those invoices are factored, the factoring company will send out a notice of assignment letter to the debtor. Most invoice factoring companies will allow the business to review the notice of assignment and suggest any adjustments to the language.
Tip: To help you retain a relationship and avoid confusion, include a personal note from yourself about the factored invoice to the customer receiving a notice of assignment.
Once a notice of assignment is submitted, the debtor will acknowledge the letter. Future invoices will not require additional notices. In addition to informing the debtor of the changes, this letter may also be used to let the debtor know where to deposit funds or whom to write a check to when paying the invoice.
Sample Notice of Assignment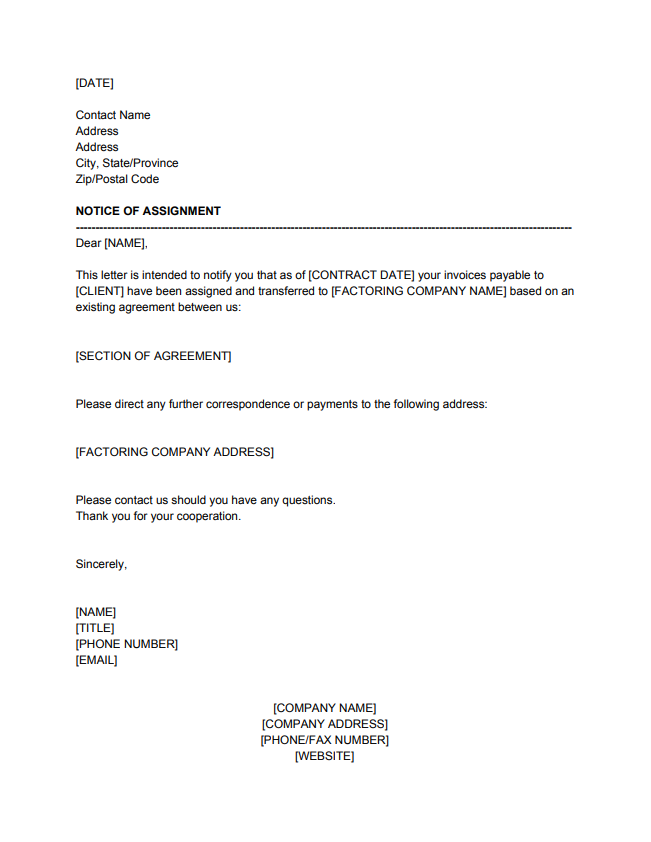 Avoiding Unintended Consequences
A notice of assignment letter intends to inform your customer that they must make payment to a different company. However, this can cause some confusion. The debtor may not understand that the invoice has been factored and may think the business has been liquidated or sold. If it's clear that the debt has been factored, the debtor may be unfamiliar with factoring and may believe the business has trouble managing its finances.
To avoid these unintended consequences, it can be useful to have a conversation with your customers outside of the notice of assignment about the new factoring arrangement. In most cases, you can then also work with the factoring company to adjust the language of the letter to make it more personalized and ensure your customer understands this should not affect your relationship with them outside of payments.
Bottom Line
Every small business owner that factors invoices will have to deal with a notice of assignment. Your involvement in crafting the notice of assignment letter will depend on whether or not it's standard in your industry. While it may raise initial concerns, small business owners should be aware that a notice of assignment is required and is a standard procedure in a factoring contract.