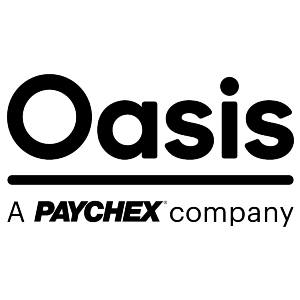 Oasis, a Paychex company, is a professional employer organization (PEO) that offers customers a comprehensive services package that includes human resources, employee benefits, healthcare and other insurance options, payroll processing, and risk management. It files and pays taxes, integrates HR programs, and includes time tracking, making it easy to handle payroll. It's best for companies with five or more employees.
What We Recommend Oasis PEO For:
I've reviewed scores of PEOs and spent several hours researching Oasis and Paychex as well as conducting in-depth conversations with Paychex representatives. Oasis has a lot to offer in terms of payroll and HR. It offers the most important payroll, tax payment, and HR functions. Its strengths are in training and compliance.
In short, Oasis is best for:
Employers with hourly employees: Oasis PEO has integrated time tracking features that let you manage payroll quickly.
Companies in heavily regulated industries: Oasis has experienced HR representatives who advise you on compliance issues from payroll to OSHA.
White-collar businesses that need to offer benefits: Oasis offers Fortune-500 benefits packages, from health insurance to employee assistance programs. It also has an excellent training and performance evaluation package to keep employees learning and improving. (Learn more and see other HR payroll services in our buyers' guide.)
When Oasis Would Not Be a Good Fit
Small businesses needing primarily payroll support: Oasis PEO is not the most affordable option for businesses primarily needing payroll support. It comes with competitive employee benefits options, HR compliance, and the full co-employer experience. Check out our guide to payroll software for small businesses for more suitable options.
Companies planning to switch to HR software in the near future: A lot of work goes into setting your company up with a PEO, and leaving a PEO can be just as time-consuming, especially Oasis since it doesn't have an in-house software you can switch to. If you want to try a PEO but have an inkling you'll need to make the switch to solely software soon, choose Rippling. You can use its PEO service for as long as needed and switch it off with the click of a button when you only need the software.
Want more PEO options? Check out our top recommended PEOs to find a better fit,
Selecting Between Oasis and Paychex PEO
When you call about Oasis, a Paychex/Oasis representative will evaluate your needs and recommend a PEO package for you. However, the products are still separate in many ways, so consider the size of your business and the depth of HR features that you really need when choosing between the two products.
Oasis Overview

PROS

CONS

Extensive employee training resources
Charges percentage of employee salary
Consistently good customer support, dedicated reps
Interface is dated
IRS and ESAC certified
No online, in-app help functions
Oasis Pricing and Features
Oasis charges on a percentage basis. Plans are also customizable, depending on the features you choose. According to a third-party research site, prices can range from $40 to $600 per month, depending on the number of employees and the features you choose. You'll need to contact sales and discuss your needs to get a price on the best plan for you. Contracts run for a year.
As an example, a company with 20 employees doing bimonthly payroll can expect to pay 3.55% of gross wages for payroll processing and time-tracking, direct deposit services, tax processing, and a dedicated customer service representative. Oasis also provides a website where employees can find discounts on products and services. The PEO also negotiated for lower workers' compensation. This price does not include health benefits or 401(k), which would be negotiated for an extra charge.
Since being acquired by Paychex, Oasis has been combining functionalities while still operating as separate teams. Some customers will be put on the Oasis dashboard, while others will go to the more modern Paychex Flex software. According to Paychex, eventually, all customers will be on Flex for administration. Below we show features and screenshots from the Oasis dashboard.
Payroll Processing
Oasis handles all the vital tasks of payroll processing, including tax calculation, filing and payments, PTO tracking, updates to payroll from raises or new deductions, and more. It can process garnishments and advances on pay. It offers direct deposit but may charge extra if you need to print and record a paper check. In addition, it offers timekeeping software for simple clock in/clock out, integrates with others, and lets you import data through CSV.
Oasis handles end-of-year reporting, including issuing W-2s. It can advise you on tax credits. Oasis also offers job costing and expense management functions, something not every PEO can handle.
Online Employee Services
Employees get a self-service portal where they can see paycheck and tax information, benefits, compensation, PTO balances, and more. It also has a mobile app.
HR Services
Oasis Offers HR assistance, from recruiting to retirement. Its advisers can review job descriptions, create postings on Indeed.com, assist with customized screener questions, and even conduct resume reviews and background checks. Onboarding is easy, with the employee selecting their work location, and Oasis automatically pulling the appropriate documents for them to review and sign. It charges extra to add company-specific documents.
Once hired on, Oasis works to help you retain employees. In addition to the Fortune-500-level benefits (discussed below), it offers performance management processes and an extensive training program with thousands of online books, videos, and courses that cover technical skills, management tools, interpersonal/soft skills, and professional development. You can even build custom employee development plans to help career progression. In addition, you can build your employee culture with surveys, diversity and inclusion initiatives, and guidance on internal communications.
Losing an employee? Oasis can help with offboarding to make sure you are compliant with laws and have adequate documentation in the case of termination.
Benefits
Oasis and Paychex share the same benefits packages, which means you can offer your employees enterprise-level plans even as a small business. Benefits are managed through the platform, and employees can sign up when onboarding and make changes through their portal as needed. Here are some of the plans you can offer:
Health, dental, and vision (HMO, PPO, point-of-service, and high deductible health plans)
FSA, HSA, HRA, Section 125 (POP) flexible spending accounts
Employee accidental death and dismemberment
Long-term disability
Life insurance
401(k): Paychex is the nation's top 401(k) bookkeeper, onboarding thousands of plans each year and keeping records for over 90,000 customers.
Accreditations and Compliance Assistance
Keeping track of the legalities and compliances needed to run a business nowadays is one of the big reasons small businesses turn to a PEO. Oasis is accredited both by the IRS and the Employer Services Assurance Corporation (ESAC). That means that it's been thoroughly examined for compliance to important financial, operational, and industry standards as well as government regulations.
What that means for you is that you have access to trustworthy HR experts and software that helps you stay in compliance with federal, state, and local laws and regulations. The HR team sends regular updates and alerts on changing legislation—a vital service with the new administration and COVID-19. It sends out labor posters for OSHA and other programs and helps you comply with EEOC, HIPAA, and OSHA reporting and rules. You can even talk to advisers for help with developing safety training and manuals.
Oasis Ease of Use
Online support center (no guides)
Dedicated customer support
Integrated time-tracking
Backed by Paychex
Clean interface, though outdated
HR alerts on legislative changes
The biggest drawback to Oasis is the dated interface, which is card-based and not easy on the eyes. There are no online guides and in-app help articles. Instead, there is a support screen where you can contact the help desk and see the status on open issues, which is old-school and frustrating if you just need quick instruction on how to do a task. Fortunately, you can contact your dedicated customer rep for help, and they are responsive.
Paychex said that it is moving all customers to its Flex platform eventually, but the representative we spoke to did not have a timeline or know what the customer priority was. She also said some new Oasis customers are still being put on the old software and did not know the criteria for deciding who got which platform.
Top Oasis Alternatives
Justworks
4.48 out of 5 stars

Rippling
4.38 out of 5 stars

ADP TotalSource
4.45 out of 5 stars

Best for: Small businesses on a budget

Best for: Tech companies or those needing multiple integrations

Best for: Companies with complex payroll needs or international workers

Base monthly fee from: $49 per employee, per month

Base monthly fee from: $18 per employee, per month

Base monthly fee from: $100 per employee, per month
If you're not sure Oasis is right for you, see how it compares with our top PEO services.
What Users Think About Oasis
There are not a lot of user reviews about Oasis. We looked at the usual top review sites, like Capterra, G2, and TrustRadius, and PEO-specific sites.
Overall, comments were positive for the staff and service. Employees, in particular, gave glowing reviews for the employee interface. However, managers complained that the overall software was dated and didn't automate tasks that they thought it should.
Below are the trending comments:
| Users Like: | Users Don't Like: |
| --- | --- |
| Consistent good service from the staff | Outdated interface |
| Employee interface good for keeping track of pay and PTO | Working between Paychex and Oasis for problem resolution |
Bottom Line
Oasis has offered PEO services for over two decades. Now, as part of Paychex, it's working to combine its resources with this major payroll and PEO player. It offers excellent service, strong HR tools (especially in training), and payroll with timekeeping. Its interface is a little dated, but you may end up on the Paychex Flex system. Call Oasis to discuss plans and get a demo and pricing.