Oasis Review: Is It the Right Professional Employment Organization for Your Business?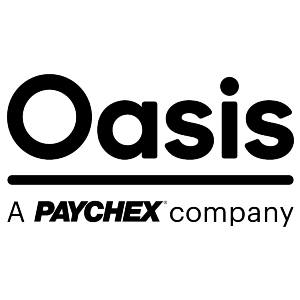 Oasis, a Paychex company, is a professional employer organization (PEO) that provides a comprehensive HR and payroll services package that includes applicant tracking, employee benefits, compliance support, performance reviews, and risk management solutions. It also offers timekeeping options and even files and pays taxes, making pay processing easier for its clients.
What We Recommend Oasis PEO For
We've reviewed scores of PEOs and spent time researching both Oasis and Paychex. In terms of HR and payroll, Oasis PEO has a lot to offer given its robust solution suite. Its online tools and services can help you attract qualified candidates, onboard new hires, pay employees, offer competitive benefits packages, monitor work performance, and train your staff. Aside from process automation, its strengths are in compliance and risk mitigation.
In short, Oasis PEO is best for:
Companies in heavily regulated industries: Oasis PEO has experienced HR representatives who can provide you expert advice on compliance issues and mandates specific to your business. This includes payroll and payroll tax-related laws, Fair Labor Standards Act (FLSA) rulings, and Occupational Safety and Health Administration (OSHA) regulations.
Employers with hourly employees: Oasis PEO has integrated time tracking features that let you capture employee attendance and manage payroll quickly. Its system can also accommodate most paid time off (PTO) policies and tracks PTO accruals.
Businesses that want comprehensive employee benefits and HR tools: Oasis PEO provides access to Fortune 500-level benefits packages—from health insurance and 401(k) plans to flexible spending accounts (FSAs) and telehealth options. It even offers financial wellness and employee assistance programs to help your workforce plan their financial future, manage stress, and more. In addition to hiring and onboarding tools, Oasis PEO has excellent training and performance evaluation solutions to keep employees learning and improving.
When Oasis PEO Would Not Be a Good Fit
Small businesses needing primarily payroll support: Oasis PEO is not the most affordable option for businesses primarily needing payroll support. It comes with a wide range of solutions such as competitive employee benefits options, HR compliance, and the full co-employer or PEO experience. For more suitable options, check our best payroll services for small businesses guide.
Companies planning to switch from PEO to HR software in the near future: A lot of work goes into setting your company up with a PEO, and leaving a PEO, like Oasis, can be just as time-consuming. If you want to try a PEO but have an inkling you'll need to make the switch to solely an HR software soon, choose Rippling. You can use its PEO service for as long as needed and easily switch it off with the click of a button when you only need the software.
Looking for something different? Read our guide to the best HR software for small businesses to find a service or software that's right for you.
Oasis PEO Overview
PROS

CONS

IRS and ESAC certified
Pricing isn't transparent
Offers dedicated HR experts and payroll specialists to clients
You can't select payroll and/or benefits solutions only; its PEO service includes HR, benefits, payroll, and risk management
Extensive e-learning resources for employees
Interface looks dated
Has a wide range of HR and payroll solutions
Lacks online, in-app help functions
Oasis PEO Pricing
Oasis PEO's pricing is quote-based—you have to contact the provider and discuss your requirements so it can recommend a PEO package that fits your business' needs. Its standard PEO service includes HR, payroll, benefits administration, and risk management solutions, as well as access to comprehensive benefits offerings. If you require additional services, such as performance management and applicant tracking, then you have to pay extra for each solution.
Oasis PEO Features
With its wide range of integrated HR, payroll, benefits, and compliance tools and services, Oasis PEO can help you manage simple to complex HR administrative tasks. This allows you to focus more on growing your business and less on handling day-to-day HR. Here are some of its essential features.
Payroll Processing
Oasis PEO manages all the vital tasks of processing payroll, from PTO accruals tracking to year-end reporting and tax calculations, filing, and payments. It supports multiple employee payment options like direct deposits, pay cards, and manual paychecks. Plus, your staff can choose to set aside part of their pay as savings through Oasis's split-to-save feature.
While it offers simple time tracking functionalities to help you pay employees for actual hours worked, you can also import your staff's time data (as CSV files) directly into its platform. In addition, Oasis offers job costing, expense management, and workers' compensation claims administration—features not every PEO can handle.
---
Employee Benefits
Oasis PEO offers several employee benefits types. Benefits are managed through its platform, and employees can sign up when onboarding and make changes through a self-service portal as needed. Here are some of the plans you can offer:
Health, dental, and vision (HMO, PPO, point-of-service, and high deductible health plans)
Telehealth options
Flexible spending accounts (FSAs) and health savings accounts (HSAs)
401(k) plans
Life insurance
Short- and long-term disability, accident, and critical illness (additional fees may apply)
Pet insurance and legal counsel (additional fees may apply)
Discounts from Oasis's partner businesses
Financial wellness and employee assistance programs
Did you know? Because PEO companies manage benefits for a large number of employees, they rely on purchasing power to negotiate pricing and coverage with insurance companies. This enables PEOs like Oasis to provide small businesses access to benefits options that Fortune 500 companies offer to their workforce.
---
HR Services and Tools
Oasis PEO's HR services cover the entire employee lifecycle, from hiring to retirement. Its team of HR experts can review job descriptions, create postings on Indeed.com, assist with customized screener questions, and even conduct resume reviews and background checks. Onboarding is easy, with the employee filling out the required forms online such as Forms I-9 and W-4, staff information sheet, and wage disbursement authorization for direct deposit transactions. Oasis onboarding solution even pre-populates name, address, and Social Security number data fields on applicable forms, based on the information that you inputted on the Form I-9. For an extra fee, you can have Oasis add company-specific documents that incoming employees will also need to fill out.
Once new hires have been onboarded, Oasis works to help you retain and develop employees. In addition to the Fortune 500-level benefits, it offers performance review tools and an extensive training program with a wide selection of online books, videos, and courses that cover technical skills, management, interpersonal/soft skills, and professional development. You can even create custom employee development plans to help career progression. Oasis also helps you improve workplace culture through employee surveys and diversity and inclusion initiatives and by providing guidance on internal communications.
---
Accreditations and Compliance Assistance
Keeping track of the legalities and compliances needed to run a business is one of the big reasons small businesses turn to a PEO. Oasis is accredited both by the IRS and the Employer Services Assurance Corporation (ESAC). That means it's been thoroughly examined for compliance to important financial, operational, and industry standards as well as government regulations.
What that means for you is that you have access to trustworthy HR experts and software that help you stay in compliance with federal, state, and local laws and regulations. In case there are new legislations and changes to existing ones, Oasis's team of HR professionals will send alerts and regular updates to ensure you're always informed and up-to-date. In addition, Oasis provides you with labor posters for OSHA and other programs and helps you comply with EEOC, HIPAA, and OSHA reporting and rules.
---
Risk Management
Part of Oasis PEO's risk management services is to help you handle workers' compensation, including finding the right coverage, providing insurance certificates, and tracking claims. In addition, you are granted access to employment practices liability and cyber liability insurance plans to ensure your business is protected and mitigate financial risks. You can even talk to advisers for assistance with developing safety training manuals and programs.
---
Online Employee Services
Employees get a self-service portal where they can see paycheck and tax information, benefits, PTO balances, and more. It also has a mobile app version that's available for iOS and Android devices.
---
Oasis PEO Ease of Use
Clean interface (though outdated)
Dedicated customer support
HR alerts on legislative changes
Access to HR, payroll, and compliance experts
Online support center (no guides)
The biggest drawback to Oasis is its slightly dated interface, which is card-based and not easy on the eyes. While the left-hand side of its platform has sections with links to commonly used forms and documents, it doesn't include online guides and help articles. Instead, there is a support screen where you can contact the help desk and see the status on open issues, which is old-school and frustrating if you just need quick instruction on how to do a task. Fortunately, you can contact your dedicated customer rep for help.
What Users Think About Oasis PEO
| Users Like | Users Don't Like |
| --- | --- |
| Generally easy to use | Inconsistent customer support quality |
| Employee interface is good for keeping track of pay and PTO | Custom reporting tool isn't intuitive |
We looked at the usual top review sites, like Capterra, G2, and TrustRadius, including PEO-specific ones, but only found a handful of Oasis PEO reviews. Those who left positive feedback gave glowing reviews about its employee interface as it allows them to easily check their pay, health insurance, time data, and PTO. One user also said that its support team is helpful. However, a few others complained about having experienced poor customer service.
At the time of publication, Oasis PEO earned the following scores on popular user review sites:
Top Oasis PEO Alternatives
Best for: Small businesses on a budget

Best for: Quickly growing tech companies or those needing multiple integrations

Best for: Businesses wanting a unique benefits package

Base monthly fee from:

$49 per employee

Base monthly fee from:

$18 per employee

Base monthly fee from:

Custom-priced
If you're unsure if Oasis PEO is right for you, check out our list of top PEO companies for more options.
Bottom Line
Oasis has offered PEO services for over two decades, even before it became part of Paychex. It offers integrated HR and payroll outsourcing services with robust tools in training, compliance, and risk management. And while its interface looks a little dated and doesn't have in-app help guides, Oasis PEO provides dedicated support to help you in managing your HR needs throughout the employee lifecycle. Call Oasis today to discuss PEO services, get a demo, and request a quote.