Occupational and speech therapist insurance is a combination of insurance policies therapists can use to cover their office and practice while assisting children or adults with development or recovery speech therapy. Insurance for occupational therapists starts at $500 per year for general liability and increases with other coverages for business property or commercial auto.
Finding an insurance provider that not only can cover the risk but will do so affordability is a concern for every small business owner. Hiscox is an online provider that matches small business owners with the best carriers for their individual needs. Visit Hiscox today to get a quote and find coverage that won't break the budget.
Top Occupational & Speech Therapist Insurance Providers
| Provider | Best For |
| --- | --- |
| | Sole proprietors or companies with less than five employees that meet at third-party locations |
| | Speech therapists with in-office practices and fewer than 50 employees |
| | Small development centers that send employees to schools or other clinics |
| | Growing speech therapists offices with school district contracts and more than 50 employees |
| | A licensed speech-language pathologist working for a clinic who wants personal malpractice insurance |
Hiscox is a small business specialist recognizing the needs of micro-sized business owners and sole proprietors. This provider offers all lines of commercial insurance, including general liability, business property, and professional liability. Hiscox utilizes online technology to place companies while keeping costs down, saving small business owners time and money.
Hiscox is a great option for sole proprietors and small speech therapist practices where therapists often meet clients outside the office. This provider recognizes that small businesses don't always get the best service or rates for their risk, so they've partnered with major carriers and created policies that serve small business owners appropriately.
The Hartford is an insurance carrier with 200 years of experience helping consumers and small businesses protect what's most important to them. This provider is one of the largest small business insurance carriers in the nation, and is known best for one of the most comprehensive business owners policies that helps small business owners get more coverage for less.
The Hartford is a great choice for speech therapists with small offices and clients who primarily come to them. While this provider is able to write businesses of all sizes, it is ideally priced for offices that need contents and building coverage and has fewer than 50 employees.
Farmers Insurance is a national leader for personal insurance needs that also has a robust line of small business insurance. Farmers Insurance agents are small business owners within their respective communities, giving them additional insights into the risks and needs of their neighboring business owners.
Farmers Insurance is a great choice for speech therapist clinics with five to 50 employees who travel to schools and clinics. Farmers Insurance has an excellent personal auto insurance offering that helps cover any coverage gaps for employees driving their own cars for work.
CNA is one of the largest commercial insurance companies, and has offices in North America, Europe, and Asia. As a global leader of business insurance products, CNA is able to understand and handle risks of all sizes. They also consistently receive excellent ratings for financial strength, allowing clients to rest easy knowing their insurance carrier has the resources to protect their business.
CNA is a great choice for a speech therapist business that maintains a large mobile pool of speech pathologists with school district and government contracts. The ability to have such a large insurance company providing the certificates of insurance gives small business owners an edge when bidding on formal contracts.
Proliability is a specialty insurance company that provides professional liability and malpractice insurance for professionals in the healthcare industry. With more than 50 years of experience in this niche, Proliability is able to offer its clients the most competitive pricing for malpractice insurance.
Proliability is the best choice for a licensed speech language pathologist who is working on their own or under the umbrella of a larger clinic. Obtaining an independent malpractice policy protects the individual against claims and lawsuits they are directly named in. This carrier offers a cost-effective way to protect your license.
What Occupational & Speech Therapist Insurance Is
Occupational and speech therapist insurance protects therapists and their employees from accident-related liabilities, accusations of professional malpractice, theft or loss of business property, and employees' work-related injuries or illnesses. The size and structure of the company will determine what policies are needed and how much coverage is required.
The suggested insurance for occupational therapists includes:
General liability: Protects against non-employee accidents that happen in your office or while therapists are in the field and cause injury or property damage.
Business property: Pays to replace business property that's lost, damaged, or stolen in the main therapy office or in the field.
Professional liability: Pays for legal defense, judgments, and settlements arising from malpractice accusations.
Workers' compensation: Covers costs associated for employees injured on the job, including medical care, prescriptions, and weekly wages.
Commercial property: Protects small business owners for damage or destruction of a leased or owned building or office.
Commercial auto: Pays auto accident claims on autos owned by a small business or employees' autos when driving to and from appointments on official company business. If employees drive their own cars, a named non-owner auto policy is recommended.
Cyber liability: Covers the costs of database breaches involving employees' or clients' financial information, medical history, and other personally identifying details.
An occupational and speech therapist's business may have a small or large office where patients come to for treatment. It may also have contracts with local schools or doctors' offices treating children there. Most speech, language, and occupational therapists work with children experiencing development issues, but may also work with stroke or brain injury patients in their recovery process. These are all specific risks that need insurance coverage designed for the speech therapist.
An occupational and speech therapist can save money by combining several policies into one, called a business owners policy (BOP). These policies have general liability, business property, and business interruption coverage rolled into one policy. They are less expensive in many cases because there is one underwriting task and one policy to administer.
Occupational & Speech Therapist Insurance Example
Occupational and speech therapists' businesses are often very different from colleagues. A speech therapist who has a private practice working with preschool and elementary school children in her guest house with no employees is primarily concerned with general liability and business property. An office that has 10 therapists who drive to the local schools needs higher liability limits to meet the school district demands, workers' compensation insurance, some level of commercial auto, as well as business interruption coverage.
What Occupational & Speech Therapist Insurance Doesn't Cover
Speech and occupational therapist insurance is limited to the types of policies a business owner purchases and the coverage limits within each policy. Keep in mind that insurance for occupational therapists doesn't cover claims for physical therapists. You need physical therapist insurance specifically for those industry risks. Insurance for speech therapists also doesn't cover any claims arising from illegal activities.
Occupational & Speech Therapist Costs
Insurance for occupational therapist companies varies in cost depending on the types of policies purchased and the range of coverage selected. The number of employees, overall revenue, and amount of business property will also greatly affect costs. General liability policies start at $500 annually, but occupational therapists' offices can expect to pay a minimum of $3,500 annually for all necessary policies.
Insurance for Occupational & Speech Therapist Costs & Deductibles
| Coverage Type | Annual Premium | Coverage Amount | Deductible |
| --- | --- | --- | --- |
| General Liability | $500 | $1 million | $0 - $500 |
| Business Property | $1,000 | $25,000 | $0 - $500 |
| Professional Liability | $350 | $1 million | $0 |
| Workers' Compensation | $1,300 | $300,000 | $0 - $500 |
| Commercial Umbrella | $300 | $1 million | $0 |
| Commercial Auto | $300 | $250,000 | $500 |
| Cyber Liability | $1,200 | $1 million | $0 |
Every policy will be priced based on business size, experience, and claim loss history. Depending on the policy limits and any additional coverages, premiums for some therapists may be double or triple typical minimums.
Factors used to determine the price for occupational and speech therapist practices include:
Business location: Price will depend on whether you have one central therapy facility or send employees to client locations, including schools.
Business property value: Business property values greatly affect premium pricing. If you are concerned about pricing, insure the items most imperative to business operations. The stored broken printer might not need to be included in property values.
Replacement cost versus actual cash value: Replacement cost is more expensive than actual cash value, which pays for the depreciated value of business property.
Employee payroll: Workers' compensation premiums are based on payroll costs; the higher your payroll, the higher your exposure and the higher the rate.
Coverage amount: Every policy has options for coverage limits. Minimal policies cost less than those with higher liability limits, property coverage, and other riders.
Deductibles: A deductible is an amount you are willing to pay yourself to help cover a loss. The higher your deductible, the more you have to pay out-of-pocket before an insurance company is on the hook. Higher deductibles are often a great way to lower premiums.
Insurance for Occupational & Speech Therapist Cost Example
Consider the solo occupational therapist working from a home-based business who only needs general liability and minimal business property coverage. Getting the two policies could cost less than $1,000 annually, maybe even as low as $500 with a BOP.
Compare this to an office that has the 10 therapists going to school districts and clients coming to the office for therapy. Having all required policies with higher limits would cost closer to $3,500 or more, depending on the business property coverage and workers' compensation coverage needed.
Related Occupational & Speech Therapist Types & Insurance Needs
Insurance for occupational and speech therapist offices is often confused with physical therapist office insurance or coverage for other types of practices. While these policies are similar, they are for other types of small businesses that have different insurance needs.
Here are key professions similar to occupational therapists and physical therapists:
Physical therapist: Treats lower body and extremities
Occupational therapist: Treats the upper body
Speech and language pathologist: Treats mouth, throat, lips, and jaw
All of these professions need insurance coverage, but their policies will be slightly different to address the specific needs each faces. Helping someone get over a foot injury as a physical therapist has less risk than working on someone's neck as an occupational therapist. One mistake could lead to complete paralysis. Speech and language pathologists often work with children, increasing risks of molestation accusations.
Insurance carriers evaluate what a small business involved in rehabilitative services does and addresses the risks based on the potential and likely claims. Getting the wrong policy as an occupational therapist could lead to denied claims.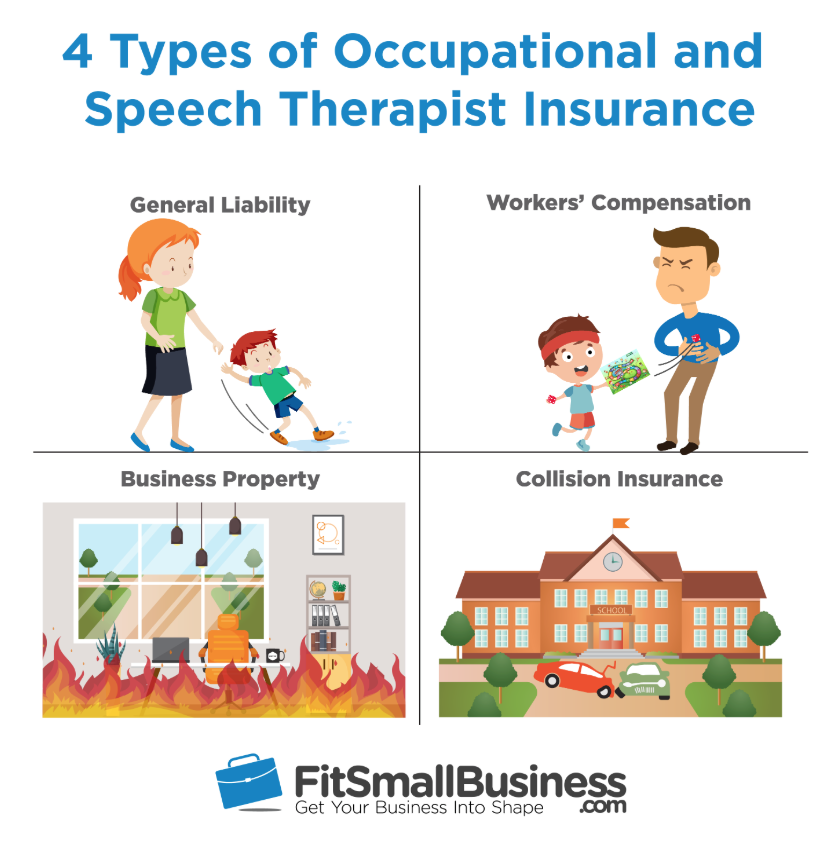 Tips on Applying for Occupational & Speech Therapist Insurance
Here are three tips to remember when shopping for occupational and speech therapist insurance:
Hold Employee Training & Safety Meetings
Insurance companies favor businesses that are proactive with safety and training. To help save money on your insurance costs, be sure to hold mandatory training on how to appropriately interact with patients, deal with physical aggression, and personal safety education. Some insurance carriers mandate these meetings, while others offer discounts for employers who have them.
Request Employee Certificates of Insurance
Request certificates of insurance (COIs) from employees who are using their own vehicles for work. If they're using their personal vehicles in the normal course of work, you can be held liable for any accidents or injuries they cause. Make sure there is adequate coverage and you have an additional named non-owner policy that protects your interests in the event of an accident.
Advise Licensed Employees to Carry Professional Liability Insurance
Even if you carry professional liability insurance for the company, you should highly recommend to licensed employees that they carry their own. Accusations and claims can be made against individuals and not always covered by a company plan. Make sure employees take the steps to properly protect their own career and livelihood.
Occupational & Speech Therapist Insurance Frequently Asked Questions (FAQs)
Occupational and speech therapist insurance is often confused with physical therapist insurance. Our mission is to provide the best answers to your questions.
What types of discounts can I get with speech therapist insurance?
Insurance carriers often provide discounts for a claim-free history, safety programs, and patient intake meetings that cover safety and protocol. There are also some insurance companies that offer discounts for a new speech therapist just starting a practice.
Does insurance cover HIPAA violations?
If you have cybersecurity insurance, you may be covered for HIPAA violations resulting from hacking or digital data loss. However, incidents of human error where no digital files are concerned may not be covered. Some professional liability policies may cover scenarios where personal data is breached in isolated incidents.
Do all licensed speech therapists need liability insurance?
There is no requirement for a licensed speech therapist to have liability insurance, although it's a smart way to protect yourself and your company. Clients also typically feel more confident in therapists who are insured. Many schools and clinics will not award a new contract without seeing a certificate of insurance demonstrating basic liability coverage.
Bottom Line
Occupational and speech therapist insurance is designed to protect small businesses from the many liabilities inherent in their lines of work. The right general liability policies coupled with workers' compensation and professional liability insurance protect the small business from patient or employee injuries, damage to business property, and instances of theft.
A speech language pathologist needs insurance for occupational therapy that protects them against all the general risks every business faces plus the unique physical risks of the job and while commuting. If you want to find insurance that you understand, be sure to visit Hiscox to get an easy-to-understand, affordable quote to cover your liability insurance needs.