Ocean marine insurance is a group of policies business owners need when their operations involve maritime activities like shipping items via foreign or domestic waters. Policies can cover the cargo, the ship, or the shipowner's liability when operating the vessel. Ocean marine insurance for cargo typically costs 0.1% to 2% of the cargo's value.
The Hartford offers an assortment of ocean marine policies that can cover any aspect of your marine operations. Their flexible coverages are backed by a team of ocean marine specialists who can help you get the right insurance for your individual circumstances.
Top Ocean Marine Insurance Providers
| Provider | Best For |
| --- | --- |
| | Business owners who regularly ship goods & materials and want all-risk ocean marine insurance |
| | Business owners who want to compare ocean marine insurance quotes online |
| | Business owners who provide marine transportation services |
| | Business owners with land and water exposures like marina operators, boat dealerships, and shipbuilders |
| | Business owners whose maritime risks have been declined by other insurance companies |
| | Maritime employers who need ocean marine and workers' compensation insurance |
The Hartford is a well-known property and casualty insurer with more than 200 years of experience insuring the assets and activities of business owners. It writes a variety of commercial policies for businesses of all sizes and has a team dedicated to helping small business owners.
The Hartford's Ocean Cargo Choice is the ideal choice for businesses that ship a variety of goods and materials because it's an all-risk policy that defines goods broadly. This means just about anything you ship, and just about every kind of damage is included. You can also opt for riders that extend coverage to goods in warehouses, damages not visible upon delivery, and international shipments.
CoverWallet is an online insurance agency that works with top carriers like Markel, CNA, and Liberty Mutual to get small business owners the insurance they need. The seamless digital experience with CoverWallet makes getting business insurance easy because it allows customers to apply for insurance, compare policies, and bind coverage all in one place.
Business owners who want to use a small business insurance broker to compare offers should consider CoverWallet. Using its simple online process, you can complete a single application to get multiple quotes from available insurers. If you have any questions, you can call, chat, or email a representative for help.
Travelers is a leading insurance carrier for ocean marine risks. The company sells all of its products through a network of agents so that business owners get personalized attention from an insurance professional who knows Travelers well.
Travelers is the best choice for businesses that offer maritime transportation services like tour boat, ferry, and tugboat operators. Business owners can pick from a suite of policies that cover both their property and liability exposures.
Chubb is a large insurer that has a reputation for providing excellent customer service to businesses large and small. It offers customized insurance solutions for small businesses with up to $30 million in revenue.
Business with water and land exposures such as boat builders, dealerships, and small yacht clubs are ideal customers for Chubb. The company's marine facilities package includes basic business insurance like general liability and property policies, plus additional coverage based on your specific business risks.
RLI is a specialty insurer that focuses on niche insurance products, starting 50 years ago with contact lens replacement insurance. Now, it offers a full line of commercial insurance for small business owners and has been named a top carrier by independent agents in a 2017 National Underwriter magazine survey.
The standout feature for RLI is their experienced underwriters who take a flexible approach to writing policies. Its willingness to work with difficult risks makes them the best option for business owners who have been denied by standard carriers.
The Maritime Program Group is an insurance program company that specializes in ocean marine and recreational marine insurance. They've been developing marine insurance programs for more than 20 years and can offer coverage to business owners in all 50 states.
As a specialty insurance program company, the Maritime Program Group underwrites a number of ocean marine policies, but their standout product is workers' compensation. The company can write workers' comp for business with or without longshore and harbor workers' compensation coverage, making them the right choice for everything from small maritime artisans to large national businesses.
What Ocean Marine Insurance Is
Goods in transit are not covered by traditional business insurance policies so that business owners need marine insurance to cover their risks. Ocean marine insurance covers risks associated with transportation via water, such as damage to the vessel or cargo, injuries to passengers or crew, and the shipowner's liability in operating the vessel and transporting cargo.
When shipping goods across land via truck or rail, business owners purchase inland marine insurance.
Ocean Marine Insurance Coverages
Ocean marine insurance is a general term that describes a group of policies designed to protect businesses that ship goods and merchandise over water or have maritime operations. The businesses may include import/export, fishing and sailing charters, and tugboats. Ocean marine policies cover the business's legal liabilities and damage to cargo and vessels.
Ocean Marine Cargo Insurance
Ocean marine cargo insurance covers goods when they are transported by ship, paying the insured value when they are lost or damaged. These policies are taken out by anyone who has a financial interest in protecting the cargo, so policyholders may be the buyer, seller, consignee, or freight-forwarder.
Depending on the insurer, marine cargo insurance typically pays for damages caused by:
Natural disasters
Collisions
Acts of war
Piracy
Cargo abandonment
Customs rejection
Business owners who need ocean marine cargo insurance can get policies that cover shipments from the inland point of origin to the final destination warehouse. For more information on insuring other segments of your shipments, be sure to visit our ultimate guide to freight & cargo insurance.
Ocean Marine Hull Insurance
Hull insurance, sometimes called hull & machinery (H&M) insurance, is usually taken out by a shipowner. It covers physical damage to water-going vessels like bulk carriers, fishing boats, ferries, and tankers. The hull is the main body of the ship, but hull insurance policies also cover damage to fixed machinery and propulsion equipment.
Marine hull coverage insures ships against the following perils:
Collisions
Grounding
Fire
Explosion
Tidal waves
Accidents in moving cargo or fuel
Hull insurance usually has a "collision liability" clause, also called the "running down" clause. It covers the shipowner's legal liability in an accident that damages another vessel or its cargo.
Protection and Indemnity Insurance
Protection and indemnity (P&I) insurance covers most of the liabilities stemming from the operation of waterborne vessels. These policies are sometimes called ocean marine liability insurance and are usually taken out by shipowners.
P&I insurance covers a wide range of liability issues, such as:
Injury, illness, or death caused by operating the vessel: Such as a passenger's neck injury after a ferry runs aground
Damage to piers, docks, jetties, and other fixed floating objects: Such as damage to a dock if a boat's crane malfunctions
Cleanup and removal of wrecks: Such as the cost of towing another shipowner's boat damaged in a collision with the policyholder's vessel
Expenses resulting from quarantine: Such as the cost of disinfecting a ship exposed to smallpox
P&I insurance does not pay for claims already covered by workers' compensation or the collision clause in hull insurance. Additionally, P&I insurers typically only pay out if the policyholder has to pay the claim.
Freight Insurance
In the world of shipping, "freight" is the money paid to the shipowner for transporting cargo. Shipowners may lose this money if cargo is lost in an accident, so they buy freight insurance to cover the loss of this revenue.
Freight insurance typically pays out as long as the shipowner has no prior knowledge of the accident that causes the damage and the damage isn't caused by normal wear and tear.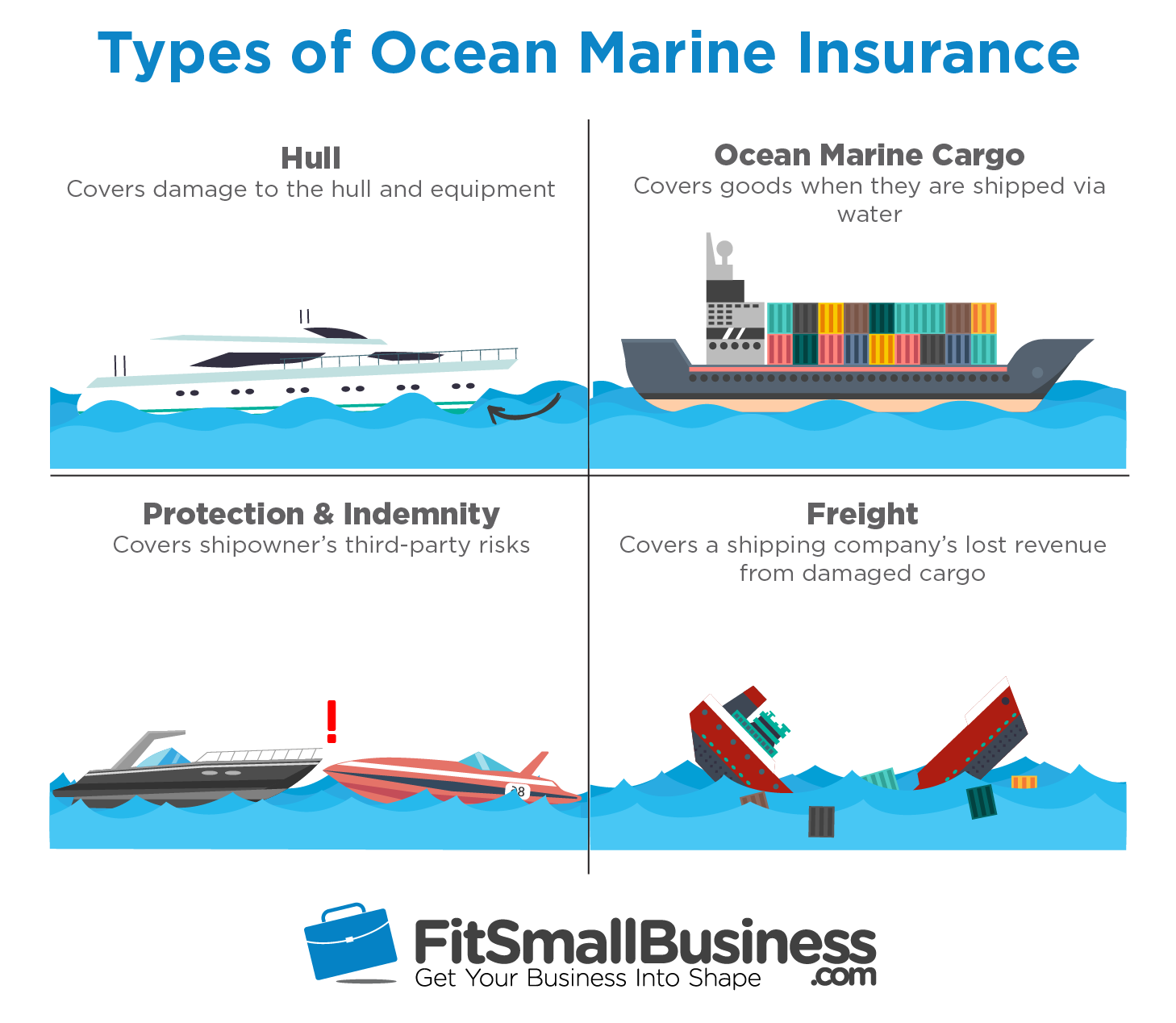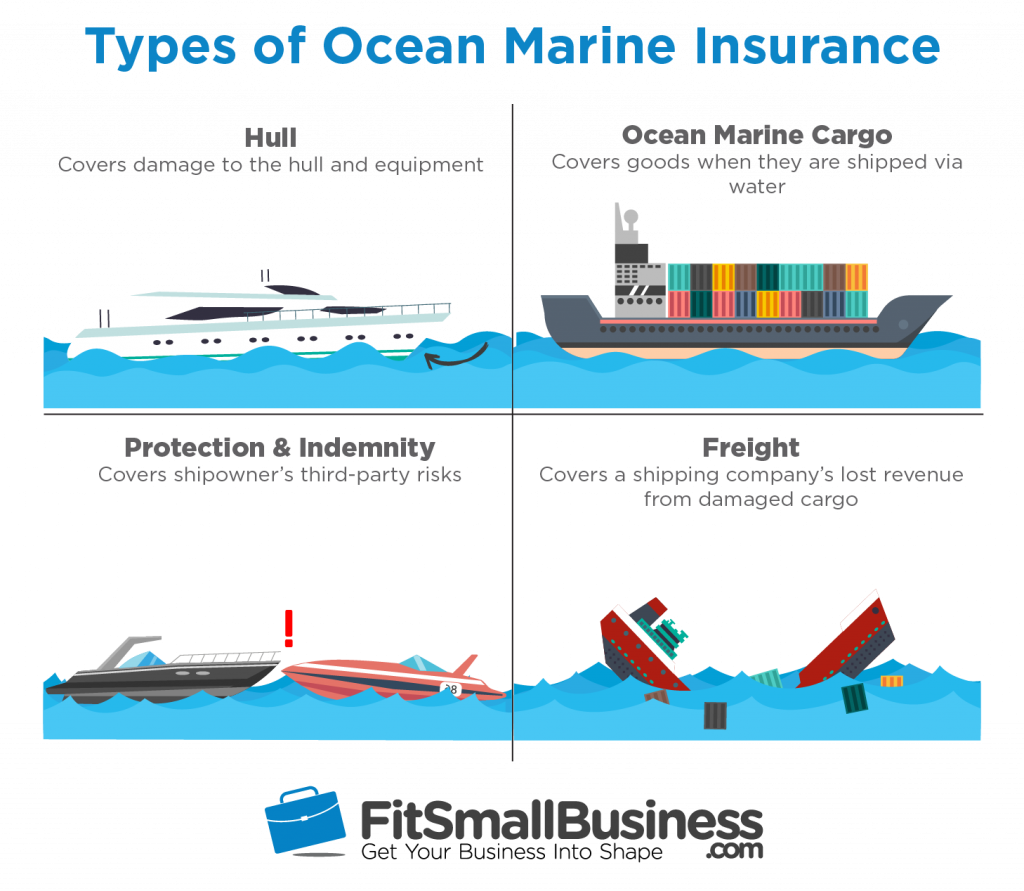 Ocean Marine Insurance Costs
Ocean marine insurance premiums vary widely based on your provider and the coverages you select. For instance, hull insurance might have a minimum premium of $5,000, depending on the size of your vessel. However, cargo insurance premiums are a percentage of the cargo's value, usually between 0.1% to 2%.
Ocean Marine Costs & Deductibles for Small Businesses
| Coverage Type | Typical Minimum Premium | Deductible | Coverage Amount |
| --- | --- | --- | --- |
| Commercial Hull Insurance | $500-$2,500 | 2%-5% of your vessel's value | 20% of your vessel's value |
| Protection & Indemnity Insurance | $1,000-$3,000 | 2%-5% of your vessel's value | $300,000-$500,000 |
| Marine Cargo Insurance | $500-$2,000 | Varies | 0.1%-2% of your cargo's value |
Ocean marine cargo insurance policies sometimes have a minimum premium of around $1,500 for a shipment. The percentage charged depends partially on the product being shipped. Oil might cost 0.01% of the total value, while steel cost 0.06%.
A few other factors that impact ocean marine cargo insurance costs include:
Route: Some routes are riskier than others, especially if they go through areas known for piracy or severe weather
Destination: An insurer may charge more if your destination is marred by political instability or is difficult terrain to navigate
Loss history: Insurers almost always consider the insured loss history, and they usually increase the premium if the insured has made multiple claims
Ocean Marine Insurance Policy Types
Ocean marine insurance comes in a number of different forms that are appropriate for different situations. For example, an importer/exporter who regularly ships goods overseas may want an open ocean marine policy because it covers all their shipments during the policy term.
All-risk Policy
All-risk cargo insurance offers the broadest coverage for shipments. It insures your shipment against external causes of damage except those specifically identified in the policy. For instance, all-risk policies might exclude damage caused by improper packing or employee dishonesty.
Named-risk Policy
A named-risk policy is the opposite of all-risk coverage. It only covers perils explicitly listed in the policy. Common perils in a named-risk policy include collisions, high waves, severe weather, jettison of cargo, fire, and piracy.
Voyage Policy
Voyage policies provide coverage for a single shipment. Typically, these policies are purchased by shippers to cover losses due to damaged or delayed cargo. Voyage policies only cover the duration of the trip, so most exclude losses during loading and unloading but cover cargo when it's transferred to other ships mid-voyage.
Time Policy
A time policy is issued for a fixed period, usually a year, and cover all the marine perils occurring during that time. Time policies are most often a form of hull insurance and are taken out by shipowners.
Mixed Policy
This is an ocean marine policy that combines the benefits of time and voyage coverage. Essentially, a mixed ocean marine policy covers a shipment or a vessel for either the duration of a voyage or a set time, whichever comes first.
Open or Unvalued
In an open or unvalued ocean marine policy, the cargo's value is not listed. The insurer only assesses property values and reimburses for loss after the policyholder files a claim. These policies aren't very common, but when they are used, they are typically written for freight insurance.
Valued
For a valued policy, cargo is valued before the policy is written. The insurer considers the cost of the cargo, freight, ship, and the approximate profit and includes the total as the insured amount in the policy. Usually, the insured amount is fixed, so depreciation isn't considered when compensating for a loss. This makes any reimbursement clearer for all parties.
Port Risk Policy
Port risk policies include coverage for physical damage to a vessel and the owner's legal liabilities when the vessel is stationed in a port. Shipowners typically purchase port risk policies when they anticipate their vessel remaining in port for an extended period of time, usually a month or more. Once the ship leaves the port, coverage terminates.
Floating Policy
Floating policies, sometimes called declaration policies, are designed for businesses that require frequent trips over water in specific locations, especially if those trips include cargo transportation. These policies do not list values of the goods or the name of the ship, so the insurer reimburses losses based on the declarations the insured makes in their shipping documents.
Block Policy
A block policy extends coverage to shipments through all modes of transportation. For example, if the cargo's end destination is in a landlocked country, a block policy covers the cargo when it's moved to a truck or train. Block policies are usually taken out by shippers.
Tips on Getting Ocean Marine Insurance
Business owners have a lot of options when it comes to ocean marine insurance. These tips can help you get the appropriate policy for your situation.
1. Work With an Insurance Agent
Every insurer has its own method for determining premium, so you want to get quotes from multiple carriers. A good way to do this is to work with an independent insurance agent or broker. They can quote multiple insurers and help you find the coverage that fits your business. Be sure to look for one that has experience with marine insurance.
According to second vice president for business development with Travelers George Butler, an agent can save you time and money if you have to file a claim.
"Work with your insurance agent to purchase an open cargo policy that automatically covers all your shipments and ask them for 'all risks' insuring terms on all merchandise. When purchasing this type of policy with a United States insurer, claims handling should be straightforward since you will be dealing with local claim professionals. Business owners who opt for insurance through the seller of the goods could end up dealing with a foreign insurance company, which can complicate the process."
2. Give Your Marine Insurance Agent Detailed Information
Whether you get coverage from an insurance agent, shipping broker, or third-party freight forwarder, you want to be as upfront as possible when applying for ocean marine insurance. They use the details of your shipment to calculate your costs, so providing accurate information results in an accurate premium. According to Clément Lehembre of Charles Taylor plc, misinformation can hurt you in the long run.
"The insured is required to disclose all circumstances that would influence the judgment of a prudent insurer in fixing the premium or determining whether he will take the risk. Not providing all the information which would allow the underwriters to have a fair representation of the risk is a big mistake that can have grave financial consequences for a business. By doing so, a business could fail to get the appropriate cover it needs and, in certain instances, failure to disclose can be grounds to deny coverage even if the loss falls within a policy."
3. Read the Fine Print
Ocean marine insurance policies are contracts, and that means the devil is in the details. Dmitriy Shibarshin of West Coast Shipping says ignoring the fine print is a mistake many business owners make that can cause big problems when it's time to file a claim.
"The fine print contains a lot of minute details that describe what the ocean marine policy does and does not cover. It lists each part of transport it covers, including loading, unloading, transit, third-party providers transporting the goods, and so on. Business owners should also watch out for policies, which may only be valid as a secondary insurance. It only protects you if your primary insurer is unable to do so. However, few business owners have a clear understanding of what the limits of the primary insurer are and when the secondary policy kicks in."
Ocean Marine Insurance Frequently Asked Questions (FAQs)
Ocean marine insurance is a complicated topic and one that small business owners need to be sure they understand. We've tried to answer all potential questions above.
What is bumpershoot insurance?
Bumpershoot insurance is an excess liability policy designed for maritime risks. It extends the protection of an underlying ocean marine policy by increasing to the available limits or offering added coverage. For instance, a bumpershoot policy might add worldwide coverage, environmental liability, or kidnapping coverage.
What is a both-to-blame clause in an ocean marine policy?
Ocean marine insurance policies typically include a both-to-blame clause that states two shipowners split the losses when negligence on both parties' parts leads to a collision. If two ships collide and both are found to be negligent in the accident, the shipping companies and cargo owners share the costs.
What are implied warranties in ocean marine insurance?
Every shipowner who takes out an insurance policy on their boat makes a promise to their insurer that the boat is seaworthy. This promise is not spelled out in the policy, which makes it an implied warranty. If your insurer can show that your vessel was not seaworthy, they can deny your claim.
Bottom Line
Marine cargo insurance may be the most common ocean marine policy, but it's not the only one. Everything from yacht clubs to tour operators to oil tankers may need one or more types of ocean marine insurance. Business owners should work with an experienced agent to identify maritime risks and get the appropriate coverage to fit their individual needs.
The Hartford has agents with just the right experience to help business owners who need ocean marine insurance. You can work with a small business expert who has a direct line to help you cover both your property and liability concerns.