Oil and gas insurance is a series of policies designed to protect companies involved in the production and distribution of oil and natural gas. The oil and gas industry poses both significant safety and environmental concerns that different insurance policies address. Even small oil and gas companies can expect to pay thousands in premiums annually.
Oil and gas companies include not just the companies that extract and refine petroleum products, but also includes any company that performs professional services for the industry including inspections, geological surveys, transportation, and well design. Oil and gas companies can buy this insurance through specialty insurance providers.
What Oil and Gas Insurance Is
Oil and gas insurance is a series of policies including general liability, business property, and workers' compensation insurance. What makes insurance policies for the oil and gas industry unique is their need to satisfy the many state and federal regulations imposed on the industry to keep people, animals, and the environment safe.
Storage Tank Pollution Liability
The two types of storage tanks, underground storage tanks (UST) and aboveground storage tanks (AST), have different risks that must meet EPA guidelines and require proper coverage. Oil and gas insurance policies include coverage that protect oil and gas companies from third-party claims of bodily injury or property damage. It also includes oil and gas insurance coverage specific to covering the expense of cleanup that meets state and federal regulations.
Leased Equipment With Operator Insurance
Trucking and special heavy equipment is often used in the oil and gas industry through a "leased equipment with operator" agreement. This is where the operator is also leased to the company for the duration of the contract terms. Leased equipment should be insured through the business property section of oil and gas insurance, though an oil and gas company should consider a policy that covers subcontractors when operators are involved. Trucking insurance is normally maintained by the trucking company.
What Oil and Gas Insurance Covers
Oil and gas insurance covers various risks evident in the entire supply chain of finding, extracting, refining, transporting, and storing natural gas and petroleum products. The industry itself is segmented based on where in the process a business operates. Every stage has its own set of inherent risks requiring very specific underwriting protocol and evaluation.
The three main segments of oil and gas production that need oil and gas insurance are:
Upstream: Business operations involved in the exploration, extraction, and production of oil and natural gas. Operations efforts may exist underground or underwater using wells to locate and pull the raw materials to the surface.
Midstream: The category of oil and gas operations where raw materials are stored, transported, and marketed in wholesale sectors. Midstream operations include transportation pipelines, terminals, and treatment centers.
Downstream: Responsible for refining crude oil, purifying raw natural gas, and distributing final petroleum products to retail distributors, businesses using petroleum products, and consumers.
Claims for oil and gas companies vary depending on which segment operations exist. However, all operations are subject to general liability claims, workers' compensation injuries, potential environmental contamination, and equipment breakdown.
What Oil and Gas Insurance Does Not Cover
Oil and gas insurance is designed to cover the broadest levels of accidents and negligence but it does not cover known problems arising from ignored or illegal acts. The oil and gas industry is highly-regulated when it comes to site preparation, safety standards, and environmental protection. Violating rules, regulations, or safety standards could result in a denied claim.
An oil and gas company can help itself with a well-written set of operations and safety standards distributed to all employees. Holding regular safety training sessions and inviting site inspectors to point out potential issues and then taking action to correct them goes a long way to making sure an incident is a covered claim.
Oil and Gas Insurance Claims
There are many controlled and uncontrolled conditions when maintaining oil and gas operations. Landscape, weather, and wild animals are just a few of the hazards that oil and gas companies face that they have little control over. Oil rigs operating in deep seas, dealing with polar bears in arctic conditions, and relying on accurate chemical reports about underground gas pockets as part of day-to-day operations demonstrate just a flavor of the risks faced.
Common oil and gas insurance concerns include:
Oil and Gas Equipment Breakdown: Companies rely on equipment to get the job done in a safe and efficient manner. Equipment failure and loss can lead to serious production down-time costing everyone money.
Environmental Concerns: Extraction and fracking can render landscapes barren. Oil spills and chemical leaching can contaminate large areas well beyond the incident site killing wildlife and making nearby residents ill.
Safety Risks: Workers work in conditions where a fire or explosion can happen without notice. Equipment is big and dangerous with increased of disabling or deadly injuries.
Claims Made vs Per Occurrence Policies
A Claims Made policy has two timelines: the time the policy is in force and the time that coverage exists before the policy started. This allows for retroactive coverage on incidents leading to a claim that the company was unaware of previously and may not have had coverage for. An example would be a crack in a tank that was missed in an inspection leading to an underground leak.
An insurance policy written on a Per Occurrence basis only covers the claims during the policy period. There is no retroactive date, thus no coverage for incidents that occur before the policy is contractually started. Because the oil and gas industry has so many regulations and potential claims' incidents, most oil and gas insurance policies are written on a Claims Made basis. While this is a more expensive policy standard, it provides the broader protection to those being held liable for clean up and damages.
Who Oil and Gas Insurance is Right For
Oil and gas insurance covers anyone involved in the exploration, extraction, refining, and distribution of oil and gas products. This includes even consultants, engineers, and transportation experts. Even indirect involvement such as being a real estate investor where mineral surveys discover oil and gas reserves exist could mean you need to get some type of oil and gas insurance.
Those who work in or service the oil and gas industry and need specialized policies include:
Well drill consulting
Well design
Geology and mineral surveys
Drug testing and security
Pipeline and equipment inspection
Software and technology development
Oil tanker and trucking transportation
Gas station distribution
Waste cleanup contractors
Real estate owners with oil and gas land rights
Wildcat driller with one well
If you are unsure about your exposure to the oil and gas industry, consult with an insurance broker versed with the policies and coverage needed to protect your business interests.
Oil and Gas Insurance Costs
Oil and gas insurance costs have extremely wide variances due to the unique scenarios of every oil and gas company. Where a company falls in the production and distribution pipeline, its size, and overall industry experience directly affect costs. Underwriters in this industry have in-depth knowledge of how operations function and will work hand in hand with businesses to properly price the risk.
Factors Affecting Oil and Gas Insurance Costs
Common factors affecting oil and gas insurance costs include:
Production Level: Being upstream, midstream or downstream poses different risks such as exploration and drilling upstream and storage downstream.
Operations Size: Owning a small operation as a wildcat drill operator is much different from a publicly traded oil refinery with multiple locations and various operations across the production pipeline.
Payroll: Workers' compensation is always based on payroll costs and these rates, even for clerical staff who may be on-site, are increased in the oil and gas industry.
Storage Type: Above ground and below ground storage have different potential risks and the types of storage units greatly affect the rates particularly concerning environmental safety claims.
Management Experience: A track record of industry success, compliance, and safety helps reduce the overall costs of oil and gas insurance.
Resident State of Operations: State regulations impact safety standards, environmental protections, and insurance requirements. Check with local Environmental Protection Agency (EPA) offices to meet compliance requirements.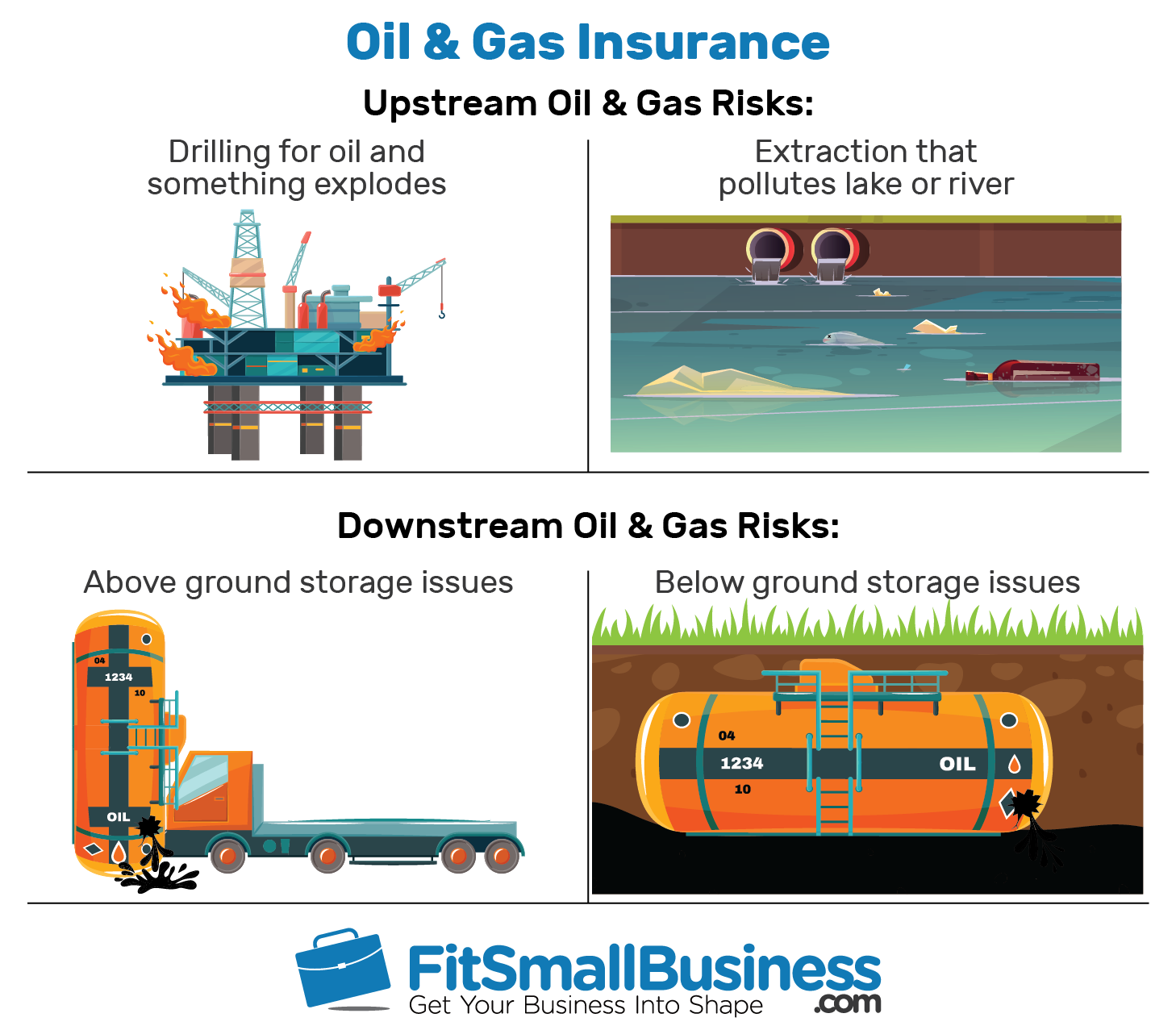 Oil and Gas Insurance Policy Types
There are many types of policies that make up oil and gas insurance. Company owners will need to customize the overall insurance risk coverage by selecting the right types of policies with the correct coverage amount in each.
Here are the types of insurance oil and gas companies may need:
Commercial General Liability Insurance
Commercial general liability insurance covers third-party liability claims for bodily injury, property damage, and related medical bills and legal costs. For most industries, this is commonly referred to as slip-and-fall accidents but for the oil and gas industry, general liability becomes much more comprehensive where someone drinking contaminated water could become seriously ill.
General liability in the oil and gas industry often includes additions for environmental protection and clean up should things go wrong. Fracking may contaminate water sources. Oil spills kills land and marine life. Remote work areas are also targets for curious trespassers who may get injured on a job site ― while they broke the law, the business could still be held liable for injuries.
Business Property Insurance
Business property insurance covers a company's equipment, tools, supplies, furniture and computers in the event of a claim. Every business has business property that is used to conduct the day-to-day business operations and deliver goods to customers. Business property insurance is a first-party insurance policy that pays to repair or replace business property that is damaged or destroyed by perils such as fire, theft, vandalism, and some weather conditions.
Most oil and gas companies have a mixture of owned and leased property, in many cases utilizing leased equipment with operator structures that convolute the way the insurance is written. Making sure there is the right coverage for business property without gaps protects what can be hundreds of thousands of dollars in equipment.
Professional Liability Insurance
Professional liability insurance, also known as errors & omissions insurance (E&O), protects businesses against liability claims arising from their mistakes or negligence. Unlike general liability insurance that covers claims from accidental incidents, professional liability insurance protects against claims arising from professional advice or services.
Professional liability insurance is critical for any oil and gas company that offers professional services to others in the supply chain. Imagine if a land survey was misread causing a company to invest millions in a space that was ultimately, not feasible for drilling. An error like this could result in a lawsuit of millions for potentially misleading a client's drilling efforts.
Workers' Compensation Insurance
Workers' compensation insurance pays for medical expenses, rehabilitation services, disability payments, and lost wages for employees injured on the job. The oil and gas industry has very dangerous operations with risks of explosions, fires, collapse of land, and complicated machinery.
Workers' compensation in the oil and gas industry is more expensive than other industries because of the nature of the work and inherent risks involved. It is imperative for oil and gas companies to maintain employee operations protocol that integrates safety standards to prevent accidents and injuries to reduce costs and production downtime.
Commercial Umbrella Policy
A commercial umbrella policy adds extended liability coverage to most liability policies in force including general liability, workers' compensation, and commercial auto insurance. When the liability limits of these underlying policies meets the policy cap, the umbrella policy kicks in, adding additional coverage for higher limits. Commercial umbrella policies are a cost-effective way to get more liability coverage without increasing limits on every policy.
A commercial umbrella policy for the oil and gas industry will have very stringent underwriting guidelines including detailed claims history, management experience in the industry, and contractual agreements of all leased equipment. Have all compliance paperwork ready when applying for an umbrella and be prepared for a site visit.
Equipment Breakdown Insurance
Equipment breakdown insurance, also called Boiler and Machinery Insurance, covers the costs to repair or replace equipment necessary for operations. It also covers the costs of business interruption including lost revenues and payroll costs if operations are halted due to an equipment breakdown.
For an oil and gas company, this is critical coverage because a well pump or transmission can fail, leading to significant financial loss. Because oil and gas equipment is highly specialized, specialized underwriters visit site locations to properly price the risk for this policy.
Oil and Gas Insurance Companies
National insurance carriers understand the unique needs of the oil and gas industry and offer specialized policies to cover those risks. The inherent dangers and exposure of this industry and where in the pipeline the business works make choosing the right insurance carrier with the right coverage imperative.
Top Oil and Gas Insurance Companies
| Provider | Best For |
| --- | --- |
| | Oil field contractors that have less than $12 million in receipts. |
| | Equipment lease contractors and operators throughout upstream operations. |
| | Underground storage tank operations, including those with multiple location facilities. |
| | Offshore exploration and drilling operations, particularly off the Gulf of Mexico. |
| | International companies with a production or distribution segment set outside of the U.S. |
Some top oil and gas insurance companies to consider include:
1. AIG
AIG is a national leader for commercial insurance lines with a full range of business insurance for the oil and gas industry directly involved in operations. AIG underwrites with some of the strictest standards in the industry to make sure their clients have fewer claims.
AIG is the best choice for small oil field operations with annual receipts of less than $12 million. AIG has a package policy that includes oil and gas general liability, commercial auto, and umbrella insurance. Ineligible risks include manufacturers, consultants, rig erection/dismantling, and fracking operations.
2. Chubb
Chubb is the world's largest publicly traded commercial insurance carrier with experience and an appetite in many industries. Chubb has been a leader in the oil and gas industry since the 1960s, focusing efforts on maintaining safety standards through complex organizational structures with in-house company employees, subcontractors, and leased operators.
Chubb is the right choice for an upstream segmented company with a large number of lease contracts that include both operators and nonoperators. Being able to underwrite the master policy that prevents coverage gaps and meets all safety and environmental requirements is the foundation of Chubb's specialty packaged policies.
3. Mid-Continent Group
Mid-Continent Group is a commercial lines insurance broker that specializes in hard-to-place risks found in industries such as oil and gas. Mid-Continent Group is a boots-on-the-ground partner for oil and gas companies, providing insight to mitigating risk at business operations sites.
Mid-Continent Group is the best choice for gas stations, testing facilities, and crude storage wholesalers with underground storage tanks. Mid-Continent Group includes TankOwners Pollution with liability coverage. These Claims Made policies can be written for multiple locations with extended reporting periods up to three years.
4. Crum & Forster
Crum & Forster is an EPA-listed oil and gas company insurance provider that offers coverage to meet and exceed EPA standards for environmental protection. The specialty underwriter offers both contractors policies and owners/operators policies for upstream and midstream oil and gas production.
Crum & Forster is the right choice for exploration and extraction operations with all risk first-party coverage for rigs off the Gulf of Mexico. Crum & Forster has a large appetite for onshore and offshore exploration and drilling.
5. Travelers
Travelers is an international insurance carrier that offers all lines of commercial insurance. Oil and gas companies often have international components, whether upstream or downstream, and need the proper insurance policies to cover those claims.
Travelers is the right choice for oil and gas companies with operations offshore or other international elements. Travelers covers oil and gas risks from the very top of the upstream segment to the final destination downstream, including tank construction, exploration, well cleaning, and rig erecting.
Tips on Getting Oil and Gas Insurance
Here are three key points to keep in mind when applying for oil and gas insurance:
1. Get All Compliance Documents
Oil and gas insurance is often underwritten with a live inspection of site operations. Provide the underwriter with operations manuals, safety protocol, employee licenses, and all pertinent documents on land surveys and mineral rights. Include payroll and revenue documentation to expedite liability and workers' compensation insurance processing.
2. Update All Safety Signs
Safety signs and notices serve as reminders for workers and warnings for site visitors about hazards in the area. While workers generally have a good sense of those hazards, updating signs to serve as bold reminders improves a company's safety ratings, reducing claims, and lowers overall insurance premiums.
3. Promote Local Communities
Promoting local communities may not seem like it has anything to do with business operations, but many communities fear the long-term effects of oil and gas drilling in their areas. By getting involved in local communities, hiring local workers, and supporting local schools and other organizations, an oil and gas company can reduce the unrest that could happen with disgruntled residents. This reduces potential vandalism claims of rogue residents taking matters into their own hands.
Oil and Gas Insurance Frequently Asked Questions (FAQs)
Whether you work directly with extraction and processing of oil and gas or serve companies that do, you need oil and gas insurance.
Is environmental protection included in general liability?
Every carrier treats environmental protection for oil and gas companies differently. This is also adjusted based on what stage of production a company operates in. Most general liability policies for oil and gas will include environmental protection coverage but may also have additional riders for specific hazards such as oil spills.
What is the retroactive date on a Claims Made policy?
The retroactive date on a Claims Made policy precedes the inception date of the policy, providing coverage for unknown incidents that could result in a claim made during the policy period. The farther back the retroactive date goes, the more expensive the insurance policy is because it accounts for time periods before underwriting occurred.
What is the extended reporting period?
An extended reporting period is often referred to as tail coverage and gives the business owner coverage after the policy ends for a defined period of time. If an action that happened during the policy period resulting in a reported claim after the policy ended, this would be covered through the extended reporting period.
Bottom Line
Oil and gas insurance is complicated with a lot of different factors affecting risk, regulation compliance, and pricing. Find a broker who understands the different segments of the oil and gas industry who can help you get the insurance you need from a carrier who specializes in your business operations. Find the right expert to protect your industry expertise and business.