OnlineEd Review: Features, Alternatives & Pricing 2023
OnlineEd is an online course provider for real estate agents, brokers, mortgage brokers, contractors, and insurance agents. Its key features include an easy-to-navigate course platform, an extensive variety of professional development courses, and state-approved mortgage licensing courses. Based on OnlineEd reviews and our analysis, it is best for real estate professionals looking to grow their business and expertise with marketing courses and certification programs.

Pros
Easy-to-use course platform
Affordable prices
Real estate designations and professional development in every state
Cons
Prelicensing courses for real estate, mortgage, and insurance agents unavailable in most states
Lacks variety of course formats
Lacks instructor access
Who OnlineEd Is Recommended For
Real estate professionals wanting professional development
Aspiring agents wanting to get a real estate license in one of the 15 approved states
Mortgage professionals across the country needing continuing education
Who OnlineEd Is Not Recommended For
Prelicensing: $50
Exam prep: $99
Continuing education: $6
Career enhancement: $19
---
---
OnlineEd Reviews: What Users Think
The majority of OnlineEd real estate reviews are positive, with many specifically noting how easy it is to contact customer support and complete the courses. Students said the course material was easy to follow and understand, and many reviewers reported that it thoroughly prepared them for their exams and careers. In addition, the OnlineEd.com reviews and testimonials on the website show more than 100 students who passed their exams on the first try.
Some of the negative reviews for OnlineEd expressed frustration that there is no instructor available for questions. Others referenced poor experiences with customer service and hoped for more in-depth course material. If having an instructor and in-depth course material is a priority for you, Kaplan might be a better fit for your needs.
Would Our Expert Use OnlineEd?
OnlineEd is an ideal solution for a number of professionals in real estate, mortgage, and insurance industries, and we chose it primarily for current real estate agents and mortgage brokers. Our favorite features include the vast selection of CE, professional development, and certification courses that are all offered in a simple and easy-to-use online course platform. This makes it easy to access and complete coursework at any time and on any device. Overall, OnlineEd's courses are ideal resources to support your career and help you gain specialized expertise.
On the other hand, OnlineEd's courses do not provide access to a live instructor for questions or course format options like video, audio, or live courses; all courses are online and self-paced. This can be challenging for current and aspiring professionals who are not especially self-motivated or who struggle to learn through reading.
In addition, only their real estate broker licensing course in the state of Oregon offers a pass guarantee or refund policy. If you'd prefer to complete your education with multiple course format options and refund options, check out Colibri Real Estate.
Types of Education Available at OnlineEd
All OnlineEd courses are provided through its online course platform, which is accessible on any device and includes video and audio components depending on your state. It's unique from other online schools as it offers education options for real estate agents as well as contractors, insurance agents, mortgage brokers, and property managers.
Prelicensing
OnlineEd's prelicensing courses are for those who want to start a new career as a real estate agent, mortgage broker, contractor, or insurance agent. In order to begin operating as a professional in these fields, each state requires a specific type of coursework and a varying number of hours. For those wanting to become a real estate agent, OnlineEd provides approved prelicensing courses in the following 15 states:
Alabama
Arizona
California
Georgia
Illinois
Indiana
Michigan
Missouri
Nevada
Oklahoma
Oregon
Pennsylvania
South Carolina
Tennessee
Washington
For aspiring mortgage brokers, OnlineEd offers a state and Nationwide Multistate Licensing System (NMLS)-approved 20-hour prelicense course in every state. These packages include video and audio components, live question-and-answer sessions, a test simulator, practice tests, flashcards, and a test-taking strategy webinar.
Make sure you read the course information before purchasing your course to check how long you'll have access. Some of OnlineEd's courses are available for 12 months, and others only provide access for 80 days.
Each state has different continuing education (CE) requirements, and OnlineEd provides CE packages and individual courses to help agents and mortgage brokers renew their real estate licenses. For current Mortgage Loan Originators, OnlineEd provides a CE package in every state that meets the national requirements. These courses include video components and e-books, and are available for 12 months after registration.
For real estate sales professionals, OnlineEd provides CE courses in California, Florida, Georgia, Indiana, Nevada, Oregon, Rhode Island, and Washington. These courses range from $6 for a one-hour course to $179 for a 36-hour renewal package in Nevada. However, OnlineEd also provides a range of individual elective course topics that are highly relevant to active real estate agents. Some CE course topics include the following:
Managing Risk for Profit
Successful Buyer Client Systems
Beneath the Surface: Understanding the Anatomy of a House
Fundamentals of Sustainable Homes
Diversity, Systemic Racism, and Federal Fair Housing Law
A Practice Guide to Cybersecurity
Protect Your Clients: A Practical Guide to Cybersecurity
Mastering Real Estate Negotiations
OnlineEd currently provides broker prelicensing only in the state of Oregon. Like all OnlineEd courses, it is a self-paced, online course. It also includes an exam prep book and practice tests. Choose to pay an additional fee for a course textbook or the first-time renewal CE course hours.
OnlineEd uniquely provides a second broker prelicensing course for out-of-state licensees who want to become a broker in Oregon. This course is the largest offering from OnlineEd, with 190 hours of coursework. It includes exam prep tools like practice tests, online flashcards, a test simulator, and an exam pass guarantee.
OnlineEd's real estate exam prep offerings are limited to two states: Oregon and Washington. In Oregon, OnlineEd provides an individual exam prep course or a prelicensing course package with exam prep included. In Washington State, there is an exam prep course offered for free that includes practice tests and a test simulator.
For aspiring mortgage professionals, OnlineEd provides two options to prepare for your state exam: a test-taking strategy webinar and a test-taking strategy video course. The self-paced course includes written guides and resources as well as videos from an instructor with exam tips. The webinar is a live, interactive, two-hour class with an instructor who teaches you how to schedule, take, and pass the NMLS mortgage licensing exam.
For aspiring insurance agents in Oregon, OnlineEd provides exam prep options for life insurance, health insurance, personal lines insurance, property and casualty insurance, and additional combinations. Each course includes a test simulator with practice tests, and some include flashcards and additional e-books.
Many of OnlineEd's real estate courses are designed for career enhancement, which includes elective professional development courses, certifications, and designations. Its professional development courses include marketing and business-building training as well as specific programs on current real estate issues.
The career enhancement programs are ideal resources for new real estate agents who need additional support as they build a business and improve their skills. It is also an ideal solution for seasoned agents who may need specific expertise on new real estate laws or marketing tools.
Here are just a few examples of professional development and certification courses offered by OnlineEd:
Example OnlineEd Professional Development Courses

Example OnlineEd Real Estate Certifications & Designations

Anatomy of a Green Home
Accessory Dwelling Unit (ADU) Primer Course
Making Savvy Home Energy and Solar Upgrades
Fair Housing and Beyond
How Millennials and Smart Homes are Changing Real Estate
Meeting the Needs of Buyers and Sellers
Save Time, Make Money with CRM
Real Estate Investing Made Simple, Profitable… and Fun!

Certified Home Marketing Specialist
Accredited Luxury Home Specialist
Crisis Knowledge Management
Certified Staging Professional
Certified Transaction Coordinator (for non-licensed and licensed professionals)
Code of Ethics (for members of the National Association of Realtors)
OnlineEd provides state-specific professional development courses in California, Oregon, and Texas. Many of these courses are provided by the National Association of Realtors (NAR) and include courses like Texas Transaction Coordinator, Earth Advantage Broker Accreditation, and Agency Relationships, Duties, and Disclosures. Otherwise, the remainder of their professional development courses is valid for agents and brokers in any state.
OnlineEd Alternatives
While OnlineEd is a great option for some people, it might not be the best fit for everyone. Here are some additional real estate schools to consider:
Schools

Best For

Prelicensing packages with instructor support and exam prep

Variety of course format options in most states

Affordable packages with interactive elements

Interactive self-paced courses for every stage of real estate career

Key Features

Prelicensing courses in every state
Extensive study tools
Pass or Don't Pay guarantee

Variety of learning formats
Instructor access
Offers real estate prelicensing, exam prep, and CE

Prelicensing packages include exam prep
Audio and video lessons
Live webinars

Tailored course feedback and progress tracking
Live chat support
Pass guarantee

Starting Price

$119

$99

$116

$129

Learn More

or

or

or

or
To read more about these alternatives, check out the best online real estate schools.
OnlineEd Pricing & Plans
OnlineEd's pricing structure is relatively simple, with courses varying in price based on the state, number of hours, and type of education. Overall, courses range widely in price, from $6 for an individual CE course to $1,398 for a 10-course professional development package. All courses from OnlineEd are online and text-based and can be completed on any device at any time.
| Plans | Prelicensing | Exam Prep | Continuing Education | Career Enhancement |
| --- | --- | --- | --- | --- |
| Who Plan Is Best For | Aspiring real estate agents, mortgage brokers, and insurance agents wanting self-paced education to prepare for their licensing exam | Mortgage and insurance students wanting exam study tips to prepare for their licensing exam | Current real estate and mortgage professionals wanting to complete CE requirements with relevant course topics | Current real estate agents wanting support and education on additional topics or certifications for specific real estate niches |
| Course/Package Price Range | $50 to $640 | $99 to $150 | $6 to $199 | $19 to $1,398 |
| Customer Support | ✓ | ✓ | ✓ | ✓ |
| Available on All Devices | ✓ | ✓ | ✓ | ✓ |
| 12 Months of Course Access | ✕ | 180 days | ✓ | ✓ |
| Instructor Access | ✓ | Varies | ✕ | ✕ |
| Practice Quizzes | ✓ | ✓ | ✕ | ✕ |
| Audio & Video Components | ✓ | ✓ | Varies | ✓ |
General OnlineEd Features
Affordable real estate license and career enhancement courses
Mortgage licensing and compliance courses
Insurance prelicensing
Contractor licensing training
Learning management system
One of OnlineEd's core features is their easy-to-use course platform with courses that are uniquely written by their in-house experts. Its courses provide licensing education and career enhancement content for professionals in multiple industries, including real estate issues and marketing courses.
In addition, many of its individual courses include practice quizzes and test simulations. The combination of these features makes OnlineEd a versatile and convenient tool for current and aspiring real estate professionals to start and grow their careers.
Learning management system
Brokerages can customize their own training
Progress tracker
Every course provided by OnlineEd is delivered through its unique and user-friendly course platform or learning management system (LMS). Within your account, easily view the status of your current and expired courses. When you open the course, you see your current progress, and a course outline is shown on the left-hand side of your screen. There is essentially no learning curve to using the platform so students can focus on their material.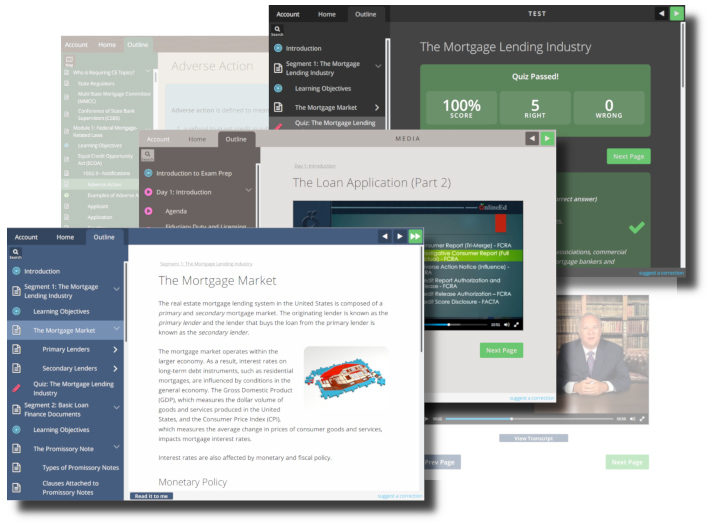 ---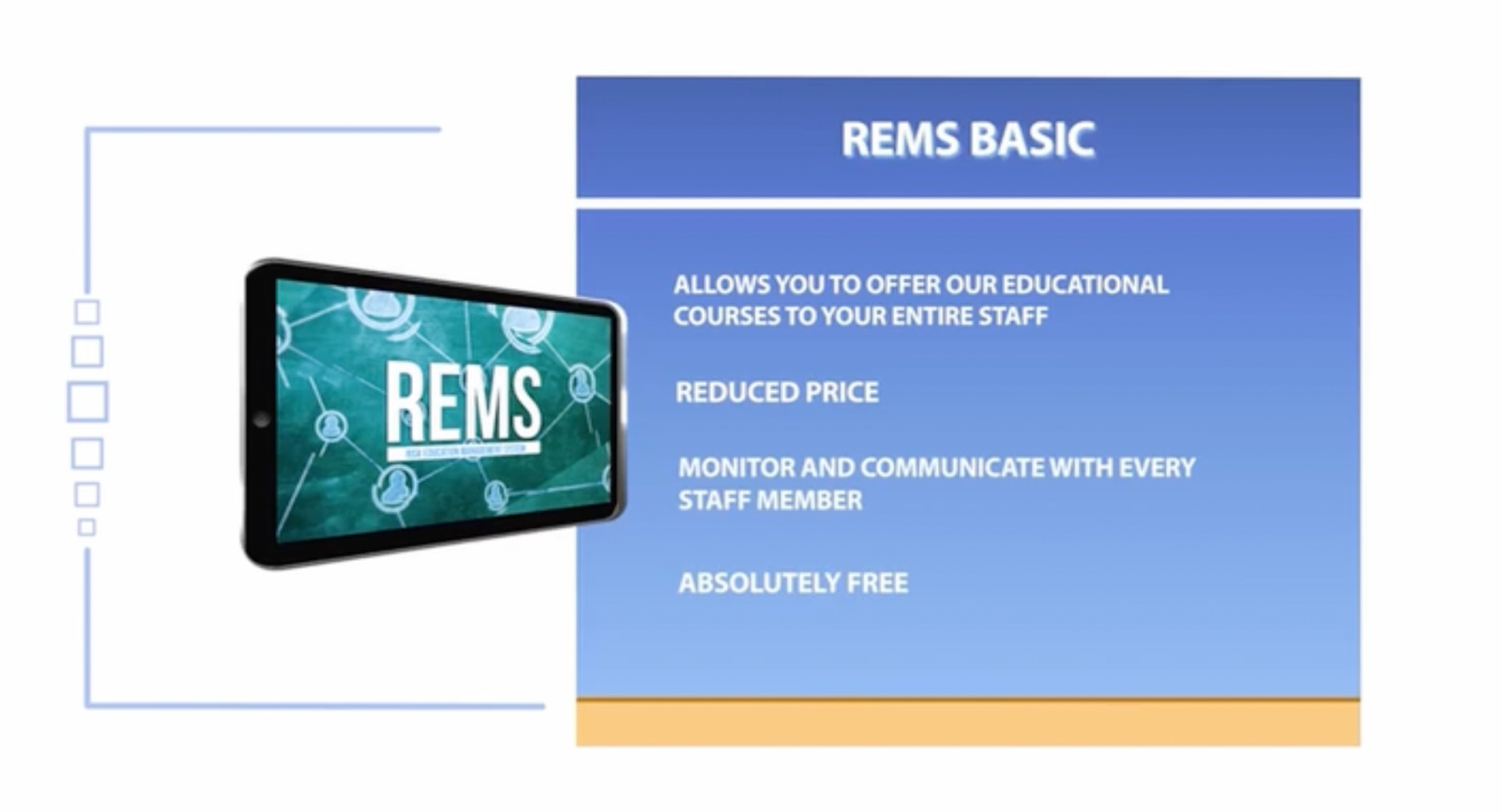 ---
In addition, OnlineEd offers its LMS to real estate and mortgage offices wanting to provide their own training programs. It makes it easy for real estate brokerages and companies to create and add their own custom trainings, ultimately supporting their agents more effectively. The LMS includes additional tools like assigning due dates, tracking student progress, and branding.
---
Test simulator
Real-life scenarios
Practice questions
Many of the prelicensing and exam prep courses offered by OnlineEd include a test simulator with practice questions. The practice questions are placed throughout the course to help students gauge their own understanding of the concepts and prepare them for the licensing exam. These assessments in your licensing course are key to helping you interpret and remember the information and get accustomed to answering real-life questions.
---
Specialize in a niche market
Build skill set
Attract target audience
One of the most valuable offerings from OnlineEd is its selection of professional certification courses. Real estate certifications and designations are one of the best ways to set yourself apart from the hundreds or thousands of competing agents in your area.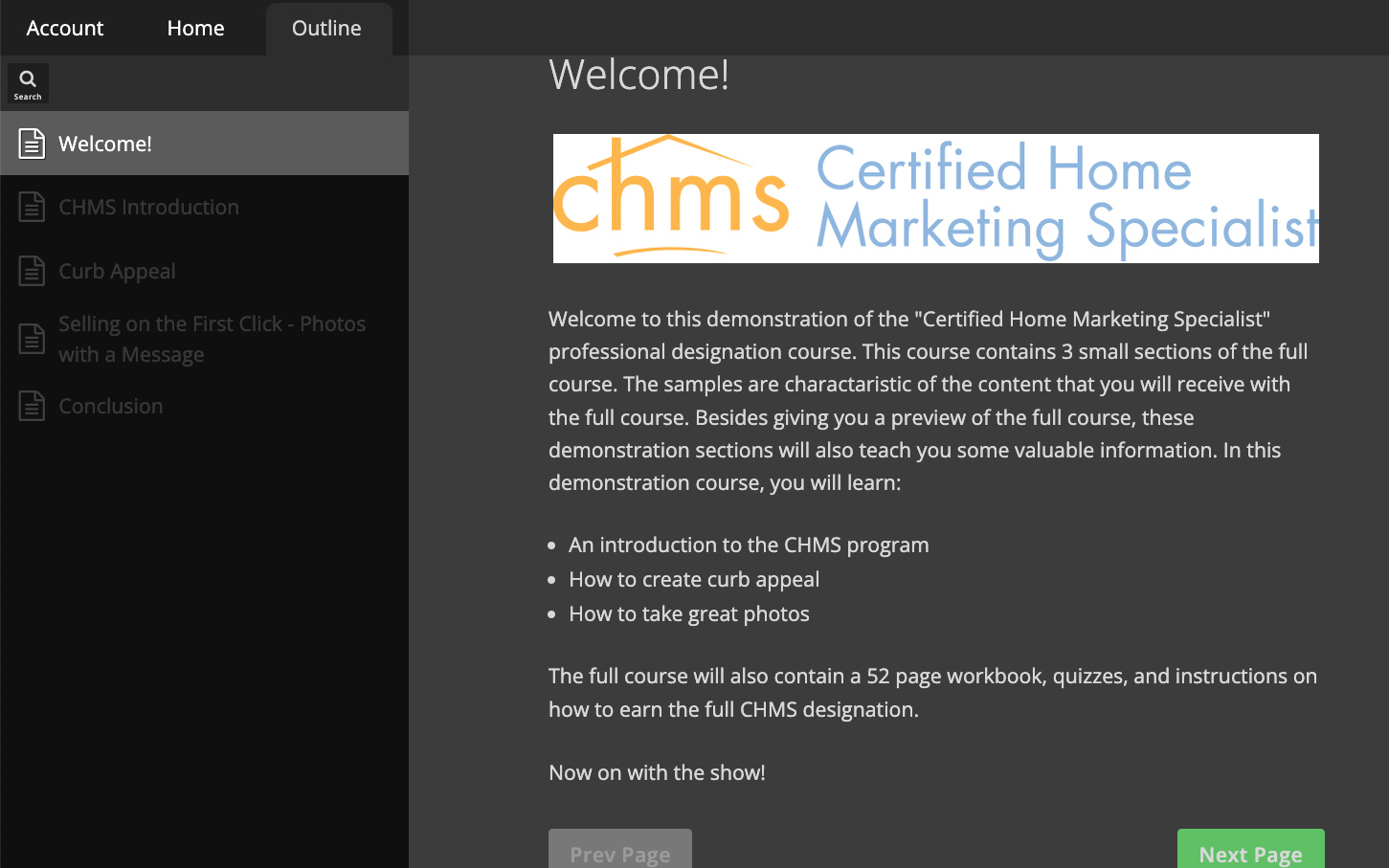 ---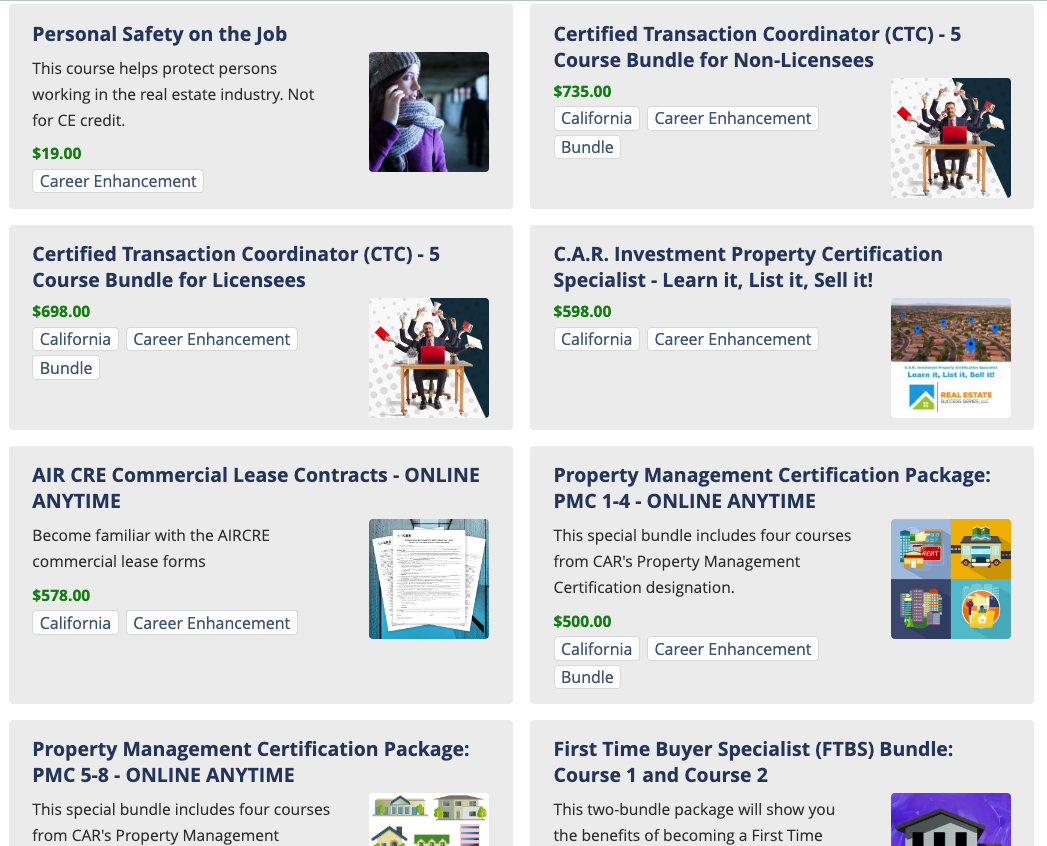 ---
Having a designation in your title shows potential clients that you have proven specialized expertise in the area they need help with, which is key to being successful in real estate. OnlineEd provides a variety of national and state-specific certification courses, like Luxury Home Specialist, Home Marketing Specialist, and Transaction Coordinator, and even includes courses from the National Association of Realtors (NAR).
---
Up-to-date content
Successful business strategies
Affordable pricing
Within OnlineEd's professional development course catalog, you'll find a wide range of courses that help real estate agents with their business, marketing, technology, and understanding of current industry issues. Plus, many of the individual courses cost as little as $19.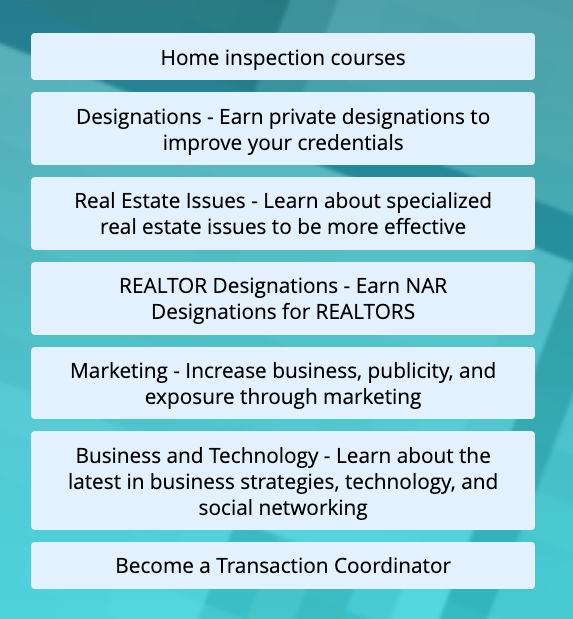 ---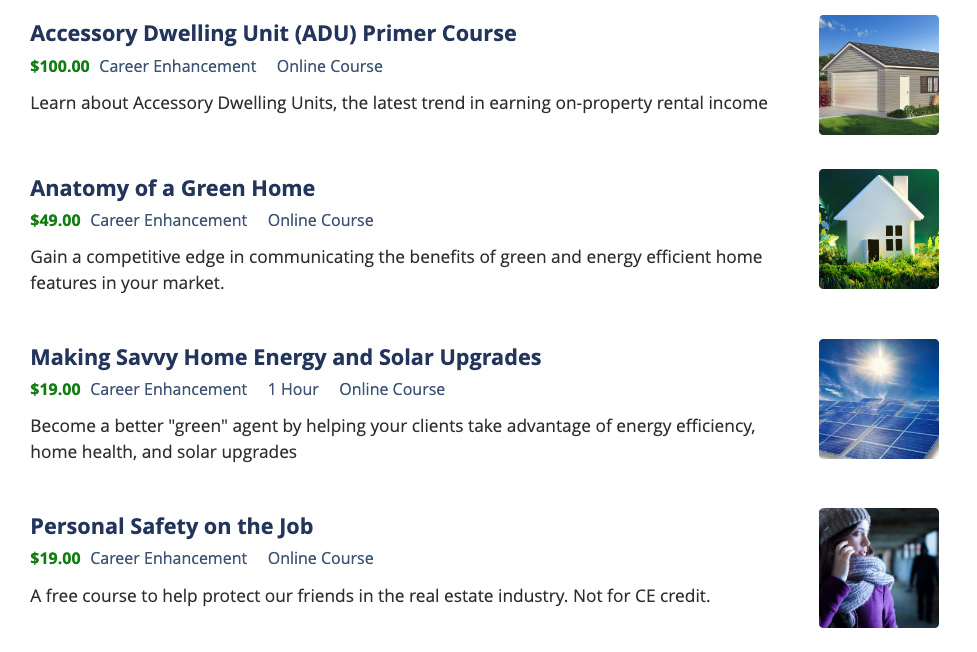 ---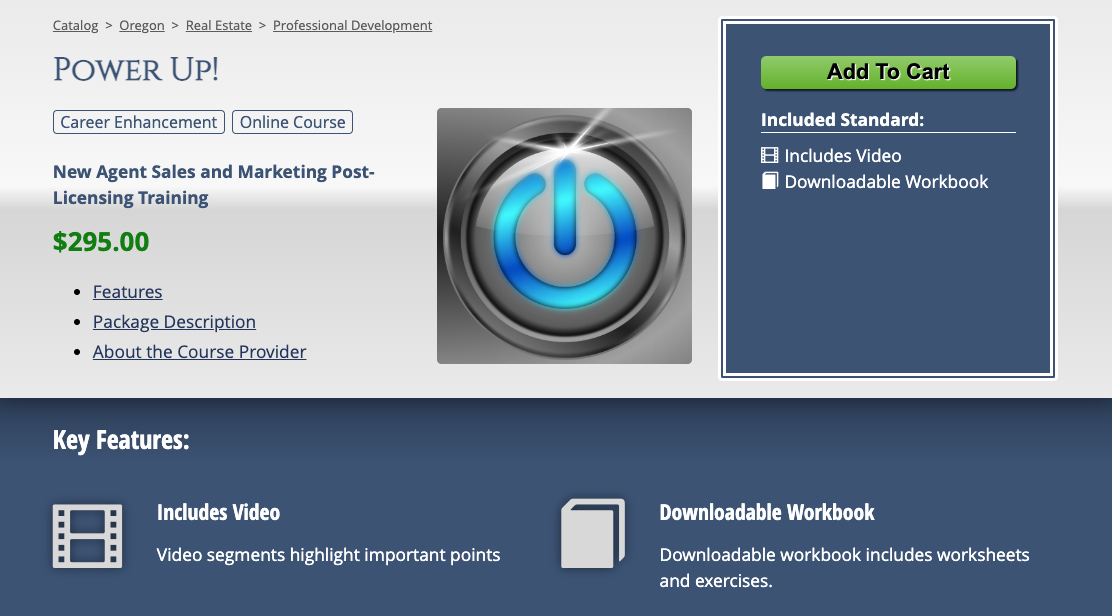 ---
OnlineEd is a great go-to resource for agents who need specific education on current issues. For example, "Making Savvy Home Energy and Solar Upgrades" is a simple one-hour course that teaches agents how to understand various home energy upgrades and guides clients in their decision-making.
Another standout course from OnlineEd is "Power Up!" for new real estate agents. This video course with a 187-page manual covers many aspects of setting up a new real estate business, including networking, running an open house, social media marketing, and managing transactions.
---
Ease of Use for OnlineEd
It's clear that OnlineEd prioritizes a user-friendly experience for students as soon as you open the website. You can easily see what it offers and select your state and the type of education you're looking for. Each course is described in detail, with information about the course content, topics, included study tools, and length of access.
Once you've chosen a course, checking out takes only a few minutes. You can see the total price of the course from beginning to end, and all you need to do is add your contact information and payment to immediately access your course.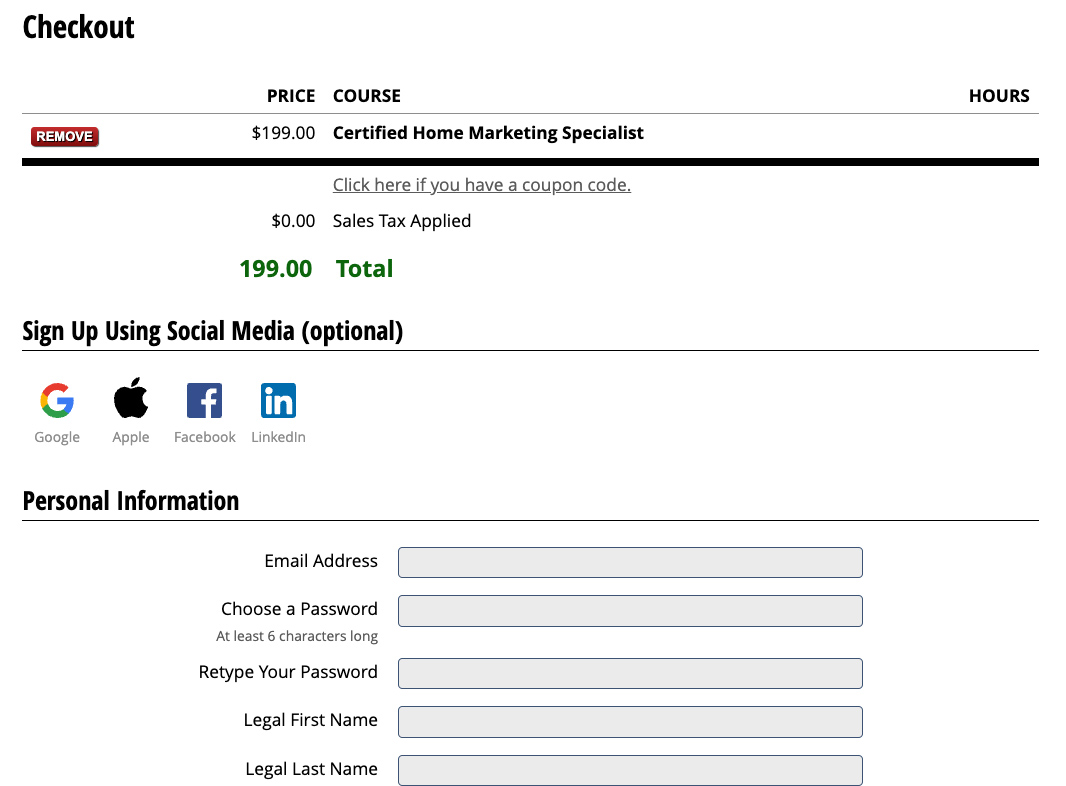 ---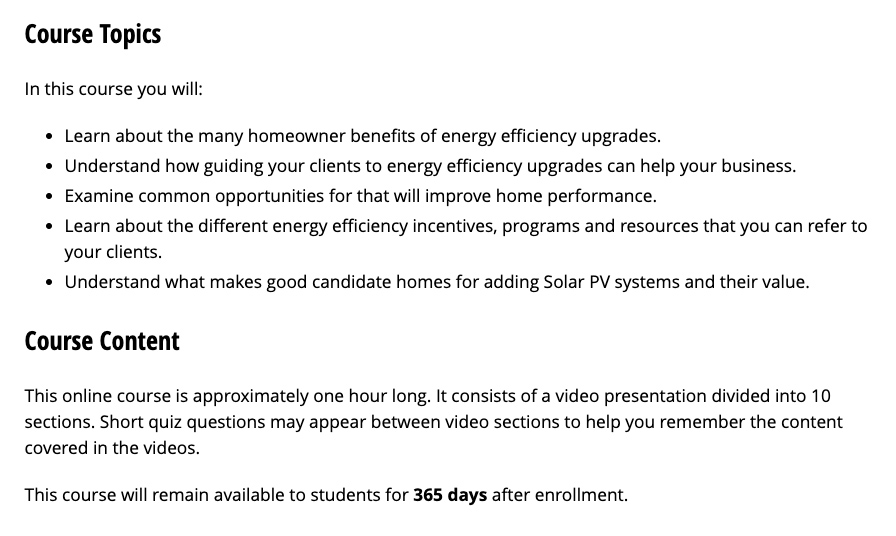 ---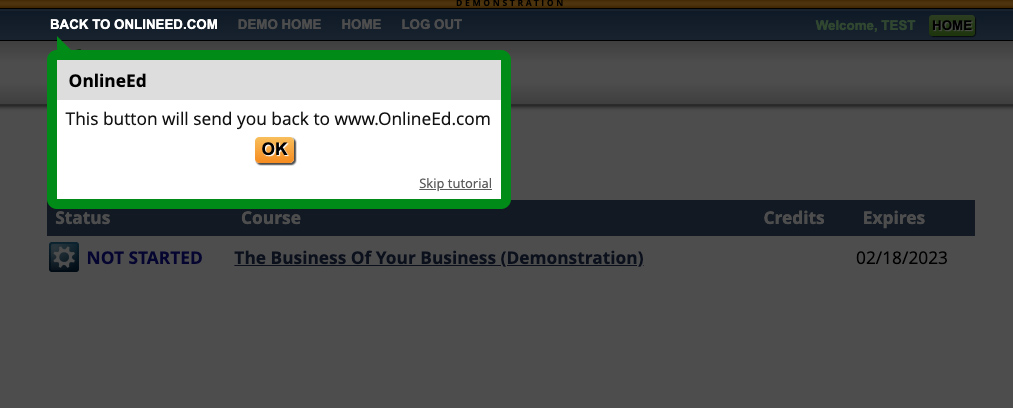 ---
In addition, OnlineEd's course platform is extremely intuitive, with a clean layout and easy-to-use navigation buttons. It makes it simple for students to access and complete their course material, track their progress, and assess their own understanding. For prospective students, OnlineEd provides a free course demo for you to see the platform and course outline before signing up.
Bottom Line
OnlineEd is a reputable, easy-to-use course provider for real estate, mortgage, and insurance professionals. Even though its course offerings are limited in some states, our evaluation and additional OnlineEd real estate reviews make it clear that this school is an ideal resource for professionals of all experience levels to get support and education for their careers. Visit OnlineEd's website to sign up.