An open house sign in sheet is a great way to get contact information for leads. These leads may turn into clients. In this article, we'll give you three editable open house sign in sheets you can download and use.
If you want to convert your open house leads to clients faster, a relationship focused CRM like Contactually can be a lifesaver. Contactually offers pre-written drip campaigns and follow up reminders specifically designed to convert open house leads to buyers and sellers. Automatically. Even better, they offer a no strings attached free trial. Click below to start your free trial to convert more leads today.
Open House Sign in Sheet: 3 Templates
An open house sign in sheet typically asks for a visitor's name, email address, and phone number. Depending on how you reach out to prospects, however, you may ask for a physical mailing address, or a few additional questions about their real estate needs.
Here are three real estate sign-in sheet templates that ask for different levels of information:
1. The Essentials
Download as PDF
Open in Google Docs
Use this sign-in sheet if you just want to grab the basic contact information of your visitors:
Name
Phone Number
Email Address
A simple sign-in sheet is also ideal if you expect a lot of visitors, since it will keep a crowd from gathering around the entrance. Included at the bottom is a notice that you'll be sending real estate-related information down the line.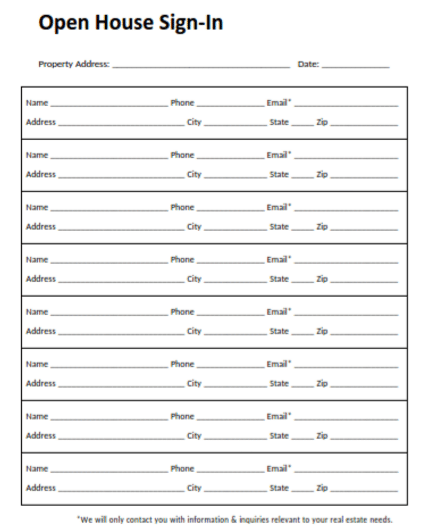 2. Physical Address
Download as PDF
Open in Google Docs
Along with all the information in "The Essentials," this sign-in sheet asks for the buyer's physical home address.
Realtors who use direct-mail for marketing should use this sign-in sheet instead – be that postcards, letters, flyers, sports calendars, etc. To learn more about direct-mail advertising for real estate, read our guide to Real Estate Postcards.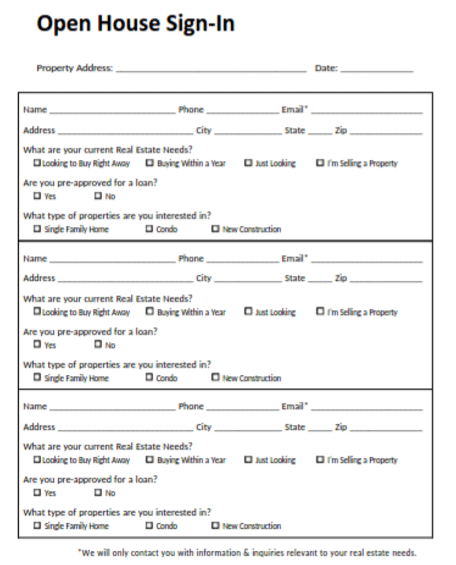 3. Detailed Questionnaire
Download as PDF
Open in Google Docs
Along with all the information in "Physical Address," this sign-in sheet includes a few multiple choice questions about the visitor's situation and preferences:
What is your buying timeline?
Are you pre-approved for a loan?
What types of properties are you interested in?
How did you find out about the open house?
While this gives you a lot more information about your visitors, the downside is that visitors may feel less inclined to fill it out. If you use this longer form, you may need to be a little more insistent: "Go ahead and fill out the sign-in sheet, and we'll give you the tour!"
Tips to Get Your Open House Sign In Sheet Filled Out
So you have your open house sign in sheet printed and ready, but how do you actually get visitors to fill it out? Most people aren't particularly enthused about giving out their contact information. If the sign-in sheet seems optional, they'll pass it up. Instead, you should make it a requirement in order to view the home. Here are a few tips:
Keep the sign in sheet near the entrance of of the house
Place a small sign above it that reads "Welcome to the Open House! Please Sign In."
Fill out the first entry yourself. People will ignore the sign in sheet if it doesn't seem like others are using it. With a couple of names, others will follow suit.
Ask visitors to sign in before giving them a tour. "Hi, are you interested in a tour? Just sign-in and we'll be on our way!"
Welcome each guest and physically hand them the sign in sheet. Maintain friendly conversation with the lead or their spouse as they fill in the sheet.
If you're looking to boost your open house attendance to begin with, a well-designed flyer can go a long way. For more info, check out our template and guide to open house flyers.
How to Follow Up with Leads After an Open House
A lead that you've already connected with personally is extremely valuable. It's worth putting a lot of time into follow up, even if it doesn't pay off right away. Here's what you should do with your open house contacts:
Put all your contacts into a CRM software, which will enable you to easily keep track of and follow-up with open-house attendees. Some CRM software solutions have preset groups that will remind you to make specific follow-ups based on type of lead, like "open-house attendee. " We recommend Contactually, which offers a free 14 day trial.
Email leads for feedback the day after the open house. Thank them for coming and ask what else you can do to assist them. If you got to have a conversation with them during the open house, add a personal touch to the message – "I'd be happy to show you more 3 bedroom condos."
Follow it up with a phone call the day after. If you do not get a response through email, reach out directly. If the lead is interested in working with you, great. If they're unsure or have a loose timeframe, then add them to your list of incubating leads.
Don't forget to prepare a report on the open house for your seller if it's your listing, or the listing agent if it isn't. Open house apps will generate one automatically. If you don't have one (you should) then at a minimum you want to send them the number of attendees, and general feedback they had about the listing.
Incubating leads are those who aren't immediately interested in buying or selling a home, but likely will be within the next 6 to 12 months. As such, you should not pursue them as aggressively as a qualified lead, but rather "nurture" them with occasional emails, calls, or postcards.
If you want to learn more about email marketing, check out our in-depth guide which covers the 5 emails every realtor needs to master.
We asked 50 experts for their best real estate marketing idea. Click here to see what they told us!
Since it's 2017… Use a Real Estate Open House Sign In Sheet App Instead of Pen and Paper
Considering we live in an age where private companies are building spaceships to get us to Mars, you may want to ditch the pen and paper. After all, trying to decipher smudged handwriting to type into your CRM is no way to spend a Saturday evening.
Luckily, there are some pretty amazing options on the market today that not only eliminate the data entry and messy handwriting, but allow you to produce beautiful reports for your seller and zap your leads right into your CRM. Even better, you can create custom sign in sheets and hand your open house guests a tablet instead of a clipboard and pen.
After thoroughly testing the top three apps on the market, we found Open Home Pro to offer the best options for Realtors. Open Home Pro not only captures your guest's contact information and zaps it into your CRM, but it sends them automatic thank you emails with your contact information as well. If there's one thing home buyers love, it's instant communication.
Want to learn more? Check out our in-depth buyer's guide on open house apps here.
Top Ten Open House Promotion Tips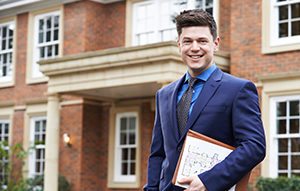 Want to make sure your next open house has a flood of new leads coming through the door? Check out Placester's awesome guide on promoting your next open house here.
The Bottom Line
A real estate open house is a great way to meet potential clients. You can not only find potential buyers for your current home listing, but you can connect with buyers and sellers whom you may work with months down the line. Having an open house sign in sheet is the easiest way to collect contact information so you can be sure to keep in touch. If you want more open house ideas, take a look at our article with 25 tips from professionals. Good luck!
Looking for more leads? Try advertising your listings with Zillow's 22 million unique monthly visitors.