Psst. New Agents. Yeah, you. You need better open house signs. Why? The odds of someone waltzing into your open house this Sunday and buying this place are slim to none. You might as well pack up early and head to the beach instead of dealing with a bunch of nosy neighbors then right? Wrong. Nosy neighbors = future clients.
In this article you'll learn how to use signs strategically to drive traffic to your open house. You'll learn what kinds of signs are on the market today and when to use them. You'll also get tips for visibility and legibility, how to generate leads from your signs, where to put signs for the biggest impact, and what signs every realtor needs in their arsenal.
After you've digested all that, head on over to Vistaprint and start designing a sign of your own. You'll find hundreds of sign styles and thousands of design templates. You can upload your own custom design or hire a Vistaprint designer for as little as $5. Click below to check out open house signs.
Types of Open House Signs & When to Use Them
---
---
---
---
"Who can ignore a balloon when you see it driving by? It gets attention, and for me the height of them makes signs easier to see in the neighborhoods I'm directing the buyers to"

Linda Weber – Realtor from Cook County Illinois
---
---
Pros: Interior signs are a nice way to welcome people to your open house and show them you take hosting (and marketing) seriously.
---
18 Foot Inflatable Dancing Guy?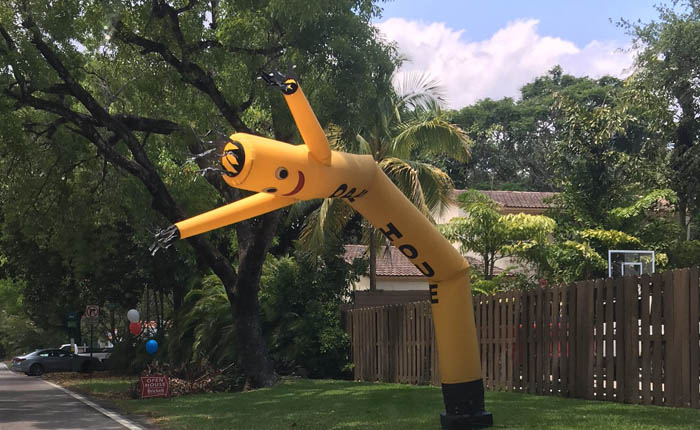 If you REALLY need to drive traffic to your listing and it's in a shall we say tolerant neighborhood, then you need to bring out the big guns. They don't get any bigger than an 18 foot inflatable dancing guy!
Cae across this picture of the most eye catching real estate open house sign I've ever seen on Coral Gables Florida Realtor Ashley Cusack's blog. P.S. I've been daydreaming about the listing she was driving to at 4324 Lennox Drive when she saw this crazy sign for the last few hours… Such a happy looking home!
How to Place Open House Signs to Maximize Visibility and Legibility
Even the most beautiful and compelling open house sign in the world won't help drive traffic if no one notices them. Here's how to make sure your open house signs get noticed.
Visibility
The goal of any open house sign is to convince people to come inside and walk through the house. If people driving by can't see your sign or can't read your sign quickly enough, then their chances of stopping, parking and coming in for a chat are slim.
Open house signs should be placed as prominently as possible on your listing. In front of a mailbox, at the edge of a driveway, or at the edge of the lawn are all great places to put your open house signs.
To make sure they are visible from the street, after placing your signs try driving down the block at a speed people would normally drive them to see if they catch your eye. If they don't, you need to find a new place to put them or use a taller sign and/or balloons.
Legibility
For most people, this will probably be a last second decision. They weren't planning on going to an open house that afternoon, but well, your open house sign piqued their curiosity and they made a spur of the moment decision to come inside. This is why you need to ensure your signs are not only highly visible, but also readable from a distance.
Broker and trainer Melissa Zavala agrees:
"Standing 30 feet from the sign, can you read your name and phone number? If your answer is no,then you need to make a change.Every yard sign needs to seen from far away. Fonts need to be large and created in colors that are easy to read from a distance."
Design
As long as they are highly visible and easy to read from a distance you can design your signs any way you want. Some realtors purchase signs that are already branded with the colors and logo of their brokerage, while other brokers purposefully choose more generic signage.
Branded signage can work very well in more expensive neighborhoods, but some realtors believe they may turn off bargain hunters in more affordable areas. When in doubt, always go with branded signage. Think of it as free advertising to your farm area.
Where to Place Open House Signs to Drive More Traffic
Your main open house sign should be placed prominently on the front lawn so that someone driving by can see it and read it quickly. If the lawn is obscured by a fence or bushes, then you should place the sign right before the driveway in front of the mailbox.
In heavily wooded areas, visibility from a distance can become an issue. In this case feather flags or standard A frame signs with balloons can help people see your sign from much farther away. .
Where to Place Directional Open House Signs to Drive More Traffic
Since so many people have navigation in their cars these days, many agents don't bother with directional open house signs anymore. This is a big mistake. Think about it. If you only have one sign, even a highly visible feather flag with with balloons, the only people who will ever see it are people who drive down the block. Unless you're on a main road, very few people will ever see your sign.
Houston realtor John Nguyen uses directional signs complemented by a feather flag:
"In order to use them effectively, they must be complemented at the "finish line" (where the house is or property) with something eye catching and inviting. I use a 15′ pole flag sign and another direction stake sign stating "COME ON IN!"
Here's what John's signage looks like at one of his listings. The feather flag gives him height, and the A frame has more information for people who are curious. Perfect!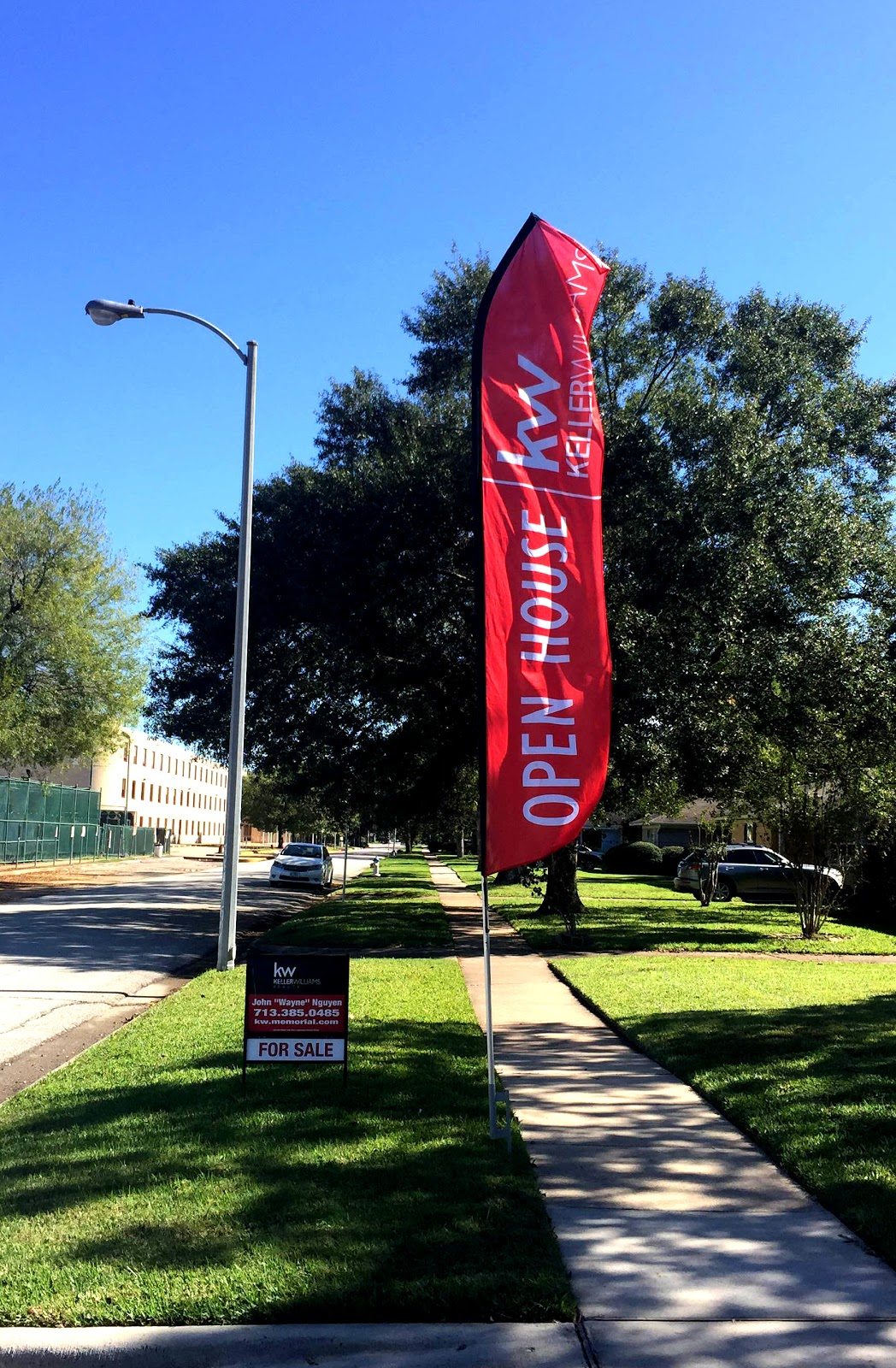 More Signs = More Traffic = More Leads
If you have signs on 7 or 8 nearby streets and on a few different nearby intersections, your signs will be seen by more people. The more people that see your signs, the greater the chance that one of them will want to come to your open house.
Some agents put up directional signs at every major intersection within a 5 block radius of their open house. While this may seem like overkill to some, not to mention being a lot of work, these agents greatly increase traffic to their open houses.
You should also place directional signs along routes to your open house that have easy to miss street signs, or are heavily wooded. While the majority of homebuyers and buyer's agents will have navigation in their cars, helpful signs will show them you care.
David Hosterman a mortgage lender from Colorado who regularly holds open houses uses dozens of signs per open house:
"We have a sign placement company we work with to drop about 30 – 50 signs surrounding the area to help drive traffic to the open house . These signs are bright yellow and black which are very eye catching for people driving by and the signs definitely catch their interest. The color scheme of black and yellow has been proven to be more effective than other colors. Sign placement is critical, as it has shown that better and increased placement drives substantially more traffic in comparison to a standard open house with only a few signs."
When Should You Put Your Open House Signs up?
While the temptation to put up branded signs a few days in advance might be tempting, keep in mind that local compliance officers, homeowners, busybodies, or teenagers might take down or even vandalize your signs if you leave them out overnight. That said, code compliance officers generally don't work on the weekends, so if you put your signs up on Friday evening you will get impressions all day Saturday and on your open house day on Sunday.
Use Your Open House Signs to Gather & Track Leads
Let's face it, some people who see your signs may be curious about your open house, but not curious enough or too busy to stop by. You can capture these leads by using a mobile lead capture service like realbird, textmarks, or voicepad. Here's how they work:
Mobile lead capture services, like those below, add a QR code or text number to your signs that gives your leads a chance to get more information about the listing by text message.



Where to Buy Open House Signs
I always recommend buying locally whenever possible, but if there are no good local sources for signs, we recommend comapring prices between Oakley Signs, Dee Signs, and Build A Sign. While they all offer basically the same open hours signs, they use slightly different materials and offer different pricing for large quantities. To learn more, check out our in-depth buyer's guide comparing Oakley, Dee Sign, and Build A Sign here.
How Many Signs Should a Realtor or Brokerage Own?
This is going to vary for pretty much everyone, but at a bare minimum you should have enough to cover every exclusive listing you plan on having at once. I would think three or four feather flags and A frames and a few dozen directional signs would be enough to keep in stock for most realtors who are closing fewer than 12 listings per year. The only caveat is that you since you will likely have multiple listings at once in the busy season and maybe not at all in the winter, you should have enough signs to cover two or three listings at once.
Make sure you have permission
Local ordinances can vary. Your Realtors association, local government, HOA or other organization may have specific rules regarding where, what type and how many signs you can place around your open house. Some ordinances specifically prohibit balloons, others limit the size of all signs. When in doubt, ask.
Asking for permission to put up a directional open house sign on someone's property can even be a great way to meet the neighbors and invite them to the open house!
Valencia California realtor Tracey Hampson agrees:
"I always ask for permission if I'm placing a sign on someone's lawn or corner lot. Not only is it the right thing to do, but it's also a great way to meet the neighbors and personally invite them to the open house".
Creative & Engaging Open House Sign Examples from the Pros
Now that you have a good idea of the strategy behind effective real estate open house signs, let's take a look at some examples from top producing agents.
Jason Kerner, NextHome Realty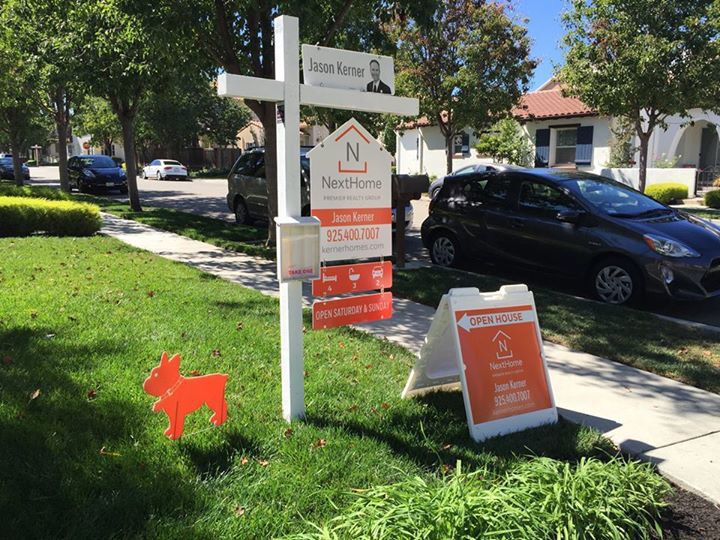 When it comes to open house signage is there such as thing as overkill? I'm going with no, and using this combination yard sign, open house sign and small orange dog (his name is Luke btw) as exhibit A. How could you not at least slow down to see what the heck is happening here when confronted with this signaged?!
Amy Wienands Group Real Estate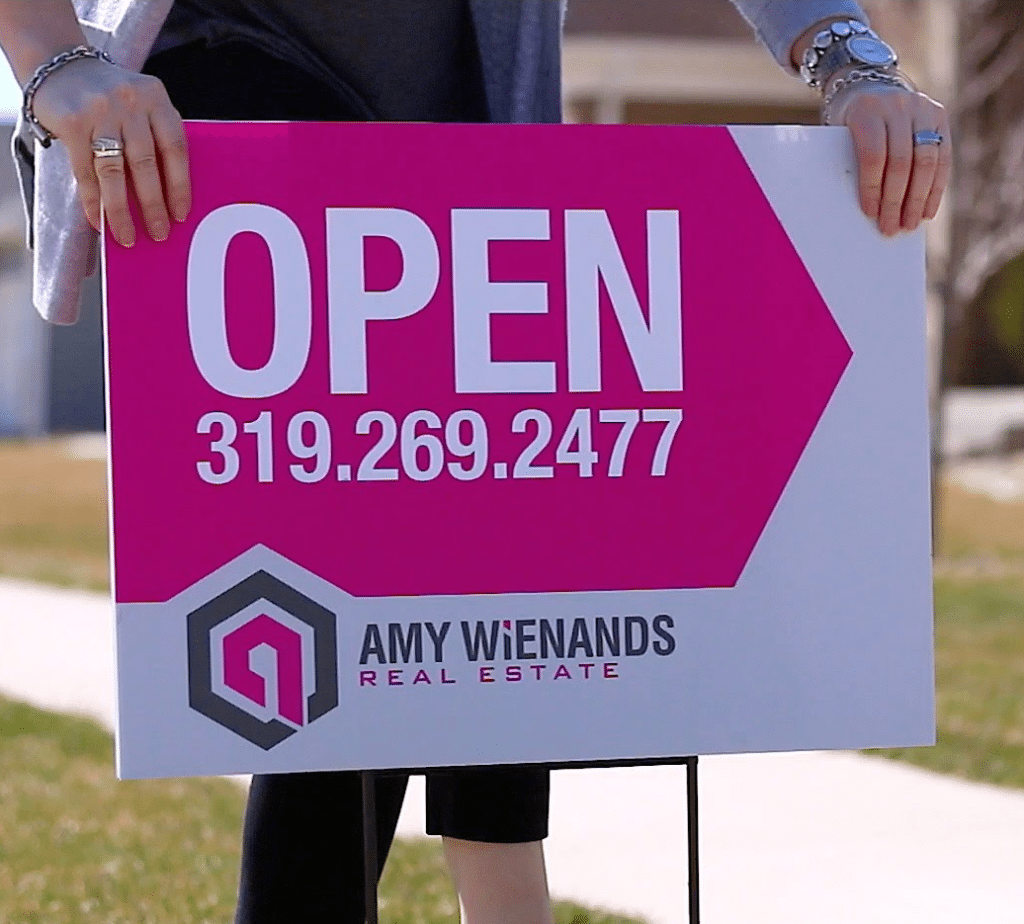 When it comes to attention grabbing colors, magenta is pretty hard to compete with. It's also bright, energizing, and on trend for 2017. That means these eye catching signs from Amy Wienands Real Estate are sure to drive lot's of traffic to their open houses.
They even have a cool video to show off how well they treat their client's open houses. Check it out below.
Mary Pope-Handy, Sereno Group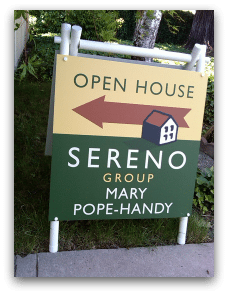 Love how the color theme on these great open house signs from Sereno Group's Mary Pope Handy manage to grab your attention without being gaudy. Also like the cool A frame sign holder too.
Martin Withrow, John Aaroe Group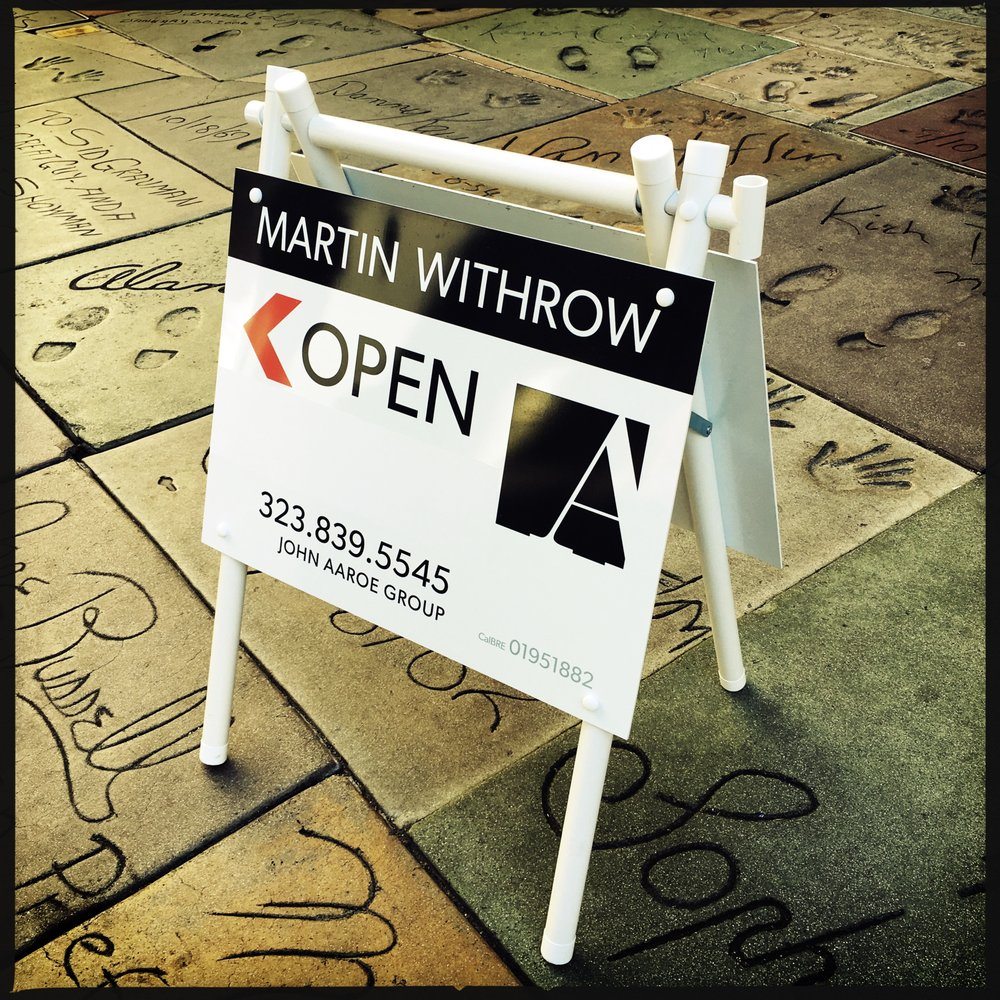 Sleek and minimal can often work just as well as something more bold. These signs from John Aaroe Group's Martin Withrow look like they drive plenty of traffic to his open houses. A warning, minimal graphic design takes some skill to get right. If you want to go with a subtle sign like this, you should work with a professional graphic designer.
The Bottom Line
While many realtors (rightly) focus their marketing efforts online, properly used open house signs can be a great way to attract people into your sphere who would otherwise never see your listings. Have a great open house sign you think other Realtors should check out? Let us know in the comments.
Don't forget to check out Vistaprint to print you open house signs. Choose from hundreds of styles and designs, upload your own custom design, or hire a Vistaprint designer for as little as $5. Click here to get started.