In an industry as fiercely competitive as ours, many agents struggle to differentiate themselves. If you don't have millionaires in your sphere or a bottomless marketing budget, you often have to rely on a strong personality to get the word-of-mouth going.
Well, these realtors took that about 10 steps further by dabbling in the absurd, or turning themselves into some completely outlandish characters. The most outrageous part of it, however, is that they actually worked.
For more real estate marketing tips, you should also check out our complete list of 47 Real Estate Marketing Ideas the Pros Use.
1."Moving to Canada?"
Charleston, South Carolina based realtor Jeff Cook managed to sum up the frustrations millions of people have with the current presidential election. His billboards were clever (and bipartisan) enough to get him free press on Fox News, The Huffington Post, The Hill, and dozens of other sites.
The mentions and links he got from websites with high authority mean his website now comes up much higher in Google search results. This inevitably leads to more calls, more emails, and more closed deals.
This is an SEO (Search Engine Optimization) technique professionals call link building. If you want to learn more clever ways to build links to your site to show up higher in search results, check out our in-depth article on link building here.
---
2. "Adele Hello Realtor Parody"
We were honestly a little bit concerned for Iowa based realtor Megan Hill Mitchum when we first stumbled across her video. She's going to try to cover Adele? Then we heard the first line: "Hello, it's me….the average Buyer sees 12 homes, but we've seen 63…." which let's face it, is pretty great. She then proceeds to KILL IT with her incredible singing voice. Probably a big part of the reason her video has over 266,000 views on YouTube!
---
3. The "Open Concept" Home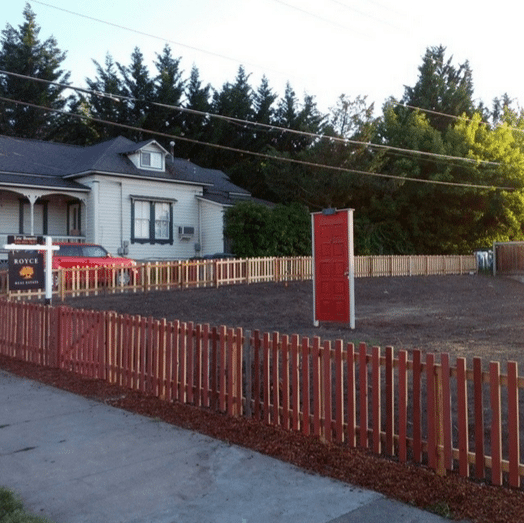 When Oregon-based Eric Bonetti of Royce Real Estate Services, Inc. had the task of selling an empty lot, he wasted no opportunity to get some chuckles and stir some buzz. He fixed a door in the center of the lot, which Reddit users quickly noticed, and dubbed it an "Open Concept" home. Whether or not it can be attributed to the humor is unclear, but the lot wound up selling shortly after.
---
4. "The X Ray Realtor"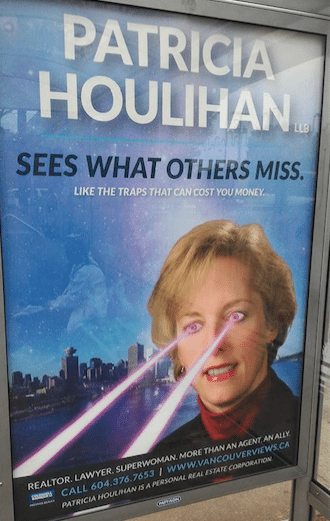 Even though she's one of the most successful realtors in Vancouver, realtor and lawyer Patricia Houlihan was bored by the dull ads every other realtor in the city made. Instead, she decided to have to have some fun and created this absolutely incredible outdoor ad.
Like all great jokes, her ads had a kernel of truth at their core. As a lawyer, Patricia actually would be able to see traps that an average realtor may miss. They were also hugely successful. Her campaign was mentioned in CBC News and Adweek.
A realtor who's also a lawyer with a great sense of humor? I know who I'm hiring if I ever decide to move to Canada!
---
5. "Every Day I'm Hustlin'"
Santa Clarita based realtors Cherie Brown and Zach McReynolds pulled out all the stops for their Rick Ross inspired video. They look like they're taking it VERY seriously, which is usually the kiss of death for parody videos, but they actually wrote some pretty funny lyrics and the video features every hip hop cliche in the book. At close to 80,000 views on YouTube, it looks like a lot of other people agree!
---
6. "#FASTAGENT"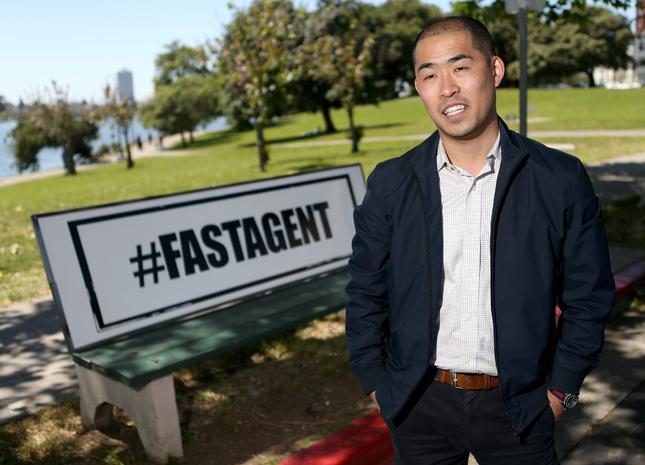 Instead of a typical boring bench ad, Oakland-based Realtor Kenny Truong went with something very different. His ads have his Twitter hashtag #FASTAGENT, and nothing else. No headshot, no tagline, nothing.
The ads built up enough curiosity among Oakland residents that thousands of people checked Twitter to see who or what #FASTAGENT was. When they searched, they would come up with his Twitter feed.
The strategy has worked amazingly well for Kenny. His viral marketing stunt led to a flood of new leads and closed deals. He's done so well he was named a finalist in Inman's list of the most innovative marketing campaigns in 2016.
---
7. "Call Me Maybe?"
Wilmington, North Carolina based realtors Jessie Edwards and Associates prove what your inner 7th grader knew all along. Lip syncing and dancing to silly music is a lot of fun. When it comes time to hire a realtor for a potentially stressful transaction, wouldn't you want to work with someone who knows how to have fun?
Their video was successful enough to get them mentioned on Curbed as well as racking up more than 40,000 views on YouTube.
---
8. The Ghost Realtor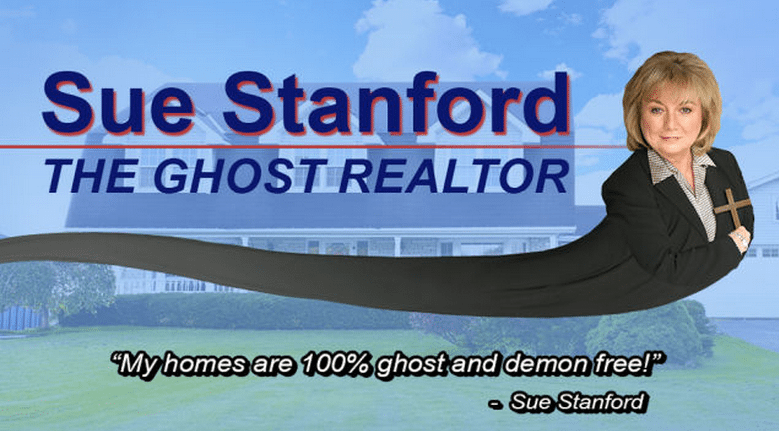 After given the suggestion by business advisor Nathan Fielder, this California realtor made a business of selling homes verified by a medium to be ghost-free. Unbeknownst to her, Nathan was a spoof comedian filming an episode of his Comedy Central TV show Nathan For You. It didn't stop Sue, however, from getting a lot of positive buzz. (As of this publishing, however, Sue's website Ghost Free Home unfortunately no longer carries her name.)
---
9. "Free Pizza with Purchase of House"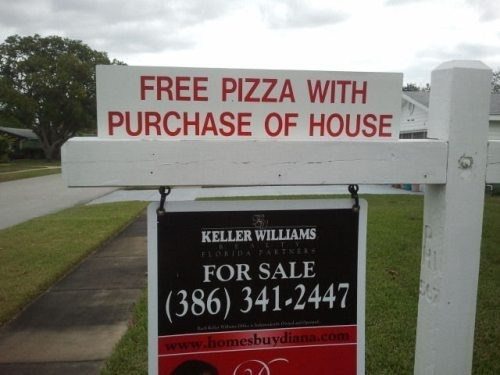 Who can resist free pizza? Apparently no one can because this sign rider became a viral sensation, posted on College Humor, Active Rain, and dozens of other sites. One Active Rain user even claims that the same viral marketing strategy helped sell a $1.5 million Texas home in three days flat. It created such a stir that RE/MAX ended up purchasing the domain on the sign.
On the buy side, the allure of free pizza is even more irresistible. Faced with the prospect of a bidding war for a home she adored, Donna Dinicola made them an offer they couldn't refuse: free pizza for life at her family's restaurant, Dinicola's Italian Dining.
The homeowner got free pizza for life, and Dinicola got a house and free viral marketing for her restaurant. That's a win/win in my book.
---
10. "The R.A.P. Real Estate Agent"
In 2013 San Diego based realtor Rafael A. Perez, kept hearing the same feedback about his real estate videos: "Too serious!". In order to change up his style, he decided to make a tongue in cheek (I think?) laid back west coast style rap video about the market in San Diego.
His video became an overnight viral sensation and racked up more than 150,000 views on YouTube. This lead to a flood of page views for his site, www.thehomemap.com.
---
11. "Game of Homes"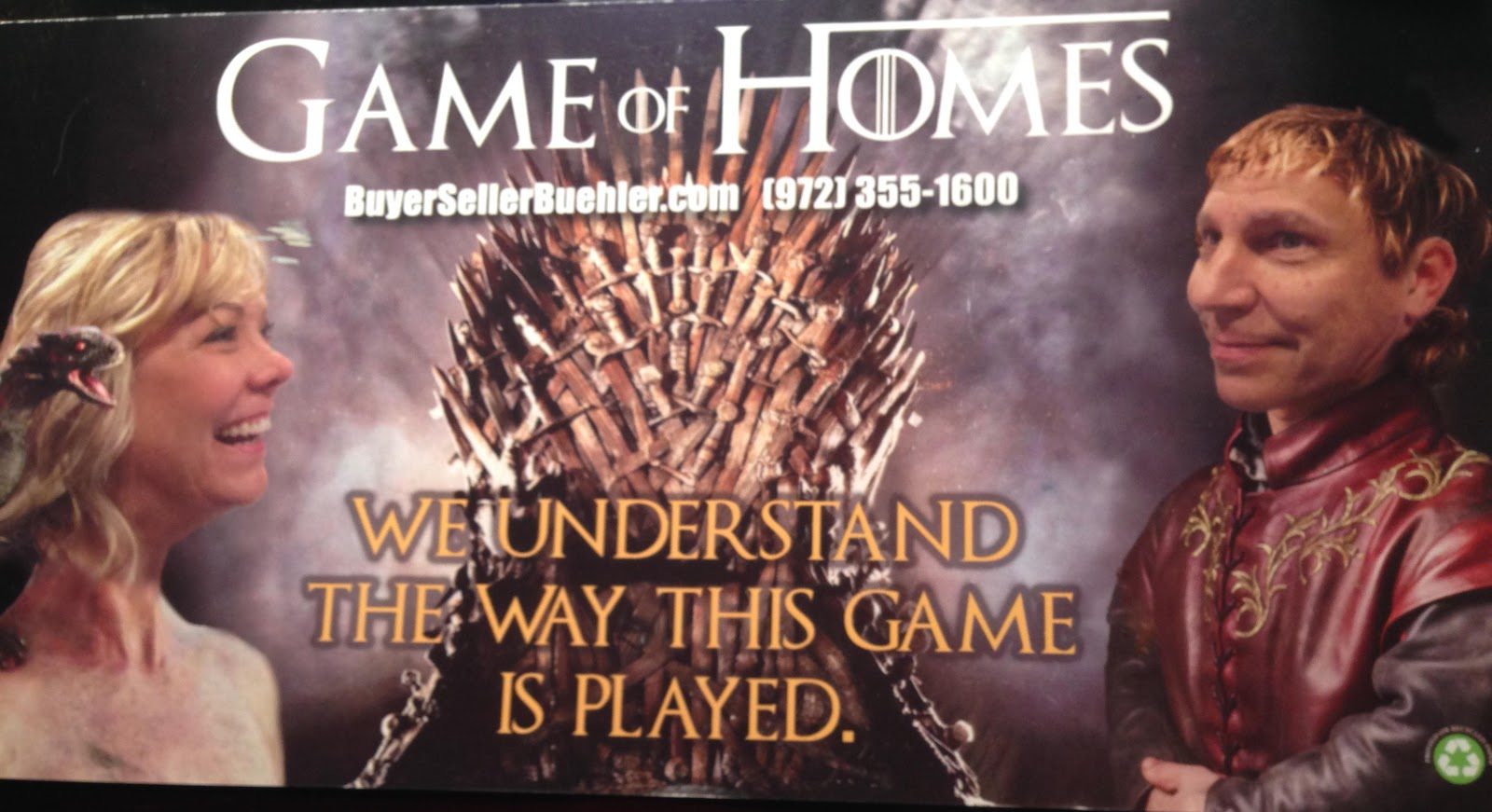 You may think that Flower Mound Texas realtors Karla and Kurt Buehler were just cashing in on the Game of Thrones hype when they made these amazing flyers. But judging by their choice of characters, they're clearly die hard GOT fans. I mean, can anyone really argue that Tyrion Lannister and Daenerys Stormborn would be better realtors than anyone in the show?
The pair's team, the Buehler Group at Keller Williams in Flower Mound Texas, boasts a dozen agents and lots of great listings.
---
12. "The Fortune Cookie"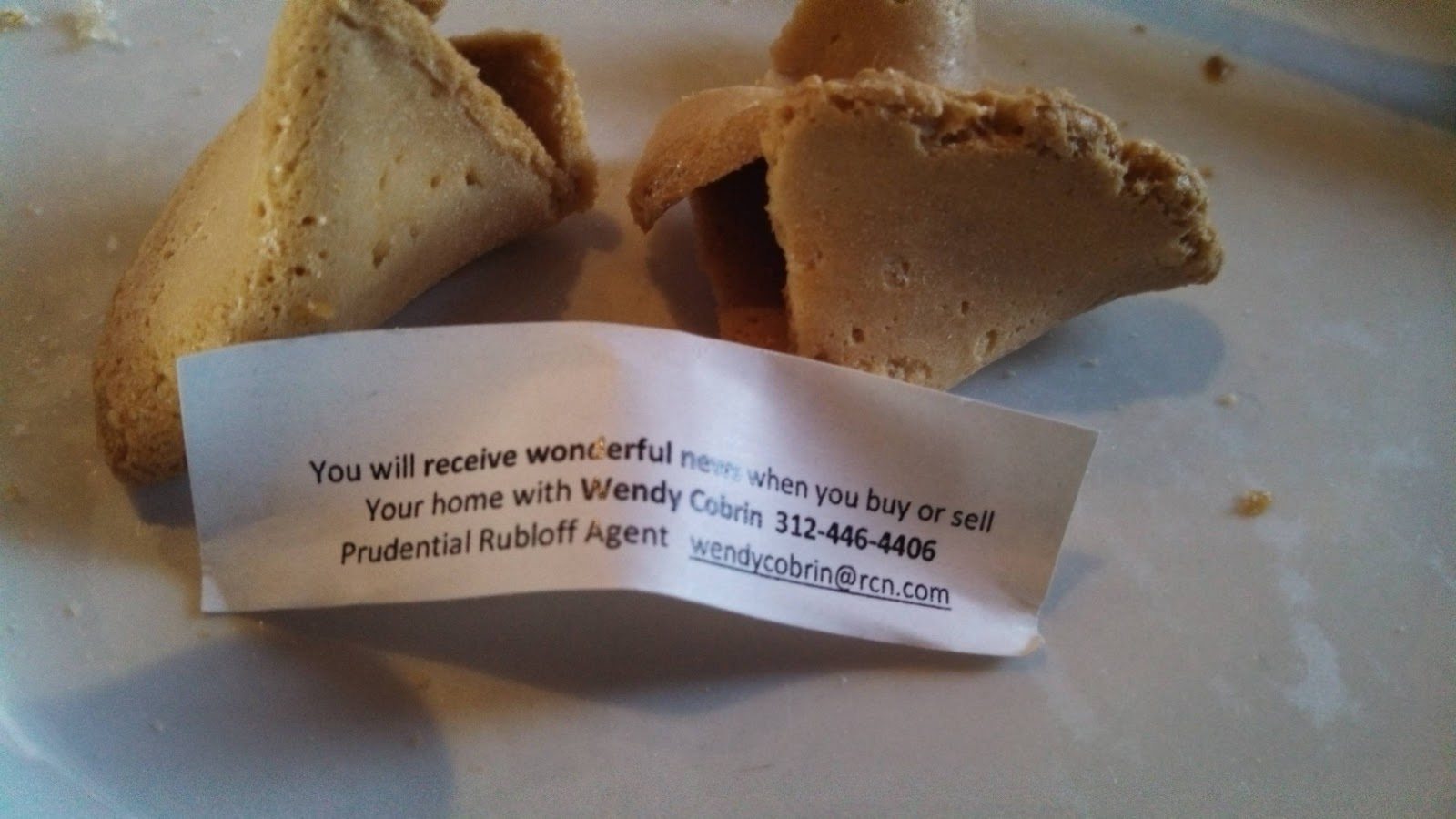 Chicago based realtor Wendy Cobrin decided to add a little bit of luck to her marketing spend with custom made fortune cookies. She hands them out to clients, at open houses, meetings, and at conferences with great results. She told us that clients always remember the cookies. Lesson learned: people love pizza…and cookies.
---
13. "We Buy Crack Houses…And Nice Homes Too"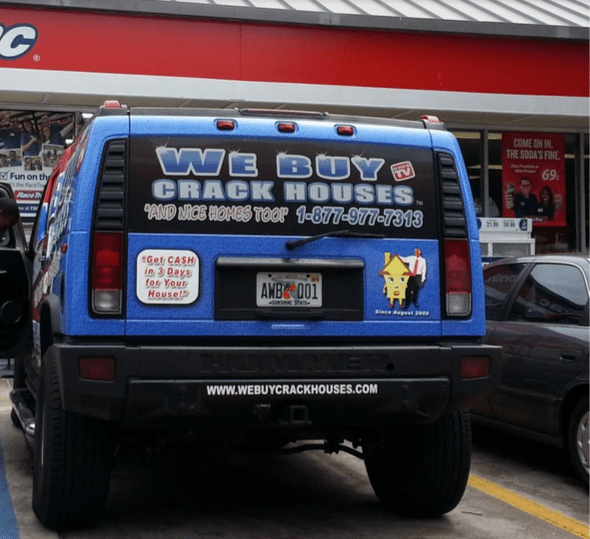 Florida-based realtor Kenny Rushing has a number of audacious ads to attract clients. He not only corners the niche market of rundown homes, but through humor, catches the eye of upscale homeowners too. His tactics clearly must have some effect, given his 5K+ followers on Facebook, which is impressive for a solo realtor.
---
14. The Lamb in Space

"Work with what they give you." This was advice Brad J Lamb took to heart when he converted his last name into a marketing epidemic. The "Lamb" ads took Toronto by storm and have since earned Brad a reality TV Show Big City Broker on HGTV. They've also become the namesake of a song, "This Lamb Sells Condos" by Canadian songwriter Final Fantasy. How's that for success?
---
15. "Good to Meet You, Here's a Can Opener…"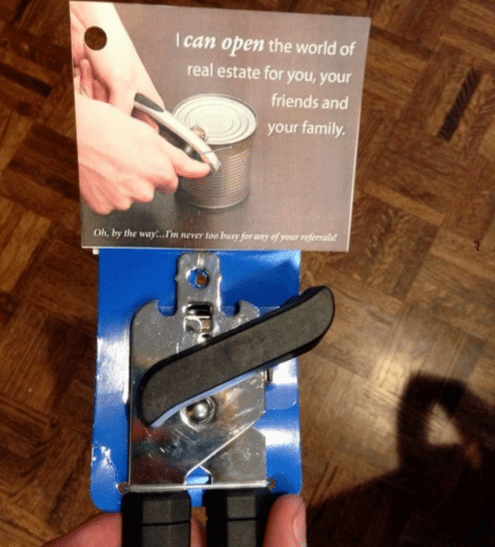 Realtors are known to pass around sports flyers, keychains, paper fans, and other goodies that carry their name. But can openers? This is a first for me. Traced back to Elizabeth Corbin of El Paso, Texas, the can opener features a tagline that might cause a few groans but also some laughs: "I can open the world of real estate for you, your friends, and your family." If the way this image has spread along social media is any indication, it clearly helped her generate some buzz.
Small cheap gifts like this makes the perfect pop by gift. For more ideas, check out our list of the Top 25 Pop By Gift Ideas.  My favorite: an ice cream scoop with a card that says: "Call us on for the SCOOP on the current real estate market."
---
Over to You
Have you seen any outrageous real estate marketing ideas that actually worked that we left out? Let us know in the comments.
For more real estate marketing tips, you should also check out our complete list of 47 Real Estate Marketing Ideas the Pros Use.