An Owner Controlled Insurance Program (OCIP), also known as construction wrap-up insurance, covers the owner, general contractor, and all subcontractors involved with a construction project under a single policy. OCIP is typically used on construction projects with construction costs above $10 million, and costs start at 1% of total construction costs.
Every construction project has risks with a variety of liability issues. The bigger the project, the bigger the potential claims and lawsuits. While most insurance providers have OCIP policies to meet the needs of smaller projects, a builder's risk policy may be more appropriate. Keep in mind that a general contractor always has the opportunity to maintain his own insurance and demand that subcontractors all have their own contractor's insurance general liability policies.
What an Owner Controlled Insurance Program Insurance Is
An Owner Controlled Insurance Program is used to insure a specific project rather than an entity. This means anyone associated with funding and building a new construction project is covered under one very specific liability policy for the work.
Don't get confused by the term "Owner Controlled" in an OCIP. The difference between owner controlled and contractor controlled programs is the named insured. In an Owner Controlled Program (OCIP), the project developer works with the contractor to define the insurance limits. The contractor purchases and pays for the policy, but the owner is the named insured. The policy cannot be changed or cancelled without owner authorization.
How an Owner Controlled Insurance Policy Works
An Owner Controlled Insurance Program creates a pyramid of indemnity for liability claims against a construction project. When an OCIP is in place, a claimant only needs to file a claim against one policy rather than multiple contractors and subcontractors' policies denying coverage. The project, its owner, and all working on it are covered for general liability.
OCIP vs Traditional Contractor's Insurance
OCIP creates one policy for the entire project that may have dozens of subcontractor businesses under the policy. A traditional contractor's insurance policy protects business interest in a project. That means two independent contractors must maintain their own contractor insurance policies to provide coverage.
If there is a claim, the insurance companies (or a court) will determine which party is liable, thus which insurance policy pays. If a bystander is injured from something falling from roof framing, the general contractor, owner, roofer, and perhaps even the framing carpenter may be cited in a claim. Traditional policies require each to have insurance and one or more parties may pay part or all of the claim.
OCIP Example
An office building is being built with Joe's Development owning and financing the project. ACME General Contractor is the company hired to do the physical construction. ACME hires subcontractors to do the electrical, HVAC, plumbing, framing, foundation, and all other components of the job. The HVAC company hires a crane to lift the units to the roof when a loose piece of metal on the crane falls, hurting a bystander on the street.
Without OCIP, the owner, general contractor, HVAC company, and crane company will all be named in a claim where each respective insurance company fights over responsibility. This could lead to denial of claims by one party's insurance company, leaving others to bear the cost. It also delays the claim process as insurance carriers determine liability.
OCIP Creates a Pyramid of Coverage
With OCIP insurance, there is no need for the claim to be argued among multiple insurance companies determining ownership of the liability. This pyramid of coverage protects subcontractors from financial responsibility from claims resulting from their presence on the job site. This isn't to say that an owner's, general contractor's, or subcontractor's individual business policies may not be liable to some degree.
Some policies are not written as no-fault policies, which mean the subcontractor could be responsible for deductibles if found liable or negligent. These policies provide protection should the OCIP limits become exhausted and the responsible party is determined to still be liable for more. Contractors and licensed subcontractors will likely still need to have their own insurance policies, particularly if they are working on multiple projects at the same time.
What an OCIP Insurance Covers
An OCIP insurance policy covers the liability from real estate development and construction. It is written based on the project budget and needs subcontractors' specific bids put forth in the binding contracts to quote the premium. As such, the owner and general contractor must have written proposals for work with complete bids and copies of existing insurance policies for all vendors prior to applying for an OCIP.
Because the OCIP is a tailored policy underwritten for the specific needs of a major construction project, everything from statements of coverage to policy premium credits can be passed down to subcontractors. The OCIP offers coverage in exchange for credits that reduce subcontractors' costs by 2% to 4%.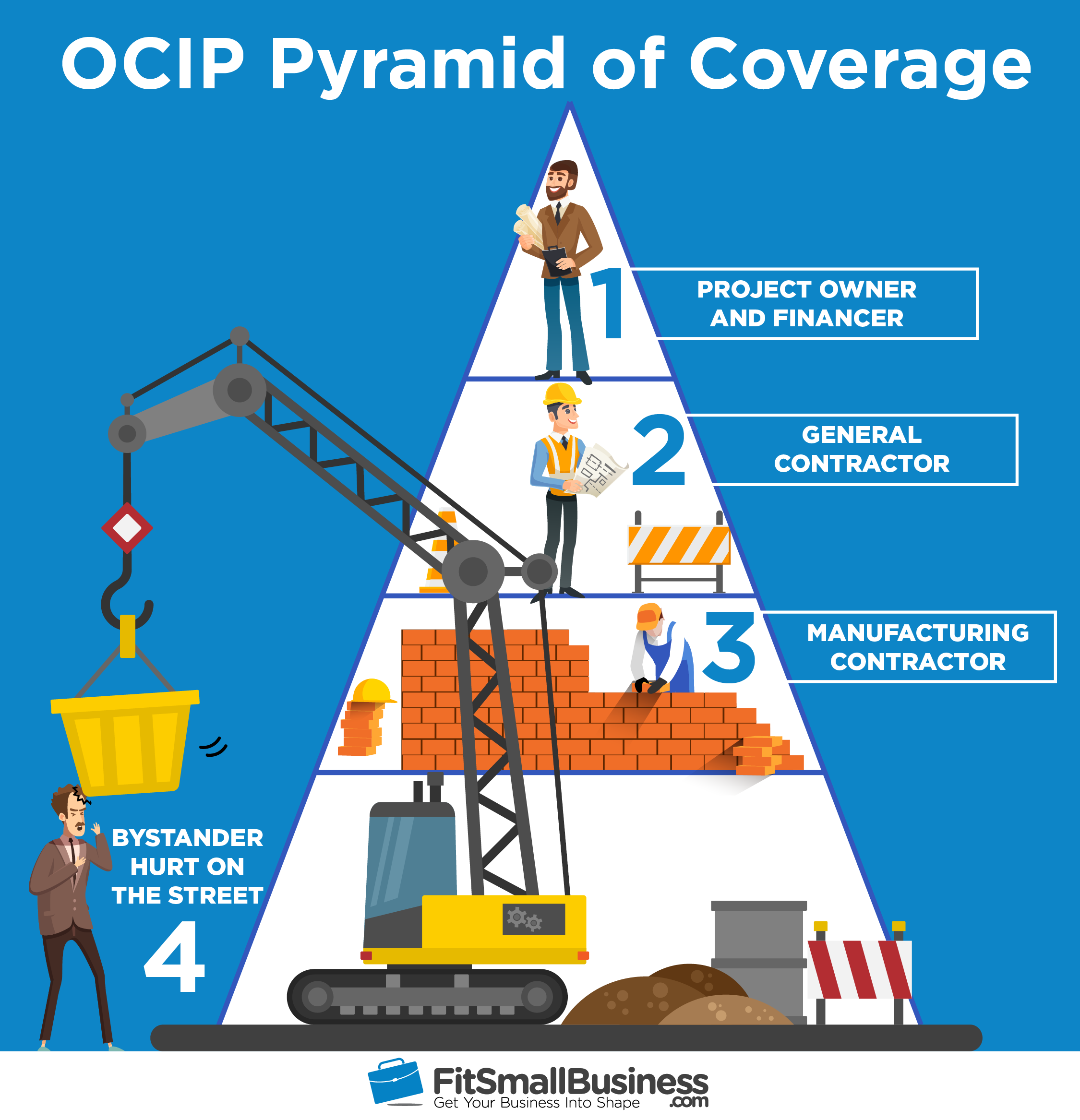 What OCIP Doesn't Cover
OCIP insurance only covers the liability found at the job site. It doesn't cover builder's risk regarding business assets or supplies and materials used in the construction project. It does not usually extend to business office liabilities or workers' compensation. Also, not every subcontractor is covered under OCIP.
Certain subcontractors and providers are not covered by the OCIP, including:
Suppliers
Material vendors
Haulers
Truckers
Hazardous operations (blasting and demolition)
Unless these providers are specifically listed as covered in the OCIP, they are excluded. General contractors need to obtain a Certificate of Insurance from subcontractors for the work being performed on behalf of the project.
OCIP Insurance Costs
OCIP insurance costs average between 1% and 2% of the overall project construction costs. Deductibles often start at $50,000, with the premium determined by the total costs, number of subcontractors, the state of the project, and the scope and duration of the extended tail coverage.
OCIP costs are affected by:
Budget: Premiums are directly tied to the overall construction cost of the project.
Subcontractor's insurance: Passing liability down to subcontractors is not recommended, but it does reduce the overall cost of coverage.
Deductible: Higher deductibles mean the project has higher Self-Insured Retention, reducing the potential payout of a claim.
Duration of coverage: The period of indemnity is a tail coverage that protects contractors and owners after the project is completed. The longer the period of indemnity, the more expensive the coverage.
Loss history: Companies and contractors with a history of claims will pay more for coverage and protection.
OCIP Extended Tail Coverage
Extended tail coverage is the claims protection that happens after the policy period is done. These policies exist for the duration of construction and development, and then the real estate owners obtain standard commercial property policies. As construction wrap-up insurance, these policies do extend coverage after the policy ceases to protect against claims that may have risen from work at the time of coverage but not yet known until a later date.
Who OCIP Insurance Is Right For
An OCIP has traditionally been for major developments exceeding $50 million in construction budgets. While any construction project is now eligible for an OCIP, it isn't always the cost-effective solution. An owner concerned with extended project liability should have an OCIP in place to protect his interests and keep the project on schedule and budget.
Among the common issues to consider in purchasing an OCIP are, according to IRMI:
Are there excluded parties, vendors, or contractors?
What are the exact locations covered?
Are subcontractors' existing insurance providers agreeing to not subrogate?
What time periods are included and excluded?
What is the relation to general contractors' and subcontractors' regular insurance?
Are there premium deductions and, if so, how are they calculated?
It is important to address these at the creation of the policy with existing subcontractors already chosen and offered contingent contract awards.
Owner Controlled Insurance Program Providers
Owner Controlled Insurance Program providers consider the overall construction costs, the type of project it is, and whether or not subcontractors maintain their own insurance. Traditional OCIP policies cover very large financial developments, while the new model of coverage extends to residential construction projects valued much lower. Shop among the best business insurance carriers to find the one that best insurers your type of project.
Top OCIP Providers
| Provider | Best For |
| --- | --- |
| Alliant | Experienced developers with top-tier credit financing eligible for online quote and bind |
| USI | Developers who have international exposure either through ownership or location |
| AIG | Real estate development companies with a portfolio of projects that need extended coverage |
| Chubb | Property developers looking for better practices in risk management for new projects |
Four of the top OCIP insurance providers are:
1. Alliant
Alliant is a national leader when it comes to insuring industries such as agriculture, aviation, and petroleum companies. Alliant offers individually-underwritten programs and also serves as an insurance broker on policies with large risks to spread exposure responsibly. Alliant also has a Risk Control Consulting division to help customize policies and mitigate less-known risks.
Alliant is the right choice for experienced contractors and project owners who are backed by top-rated financing. These projects are eligible for the quoting and binding program Alliant runs via 123OCP. Eligibility for this program requires financing from Admitted "A" Rated Paper.
2. USI
USI is a full-service insurance and financial services firm offering commercial insurance, financial services, and employee benefits. This provider serves as an international brokerage using top-tier carriers that are identified as good potential fits for a business by using proprietary analytics that define unique risks.
USI is a great choice for property development businesses with international exposure. By using local resources at the project location, USI underwriters are best able to tailor risk mitigation solutions that ultimately reduce the overall cost of insurance and risk management.
3. AIG
AIG is one of the largest national commercial property insurance carriers for commercial property coverage, development, and asset protection. AIG's financial strength and risk mitigation experience give real estate developers and contractors confidence that claims will be properly handled.
AIG is the right choice for general contractors working on multiple projects. It offers OCIP programs with up to 10 years of uninterrupted protection for revolving budgets on multiple projects. This allows developers to start one project while wrapping another without an extensive second underwriting process.
4. Chubb
Chubb is the largest property and casualty insurer in the world, lending its extensive experience in commercial insurance including specialty products like OCIP. Chubb products are sold through brokers and independent agents who bring a local touch to the internationally recognized risk management practices.
Chubb is the right choice for a real estate property developer expanding into new markets. Chubb's risk engineering services dive deep into a project's underlying risks and establish programs to mitigate loss. Chubb understands that real estate is a wide industry with each project posing unique needs, and helps project owners build the cost-effective policy based on those needs.
Insurance That May Be Needed in Addition to OCIP
Owner Controlled Insurance Programs cover the very specific liability risks found at a construction location without including coverage for business property, permanent office locations, employee injuries, and general liability. Contractors and owners should discuss these other risks with their insurance company to determine the right mix of policies and coverage.
Here are other business insurance policies types you may need in addition to OCIP insurance:
Builder's Risk Insurance
Builder's risk insurance covers the property and assets during construction. It covers the project owners from perils such as theft, fire, and vandalism. Some builders risk insurance policies cover the structure, tools, supplies, and temporary offices and sheds on site. It can also cover items stored off-site or in transit, depending on the policy terms.
For example, builder's risk covers a new apartment that's being constructed when a fire breaks out in a pile of raw wood supplies on the site, leading to loss of materials, tools, and some structure destruction. The project owner is able to repurchase supplies and tools and is provided remuneration to rebuild the part of the structure destroyed in the fire.
Commercial General Liability Insurance
Commercial general liability insurance covers the company from slip-and-fall accidents not associated with the job site. Permanent office locations still have general liability risks not covered in the OCIP policy and should carry the appropriate coverage. It protects the small business accidental injury or property damage claims.
For example, a sales office used to market the new property may have a family asking questions about purchasing a unit. If their child slips and hits his head on the corner of a desk, this would result in a general liability claim.
Commercial Property Insurance
Commercial property insurance protects a small business against losses due to fire, theft, and vandalism. This protects the business for assets and property not covered in builder's risk insurance policies to include permanent office furniture, computers, and office supplies.
For example, if a pipe bursts in your main office building, flooding the office, a commercial property insurance policy covers the repairs or replacement of the contents as well as the repair of the office walls and infrastructure, up to the policy limit.
Workers' Compensation Insurance
Every company that has employees is required to maintain workers' compensation insurance that pays for the costs associated with an employee getting injured on the job. This coverage pays for medical bills, lost wages, and rehabilitative services for employees injured at work.
For example, if one employee injures his back lifting a box of supplies, your workers' comp insurance would pay medical bills and wages from lost work time, if applicable.
Commercial Umbrella Insurance
A commercial umbrella insurance policy provides extended liability coverage on general liability, workers' compensation, and potentially the OCIP policy. Insurance carriers do vary on how umbrella coverage is provided, and may require special endorsements to extend coverage on an Owner Controlled Insurance Program.
For example, if the general liability coverage is $1 million with an umbrella of another $1 million, the company is covered for liability claims up to $2 million. For example, if a cement truck malfunctions, covering a neighboring building in cement with $1.9 million in damages, the liability portion would pay the first $1 million with the remaining $900,000 paid by the umbrella.
Pros & Cons of OCIP
There are pros and cons to having an OCIP policy in place for a major real estate development. A real estate investor and developer should consider both sides and review all budgets and costs with general contractors to be certain the OCIP policy is the right choice.
Pros of OCIP
The advantages of having an OCIP policy covering everyone on the project include:
Streamlined policy: One policy that reduces any gaps in coverage and clearly outlines how the project is insured.
Subcontractor cost reduction: Contractors under the policy don't need to maintain the additional overhead of getting their own policy and can pass savings on in contract bids.
Coverage control: Project owners have complete control of the policy limits, riders, and additions without concern over subcontractors changing underlying policies.
Defined project limits: Set project limits are dictated from the top and reduce the need for contractors to have adequate coverage.
Increased subcontractor pool: Opens opportunities to hire qualified contractors who may not have insurance for various reasons.
Coordinated claims: All claims are directed at one policy, where everyone is covered to expedite the claims process.
Minimized subrogation: One policy means that there is one insurance company determining if a claim is covered or denied, and there is no need for subrogation.
Cons of OCIP
The disadvantages of having one OCIP policy in place for a project include:
Extended subcontractor negotiation process: All contracts must be finalized since the insurance is based on total project costs, forcing all negotiations to be done before the policy is put in force.
Change order difficulty: Contractor bids are finalized at the onset of the project and change orders must meet OCIP approval to maintain compliance with coverage.
Administration costs: Owners must maintain administrative costs of the program to properly maintain paperwork and start all claims.
Potentially insufficient coverage: Work changed without the proper work change order process could lead to gaps in coverage.
Risk overall cost increases: Owners maintain the overall risk even if they have no control over certain contractors and subcontractors.
Tips When Getting an Owner Controlled Insurance Program
Purchasing an Owner Controlled Insurance Program isn't an overnight process, and it's important to consider all the risks and potential liabilities of a major construction project. The project should be well-defined with budget and contractor bids already in place before you obtain the insurance.
Here are three tips when getting OCIP insurance:
1. Determine if OCIP or CCIP Is the Best Insurance Program
A general contractor overseeing multiple projects may benefit from coordinating coverage among those projects. This means a Contractor Controlled Insurance Program (CCIP) is a better fit, allowing the general contractor to bid multiple projects and use the same subcontractors while indemnifying project owners from liability.
2. Obtain Contractor Bids Prior to Applying for OCIP
Get firm bids on all subcontractor work prior to applying for an OCIP. Your premium is based on the bids provided, since the overall cost of an OCIP is a percentage of the project construction costs. Determine premium credits for subcontractors with substantial liability coverage for their own companies.
3. Consider Existing Insurance Policies & Gaps
An OCIP covers clearly defined risks based on policy statements of coverage. Common exclusions for these programs include property, hazardous work by excluded vendors, office liability, and extensions of limits. Get coverage for any gaps to properly to protect a multimillion dollar development.
OCIP Frequently Asked Questions (FAQs)
Large residential and commercial real estate developments have a lot of risks from different areas of the job.
What is wrap policy insurance?
A wrap-up (or wrap) policy covers contractors and subcontractors working on large development projects for project-related liability claims. Both OCIP and CCIP are types of wrap policies that provide a trickle-down level of coverage from the owner of the project through the general contractor and down to the subcontractors.
What is a construction insurance policy?
Contractor's All Risk (CAR) insurance is a combination policy covering third-party liability as well as business property loss. In the case of a CAR, subcontractors on site may also be covered for accidental injury or property damage while on the job site. It is designed to reduce gaps in insurance found when multiple policies exist.
What type of insurance should a general contractor have?
General contractors should always have general liability and business property insurance covering standard risks that include third-party liability claims or the loss of business assets due to fire, theft, or vandalism. If a general contractor has any employees, workers' compensation in required. General contractors should also consider commercial umbrella and comprehensive commercial auto policies.
Bottom Line
One claim on a job site can halt work for weeks, if not months. In some cases, a major liability claim can bankrupt a development that's not fully prepared. This is why OCIP insurance is an absolute necessity for multimillion dollar developments. General contractors are able to get the best subcontractors while owners have the confidence of claim coverage from top to bottom.