Small business owners can borrow up to $10 million to pay for payroll, rent, mortgage interest, and utilities under the newly available Paycheck Protection Program (PPP) Loan. The loan is available from any Small Business Administration (SBA)-approved lender as well as through online loan brokers. Loan proceeds used for eligible expenses will be forgiven for up to eight weeks of eligible expenses, effectively converting the loans into small business grants.
| Lender | Best For |
| --- | --- |
| | Simplest application process |
| | Fastest direct SBA lender |
| | Businesses wanting to work with a broker |
| | Quick online application |
The above providers are available nationwide and have no application restrictions.
Paycheck Protection Program Loan Overview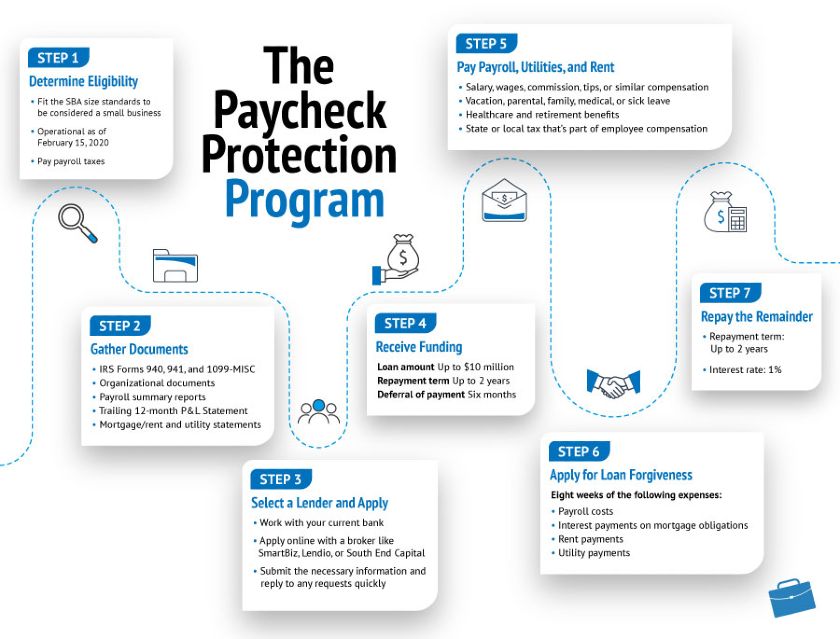 What the Paycheck Protection Program Loan Is
The Coronavirus Aid, Relief, and Economic Security (CARES) Act requires the SBA to help lenders across the country extend loans to small business owners who are struggling to make payroll during the COVID-19 pandemic. These loans are offered by banks, brokers, credit unions, and other financial institutions with the same costs, terms, and qualifications nationwide.
Businesses that apply for the program can spend the loan proceeds on payroll, rent, and utilities to continue operations. If businesses spend the financing only on these qualified expenses, the SBA will forgive the loan on or after June 30, 2020. The total forgiveness extends for up to eight weeks of expenses and is intended to help small business owners avoid layoffs and closure.
The Paycheck Protection Loan Program can help small businesses overcome:
Disruptions to the supply chain: Businesses that have lost the ability to get goods delivered entirely or at a reasonable price.
Challenges with staffing: Companies that are struggling to take on employees, find staff, or otherwise hire during this time.
Reduced earnings: Small businesses with declining earnings due to COVID-19.
Lost customers: Storefronts that have less foot traffic due to orders to stay inside.
Closure: Businesses that have had to close entirely due to state requirements like gyms.
Our Experience
Fit Small Business learned about the Paycheck Protection Program Loans through our coverage of the CARES Act and analysis of how small businesses can leverage the program to maintain operations. Like other businesses, ours is affected by the COVID-19 pandemic, so we applied with South End Capital, however, due to high demand they are not accepting applications at this time. Another option for smaller loan amounts is Lendio, an online business loan marketplace.
How the Paycheck Protection Program Loan Works
The Paycheck Protection Program Loan converts into a grant if it's used to cover payroll, rent, mortgage, and utility costs during the course of eight weeks. For most small business owners, the entire process is relatively straightforward—from determining eligibility to applying for forgiveness.
The steps small business owners must take for the PPP loan include:
Determine eligibility
Gather necessary documents
Select a lender
Submit an application
Receive funding
Track payroll, utility, and rent or mortgage payments
Apply for forgiveness
Repay any remaining balance
While we know for certain what the application requires, we don't know how long lenders will take to provide funding. Applications are being processed as of April 2, 2020. However, there is no guidance yet on the forgiveness process from the SBA or lenders.
Our Experience
Fit Small Business has completed Step 4 (Submit an application) and is currently awaiting approval from a lender. We recommend that small business owners take their time to ensure all paperwork is in order before applying. However, lenders have indicated that loans are being awarded on a first-come-first-served basis, so it is essential to start early.
Paycheck Protection Program Loan Qualifications
Entities: Small businesses, nonprofits, veterans organizations, tribal businesses, sole proprietors, self-employed individuals, and franchisees
Number of employees: Fewer than 500
SBA size standards: These vary, but a restaurant, for example, must have less than $8 million in annual revenue and a chain of convenience stores must have fewer than 500 employees
Operational requirement: Operating as of Feb. 15, 2020
Additional requirements: Must pay payroll taxes
The PPP loan is available to most types of businesses. The only exception is businesses that were closed as of Feb. 15, 2020, for reasons unrelated to COVID-19. Large businesses also will be restricted from qualifying. However, the size standards offered by the SBA accommodate for industries that typically have large staffs.
Our Experience
As a small business that employs about 100 employees, Fit Small Business qualifies for the program. We've spoken to dozens of business owners who employ from one to as many as 300 workers, and all of them intend to apply for the loan. We struggled to find businesses that needed this funding but could not qualify.
Paycheck Protection Program Loan Terms
PPP loan amount: Up to $10 million
Repayment term: Up to 2 years
Repayment schedule: Monthly
Payment deferral: Six months
For amounts borrowed in excess of the forgivable maximum, the SBA will allow up to two years for repayment. You can borrow up to $10 million. However, covering payroll, rent, and mortgage payments will be a priority for loan limit calculations.
The two-year repayment term begins when the lender issues the loan and not after the initial deferral of payments. During the deferral period, your business won't be required to make payments, but the loan will still accumulate interest. Still, the interest rate is just 1%, which means that for every $1 million you borrow, you'll owe $830 in interest per month.
What Costs Are Considered Payroll
The CARES Act offers a broad definition of payroll, including:
Salary, wages, commission, or similar compensation
Cash or tip equivalent
Vacation, parental, family, medical, or sick leave
Allowance for dismissal or separation
Provisions of group healthcare benefits, including insurance premiums
Retirement benefits
State or local tax that's part of employee compensation like unemployment taxes
Paycheck Protection Program Loan Permitted Uses
Small business owners can use the loan to pay:
Payroll costs, including taxes
Insurance premiums and costs associated with healthcare benefits during periods of paid sick, medical, or family leaves
Employee salaries, commissions, or similar compensations
Mortgage interest
Rent
Utilities
Interest on debt incurred before the covered period
Determine How Much You Can Borrow
The CARES Act puts forth some calculations that can help small business owners determine what the best loan amount is. We've included the calculations and built a calculator based on these numbers.
We built the calculator using the following guidance from the SBA:
Most small businesses: Multiply average total monthly payroll costs for a one-year period before the date of the loan by 2.5
Seasonal small businesses: Calculate average total monthly payroll for a 12-week period from Feb. 15, 2019, to June 30, 2019, and multiply by 2.5
Businesses formed after Feb. 15, 2019: Calculate monthly payments from Jan. 1, 2020, to Feb. 29, 2020, and multiply by 2.5
Businesses refinancing loans: Small business owners can also refinance an outstanding loan made between Jan. 31, 2020, and the date upon which they receive a Paycheck Protection Program Loan if the previous loan's proceeds were used to cover a qualified expense
Payroll Calculation Restrictions
When calculating payroll for relief, businesses may not be included in the calculation:
Any individual employee earning an annual salary greater than $100,000; however, payments up to that amount are forgivable
Taxes imposed or withheld under Chapter 21, Chapter 22, or Chapter 24 of the Internal Revenue Code of 1986
Employees living outside the United States
Sick leave wages for employees for which the Families First Coronavirus Response Act (Section 7001) offers a tax credit
Sick leave for self-employed individuals for which the Families First Coronavirus Response Act (Section 7003) offers a tax credit
Calculating How Much to Borrow for Forgiveness
For a more accurate estimate of forgiveness, download our spreadsheet or follow these steps:
Determine the number of employees your business has, including employees you will rehire.
Cap all employee salaries for the calculation at $100,000.
Divide the resulting payroll into days by dividing by the number of days in the month.
Multiply by 56 to represent the number of workdays in eight weeks.
Do the same calculation for utilities and rent or mortgage payments.
Get the sum of rent or mortgage, utilities, and payroll costs.
The resulting total is the amount that will be forgiven from the loan. While it isn't as quick as the calculation provided in the bill or on the form, it will give you some peace of mind. The best advice we've received from our conversation with lenders is to keep great records of each expense paid from the proceeds of the loan to ensure you have a paper trail when asking for forgiveness.
Our Experience
At Fit Small Business, we used a more detailed method for our internal calculations of forgiveness amounts. However, on the SBA form we completed for South End Capital, we used the method described in the act. South End Capital is not accepting applications at this time, so a broker like Lendio may be a better option for applicants. In both cases, we found the methods were similar, and we expect it will be the same for most business owners. The only exception is if you have high payroll or rent/mortgage costs due to location or staffing.
Paycheck Protection Program Loan Costs
Interest rate: Up to 1%, charged only on the amount of unforgiven financing
SBA guarantee fee: Waived
Prepayment penalties: None
Personal guarantee: None
Collateral: None
SBA loans are generally considered to be inexpensive business loans. However, the Paycheck Protection Program has taken a relatively inexpensive program and made it even more affordable for small business owners. The government has authorized a fixed interest rate of 1% and waived all fees and collateral requirements for borrowers.
Our Experience
Fit Small Business has been approved for a loan. The CARES Act guarantees that all borrowers will be treated the same, so we expect to receive a rate of 1% on the loan. Furthermore, we don't expect to have the loan amount reduced by any fees.
Paycheck Protection Program Loan Required Documents
Compared to other types of SBA loans, the documentation requirements for PPP loans are minimal. While there may be some variation in the verification documents requested by different lenders, you can expect to provide documentation pertaining to the organization of your business, and various documents to verify your payroll and other eligible expenses.
You can download a paycheck protection loan checklist to track your documents in preparation.
Borrower Documents
Articles of incorporation/organization
Bylaws or operating agreement
Color copy of driver's licenses for each owner of the business
For Payroll Expense Verification
IRS Form 940 and 941 (contact your payroll processor or accountant for these forms)
Payroll summary report or employee pay stubs, including payroll benefits like vacation, healthcare, and retirement, as of Feb. 15, 2020
1099s (if independent contractor)
Other Verification Documents
Trailing 12-month business profit and loss (P&L) statement as of the date of your application
Most recent business mortgage statement and/or rent/lease statement
Most recent business utility bills like electric, gas, telephone, internet, or water
You'll also need to submit SBA Form 2483, the Paycheck Protection Program application form.
Our Experience
In the days between President Donald Trump's signing of the CARES Act and the SBA beginning to issue lender guidance on PPP loan requirements, we saw real-time evolution of lenders' diminishing documentation requirements. What started out as instruction to apply for a standard SBA 7(a) loan from South End Capital rapidly evolved into the shortened list of required documents that you see above.
Paycheck Protection Program Loan Providers
Banks, credit unions, loan brokers, and other financial institutions are authorized to offer an application for the Paycheck Protection Program Loans. For most small business owners, an online provider is the best solution. However, there are certain circumstances when a different lender or financial institution would work better.
While many banks are offering this program, some are restricting it to borrowers who already have a business checking account with the bank. These banks are a good choice if your business has a complicated application process. Most small businesses should be able to apply for a PPP loan online. The advantage of online lenders is their ability to process applications quickly and their ability to access funding from multiple sources to ensure applications are funded.
Our Experience
We began our search for a lender as soon as the president signed the CARES Act into law. While we were aware that SBA lenders nationwide were following the passing of the act, there was only one that we found—South End Capital—that was prepared to accept applications for PPP loans immediately. With the program officially going live on April 3, 2020, there are many more lenders now accepting applications.
Paycheck Protection Program Loan Application Process
Once you have determined the loan amount for which you are eligible, gathered all of the documentation, and selected a lender, the application process is simple. Most lenders require you to complete a short online application that asks for basic details regarding your business. You should also be prepared to detail your monthly PPP-eligible expenses like payroll, rent, and utilities.
Once you have entered the basic business information, you'll need to provide copies of the documentation to the lender. This may be completed via file upload or email attachment, depending on the lender's preference. Please note that some lenders are instantly declining applications if the business doesn't supply all requested information with the application.
When your application has been deemed complete, the lender will begin processing your application for funding. While these applications are not complex, lenders are being inundated with applications from small business owners seeking PPP loans, so you may not hear back from your lender immediately.
Our Experience
The application process was still in a state of transition as we applied, which made it a bit challenging to navigate. However, lenders now have more guidance from the SBA, so the process has become quite streamlined. Overall, applying for this program was less challenging than applying for a personal mortgage loan.
Paycheck Protection Program Loan Forgiveness Process
The only guidance available so far on the forgiveness process is that it will be handled directly by lenders. The lenders we contacted expected there will be a verification process that will involve the submission of a requested forgiveness amount and supporting documents that verify payroll, rent, utilities, and other qualifying expenses.
The sum of the following costs, up to $10 million, will make a business eligible for forgiveness:
Payroll costs
Interest payments on mortgage obligations, excluding prepayment and principal
Rent payments
Utility payments
The documents required to verify loan forgiveness include:
Payroll tax filings reported to the IRS
State income, payroll, and unemployment insurance filings
Canceled checks, payment receipts, account statements to verify mortgage, lease, and utility obligations
What Happens If You Borrow More Than the Forgiveness Amount
If you borrow more than the amount that will be forgiven, you will be left with a low-interest SBA loan with a two-year repayment term. In the event that loan funds are used for expenses other than those that are forgivable under this program, you may have a loan balance that enters repayment.
The terms for the remainder of the loan are:
Guarantee: The SBA will continue to guarantee the remaining portion of the loan
Repayment term: Up to 2 years from the date of issuance
Interest rate: 1% fixed
The forgiven portion of the loan will be canceled and removed from your loan amount. Your lender will continue to service the loan until the remaining unforgiven amount is repaid.
How to Calculate the Size of Payments After Payroll Forgiveness
The remaining loan would have a total maturity of 24 months from origination. The interest rate will be 1%, and the payments will be due each month. We've created a spreadsheet you can download to estimate the costs of the loan after payroll forgiveness. You'll want to avoid borrowing more than the business can support, especially since the general economic climate is uncertain.
If you wish to recreate this calculation, you can use the payment function (=PMT) in Excel. Ensure the interest rate is divided by 12 so that it matches the payment frequency. The only other thing left to add is the accumulated interest, which you can figure out by multiplying the loan amount by the interest rate and dividing the result in half to get six months of deferred payments.
Tax Treatment of Forgiven Debt
Debt forgiveness in the case of PPP loans will not count as income on tax filings. This is an exception in the act to avoid penalizing businesses that needed help from the loan.
Our Experience
Fit Small Business has not applied for forgiveness on the loan. However, lenders we contacted emphasized that they would be in touch with all of their borrowers throughout the process to ensure that all submissions for forgiveness are timely.
Paycheck Protection Program Loan Frequently Asked Questions (FAQs)
Can I fire employees while I have the loan?
You are not restricted from letting staff go while you have the loan outstanding. However, the loan amount forgiven will decline to equal the actual payroll costs over that time. So, while you can let go of an employee, you cannot receive forgiveness for unpaid payroll expenses.
How can I request loan forgiveness?
You can work with your lender to apply for forgiveness. The lender will have a set of required documents it will use to verify the loan was spent on eligible expenses like rent, utility, and payroll obligations. Lenders will be required to make a decision on forgiveness within 60 days of receiving the request.
How long will this program last?
The program officially runs through June 30, 2020. However, we encourage small business owners to apply sooner because there is a funding cap. The restriction on available funds and the relatively easy qualifications has led many lenders to expect that funds will run out. Business owners will receive funds on a first-come-first-served basis.
Bottom Line
The paycheck protection program loan is intended to relieve the downward economic pressure on small businesses during the COVID-19 virus pandemic. Small businesses can get payroll, utility, and rent or mortgage expenses covered by the loan, which can later be forgiven, converting effectively into a grant.