Dun & Bradstreet's (D&B) Paydex score is one of the most common business credit scores banks and lenders use to consider you for business loans, credit, and partnerships. This score is based on your company's payment history to vendors and suppliers and ranges from 0 to 100, with 100 being the best you can score. Because it's the key to business financing, it's crucial to understand how your business can leverage this score.
What Is a PAYDEX Score?
The Paydex credit score offers insight into a company's payment history by reviewing payment records of up to 875 vendors and suppliers during a 12-month period to calculate a numerical score. Scores range from 0 to 100, with 100 demonstrating the highest chance of a business repaying its debts, such as business credit cards, on time.
This number represents your creditworthiness to any interested party that wants to know if you can manage your debt responsibly. However, your company won't have a Paydex score if you don't have a Data Universal Numbering System (DUNS) number and credit profile with D&B. You can get a DUNS number easily online or over the phone with a D&B representative.
How the PAYDEX Score Works
The purpose of the Paydex score is to measure your creditworthiness by rating the likelihood you'll pay your debts on time. This credit score works by using your company's D&B reported trade references and previous payments with vendors and suppliers. A high rating shows others that your company is financially stable and possibly a good candidate for a partnership while a low rating shows that your company is a potential risk. Let's look at how this score is calculated, its range, and how it's used.
How It's Calculated
It's standard practice for business credit bureaus to keep credit score calculations private, and D&B is no exception. D&B collects records of your business's payments with suppliers and vendors―those you have credit with―these are referred to as payment experiences, which are later verified by D&B for accuracy. Although the exact formula isn't public-facing, there is some basic information that we know is included in the Paydex score, including:
On-time payments
Early payments
Overdue bills
Collections
Unlike your personal credit score, the Paydex score is not based on your credit utilization or the number of hard inquiries shown on your credit report. Because anyone with your business information can view your business credit report, businesses aren't penalized for third-party credit inquiries like with personal credit scores. That means anyone can view your Paydex credit score without it impacting your score.
PAYDEX Score Range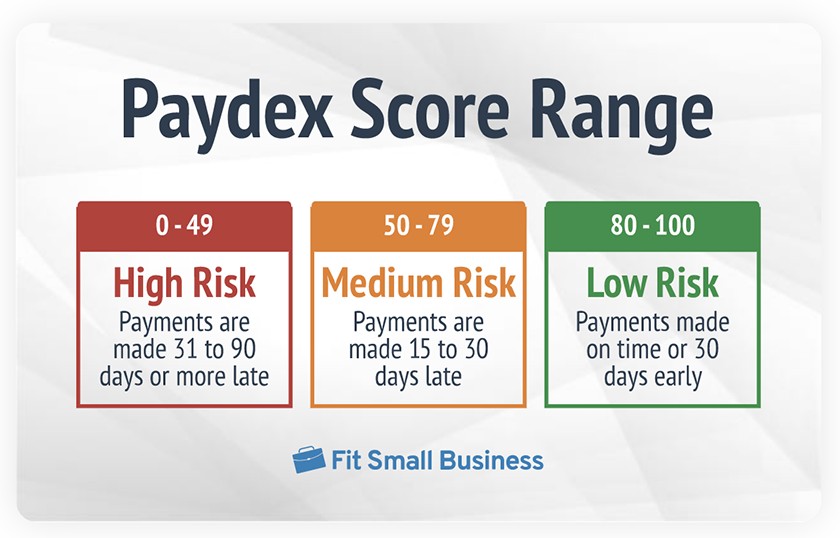 D&B separates risk into three different levels: high risk (0 to 49), medium risk (50 to 79), and low risk (89 to 100). This means the lower your Paydex score, the higher the risk of missing debt payments. So, it makes sense that a high credit score will fare better for your company overall. However, what's considered acceptable will ultimately be determined by the company that reviews your score.
The Paydex score gives insight into your past behaviors, therefore predicting what's most likely to occur in the future. The highest risk indicates that you have a habit of making payments 31 to at least 90 days late. Still, if you've paid 30 or even 15 days late, you're likely to land a credit score in the medium-risk level. Neither of these doesn't bode well for those looking to extend you credit. To avoid this, be sure to make your payments early or on time as often as you can.
What It's Used For
Like the Experian Intelliscore Plus and the FICO SBSS score, the Paydex credit score is used by banks, lenders, suppliers, and even customers to anticipate the likelihood that you'll pay future debts on time. If you plan to apply for business loans and lines of credit, you should maintain a score of at least 75 for the best chance of approval.
Trust is important in any line of business, and interested parties will use the Paydex score to inform their decisions about your company. It's so valuable that D&B's credit information is used by the United States federal government. You won't be able to do any government contract work without a D&B credit report.
Checking Your PAYDEX Score
There are two ways you can check your Paydex score, through D&B or NAV. D&B offers Paydex credit scores through one of its monthly subscription packages. You'll also get access to other features like credit monitoring and credit building, depending on the package you select. However, you can also view your credit score for free through NAV, an independent credit company. Either way, both ways allow you to check your score online easily.
How to Improve Your PAYDEX Score
Because the D&B Paydex score is based on your payment interactions with vendors and suppliers, you can't improve your score without tradelines. However, making timely payments with the ones you have established is essential for improving your credit score. You can improve your score in the following ways.
1. Establish More Tradelines
D&B requires at least two vendors with three payment experiences to calculate a score for your company. If you don't have a score, this could be the reason why. Adding more tradelines will add more payment experiences and increase your credit score over time as long as you make timely payments.
2. Verify Payment Accuracy
In some cases, you may already have the payment relationships to warrant a good score, but they aren't visible on your D&B credit report. Since D&B uses vendor-reported payments, it's possible a vendor isn't reporting your payments to the credit bureau. Missing payments can be devastating to your Paydex score—a score that relies heavily on these payments.
Some vendors might not report your activity to D&B, but you can request that they do so. In this case, you should contact the vendors in question to ensure they are reporting to D&B and follow up with D&B. Having the accurate number of payment experiences reflected on your credit report can improve your score.
3. Make Timely Payments
Of course, none of the previous tips matter if you aren't making your payments on time. You can have several tradelines, but if you're late or missing payments often, it will only earn your company a high-risk rating and a low Paydex score. Building a late payment history is never helpful. However, by making your payments on time, you'll build the right kind of payment history—one that reflects well on your credit report and boosts your Paydex score.
4. Monitor Your D&B Report Regularly
You should check your D&B credit report regularly to ensure accuracy and monitor payment activity. Reviewing your credit report will also give you insight into the areas that need improvement. Keeping up with your credit report will help you catch negative items in near real-time so that you can adjust quickly to improve your score and stay on track.
Bottom Line
The Paydex score will continue to be used by vendors, suppliers, banks, and lenders to review your payment history and predict your risk of not paying your debt. However, with a strong payment history, the Paydex credit score can be just as much of a tool for you as it is for those using it to review your company. Just be sure to keep a credit score of at least 75, and you won't have many issues qualifying for the credit you need.