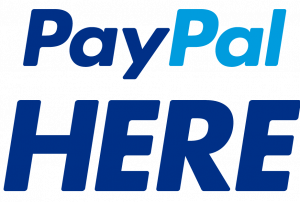 PayPal Here is a "pay as you sell" payment processing and tracking software. It allows you to accept payments for your business via credit card, debit card, invoice, cash or check, all while on-the-go. We compiled PayPal Here user reviews from our website and around the web and determined that it has a mix of positive and negative ratings. We also shared its available pricing options.
Want to know the top mobile payment software for small business? Read our PayPal Here alternatives guide.
PayPal Here Pricing
Signing up for a PayPal Here account and downloading the PayPal Here app are free, but it requires users to purchase card readers to use the account*. Fees are charged for every accepted payment — US card swipe (2.7%/swipe), Key in cards (3.5% + $0.15), Invoice (2.9% + $0.30), and Cross-border transfers (1.5%).
| Processes | Fees |
| --- | --- |
| US card swipe | 2.7% per swipe |
| Key in cards | 3.5% + $0.15 |
| Invoice | 2.9% + $0.30 |
| Cross-border transfers | 1.50% |
Summary of User Reviews
What PayPal Here Does Well
Users who gave PayPal Here a positive review said that they like the many payment options it offers, how easy it is to use, and how quickly payments are reflected in their accounts.
What PayPal Here Does Not Do Well
Users who gave PayPal Here a negative review cited issues with funds being withheld when transactions exceeded a certain amount. They added that customer service reps are not able to provide a clear explanation or solution to the problem.
Most Helpful Positive User Review
"PayPal Here has the best payment method in history. Its platform has a lot of possibility to send payments from anywhere and without any restrictions. It is really positive that when a payment is sent, the other person receives it in a matter of seconds. This has been a total trend in my company for the amount of insurmountable payments I have made to my employees."

– Paula Rodriguez
Most Helpful Negative User Review
"If there are significant volumes of your transactions going through PayPal, it may be best to look at alternatives. The holds they place on certain amounts can be frustrating and difficult to understand, and the accounting for PayPal transactions can get complex depending on how the reporting 'feels like working' that particular day."

– Tyler Hakesley
PayPal Here Features
Check out the list below of some of PayPal Here's features.
Account Customization
Run Sales Reports
Authorization of Users
Tax Calculation
Apply Discounts
Add Tips
Generate Reports
Helpful Mobile Payments Resources
6 Best Mobile Credit Card Processing Options for 2019 — Mobile credit card processing lets you process credit card payments on-the-go using a mobile credit card reader connected to your smartphone or tablet. Here, we compared five of the top mobile credit card processing providers that cover a full range of mobile payments options for small businesses.
Best Payment Gateway for Small Business 2017: Stripe vs. PayPal vs. Authorize.Net — Payment gateways are the middlemen that connect your eCommerce shopping cart to your payment processor to enable online credit card payments. In this guide, we list three companies who covered the range for small businesses in terms of security, ease-of-use, payment processing options, and price.
How to Accept Credit Card Payments: In-Store, Online & Mobile — Accepting credit card payments is proven to increase in-store sales and is absolutely necessary for businesses selling online. If you're searching for the right credit card processing solution, this guide shows you how to accept credit cards anywhere.
PayPal Here FAQ
Do I need an internet connection to use PayPal Here card readers?
Yes. An internet connection is necessary to process a payment transaction.
Do my customers need a PayPal account to make a payment?
No. With PayPal Here, customers can pay you via debit and credit card, check, and cash, as well as mobile payment solutions such as Apple Pay and Android Wallet.
PayPal Here Overview Video
This video provides a brief overview on how PayPal Here can help users achieve a smart and convenient payment experience for their customers.
Popular Integrations
When choosing a mobile payment solution, it's important that the software integrates with other applications your business is currently using. Here is a list of some of PayPal Here's popular integrations:
Top PayPal Here Alternatives
Not sure if PayPal Here is the right fit for you? Read our reviews of all top mobile payments providers or check out one of these three PayPal Here competitors.