PayPal Working Capital (PPWC) provides short-term loans to small businesses that receive payments through PayPal. PPWC takes a percentage of your future PayPal sales until your loans are paid back.
While people typically think of PayPal as an online payments system, in this article we will be focusing on PayPal Working Capital only. To see our review of PayPal payments, go here.
We compiled reviews from our own website plus user reviews from around the web to determine what PayPal Working Capital customers think about the company. We also cover the fees associated with taking out a loan.
PayPal Working Capital Customer Reviews
Overall Experience: Good
Service Quality: Good
Pricing: Good
Speed: Great

Summary of User Reviews
We scoured hundreds of reviews and found that PayPal Working Capital has generally positive ratings. Here's what we found:
What PayPal Working Capital does well:
Customers were impressed with PPWC's fast loan processing and relatively lenient loan requirements. According to previous loan applicants, PPWC had no credit checks and instead, used the applicant's PayPal sales history as proof of good financial status.
What PayPal Working Capital does not do well:
Several customers complained that upon applying for a loan, the conditions were vague and PPWC's customer service representatives failed to clarify terms and conditions. Also, PPWC's annual percentage rate is higher compared to other loan providers.
Most Helpful Positive User Review
"This is my third loan with Paypal Working Capital and I am nothing short of impressed. I have a small ebay business that allows me to stay home with my kids. This loan has been an annual blessing for me, allowing me to attend sales near the holidays that I otherwise would have missed! Ultimately keeping new merchandise coming in, keeps the customers coming in as well. The fees are much lower than Kabbage, and the payback method is sheer genius! You really don't even miss [the deducted amount from your sales]. I did notice that they had added a minimum 10% of loan + fee amount due every 90 days. I'm hoping that this does not tarnish the overall experience, because up until now it has really been wonderful! Thanks!"

— Wendy
Most Helpful Negative User Review
"We have applied for and been approved for two WC loans. The first was around $17k and the second around $32k. We paid both loans off within months and recently paid off the $32k loan in order to apply again and avail of larger financing for a move to a new facility. Sales haven't really changed at all but we were only approved for $6500! No rhyme or reason and no one to evaluate the payment history, loan offer or otherwise. Customer service is nice but totally unhelpful. 'it's automated' they say but with no explanation of why we would be offered such a small amount after clear increases in offers and steady sales.

This has been a total waste of time now (our loan is paid off) and we have moved on to other lending options. We liked the speed of this one but there is absolutely no rhyme or reason to the offer decision and no one to help or answer questions. Don't waste your time if you plan on this to be steady funding for a solid business."

— Heather Kelly
Other PayPal Working Capital User Reviews From Around the Web
Here are a few other resources for finding helpful PayPal Working Capital customer reviews. We rated the review sites on a scale from poor to excellent based on how trustworthy and useful the reviews seemed.
| User Review Website | Average Rating | Number of Reviews | Quality of Reviews |
| --- | --- | --- | --- |
| Merchant Maverick | 4.5 out of 5 | 21 reviews | Excellent |
| Top Ten Reviews | 9.50 out of 10 | Staff review | Excellent |
| SuperMoney | 4 out of 5 | 33 reviews | Good |
*Average rating as of date article was written: Jan. 12, 2017
How We Determined Quality of User Review Websites
Merchant Maverick offers a comprehensive review of the product. Aside from customer reviews, they also feature a contributor review which is more in-depth and comprehensive.
Top Ten Reviews uses a staff review instead of customer reviews. The review covers the pros and cons of the product fairly; however, one person's perspective does not speak for all.
SuperMoney is a lesser known review site that caters to financial products and services. It has an ample amount of reviews on the service, although the site does not verify reviews.
PayPal Working Capital Fees & Other Details
| | PayPal Working Capital |
| --- | --- |
| Loan Amount | 4% to 5% percent of company's annual PayPal sales |
| APR | 15% to 30% (depending on loan amount) |
| Deduction from PayPal Sales | 10% to 30% of daily PayPal sales, as long as you pay back 10% of the loan back every 90 days. |
| Application Time | 5 minutes |
| Funding Time | Less than 1 minute |
| Credit Checks? | No |
Companies can qualify for loans equal to 4-5% of their annual PayPal sales. PPWC provides these loans through their partner WebBank, which has a cap borrowing amount of $85,000. You can choose how much PPWC can deduct from your daily PayPal sales, and you don't need to pay them on days when your company has zero sales.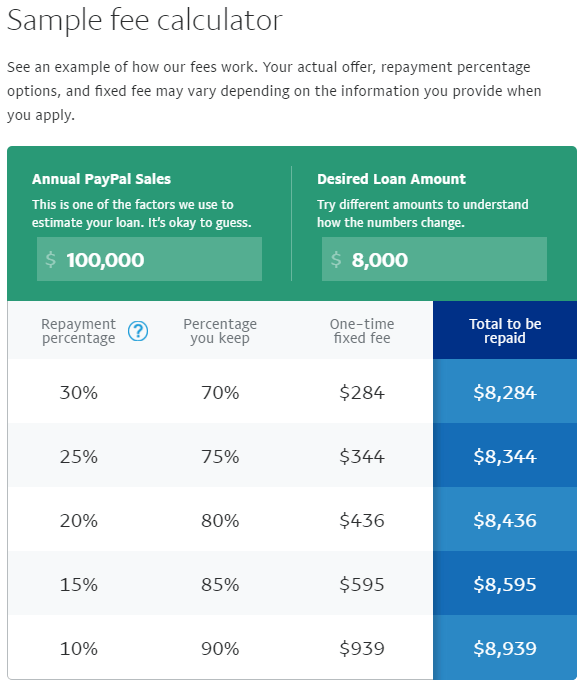 Sample fee calculator from PPWC
When applying for a loan, you can choose a repayment percentage of 10-30% of your daily PayPal sales. If you're a new business and you need funds to grow your company, you should go for a 10% repayment rate. The only stipulation is that you need to pay back 10% of the loan within 90 days.
If your company is already stable and you want to take advantage of the lower one-time fixed fee, the 30% repayment percentage is more viable for your situation.
Compare PayPal Working Capital Competitors
Not sure if PayPal Working Capital is the right fit for you? Read our short-term loan comparison guide or check out one of these three PayPal Working Capital competitors.