Payroll funding represents financing for your payroll expenses when you can't make payments with available cash. It's needed to fund an upcoming busy season when you grow too fast or if you have slow-paying customers. Funding speed is the most important aspect of choosing the right payroll financing option to meet your needs.
If you need to make payroll quickly, you need a lender that can make loan decisions fast. OnDeck, which sponsored this article, can make a credit decision in minutes and have you funded in as little as one day. If you have $100,000 in annual business revenue, a 600 or higher credit score, and you've been in business for at least one year, you may pre-qualify to borrow up to $500,000.
What Payroll Funding Is
Payroll funding is short-term financing used for working capital to cover employee wages. This funding is typically a short-term loan or a business line of credit, and the repayment terms are typically a year or less. Small businesses rely on payroll funding to address gaps, seasonality, and fuel growth.
Find the Right Financing Solution for You
Who Payroll Funding Is Right For
Payroll funding is a working capital solution that businesses use to cover employee compensation, which averages almost $35 per hour according to a Bureau of Labor Statistics study. Businesses that encountered a set back in sales may need a temporary payroll solution. Growing businesses may need to get ahead of demand by hiring seasonal or permanent staff quickly for new locations and peak seasons.
Businesses that can benefit from payroll funding include:
Small businesses that have a temporary cash-flow shortage: When a major repair or inventory spoilage occurs, your business may need financing to cover payroll.
Businesses needing funding for seasonal staff: Whether you have an ice cream shop or get a large uptick in business, a line of credit can cover seasonal staff.
Growing businesses whose staffing needs outpace revenue growth: As your business grows, hiring staff may outpace revenue and a loan can help overcome the gap.
Businesses opening new locations needing additional staff: Opening a new location is an exciting step but rarely pays for itself right away. Getting financing can set your new location up for long-term success.
Businesses sometimes also fund payroll by factoring their invoices, which allows them to access money that clients owe them. This is common in the staffing industry, where payroll factoring helps to cover the costs of temporary employees to fuel ongoing growth. However, in this article, we focused on short-term loans and lines of credit for funding because these solutions are more common and accessible to small businesses.
Payroll Funding Options for Small Businesses
There are no specific loans classified as payroll financing. Instead, payroll funding comes in the form of either short-term loans or lines of credit offered by alternative lenders that can fund within a few days. Long-term loans, like SBA loans, won't work for payroll financing because they take 30 to 90 days or longer to fund.
The two typical payroll funding options are:
1. Small Business Lines of Credit
A business line of credit (LOC) gives you a maximum credit line that you can draw against as many times as you want until you hit your limit. For example, if your maximum borrowing limit was $10,000, then you could borrow $3,000, $5,000, and $2,000 at different periods of time. You can make additional draws as long as you repay the amount you use.
Terms for a business line of credit vary by lender. It's common to see rates from 20% to 40% and repayment terms from a few months up to five years. Keep in mind that some lenders treat each draw like its own loan with fixed monthly payments, which could cost you more money during repayment.
A business line of credit for payroll financing will probably come from an online lender that can finance your payroll needs as fast as one to three days. This is faster than a traditional bank that offers to fund in a few weeks. A line of credit is a great option if you need recurring payroll funding but want to avoid reapplying every time.
2. Short-Term Business Loans
A short-term business loan is a lump sum loan you repay within one to three years. The average APR ranges from 30 to 50% and loan payments are made weekly or monthly. You can get financing with a short-term loan in as quick as one day.
Short-term business loans are easier to qualify for and can fund faster than a line of credit. You can also borrow more money immediately than you could with a line of credit. That makes a short-term loan ideal for a small business needing to make payroll within a week, or if you don't have an ongoing payroll problem that you'll repeatedly need financing for.
For example, a business owner who has a cash flow shortage at the same time every month will find a line of credit a better fit because there is no need to reapply every time you need funding. However, a business owner needing to bring on seasonal employees to prepare for their busy season will find the larger, onetime sum of a short-term loan the better choice.
To get a more in-depth overview of whether a term loan or line of credit is right for your business, join our free webinar. Our experts will help you choose the right financing option for your business.
OnDeck Short-Term Loan vs Business Line of Credit
| | Line of Credit | Short-Term Loan |
| --- | --- | --- |
| Time For Approval | Same day | Same day |
| Time to Receive Funds | One to three days | One to three days |
| Loan Amounts | Up to $100,000 | $5,000 to $500,000 |
| Payback Time Period | Six or 12 months | Three to 36 months |
| Expected APR Range | 13.99% to 40.00% | 9.99% to 50% |
| Credit Score | At least 600 | At least 600 |
| Annual Gross Revenue | At least $100,000 | At least $100,000 |
| Time in Business | At least one year | At least one year |
| | | |
How to Choose Between Term Loans and Lines of Credit
Term loans and lines of credit are the most used forms of financing by small businesses. Many small businesses that have major projects and unexpected expenses prefer to receive a lump sum with a term loan. Some businesses benefit from a line of credit, especially if their funding needs are seasonal and tend to occur frequently.
The questions business owners ask when selecting a payroll financing option include:
How much money do I need?
Is this need going to be recurring?
There are top online lenders like OnDeck that offer both types of financing, which gives you the chance to consider applying for both. With OnDeck, for example, you can get up to $500,000 in a lump sum payment, but you must reapply after you repay the loan if you need more funding. You could get a business line of credit instead, with a credit limit as high as $100,000 and use it repeatedly without reapplying.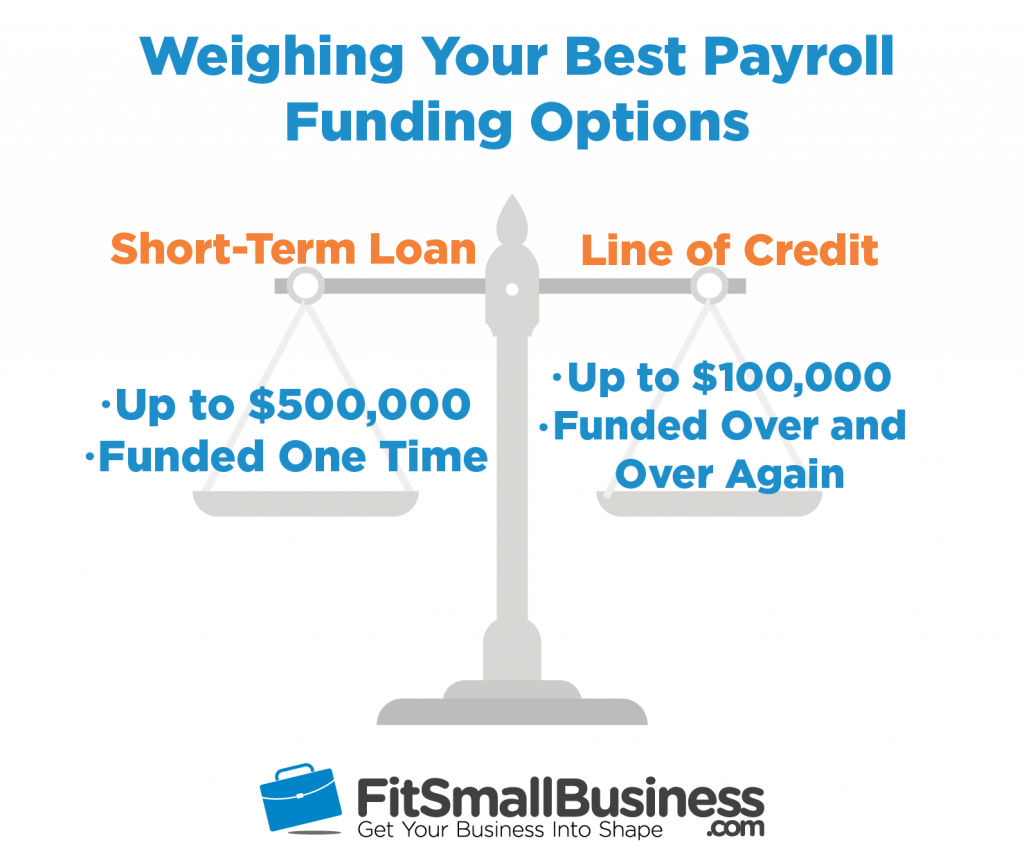 There are many traditional lenders who offer term loans and lines of credit to small businesses. However, they often have high minimum requirements, hefty application processes, and can take a long time to fund your loan. If you're facing a payroll emergency, it's easier and quicker to work with an alternative loan provider.
Alternative lenders like OnDeck offer the fastest funding speeds for payroll financing. It can fund your payroll needs within one to three days whether you're getting a business line of credit or a short-term loan. You'll meet its minimum qualifications if you have at least one year in business, $100,000 or more in annual business revenue, and a 600 or higher credit score. You can pre-qualify online in minutes.
How Payroll Funding Works
Small businesses need payroll funding because of late customer payments, an unexpected drop in sales, or a lack of planning. Businesses in these scenarios will need to plug payroll funding gaps with a loan. We refer to any form of financing used to meet this need as "payroll funding."
However, when you don't have the funds to make payroll, it's likely that you'll need financing in less than one week. This limits your options to short-term financing that often carry higher interest rates than what you're used to seeing with traditional loans from your bank.
While you'll have an APR in the 30% to 50% range with short-term financing, you will also repay your loan within one year or less. Therefore the total cost of capital is more important than the interest rate in determining what your total costs will be for payroll financing.
Total Cost of Capital
When borrowing to meet an immediate payroll shortfall, you want to make sure your total cost of capital (the amount you're paying for the borrowed money) is affordable. High interest rates aren't the only thing that can make a loan expensive. Repayment terms can also add to the cost of a loan.
Loans with higher interest rates and shorter terms often end up being more affordable in dollar-terms than longer-term loans because of how long you're making payments. That's why it's important to determine your total cost of capital before you agree to take a loan.
For example, if you repay a $50,000 loan with a 6% APR over five years, your total cost of capital will be $57,998.40. However, if you repay the same $50,000 loan with a 30% APR over six months your total cost of capital will be $54,464.99.
"If you are borrowing to meet payroll then I would borrow with the shortest term possible."

— Ty Kiisel, Editor, OnDeck
Application Process
The traditional loan process can be cumbersome, requiring a lot of documentation that takes up a lot of your time. Most payroll funding options are not that way. You'll provide basic personal and business information during the application process and you have the option of connecting your bank account or accounting software to your online loan provider. This speeds up the process and allows you to get funding in one day.
Qualification Requirements
Payroll loan qualifications include:
Credit score: At least 600
Annual revenue: At least $100,000
Time in business: At least one year
If you meet the above qualifications, you could qualify to borrow up to $500,000 with OnDeck. You can apply by filling out an online application that takes less than 10 minutes, and OnDeck can make funding available to meet your payroll expenses in as quick as one day.
4 Ways to Avoid General Payroll Issues
If you're running into a payroll shortfall consistently, you may need to do an audit of your entire payroll and hiring processes. There are many ways to identify problems in your business that revolve around payroll, which you can do without getting financing. While payroll funding will help you fill your short-term needs, this audit can improve your long-term sustainability.
Four ways to audit your payroll and increase cash flow are:
1. Run Payroll Yourself
If you're running into payroll problems regularly, finding a solution to the problem can be easier if you start by working backward. The first thing you should ask yourself is when you need the payroll funds available in your account. The answer might not be as obvious as you think.
For example, many small businesses use the services of a payroll company. While a payroll company can relieve you of a lot of administrative burdens, it can also mean you need funds available for payroll three to four days before the actual payday.
If you're not using a payroll company, you won't need the funds available until the day before payday. You won't have to worry about the payroll company's processing time, which gets you a couple of days float in your cash flow. So, depending on the size and complexity of your payroll needs you may benefit from adding administrative work to gain a little more flexibility.
2. Use Physical Checks
The primary reasons small businesses pay their employees via direct deposit are the convenience for employees and reduced administrative tasks for the small business owner. But if you're regularly facing uncertainty about being able to make payroll on time, there may be some benefits to using physical checks.
Shifting to a physical check system can create a little wiggle room for you as an employer. While you can't rely on it 100%, the time it takes for the bank to clear the check may create another day before it withdraws funding from your account.
Some employees may not deposit your check right away. Keep in mind, with the ability to deposit checks at an ATM or via their smartphone, the wiggle room created by a paper check is much less than it used to be.
3. Delay Paying Other Expenses
Being late on your payroll will create significant problems between you and your employees. Untimely payroll problems can create temporary inconveniences for employees which you can rectify, but they can also harm employee trust and satisfaction, which can be much more difficult to resolve.
Consider what other bills you might put off before missing payroll. While your vendors, suppliers, and utility providers won't be happy to receive a payment late, it's also less likely to create lasting damage to your relationship if it's not a common occurrence.
Another expense to consider is the owner's salary. If you have to send a paycheck out late, yours is the one that creates the fewest problems. Not only that, but you can also customize how you pay yourself if irregular revenue makes it challenging to meet payroll during certain times of the month or year.
4. Check Recurring Cash Flow Problems
If your small business is finding that it's having trouble not only meeting payroll but also meeting other regular expenses, it might point to a larger working capital problem.
"No small business owner wants to reign in growth, but sometimes unexpected costs of growth can exacerbate cash flow issues and make payroll problematic. As a business owner, I personally experienced the cash flow challenges associated with slow-paying customers when I had already committed to meeting other important obligations. That's why it's so important to always be aware of your current cash flow and try to anticipate those times that could be challenging."

— Ty Kiisle, Editor, OnDeck
As Ty points out, cash flow problems don't always mean your business isn't successful. But you need to address those problems if your business will grow.
Benefits and Drawbacks of Payroll Financing
Payroll financing can help your business quickly fill a payroll gap with no need to wait weeks for a traditional bank to get you funding. You can also use the funding repeatedly if you get a line of credit and leverage it to fuel growth if your business is experiencing increased demand. However, it can be an expensive financing option and doesn't resolve any underlying issues that can cause payroll funding.
Benefits of Payroll Financing
The benefits of using payroll financing include:
Ability to meet payroll needs quickly: Payroll shortfalls typically occur with little warning. Getting access to financing in a few days rather than a few weeks can keep your business operational and ensure that you can keep employees.
Opportunity to access funds repeatedly: Some payroll shortages occur on a recurring basis, whether you are financing the payroll of new employees, or growing your workforce seasonally. Getting a line of credit you can draw upon every time you need to fund payroll is much more convenient than other financing options.
Ability to fuel growth: If your business is growing and requires more employees, you may be in a position where revenues temporarily fall below payroll expenses. Getting payroll financing in this situation can allow you to continue to fuel the growth of your company, rather than slowing down and missing opportunities.
Drawbacks of Payroll Financing
The drawbacks of using payroll financing include:
Potentially high overall cost: The higher APR of short-term payroll financing options can be difficult for some businesses to afford. Although you are likely to pay less in dollar terms for the funding overall, financing your payroll might compound an already weakened cash flow position.
Possibly not addressing an underlying payroll issue: Although many payroll issues occur without a major underlying problem, some payroll issues have larger underlying causes. Financing can temporarily relieve the issue and give you a better vantage point, but failing to address the underlying cause all but ensures future payroll problems.
4 Common Payroll Problems Solved Without Payroll Funding
Whether you meet your payroll financing needs with a short-term small business loan or with a small business line of credit, borrowing to meet payroll should not become a regular occurrence. Payroll funding can solve many problems, but the need for it can be mitigated by planning.
"There are a lot of moving parts to run a successful small business. Questioning an otherwise healthy business' profitability because they occasionally struggle to make payroll is an oversimplification. It's not uncommon for seasonal cash flow issues to throw a wrench in the works or for other unexpected cash flow issues to create a bump in the road."

— Ty Kiisel, Editor, OnDeck
Four common payroll problems you can solve before getting payroll funding include:
1. Hiring Need Outpaces Revenue Growth
When your business does well, you can feel pressure to maintain growth by hiring more staff. Often, a business owner will put the cart before the horse and expand their payroll or other expenses quicker than their revenue can keep up. Even if you're expecting increases in revenue that justify the new positions, your revenue may take a while to materialize.
If you're wanting to increase your headcount faster than you earn revenue, you need to have the cash available to float the increased payroll expenses. If you do not have the cash savings to cover the increase in payroll, you'll want to either hold off on hiring more employees or make sure you have financing available to you. Otherwise, your business risks growing in a detrimental and unsustainable way.
2. Hiring Seasonal or Temporary Workers
If you do most of your business during a particular season, your payroll expenses likely increase during that time to keep up with demand. This is common for landscapers, restaurants in resort towns, retailers, and businesses in college and university communities. Businesses with seasonality are cyclical and predictable.
Since you must hire seasonal employees before the busy season starts, prepare in advance by having funds available. You'll either need to set money aside from the last season to afford the increases in payroll expenses or you must get an affordable financing option for your business.
3. Overstaffing
Small business owners have many jobs to juggle at once. It can leave you with little time to think about operations and processes. Business owners can fall into the bad habit of throwing another body at problems or tasks as they arise. If business slows, this can create a huge payroll funding problem.
"It can seem easier to increase your headcount than to solve an underlying problem. Hiring a new employee should be the last case scenario for every small business. Before taking on another team member explore other options such as reorganizing shifts, outsourcing contractors, repurposing current staff, or find ways to automate mundane tasks."

— Bryan Clayton, CEO, GreenPal
Payroll funding can help if you have a need for employees but can't afford them all the time. It can help you overcome the bumps of paying their salaries when your business is slower to keep them for the busy periods. However, another solution is not hiring these employees and getting by with fewer workers during your busy time.
4. Miscalculating Payroll Taxes
If you make a mistake calculating your payroll taxes, the IRS will send you notice that you owe it money. This notice will come after you have spent the money that you need for these taxes. There are ways to limit a large IRS bill and the impact it could have on your ability to make payroll.
"There are a number of ways a business can work with the IRS to settle outstanding payroll tax liabilities.

Wu went on to say that payroll tax liabilities "range from installment agreements to offers in compromise to currently not collectible. Installment agreements allow taxpayers to enter into a payment plan to settle outstanding payroll taxes. These are typically done in equal monthly installments. With an offer in compromise the taxpayer can ask the IRS to settle payroll taxes for less than the full amount."

— T. Joshua Wu, Partner, Greaves Wu
While payroll funding or working with the IRS can help with this problem, the better scenario is to eliminate potential risk by having your payroll teamwork with your accounting team to verify all payroll payments. Too many accounting teams pay the tax numbers that the payroll processors quote them instead of auditing payroll to make sure calculations are correct.
Payroll Funding for Staffing Agencies
Payroll funding is also a term used frequently in the staffing industry when describing the need to finance payroll for temporary workers. Agencies carry the expenses of placing workers for two to four weeks before they get paid. Staffing factoring, or payroll factoring helps these staffing agencies convert unpaid invoices into immediate working capital.
Bottom Line
The best solution to solving your payroll problems is to get a short-term loan or line of credit from an alternative lender. A short-term loan is best if you view your payroll shortage as a onetime thing. If you have consistent problems meeting payroll, then a line of credit is the right choice.
OnDeck offers both a short-term loan and a business line of credit. Either can help you meet your payroll demands quickly. You can qualify to borrow up to $500,000 with a short-term loan or $100,000 with a business line of credit. To apply you can fill out an online application that takes less than 10 minutes, and OnDeck can provide funding in as little as one day.