Payroll software integrations allow you to sync your payroll system with other software used to help run your business. It saves you from having to enter the same payroll information into separate programs and allows your employees to do some of the work for you.
Payroll software commonly integrates with HR, time and expense tracking, and bookkeeping software. These integrations, which usually take just a few minutes to set up, create seamless workflows and automate many of the processes it takes to pay employees on time. You can find integrations for a wide range of tasks, depending on which payroll software you use; some enable more integrations than others.
If you are still not sure which payroll provider is right for you, you can learn more in our how to choose a payroll software article. Be sure to consider services that offer a wide range of software integration capabilities to make the most of your payroll software integrations.
How Payroll Software Integrations Work
As a small business owner, finding strong business management tools can help you to complete tasks faster and more efficiently. Many third-party tools that help you manage your employees, expenses, accounting, and more are able to directly integrate with your payroll software.
The process of setting up payroll software integrations is usually pretty simple and just requires a few clicks to start. For example, our top payroll software for small business, Gusto, has an app directory on its dashboard that allows business owners to browse their different payroll software integrations and easily log in to third-party apps and tools to get those integrations set up in a matter of minutes.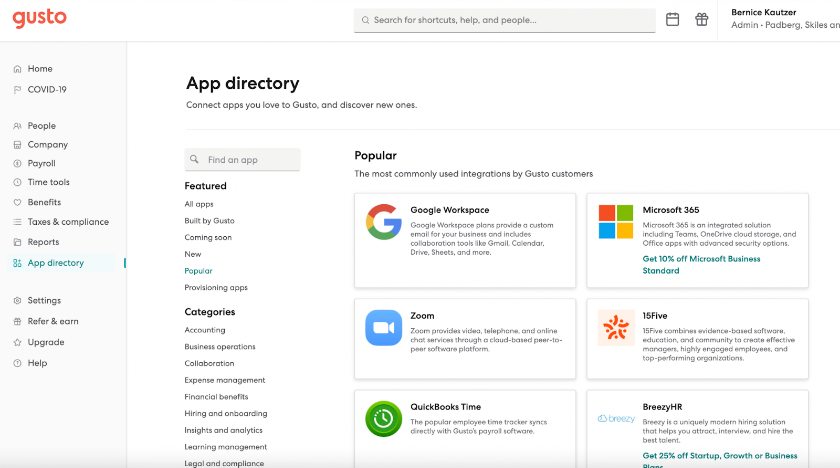 ---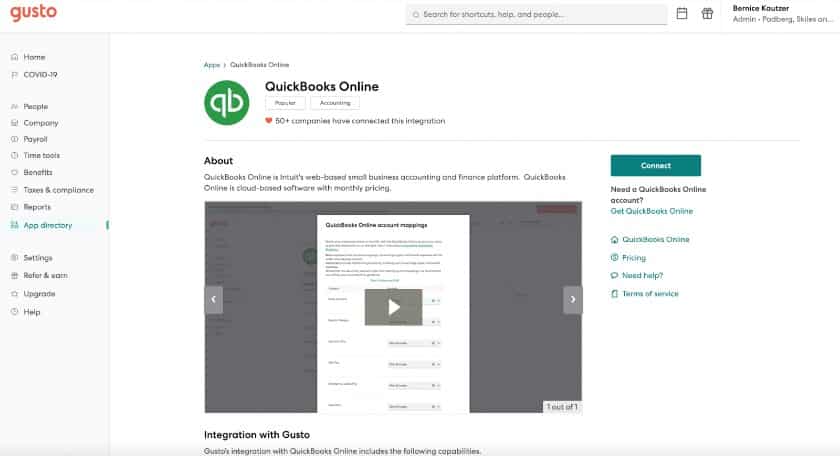 ---
There are many reasons why utilizing payroll software integrations can be a great tool for your small business. Some of those include:
Provides flexibility: With integrations (as opposed to an all-in-one system), you can select the software that suits your needs and budget. You may even find freeware or free plans that do what you want and work with your payroll software.
Saves time and money: With integrated software, your team is freed from making manual inputs or preparing spreadsheets for bulk upload. This can save valuable hours each pay run. A third-party app can often be more cost-effective than a more advanced payroll plan.
Prevents errors: With information moving seamlessly between programs, there's no chance of a mistyped data entry. However, anything entered wrong travels to all the integrated programs, so you'll want to correct it and check all the programs.
Most Common Software That Integrates With Payroll
Payroll software can integrate with a host of different software, from onboarding and learning management to compliance and tax preparation. Click the tabs below for information on some of the most common integration categories.
Tips for Seamless Integration
If you're new to using software to help manage your business, putting payroll software integrations into use can be a little intimidating. Here are a few tips to help you along the way, making it a smooth and simple process:
Check with your provider first: Know what integrations your payroll provider already has built out and ready for you to use. If there's something missing on that list, check with your contact to see if a future integration is possible.
Clean your data: This is a great time to fix spelling errors, data that violates business rules, bugs, missing data, etc. Also, check formatting between programs, especially for dates, time, names, and any other information that can be displayed in many ways.
Keep it user-friendly: If adding a software causes more work than manually putting in the information or using spreadsheets, reconsider.
Customize: Choose software with customizations that let your HR and payroll teams decide what options work for their office, department, or individual employees. For example, salaried workers may need different function integrations than contractors.
Test: Before going live, do test runs with your most common scenarios.
Bottom Line
If you are growing beyond the capabilities of your current system or have payroll software that doesn't meet all your needs, you may not have to change it.
Payroll integrations cover everything from time tracking to HR support. With integrations, you can select the app that best suits your needs and budget. However, when integrating payroll software with other applications, be sure the data is clean, the connections work, and a test run succeeds before launching.
Although having payroll software makes paying your employees the right way much easier, you still need to know the basics. Check out our tips on how to get the best payroll training to help.