The terms payroll tax vs income tax are sometimes erroneously used interchangeably. The payroll tax consists of the employee- and employer-paid Social Security and Medicare taxes; they're used to fund your employees' needs during retirement. Income tax is money employees may owe to a federal, state, or local agency based on their total earnings, dependents, and location.
QuickBooks Payroll makes processing payroll taxes easy. The fixed rates are already within the system, so the funds are automatically withheld from employee paychecks during each pay run; in addition, it withdraws the matching Social Security and Medicare tax amounts from the business' bank account. All employers have to do is ensure they have sufficient funds to cover the expenses, and the rest is handled, even tax reporting to the IRS.
The Difference Between Employer, Payroll, and Income Taxes
In addition to payroll and income taxes, you may have heard the term "employment taxes." The IRS uses it to refer to both payroll, income, and unemployment taxes. It can be confusing because some websites mesh unemployment taxes with Social Security and Medicare (FICA) as payroll taxes. However, the IRS' tax tutorial clearly states that payroll taxes only include FICA. The good news is that good payroll software, like QuickBooks Payroll, will withhold and pay all of these taxes at no extra cost.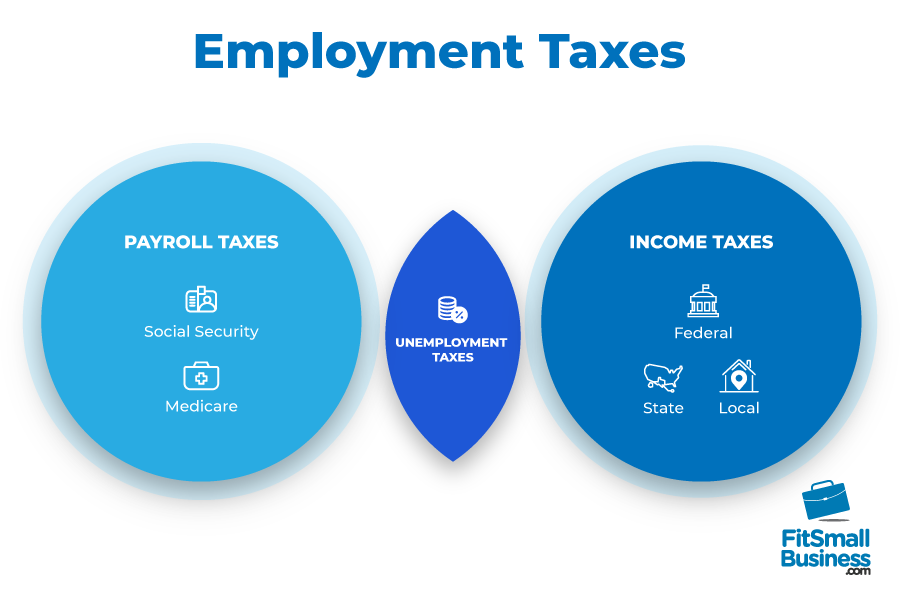 As the employer, you're responsible for withholding payroll and income taxes from employee paychecks if you want to comply with payroll laws. You're also expected to remit the money to the IRS and other applicable agencies.
To calculate the payroll taxes you'll need to withhold and pay, you'll use flat rate sets by the IRS (6.2% for Social Security and 1.45% for Medicare). Income tax rates vary, so you'll need your employees' W-4 forms to determine how much you should withhold; you'll take note of their total dependents, filing status (single vs married), and paycheck amount and use it to reference IRS Publication-15T that lists federal withholding amounts. You'll also need to verify if any income tax payments should be sent to state or local tax agencies.
What's the Difference Between Payroll Tax vs Income Tax?
There are several differences between payroll taxes and income taxes. They consist of different types of taxes and are paid at different rates. In addition, the money is used for different purposes. Regardless, QuickBooks Payroll helps employers manage both; QuickBooks Payroll Elite even offers Tax Penalty Protection, which ensures you won't be penalized for paying the wrong amount or making late payments, even if you're at fault.
Payroll Tax vs Income Tax

| How They Differ | Payroll Taxes | Income Taxes |
| --- | --- | --- |
| Taxes Included | Social Security, Medicare | Federal, State & Local |
| Tax Rates | 6.2% and 1.45%, respectively | Varies by employee: 0% to 37% |
| Who's Being Paid | Federal Government (IRS) | Potentially federal (IRS), state, and local tax agencies |
| Funds | Healthcare and income supplement during retirement | Public services like transportation, community development, defense |
Complying With Payroll Tax Laws
When you begin to process payroll, you're responsible for collecting all payroll taxes—FICA taxes—due. Remember, this is 7.65% of each employee's taxable income. In addition, you have to pay a matching amount from your business bank account.
If any employee's income exceeds $137,700, neither you or they will owe Social Security taxes on earnings above that amount. If their income exceeds the applicable threshold amount in the table below, you'll have to withhold an extra 0.9% on their total taxable earnings that exceed the maximum; it's an additional Medicare tax imposed by the IRS. The good news is that your business won't be responsible for matching the payment.
Additional Medicare Tax

| Filing Status | Threshold Amount |
| --- | --- |
| Married Filing Jointly | $250,000 |
| Married Filing Separate | $125,000 |
| Single | $200,000 |
| Head of Household | $200,000 |
| Qualifying Widow | $200,000 |
Although unemployment tax isn't officially recognized as a payroll tax per the IRS, you're still responsible for paying it. It's a
tax that's paid by employers
, and rates differ depending on previous claims filed against your business and how long you've been operating.
Income Taxes Explained
Income taxes are used to fund more general expenses such as the national defense system and city infrastructure. Depending on where your business and employees are located, you may have to withhold income taxes from employee paychecks at the federal, state, and/or local levels. The tax rates aren't fixed like payroll tax rates and vary by employee. The lower an employee's income and more dependents they have, the fewer federal income taxes they will owe. Marital status also plays a role.
Whether or not you need to withhold state or local taxes depends entirely on where the employee resides (and sometimes where your business is located). States like Florida and Texas don't have an income tax. And some areas in states like New York and Arkansas are subject to county or other local taxes. In cases where you have to withhold multiple types of income tax, be sure to research exactly where you need to send each payment. Different states have different rules.
QuickBooks Payroll automatically withholds federal and state income taxes from employee paychecks. Once you set up the employee's profile with their address, the software automatically populates taxes applicable to that area. It also allows you to set up any local taxes that the employee is responsible for paying.
Frequently Asked Questions (FAQs) About Payroll Tax vs Income Tax
We realize that you may have additional questions about payroll and income taxes after reading this article, so we've answered a few of the most commonly asked questions below. If you have additional questions or comments, please feel free to leave a response in the comment section at the bottom of this page.
Are unemployment taxes considered payroll taxes?
Although unemployment taxes are based on payroll, they're not traditionally considered when the IRS discusses the "payroll tax." However, the IRS does label all payroll-related taxes as "employment taxes," and the unemployment tax fits under this umbrella. Be aware though that other websites may refer to this differently; some do group unemployment taxes with Social Security and Medicare and call them payroll taxes.
Can you lower employment taxes?
You can lower some employment taxes like those for unemployment. After your business has operated for a period of time with little to no claims by previous employees, the tax rate decreases. Also, if you pay state unemployment taxes, you may be eligible for credits against your federal unemployment tax bill.
Social Security and Medicare tax rates are fixed; the only way to lower those is by encouraging your employees to take advantage of pre-tax benefits like health insurance, some retirement accounts, and so on. This will reduce their taxable income, which will lower your payroll tax bill. As for your employees' income taxes, your business isn't responsible for paying any of those; you just have to withhold and remit them.
When do employers have to pay payroll and income taxes?
Employers must pay payroll and employee income taxes on either a monthly or biweekly basis. Unemployment taxes should be paid by the end of the first month following the end of each quarter.
Bottom Line
When you're not a tax expert, it's easy to confuse payroll and income taxes. Just remember that payroll taxes consist of the flat rate FICA taxes that both employees and businesses pay to the federal government. You withhold income taxes from employee paychecks—not from your business bank account—to be paid to federal, state, and possibly even local tax agencies.
If you want to avoid having to pay penalties for not paying income or payroll taxes correctly and on time, consider using QuickBooks Payroll. It performs all of the calculations for you and withholds the funds automatically during every pay run. It also remits the money to the IRS (or other corresponding tax agency) and files the required tax reports.