Hiring a personal trainer is a common way to help people learn how to live a healthier lifestyle and add structure to their fitness routine. As the demand for personal trainers grows, so too does the number of people entering the profession. Standing out from the competition starts with your personal trainer business card.
Here are 27 tips for creating stand-out personal trainer business cards with examples from around the web.
---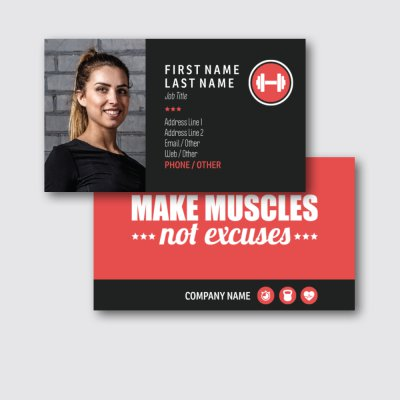 Your business should leave the right impression for your potential clients and by adding your photo, you make the idea of having a personal trainer less intimidating. Once you have the perfect photo, make sure your fitness business cards come out sharp and clear by having them professionally printed with Vistaprint. Vistaprint is the business card provider of choice for small businesses, with its affordable price and great turnaround time. And if you still haven't finalized your business cards design, you can easily choose from their over 10,000 templates or get help from one of their professional designers.
---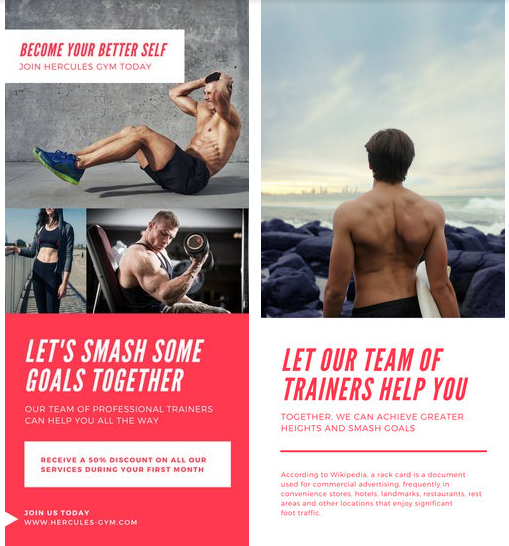 You can make use of extra-long business card sizes that work best when you need to share a specific message. The above example gives two different options to show at the back of the card. Notice how even with the long text, it still manages to keep the business card clean and organized so it's easy to read.
---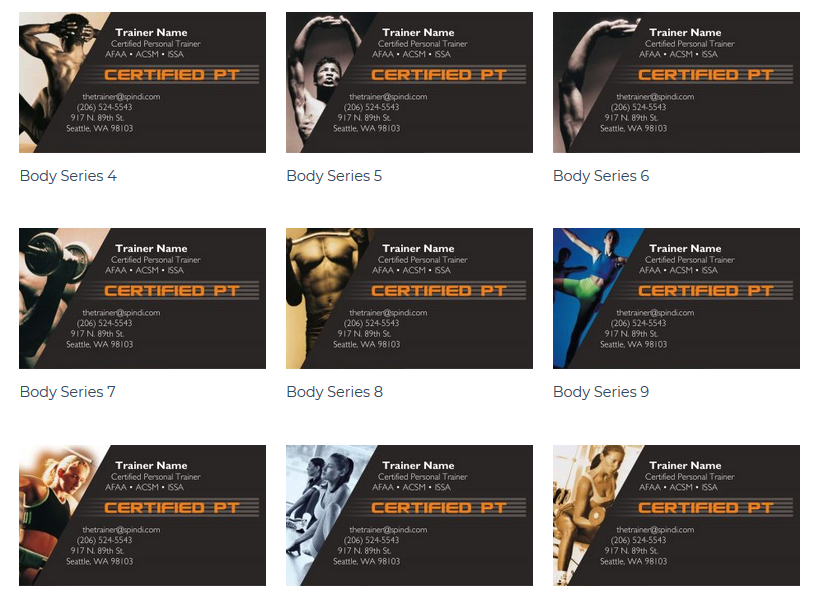 It's normal to include one or two images for your business card design but in this example, the art is in deciding how much space it occupies. Using a unique approach to framing images immediately helps to make this business card stand out and also gives you more space for your messaging.
---
4. Visualize Goals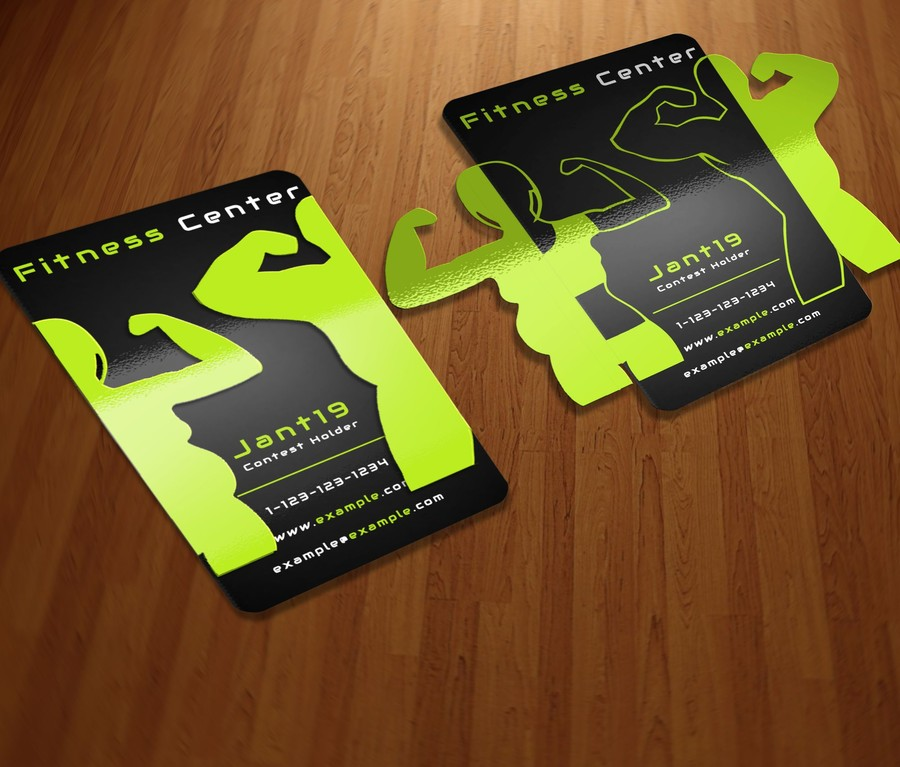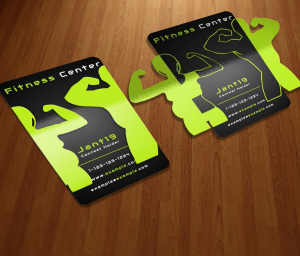 Using unique images can also help deliver your brand message faster than text in your marketing materials. Notice how this example applied the use of die-cut, foldable flaps on the side to create an interesting image. The bright colors stand out against the black business card, also grabbing the attention of the crowd.
---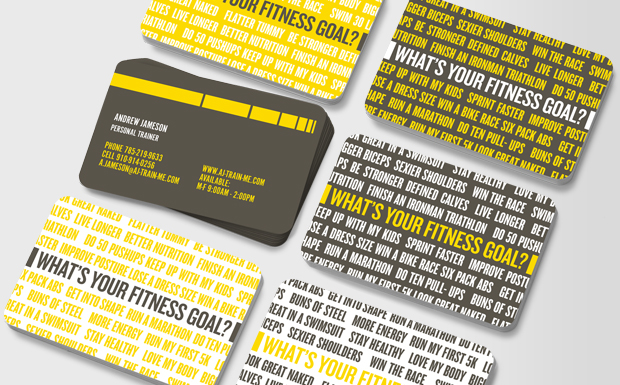 One way to get your potential client's attention is to use eye-catching titles. Asking a question like "What is your fitness goal?" should easily appeal to your target market. You'll also want to find different styles and colors to help it stand out, but working on a budget can sometimes limit your options. Moo offers a money-back guarantee service with their Printfinity program. Print a different design, double-sided, in full color on every business card, or fix a typo or request a design change at no extra cost. You can also choose from their wide variety of designs or upload your own and customize using their online design tool. Sign up with Moo today and get started with your business card design for as low as $19.99.
---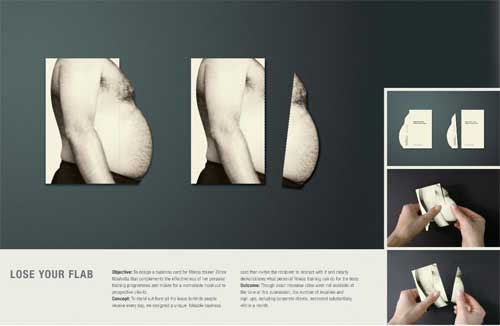 Being able to engage your audience improves the chances of becoming memorable. In this example, a perforated portion of the business card is used to illustrate the brand promise "lose our flab." This can be paired with a special offer to new clients that can be written in the detachable portion. The overall interaction makes for a unique experience to immediately deliver your message in a most memorable way.
---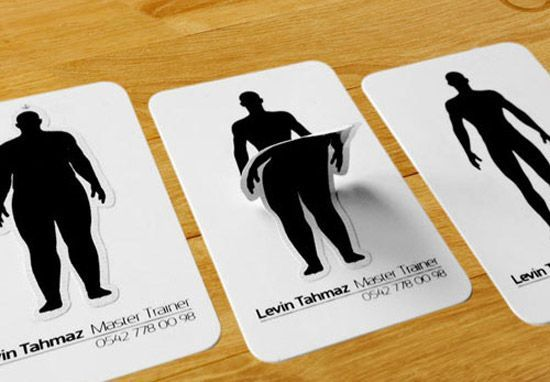 Another strategy is to use stickers as a unique element in your business card design. This example encourages the audience to peel away the top layer to reveal a potential client's goal of achieving a fit and healthy body. It gives a visual idea of your brand message that becomes memorable because of the interactive nature of the business card.
---
8. Use a Font Hierarchy with Keywords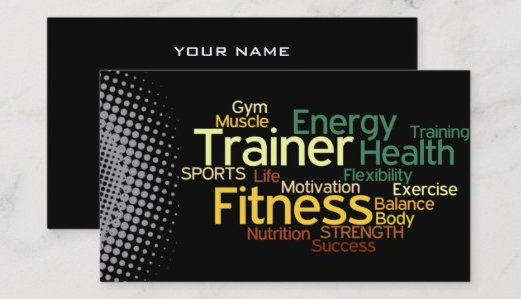 As a personal trainer, you want your business card to be as effective as possible when potential clients want to search for you online. This is the idea that inspired this example. The use of keywords on the front of the business card will surely jump out to anyone looking to hire a personal trainer. It also makes use of font color and sizes to help emphasize one keyword over another.
---
9. Add Texture to Your Design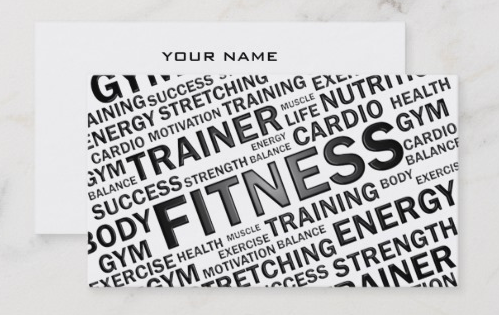 As in the previous example, this one takes advantage of the use of keywords. However, if you decide on staying with your brand color, you can always add texture to ensure that your business card stands out. Since business cards are meant to be held, a unique texture to accent key messaging helps to become a memorable brand.
---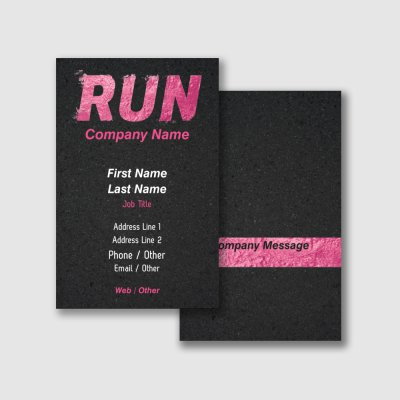 Compelling titles are short and straight to the point. They're written in large, bold fonts to make it easy to catch the eye of the audience. It can be anything like your name or even a keyword that clearly explains your brand. In this example, the title gives an idea of what potential clients can expect from the trainer.
---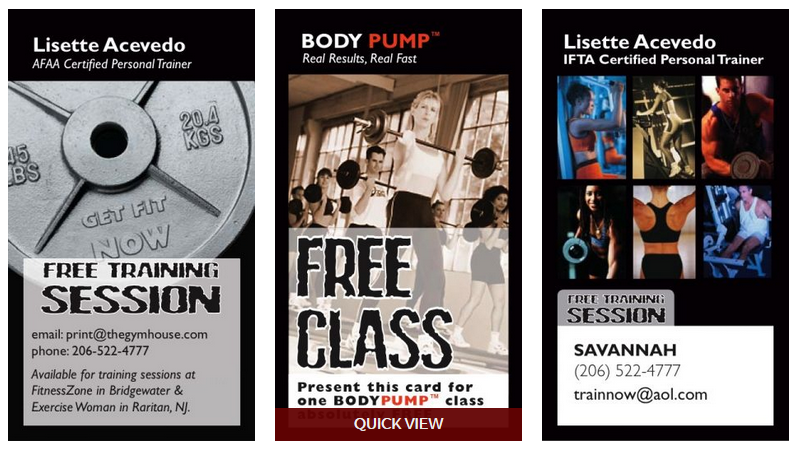 This example shows how adding offers like free session passes can make sure potential clients hang on to your card. Adding value is a sure-fire way of becoming memorable, but the quality of your offer will also help you stand out. Make sure that your name and preferred contact details are large and readable.
---
12. Keep Your Layout Clean and Simple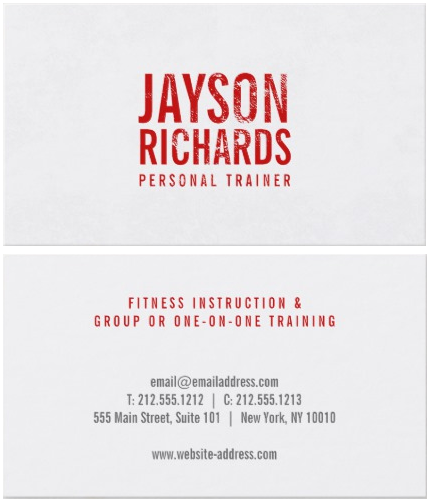 Make sure your business card looks clean and free from clutter. This is important if you want to send a clear message to potential clients. This example shows how a business card can be effective without having images or lengthy messaging by making sure the layout is clean and choosing typography that matches the brand.
---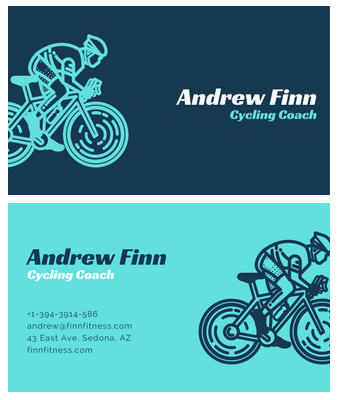 It's important to have a very particular design to match a very specific service. This example shows how to focus your business card's overall look from the images, colors, and choice of fonts. Research on the psychology of fonts and colors that support the message you want for your brand.
---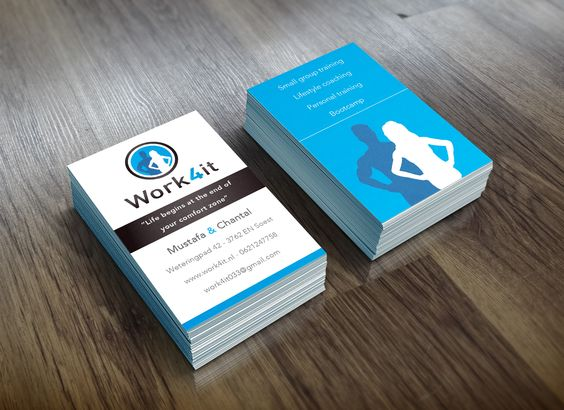 As briefly mentioned in the previous example, colors are powerful when it comes to messaging. The idea is to know the psychology behind the use of colors and how each one influences the mood and emotion of your audience. Blue is used in this example, symbolizing goals, determination, and control.
---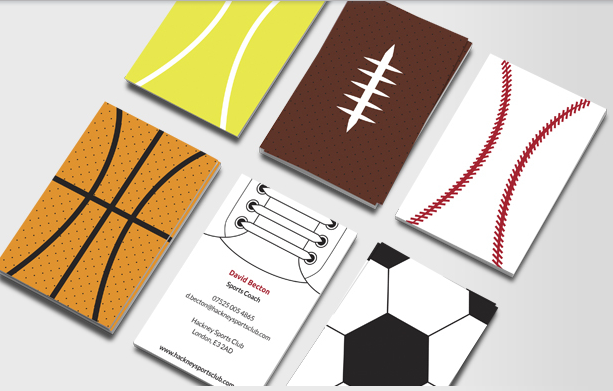 If you decide on using illustrations, remember to be creative. Don't just settle for the usual symbols for personal trainers. Do you specialize in a specific sport? Focus on your specialization and create illustrations that call out to your audience. Oversized drawings can create a design that's both interesting and unique to help you stand out.
---
16. Add Elements of Your Logo to the Design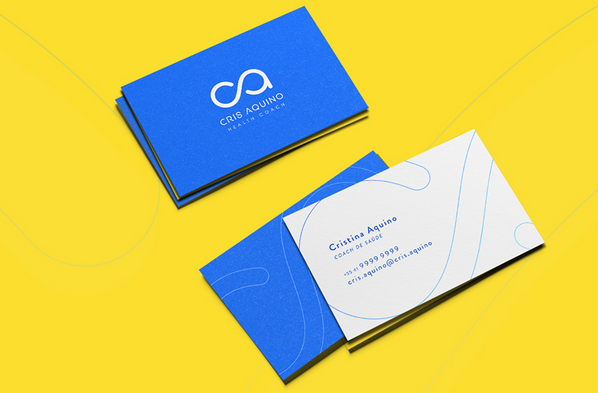 Business cards are meant to emphasize your branding and should be consistent with your other marketing materials. Use elements of your logo on your business card to help develop a memorable brand. Notice how the example made use of the logo shape as a design for the business card both on the front and back side.
---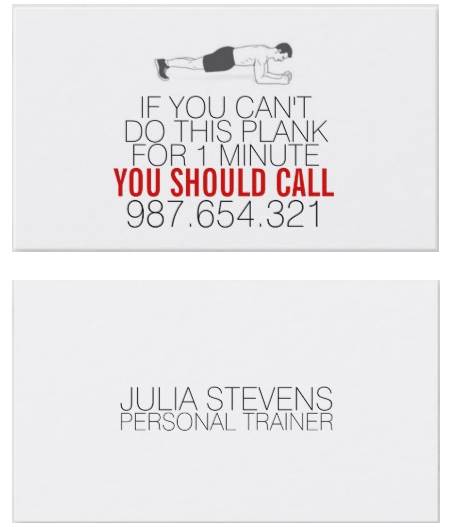 A good copy can spark anyone's interest. In this example, notice how the call to action is made to stand out in bold red font designed to initially catch the eye. Once it gets attention, the audience will get to read the header that completes the message.
---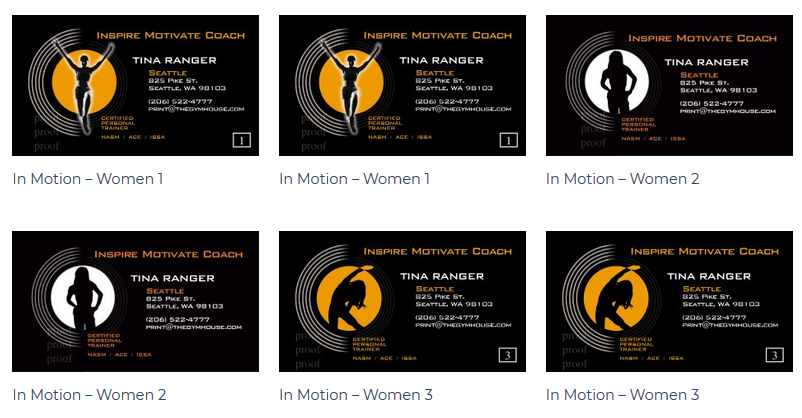 It helps to design your business card accordingly if you offer your services to a specific demographic. The image, copy and even choice of colors should match in order to appeal to the right market. For example, if you offer personal training to women, focus on a feminine image, colors that set the right tone, and a message that answers the most common concerns about personal training that women have.
---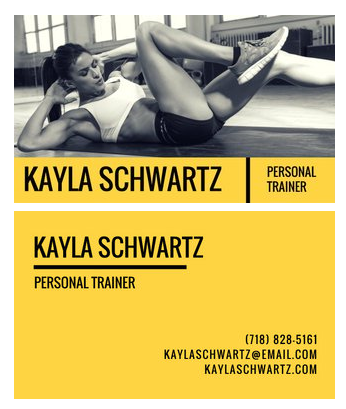 Sometimes, it takes more than adding your photo to convince potential clients to contact you. So when adding your own image, consider using one that shows what you can do. This means finding the right photo that speaks to your target market and making sure it's high quality. If you offer CrossFit training, then add an image that shows you performing one exercise your potential clients will experience if they hire you.
---
If you have the budget, consider using other printable material, such as recycled paper, plastic or even steel. Make sure you add value by giving your business card a purpose that anyone will find useful. It can double as a ruler, stencil, bookmark or anything that can make you stay top of mind of potential clients.
---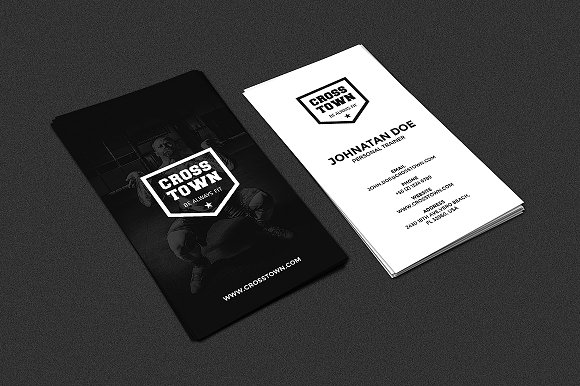 Do you have a well-designed, eye-catching logo? Then consider making it the focus of your business card design. The most effective logos are memorable and can clearly relay a brand's message, so having it prominently displayed on your business card is an advantage. In this example, the logo serves as the anchor at the front and back, with the image and text to support it.
---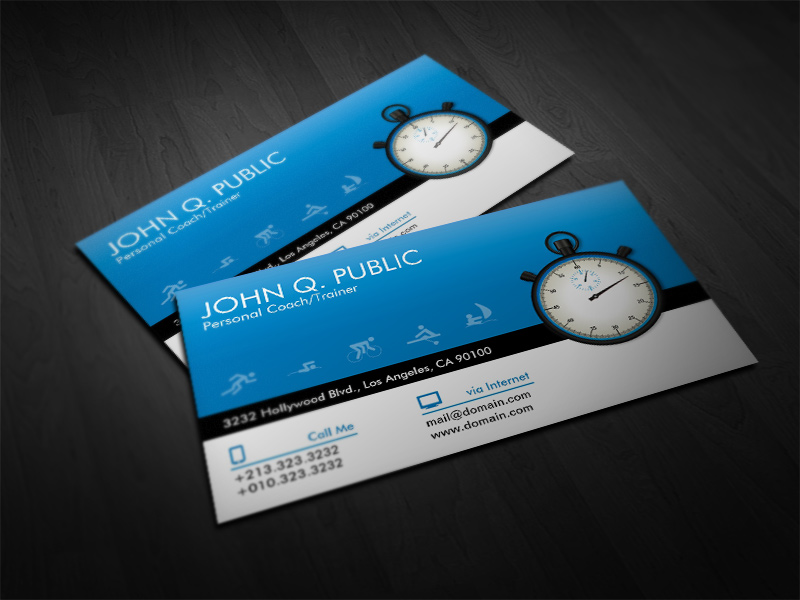 If you don't have your own logo, using iconic symbols can also help create an effective business card. Personal trainers can choose from a variety of symbols, or combine two or more to send the right message. You can also add a catchy tagline to complete the look.
---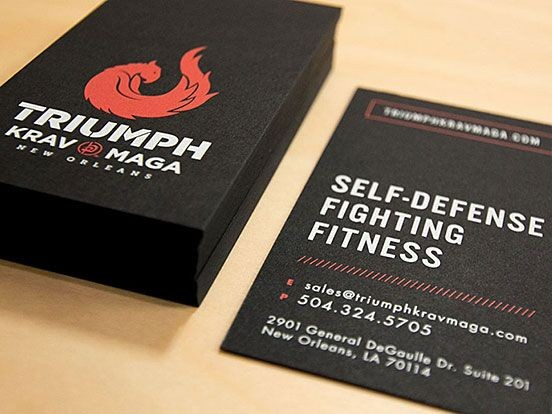 We talked about colors a few times in the article but this example uses a different approach. Instead of a dominant brand color, this one makes use of it as an accent. The logo is also given a prominent spot in the business card layout.
---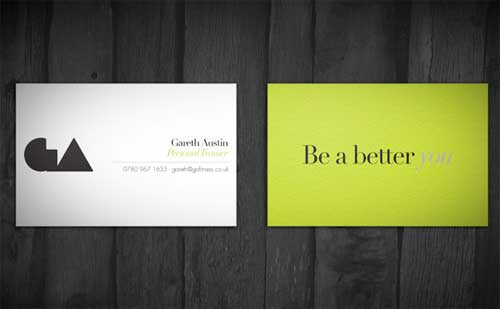 A business becomes more memorable with a catchy tagline and can work wonders for business cards. You can use it as a header or a caption right under your brand logo. If you have not come up with your tagline yet, think of a short phrase that gives potential clients an idea of what to expect if they hire you.
---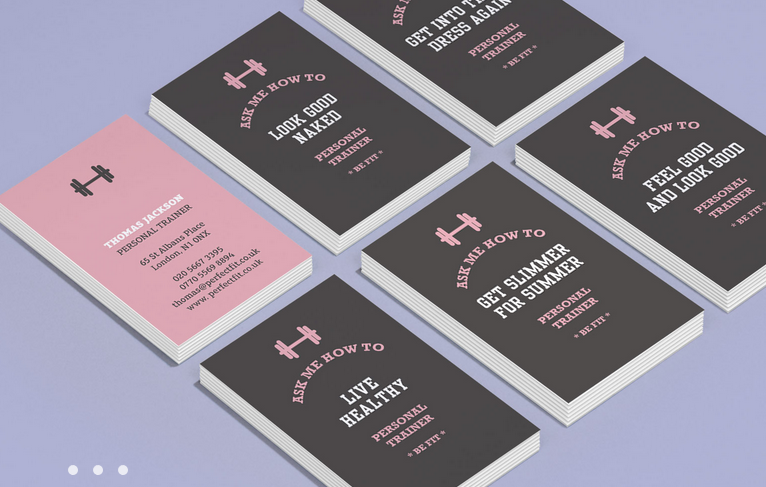 Another way to come up with effective captions is to create affirmations. These are specific goals you expect potential clients have for themselves when they look to hire personal trainers. One more alternative is to include a call to action for potential clients to write down their goal weight and urge them to give you a call.
---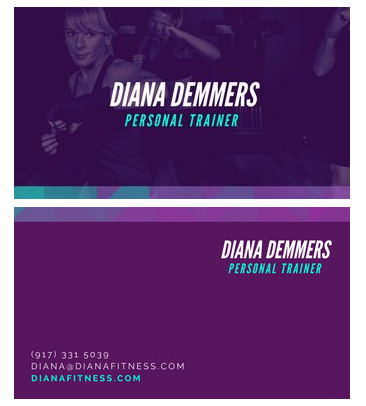 If you have a name that's memorable and reflects your personality, you might want to consider making it the focus of your business card. Add other elements while making sure it doesn't take the focus away from your name. Use an image blended into the background with one sharp color that speaks of your brand.
---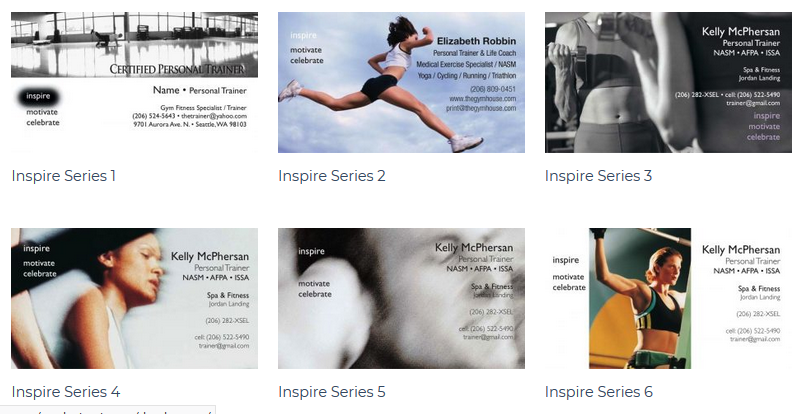 Last but not the least, make use of inspiration to design your business card. This can be through image or text that tells your audience you have their best interest in mind. This will encourage even the most hesitant of potential clients to become more relaxed and ready to give you a call.
---
Over to You
Personal trainers need to be able to represent themselves well with the right business card design if they want to become memorable to potential clients. Follow our design tips for business cards to make sure you're always ahead of your competition.
Got more tips for unique personal trainer business cards? Let us know in the comments.