Phone.com offers small businesses flexible VoIP phone plans that are can be scaled from a single phone line with basic functions to a more advanced system with multiple users. It features an auto attendant, international dialing, call screening, call queuing, voicemail to email, fax to email, and more. We compiled reviews from our own website and from around the web and determined that Phone.com has a mix of positive and negative ratings. We also cover the pricing options available. Phone.com also offers a 30-day money back guarantee.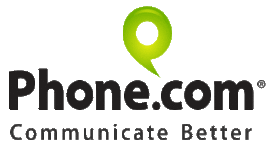 Summary of Phone.com User Reviews
What Phone.com does well:
Users who gave Phone.com positive feedback liked that the service is quite affordable. People also love that the plans are flexible, enabling them to add features as needed.
What Phone.com does not do well:
Users who gave Phone.com negative feedback complained about the quality of customer support. Some customers reported long wait times, unknowledgeable support staff, and delayed responses.
Which VoIP Provider is Right for you?
Most Helpful Positive User Review
"Phone.com was the perfect fit for my small business. I can afford it, plus it will scale with my business as it grows. It allowed me to do both simple and complex call routing, hold music, record multiple messages, schedule certain call routing behaviors for certain days including holidays, includes a soft phone app for my smartphone so I can send and receive calls from the same phone I use for personal things (and my caller ID will show my business number when I use Phone.com so my personal number remains private!), there's a conference bridge for up to hundreds of people that I haven't gotten to try yet, text messaging with my business number, a video conferencing add-on, and a plethora of other features that I can't even remember because it's more than I need right now. I also wanted to know when a business call coming in and was further delighted to find that you have the choice to either show that it's a business call or to just show the caller ID of the caller. You still never miss the caller's number because it logs it for you in the Phone.com dashboard.

—Cyrene Amanda
Most Helpful Negative User Review
"Continual problems with this service. Have had so many problems that I will not take the time to describe what they are but it is a company that was good in the beginning of my two years experience but has gotten very poor at this time and has been for about a year off and on."

— Gary Nole
Phone.com Pricing
Phone.com offers pay-per-minute and unlimited packages. They have three types of plans: Base ($12.99-$19.99/month), Plus ($19.99-$22.99/month), and Pro ($39.99-$24.99/month). The main differences between plans are the number of allocated minutes, and the availability of advanced features like automated voicemail to text and HD video conferencing.
Base
Plus
Pro

Pay Per Minute Plans

Monthly Price
$12.99
$19.99
$39.99
Annual Price
$9.99
$14.99
$29.99
Monthly Minutes
$300
$500
$1000

Unlimited Plans

Monthly Price
$19.99
$22.99
$24.99
Monthly Minutes
Unlimited
Unlimited
Unlimited
All plans come with basic phone features, and once your business needs more advanced features, you can get them at an additional cost. Phone.com also offers a 30-day money back guarantee.
Phone.com Features
Call Queuing
Voicemail to Email
Account Management
Auto Attendant
Fax to Email
Call Routing Schedules
Dial-by-Name Directory
Call Transfer
Call Screening
Call Blocking
Address Book
Follow Me
Hold Music
International Dialing
HD Conferencing
SMS/Texting
Useful Phone.com Resources
Best Virtual Phone Number Provider 2017 – Grasshopper vs. Google Voice vs. Phone.com – Read our buyer's guide for a comparison of the three popular VoIP solution for small businesses. We compare Grasshopper vs. Google Voice vs. Phone.com to give you an idea of which VoIP phone will work best for your business needs.
VoIP vs Landline: What's the Best Small Business Phone System – Learn about the advantages and disadvantages of voice-over-IP (VoIP) and traditional landlines. Explore both technologies so you can decide on the best solution for your business.
Things to Consider When Setting up VoIP Phone Service – Learn everything you need to find the best VoIP phone service provider for your needs.
VoIP Speed Test — How Many VoIP Phones Can Your Internet Connection Support – Before you install a VoIP phone service for your small business, make sure you know how to measure your internet connection's ability to manage the traffic.
4-Line Phone System vs. VoIP: Which is Better – Learn why it is time for your business to upgrade your 4-line phone system to a VoIP provider.
Overview of Phone.com Video
This video shows how Phone.com's virtual office works.
Popular Integrations
When choosing a VoIP phone provider, it's important that the software integrates with other applications your business is currently using. Here is a list of some of Phone.com's popular integrations.
Top Phone.com Alternatives
Not sure if Phone.com is the right phone system for your small business? Read our reviews of all top VoIP service providers or check out one of these three Phone.com competitors.