Yoga insurance is a group of commercial policies that cover anything from a studio fire to student injuries to negligence claims. Each policy covers different risks associated with Pilates or yoga practices. Depending on the coverage types and limits you select, Pilates and yoga teacher insurance costs range between $100 and $400 per year.
Whether you run your own studio or teach one class per week, finding affordable coverage you can count on is important. If you are unsure where to start, CoverWallet can shop for the carrier that can offer the best pricing on your behalf. You can get a no-obligation quote online in minutes.
Pilates & Yoga Instructor Insurance Companies
| Insurance Carrier | Best For |
| --- | --- |
| | Health and fitness coaches who combine yoga and Pilates with nutrition and supplements advice |
| | Independent contractors working in yoga or Pilates studios that demand certificates of insurance |
| | Speciality yoga instructors who teach aerial, water, or paddleboard yoga classes |
| | Pilates and yoga studio owners who need property coverage and workers' compensation |
| | Lifestyle instructors who teach offsite yoga classes, including overseas retreats |
Pilates and yoga studio insurance providers look at the exact fitness services offered, the amount of equipment maintained, and the size of the operation to determine pricing. Choose an insurance agent or broker who is able to offer the proper risk protection at an affordable price.
Five top insurance companies for yoga and Pilates instructors are:
CoverWallet is an online insurance broker perfect for a holistic yoga or Pilates instructor who works with clients on the physical activities and provides nutritional advice. The inclusion of nutritional advice increases risk and is outside the scope of most yoga and Pilates instructor insurance policies, but CoverWallet's many partners means it can find an insurer for your practice.
The application with CoverWallet is simple and uses language that business owners can understand. It takes just a few minutes to complete, and yoga and Pilates teachers can usually get general liability insurance with professional liability coverage the same day they apply.
Hiscox is a good choice for independent yoga and Pilates instructors who work with studios that require proof of insurance. The Hiscox platform makes the process of obtaining affordable insurance with certificates of insurance simple. Additionally, the carrier makes it easy for yoga and Pilates teachers to get separate general liability and professional liability policies through an online application.
Studio owners can also get quotes for a business owner's policy (BOP) with Hiscox. This policy combines general liability with commercial property. BOPs from Hiscox start at about $42 and can be customized to include coverage for electronic data loss, hired and non-owned vehicle liability, and employee dishonesty.
Alternative Balance is a professional group that works with a network of top-rated carriers that are perfect for an alternative yoga instructor who teaches water, paddle board, or aerial classes, as these classes are often excluded in liability policies. The cyber endorsement is also a good option for online classes.
Alternative Balance has affordable coverage for over 500 professions in the health and wellness industry. Yoga teachers can combine their professional and general liability coverage and add endorsements for cyber liability and sexual misconduct coverage.
The Hartford is a great choice for Pilates and yoga teachers who own the building where their studios are located. The company offers comprehensive business property policies that include coverage for signs and business interruption. For owners with employees, The Hartford has pay-as-you-go workers' compensation, so your premium is based on your actual monthly payroll rather than a yearly estimate.
With over 30 years of experience with small business, The Hartford is a popular and financially stable insurer. Its high marks from credit rating companies indicate that yoga and Pilates instructors can expect quality coverage and fair claim settlements from The Hartford.
Fitness and Wellness Insurance is the right choice for Pilates and yoga instructors seeking to lead retreats and workshops around the world. Its coverage automatically extends to all 50 states as well as short international business trips. This makes it ideal for yoga teachers who often teach yoga retreats and corporate wellness programs or for those who want to go overseas for additional training.
As a member of Philadelphia Insurance Companies, Fitness and Wellness Insurance makes it easy to apply online and get immediate general and professional liability insurance. Studio owners take a bit longer, but can still get affordable coverage.
How Yoga & Pilates Insurance Works
There isn't a single policy called Pilates and yoga insurance. Instead, instructors need to buy individual policies that cover particular risks. However, many insurers package key yoga insurance policies to make purchasing easier and more affordable. Business owner's policies (BOPs) are a popular combination that bundles general liability with professional liability. Prepackaged bundles are available for $180 to $300.
Pilates and yoga instructors have three options for getting insurance. The first is to buy directly from a top insurance carrier. Many carriers offer coverage directly to consumers through their websites. The second option is to work with a broker who can sell yoga insurance from multiple carriers. Finally, you can join a trade association that offers discounted yoga or Pilates insurance as a member benefit.
Types of Pilates & Yoga Instructor Insurance
There are several different types of Pilates and yoga insurance policies. Each type covers certain risks that are inherent to the business of Pilates and yoga instruction. Deciding which coverage you need depends on your exposure to these risks and any gaps in your current coverage.
Pilates Insurance & Yoga Instructor Insurance by Type
| Type of Insurance | What It Covers |
| --- | --- |
| General Liability Insurance | Claims of bodily injury or property damage to third parties |
| Professional Liability Insurance | Claims your instruction and professional advice resulted in injury |
| Commercial Property Insurance | Value of your business-owned property, including studio space and equipment |
| Abuse and Molestation Insurance | Claims your business is liable for an employee's sexual misconduct |
General Liability Insurance for Yoga & Pilates Teachers
General liability insurance covers you if a third party claims they suffered bodily injury or property damage because of your business. For instance, general liability pays medical bills for a student's injury if it's the result of your general operations. Injuries caused by your instruction require professional liability.
Standard general liability policies also have coverage for rented property, advertising injury, and product liability. Yoga teachers who rent a studio, advertise their business, or sell products may need these coverages too.
Here are few examples where general liability might come in handy:
Your incense burner starts a fire and destroys the studio you rent and the business next door.
A student slips on your recently mopped floor and breaks their tailbone.
A customer passes out and needs medical attention after a hot yoga class.
When incidents like these occur, your general liability typically also pays the injured party's repair costs or medical bills and your legal fees.
Professional Liability Insurance for Yoga & Pilates Teachers
Professional liability insurance, also called errors and omissions insurance, for Pilates and yoga teachers covers allegations of negligence. It pays for your legal defense in a lawsuit, but some policies also pay for an insured student's medical bills. For a claim to be covered, it must have happened as a direct result of your services.
Professional liability claims often stem from:
Errors in instruction, like pushing a student beyond their capabilities
Undelivered services, like selling a pack of classes and not teaching any of them
Failure to meet industry standards, like failing to take continuing education classes
Pilates and yoga are both good means of improving core strength, flexibility, and general well-being. However, these positive results often require students to push themselves to the limits of their physical ability. That bodily injury is possible at any time during instruction and makes professional liability insurance a good investment.
Commercial Property Insurance for Yoga & Pilates Teachers
Commercial property insurance covers the value of your business property, and it falls into two categories. The first is your business location if you own it, and the second is the contents of that space. When your business property is damaged, property insurance pays the insured value so you can get covered items repaired.
Studio owners may want to investigate a business owner's policy. It combines general liability and commercial property insurance at a lower rate.
Abuse & Molestation Insurance for Yoga & Pilates Teachers
Because they frequently have physical contact with students, Pilates instructors and yoga teachers are sometimes accused of sexual misconduct. Abuse and molestation insurance covers these claims by paying your legal fees in a civil suit.
It's hard to imagine a student accusing you of sexual misconduct. However, the intimate nature of yoga and Pilates instruction, particularly for one-on-one sessions, exposes you to the risk. It is important to note that this coverage gets denied if you are convicted in the incident, meaning your legal defense is not covered.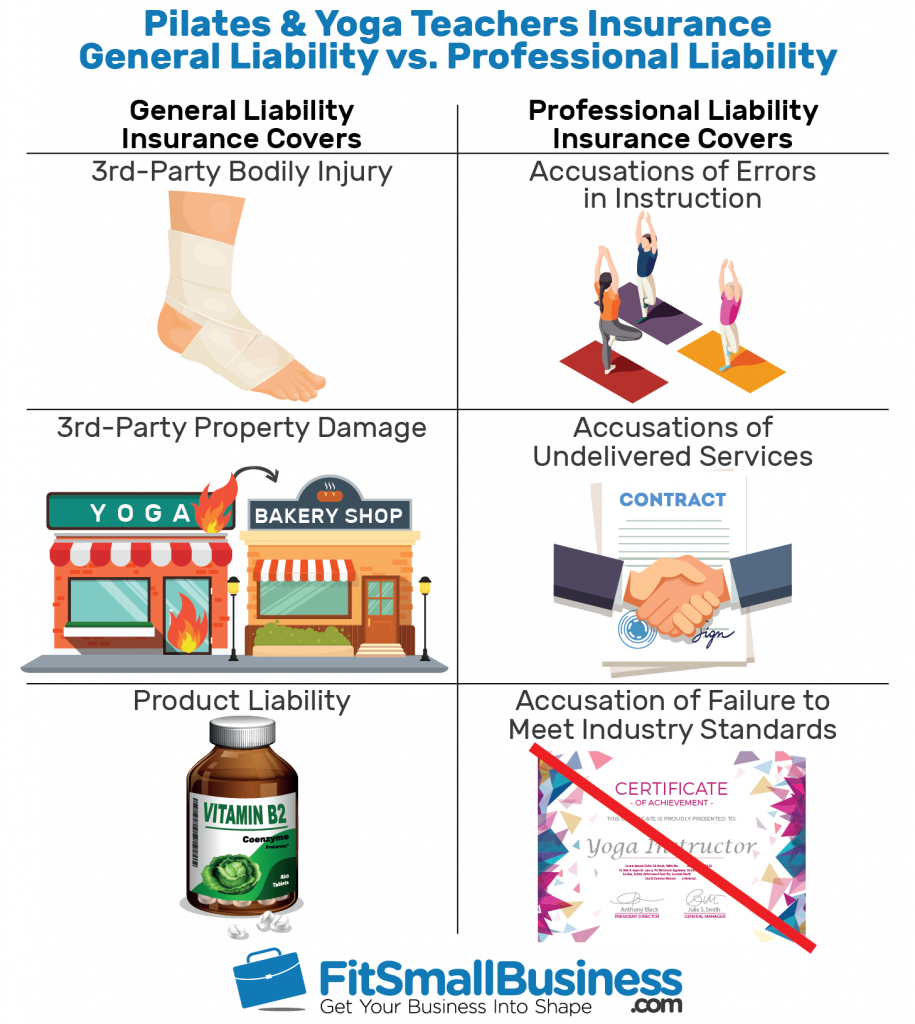 Additional Types of Pilates & Yoga Instructor Insurance
While yoga teachers may have some common operations, some unique situations exist too. These typically require additional coverage.
Depending on your operations, you may also need:
Workers' compensation insurance: This policy pays injured employees' medical bills and some of their lost wages; employers are required to carry workers' comp in most states.
Business owner's policy: BOPs combine commercial property and general liability insurance; studio owners can save money on these policies when they bundle them in a BOP.
Cyber liability insurance: Cyber insurance covers data breaches, paying for client notification, legal fees, and other associated costs; yoga and Pilates teachers who collect online payments or store client information may want this coverage.
As a general rule, the more coverage you have, the better protected your business is in claims that could lead to financial insolvency. However, learning how other business insurance policies work can help you cover the biggest risks without overspending on premiums.
Pilates & Yoga Teacher Insurance Costs
Pilates and yoga teacher insurance costs range between $150 and $400 per year, depending on coverage, limits, and other key variables. For example, Pilates instructor insurance costs can be higher because of equipment. Yoga liability insurance costs increase if you own or lease a studio. Add employees, and you will need additional coverages, increasing your overall costs.
Yoga & Pilates Instructor Costs & Deductibles by Insurance Type
| Insurance Type | Annual Combined Premium | Common Deductible | Coverage Limit |
| --- | --- | --- | --- |
| General Liability | $130 - $200 | $0 - $500 | $100,000 |
| Professional Liability | $100 - $180 | $500 - $1,000 | $1 million |
| Business Owner's Policy | $100 - $290 | $500 - $1,000 | $300,000 liability / $10,000 property |
The chart shows how combining general and professional liability insurance with a business owner's policy saves money. Buying the policies separately could cost up to $380 a year. When you combine them, you get both policies at a lower rate.
You can also save money on Pilates and yoga teacher insurance by:
Getting certified: Many insurers offer discounts for yoga and Pilates instructors who maintain certification.
Comparing quotes: Different insurers charge different premiums for similar businesses, so it's a good idea to look at multiple offers.
Tips on Getting Pilates & Yoga Teacher Insurance
According to the Yoga Alliance, more than 36 million people practice yoga in the U.S. That's great for your yoga business, but it's also a large pool of potential plaintiffs. Getting the proper insurance keeps your business protected and growing, whether you're an individual yoga teacher or a Pilates studio owner.
Some tips on getting Pilates or yoga insurance include:
Gather Your Information
Before applying for Pilates or yoga insurance, you'll need to provide the insurance agent with some information about your business. This information helps your insurer determine how much of a risk your business is so it can set your premium. The more accurate your information is, the more precise your insurer is with your quote.
Here's the information to have ready before applying:
Address and contact information
Equipment you will be using with clients
Products you sell or provide to your clients
Claims history (at least the past three years)
If you require clients to sign a waiver
Criminal history, if applicable
Certifications you hold
Your insurance agent can also use this information to assess risk and recommend policies and coverage limits.
Work With a Broker
When shopping for yoga studio insurance, it's smart to get your quotes from multiple insurance companies. That process can be made quicker if you use a broker who can shop different policies for you and find the best coverage at a price that works for you. An insurance broker can also help you choose policies and apply.
Share All Your Business Operations
Your agent or broker needs to know how you run your business so they can figure out what insurance you need. Most of those details are common to all businesses, like security measures and contracts. Others, however, are unique to Pilates and yoga teachers. Make sure your agent knows about your certifications and classes too.
Ask for Your Certificate of Insurance
One important aspect of choosing the best insurance coverage for Pilates and yoga instructors is the ability to print a copy of your certificate of insurance (COI), a document given to you by the insurance company that confirms your coverage. COIs are typically required before you can begin teaching at a studio or similar facility.
"Yoga and Pilates instructors should focus on finding insurance that's affordable, specifically built to their needs, and offers a full range of online options including certificates of insurance. Opportunities to teach in new places can arise all the time, so the ability to print off certificates of insurance and add additional insureds online instantly is particularly important for yoga and Pilates teachers."

— Alon Huri, Agent, Next Insurance
Ask Who Abuse & Molestation Insurance Covers
Abuse and molestation coverage can be tricky. Some policies exclude alleged perpetrators from coverage. The ones that don't may have restrictions, like only paying for the business owner's defense if the employee is found not guilty. Talk through the specifics with your agent before you buy.
Pilates & Yoga Insurance Frequently Asked Questions (FAQs)
Yoga and Pilates insurance needs to be tailored to your unique practice. Below are a few questions and answers to demonstrate how your operations can impact your insurance needs.
Do I need yoga insurance if I teach in someone else's studio?
Most studio owners carry general liability and professional liability insurance. However, the studio's policies don't necessarily cover teachers when they are independent contractors. If you aren't an employee of the studio, you will most likely need your own liability insurance and will need to provide a certificate of insurance (COI) as proof of insurance to the studio.
Will my yoga liability insurance cover me if I teach outside the U.S.?
The coverage territory in most liability policies is the United States, its territories and possessions, Puerto Rico, Canada, and the international airspace and waters when traveling to and from these destinations. You can find liability coverages for international work, so talk to an agent about any overseas retreats and classes.
Do I need insurance if my students sign liability waivers?
Asking students to sign waivers is a good risk management technique because it can stop some lawsuits before they start. However, waivers only transfer some of the liability to students. Injured students may still file a claim for gross negligence or intentional acts. Yoga liability insurance can cover these claims.
Do I need yoga insurance if I teach in my home?
Once you accept money for your instruction, you're running a business. That's true whether you own a studio or teach yoga out of your home. Unfortunately, home-based businesses are often not covered by homeowner's insurance, which means you may be on the hook if a client sues.
Bottom Line
Fortunately, the cost of Pilates and yoga teacher insurance, which ranges from $100 to $400 per year, is low compared to insurance for other industries. At this price, the premiums are well worth the investment to keep your Pilates or yoga business strong and healthy like your students.
Getting insurance coverage can be easy for Pilates or yoga instructors if they work with a knowledgeable and reputable insurance broker such as CoverWallet. It can make sure you have the coverage you need at the best price for you. Best of all, you can get a free, no-obligation quote in minutes.