Pinterest is a visual discovery search engine and database. Users actively search for content they're interested in viewing. Worldwide, over 2 billion searches occur on Pinterest every month. Pinterest has 86 million monthly active users in the United States, which is an enormous pool to tap into to promote your blog content. You can harness the power of Pinterest's massive user base to capture attention for your blog posts and drive massive amounts of traffic to your blog.
As a blogger and blogging consultant for the better part of a decade, I can attest that many bloggers report seeing exponential growth in blog traffic thanks to Pinterest. This six-step guide to Pinterest for bloggers teaches you everything you need to know to increase your blog traffic.
1. Create a Pinterest Business Account for Your Blog
You may already have a personal Pinterest account, but if you plan to use Pinterest to attract visitors to your blog, you'll want to create a Pinterest business account. It's super easy to set up.
To sign up for a business Pinterest account, navigate to https://business.pinterest.com, click "Get started," and enter your name and a password. Pinterest will then walk you through eight questions on a variety of subjects, including your language of preference, your home country, your website address, and topics that best describe your business or blog.
Once you've answered the initial questions, Pinterest presents you with three options for where to start building your presence on the platform. You can begin sharing pins immediately, or you can create a Pinterest ad to start promoting your blog, or you can start showcasing your blog's brand by building your profile. Your best business strategy at this stage is to build your profile.
The reason you want to set up your business profile first is that your profile offers visitors to your Pinterest business page essential information about your blog and who you serve. Perhaps most important, this is where you get a chance to enter your "about you" information, which should be a keyword-rich description of what your blog is all about.
Your profile setup page is where you post and claim your blog's URL— which requires verifying your blog by adding a meta tag to your website. It's also where you'll establish your messaging preferences for interacting with Pinterest.
2. Set Up Your Own Pinterest Boards & Join Group Boards
A Pinterest board is a collection of individual pins gathered together under a subject or headline of the creator's choosing. One of the main ways you'll keep your content on Pinterest organized and easy to view on the platform is to create your own Pinterest boards. To expand your reach on the platform, you'll also want to join group boards that feature pins relevant for your blog audience.
Create New Pinterest Boards to Drive Blog Traffic
Before creating boards for your Pinterest business page, think about who your ideal blog audience is, what they want to know, and how your blog content will appeal to them. Since Pinterest is a search engine, it's wise to think about the words that people will use as they search for content on Pinterest.
You can begin your Pinterest board research by entering a relevant term for your niche in the social channel's search bar. For example, if you're a food blogger who specializes in desserts, start your search with something obvious, like desserts. Click on images on the search results page and pay attention to the hashtags that were used in the pin's description.
Continuing with our food blog example, once you've identified those main search topics, create a separate Pinterest board for each. A dessert blogger might want to create a different board for Chocolate Desserts, No-Bake Desserts, Healthy Desserts, Cheesecakes, Candy Bar Desserts, and CopyCat Dessert Recipes.
When you create your Pinterest boards, make sure the boards reflect the main subjects or categories you cover on your blog. Boards with helpful, relevant content will drive more visitors to your blog.
How to Create a New Pinterest Board
To create a Pinterest Board, navigate to your home screen, select "Boards," and click on the red plus button under "Create Board." Pinterest will then ask you what you'd like to name your new board and whether you'd like it to be visible or kept secret. Usually, you want your boards to be visible, but you might want to keep them secret until you've had the chance to add pins to them.
After creating a new Pinterest board, you'll immediately want to edit the board details to add information that will ensure your content is found by Pinterest users. Click on the pencil graphic at the top of your board, and an "Edit Your Board" screen will appear. Here you can add a keyword-rich description, choose a board category, and even add board collaborators.
Once your board is created, it's time to start adding relevant pins to it. You can add pins from others or your own pins; it's smart to add a mix of both as you want to present your audience with the best possible content, and chances are your blog doesn't cover everything. We'll walk through how to create share-worthy Pinterest pins in step three.
Join Relevant Group Boards to Boost Your Blog Traffic
To maximize exposure for your blog on Pinterest, you'll want to join group boards that align with the types of content you discuss on your blog. Group boards each have different rules as set by the board's administrator, but the one thing they all have in common is that multiple people join the board and each commit to not only posting their own content but also sharing others' pins.
With group boards, all contributors get their Pinterest pins in front of a larger audience, so everyone benefits from the extra exposure. Participating in group boards is one of the best and easiest ways to extend your impact on Pinterest and build your blog traffic.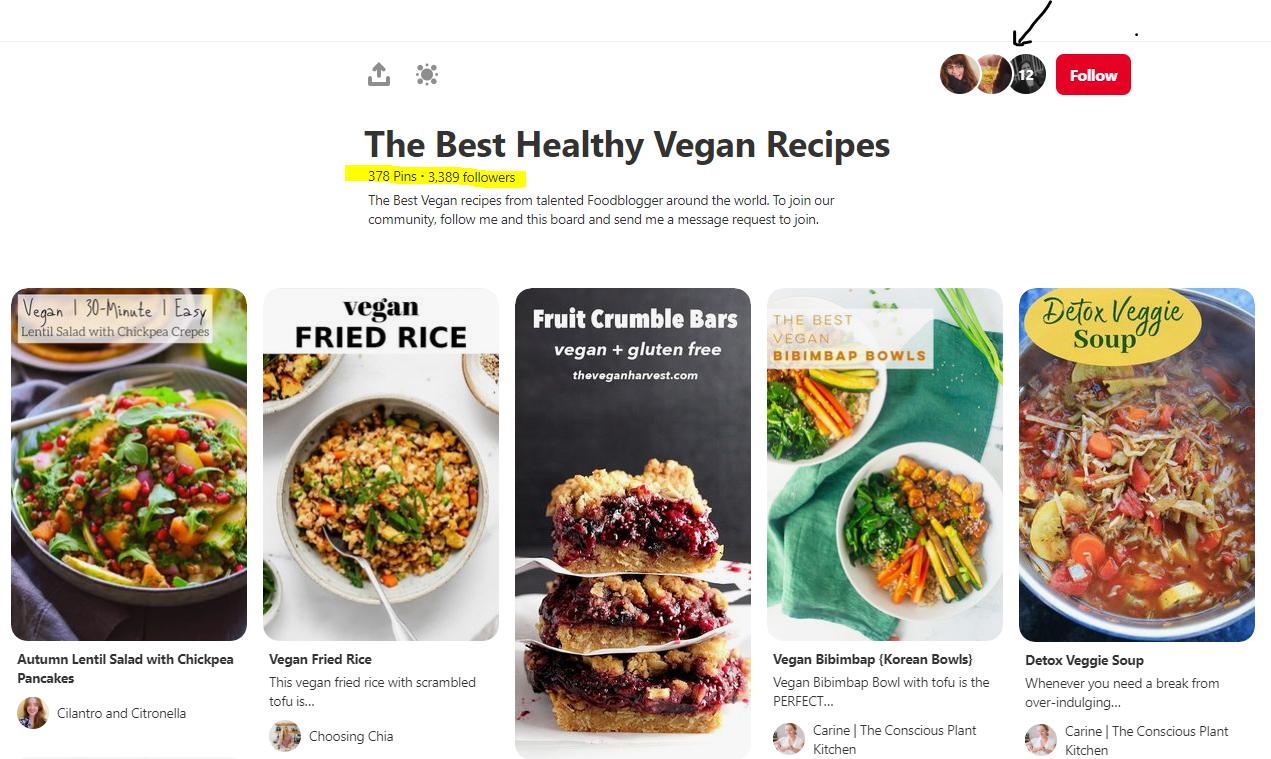 How to Find Group Boards to Join
One of the best resources for finding group boards is called PinGroupie. This free search tool helps you find Pinterest boards by niche or keyword. The simple dashboard shows you how many collaborators each board has, how many pins have been posted, the board follower count, and the name of the board owner.
The best strategy is to join highly relevant boards that have a good mix of compelling content from a variety of reputable blogs and websites. Once you've identified a group board you want to join, you need to visit that board and look for information about how to join as a collaborator.
Details about how to join a board are usually but not always located in the board's description. Board owners will often collect information from you before accepting you as a contributor. Don't be surprised if you're asked to contact the board owner through an email address or fill out an application form in order to be added as a board contributor.

Not all group boards are open to new collaborators. Also, not all group boards post joining instructions on Pinterest. If you're interested in joining a group board but the acceptance directions are not clearly advertised in the board's description, then you need to reach out to the board owner directly.
3. Create & Post Shareworthy Pinterest Pins
Individual Pinterest pins are the bread and butter of the platform. Users search Pinterest for ideas and inspiration, and Pinterest presents them with a long list of pins that meet their search criteria. If something catches a user's attention, they may save a pin to one of their personal or business boards or—the holy grail for bloggers—click-through to the blog that originally posted the pin.
How to Post a New Pin to Pinterest
Adding a new pin on Pinterest is pretty straightforward. There are two ways to do it; the first is manually and the second is through a scheduling tool like Tailwind.
To add a new pin manually, you'll first navigate to a board where you want to post the pin, then click on the plus icon in the upper left corner. Next, choose the "Create Pin" option.
Next, add the image or video you want users to view. You'll then create a title for your Pinterest pin, a keyword-rich description, and a destination URL where users can get more information. You can publish your new pin immediately or at a later date.
If you have a business account, Pinterest will also allow you to upload pins and video pins in bulk by connecting an RSS feed to your account or through a .csv file. The Pinterest Help Center offers a detailed explanation for bulk upload procedures.
What Makes a Pinterest Pin Shareworthy
You don't want to add just any pins to Pinterest; you want to create pins that are so amazing that people feel compelled to repin them on their own boards—which, in turn, means more people see your pins. You also want your pins to motivate users to click-through to your blog.
Ideally, you want your pins to be saved and repinned to the point that they go viral. That's how you bring massive new traffic to your blog.
Here are a few tips for creating shareworthy pins:
Write amazing pin titles: Create intriguing and compelling pin titles that entice the reader to want to know more
Tell the pin reader what to do: Include strong calls to action in your pin descriptions that instruct the viewer what to do next, such as, "Click on the blog link below to learn more."
Create eye-catching images: People are drawn to great-looking images. Use a tool like PicMonkey to create amazing Pinterest images for your blog.
Use vertical pins: Vertical pins tend to get more views and repins than square pins; horizontal pins are not allowed on Pinterest.
Make your pins mobile-friendly: According to Pinterest, 85% of the platform's users access the site through a mobile device. Make sure your pins are easy to read even on small devices.
The more adept you become at using smart Pinterest marketing and blog promotion techniques, the more blog traffic you'll earn from Pinterest. The good news is that there is no one way to create extraordinary pins; experiment and see what works best for you and your blog.
Tools for Creating Pinterest Pins
It used to be that you needed extensive graphic design knowledge to create stunning visuals for social media platforms—but not anymore. There are a number of powerful free and paid tools for creating social media posts that align with your blog's overall visual aesthetic. Best of all, these online editors are easy to use and most come with dozens of built-in Pinterest templates that give you a jump-start on your pin design.
Here are the top image editing and design tools for creating Pinterest Pins:
If you are design savvy, you could also create Pinterest pins using professional image editing software such as Photoshop. If you're looking for a distinctive Pinterest pin vibe, you can also purchase Pinterest pin templates through sites like Creative Market and Etsy. Finally, if you'd prefer to outsource Pinterest pin development, you can contract with a designer on Fiverr for as low as $5.
Add Keywords to Your Pinterest Pin Titles & Descriptions
If you want to get more traffic for your blog, it's important that you create pin titles and descriptions that use the same keywords that your ideal audience uses when searching on Pinterest. Thankfully, Pinterest's own search tool can help you out with keyword targeting.
For example, when you enter the word "hobbies" in the Pinterest search bar, a whole host of related keywords appears between the search bar and the search results. In this search example, hobbies for women, list of hobbies, hobbies that make money, productive hobbies, hobbies to try, hobbies for teens, and creative hobbies are all listed as related keywords . This tells you that there are active searches on Pinterest for these additional keywords.
Another way to find keywords on Pinterest is to access the platform's
promoted pin suggestions
through the Ad Manager. You don't actually have to promote a pin to use this keyword research tool.
If you want to make sure your ideal audience finds you on Pinterest, spend a fair amount of effort upfront on keyword research. Take the time to understand user intent: what the user is looking for and why. Then, develop keyword-rich descriptions and impressive pins that deliver what Pinterest users really want. This, more than just about anything else, can mean the difference between traffic trickling into your blog or coming through in droves.
"One of my favorite tips for using Pinterest to generate blog traffic is understanding user intent. User intent is the key to ANY platform, and Pinterest is no different. The majority of users visit Pinterest for ideas and inspiration above all other things.

Very emotional or personal things—as well as political commentaries and current event pins—tend to do poorly (as opposed to Facebook, where they do well). Things that can be hands-on or helpful in planning an event can do very well. Before creating a Pinterest pin, ask yourself, would someone repin this pin while looking for an idea or inspiration on this particular subject?"

—Carly, Blogger, Mommy On Purpose
4. Develop an Active Pinterest Following
Since Pinterest functions as a search engine, you're not as reliant on followers as you are with other social platforms like Facebook and Instagram. Many people will find your posts simply by searching for topics you post about. Still, it's wise to put some effort into building your following—or community, as Pinterest calls it. When people choose to follow you, they're far more likely to see your content in their Pinterest home feed, and you'll get more repins.
Add a "Follow Us on Pinterest" Option on Your Website
You probably already know that you should add social media icons on your blog so your readers can follow you on various platforms. That's helpful, but static icons alone really won't help you build a social media following rapidly.
If you want to quickly grow your Pinterest followers, add a social media plug-in to your site that promotes your Pinterest account through either a pop-up, slide-in, or featured advertisement. For example, MiloTree offers an attractive tool that does this for your only $9 per month. It comes with a 30-day trial, so you can test it on your blog for free.
Feature a Social-Sharing Option on Every Blog Post
The best advocates for your blog are your current blog readers. Getting existing fans to share your content with their networks is a smart way to expand your Pinterest community. Make it easy for your readers to not only follow you on Pinterest but also to share your posts on Pinterest and other social media platforms.
If you have a WordPress blog, you have a lot of social sharing plug-in options available, including, Ultimate Social, Easy Social Share Buttons, and Sumo. Most other blog platforms come with their own social sharing options.
If you want readers to share your content on Pinterest, it's important that you have a Pinterest-friendly image to share on every post. Many bloggers choose to design their featured blog image as a vertical image (Pinterest recommends using a 2:3 aspect ratio for all your pins, such as 1000 x 1500 pixels) so it looks great when it is pinned on Pinterest.
Follow Other Bloggers on Pinterest
Oftentimes when you follow a Pinterest board or account, the owner will follow you back. Pinterest frowns on creating a quid pro quo deal with other accounts (i.e., proposing an "I'll follow you if you follow me" arrangement with others). If you follow someone on Pinterest, do so because you're interested in what they are pinning—-not just because you want them to follow you back.
You also don't want to do any bulk following where you follow a large number of Pinterest bloggers all at once. If you do that, Pinterest could shut down your account for what it deems inappropriate behavior.
Promote Your Pins to Grow Blog Traffic & Your Followers
Another way to grow your follower base, as well as build your blog traffic, is to promote your best pins with Pinterest ads. This will get more exposure for your content, which can, in turn, help you both build your community on the platform while sending more visitors to your blog.
"When I create a pin for a new post, I use Pinterest ads and promote the pin to give it a bit of a head start. That initial traction helps the pin get a boost in exposure to the target audience. It's super easy to niche down and refine your audience with Pinterest ads, which means that you're getting that pin in front of the perfect demographic right from the start. I find that this results in a quicker traffic stream to the blog post via Pinterest compared to other methods.

—Shawna Newman, Blogger, SkipBlast.com
5. Develop an Effective Pinning Strategy
There are no hard-and-fast rules about how often you should pin on Pinterest, or how many of your pins versus others' pins you should post. That's why you must create a pinning strategy that works for your blog, your audience, and your bandwidth in terms of time and resources. The best strategy is to start slow, measure what works and what doesn't, and adjust your pinning strategy accordingly.
When & Why to Share Your Pins
Pinterest limits you to 200,000 total pins, which gives you a great deal of leeway when it comes to pinning. According to Pinterest, it's better to add a few pins regularly rather than to add a lot of pins infrequently. Since Pinterest prefers consistency, it rewards those who pin regularly by showing more of those pins in followers' home feeds and in search results. If you bulk upload pins, your overall impressions per pin will suffer.
Pinterest also places a high value on relevancy. If you're using Pinterest to generate blog traffic, then you should only create pins that appeal to your target blog audience. For example, if you're a food blogger, it wouldn't make sense to post pins about knitting.
If you're just getting started with Pinterest, you may want to set a goal to add one or two pins a day and then increase your pinning volume as you have the time and resources to create new pins. Pinterest experts offer a wide variety of opinions on the optimal number of pins to schedule; most recommend a range of 10 to 50 total pins daily (including your pins plus shares of others' pins). A smart strategy is to increase your pinning volume slowly. Try adding two to five new pins a day until you find out what works best for your blog and your audience.
"My No. 1 piece of advice for Pinterest is to pin consistently. This means pinning the same approximate number of pins each day for many weeks. Overtime Pinterest rewards this kind of consistency, and you'll see more traffic to your blog."

—Bridget Sielicki, Blogger, The Freelancing Mama
When & Why to Share Others' Pinterest Pins
There are a few very good reasons why you want to share others' pins on Pinterest. The first is that you want to become known as an expert in your blogging niche and your blog probably doesn't cover every topic that's relevant to your audience. Sharing others' pins is a great way to offer value to your Pinterest audience by introducing them to amazing content you don't cover.
Another reason to share others' pins is that you align yourself with top bloggers. Yes, you can build your reputation—and your Pinterest following—by associating with bloggers who already have a great reputation.
One more reason to share others' pins: those same people might notice and start sharing your pins to their huge audiences. People like to do nice things for others who've done nice things for them. When a blogger or influencer with a large Pinterest community shares your pins, your blog traffic can soar overnight.
As a general rule of thumb, your pinning content should be 50–80% your pins and 50–20% others' pins. Experiment with those percentages to see what works best for you.
6. Use Tailwind to Send Blog Traffic Skyrocketing
As you scale the number pins you're adding to Pinterest to drive visitors to your blog, you'll quickly find that manual pin scheduling is simply not efficient. Tailwind is the ideal social media scheduling and blog traffic expansion tool for Pinterest (and also Instagram) thanks to three primary features: Tailwind Publisher, Tailwind SmartLoop, and Tailwind Tribes features. You can get started with a free plan, and premium Tailwind plans start at $9.99 per month.
How Tailwind Publisher Gives You a Pinning Advantage
While you want to schedule new pins on Pinterest, it's often more efficient to schedule many pins in one sitting. Doing this manually is difficult as Pinterest limits you to a maximum of 30 pins you can schedule for future publication. Manual pinning is simply impractical for bloggers serious about success, who may want to post between 10 and 50 pins a day.
How to Pin on Pinterest Using Tailwind
Tailwind lets you create a custom pinning schedule. You decide how many pins you want to schedule each week, the days you want to schedule those pins, and even set the time they'll be published.
Once you've set up your master schedule, you can then start adding drafts of pins to schedule. To do this, simply navigate to Drafts in your Tailwind dashboard. You begin by uploading a vertical image, then you add a compelling title and a keyword-rich description for each pin. You'll also add the blog URL that you want to be linked to the pin—this is how people will access your blog.
You can add your new pin to one or more of the boards that are linked to your Pinterest business account, including group boards. Adding pins to relevant group boards is key to driving massive traffic as you typically reach far more people via group boards than through your own.
You can choose to set a custom time for your pin to be scheduled or opt to have it added to the next open slot in your master schedule. If you're posting a pin to multiple boards, you can also use Tailwind's interval scheduling feature. With interval scheduling, you establish a minimum time within which the same pin will start appearing on multiple boards; you can space the pins anywhere from 10 minutes to 90 days apart.
All of the pins you schedule through Pinterest appear on your schedule (see image below). You always have the option to add or change your pins anytime you want.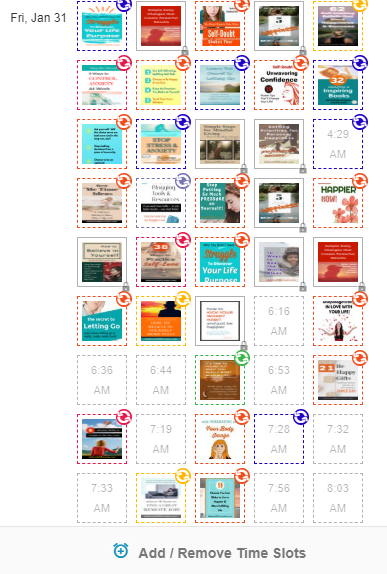 Use Tailwind's SmartLoops to Automatically Schedule Your Best Pins
Once you've identified pins that are outperforming others, schedule those again. Tailwind makes this easy with its premium SmartLoop feature—which starts at an additional $4.99 per month on top of your monthly Tailwind fee. You can create a SmartLoop that continuously reschedules your best pins year-round, or create a seasonal loop that only posts pins within a set time-frame.
Use Tailwind Tribes to Magnify Your Audience Reach
Tailwind is actually more than just a scheduling app; its Tribes feature allows you to connect to other bloggers, brands, and website owners in your niche. When you subscribe to the premium Tailwind Tribes feature—which starts at $4.99 per month in addition to your monthly Tailwind fee—you can create your own tribes and invite others to join or join tribes that already exist.
All Tailwind Tribes have their own rules, but nearly all require a minimum 1:1 submit to share ratio; for every pin you submit to the Tribe, you're asked to share a pin from a fellow member. Pins shared through Tailwind Tribes are automatically added to your master pinning schedule.
Tailwind Tribes can make a near-immediate impact on the number of visitors coming to your blog. If a tribe member with tens of thousands of followers—some have even more than that—shares your pins on their boards, your blog traffic can soar through the roof.
Bottom Line
Pinterest is a powerful social media platform for bloggers who are eager to achieve massive gains in their blog traffic. The best way to grow your blog with Pinterest is to consistently schedule visually appealing pins. A little bit of keyword research upfront will yield massive results via this visual search engine for years to come. I saw my blog traffic jump over 30% in mere weeks when I got serious about using Pinterest to promote my blog. Some bloggers I know attribute more than 50% of their traffic to Pinterest.
One of the easiest tools for creating eye-catching pins for Pinterest is Picmonkey. This intuitive image editing and design resource comes with dozens of Pinterest templates that ensure your images always look fabulous, even if your design skills are limited. Visit PicMonkey today.