Plumbers insurance is a collection of business policies that cover the risks plumbers typically face. One of these policies is general liability insurance, which covers damages resulting from accidents that cause other people harm. When general liability is combined with commercial property insurance, plumbers insurance costs between $700 and $2,400 per year.
Hiscox offers some of the most affordable liability coverage for small plumbing businesses. Its general liability insurance policies for plumbers start at $450 per year. Plumbers can purchase coverage online and be covered in a matter of minutes.
Top Plumbers Insurance Providers
| Provider | Best For |
| --- | --- |
| | Plumbers who want fast online quotes for affordable plumbing insurance |
| | Plumbers who want a highly customizable business owner's policy |
| | Plumbing contractors who regularly use subcontractors |
| | Plumbing contractors who want to compare quotes from multiple carriers |
| | Larger plumbing businesses that need additional property coverage |
Hiscox is a national carrier that has been writing commercial policies for plumbers and other small business owners for more than 100 years. The company is known for developing quality products for a wide range of industries including plumbers and other contractors.
Hiscox is one of the few large insurance companies that let consumers get quotes and buy policies online, making them the best options for plumbers who want to get quality plumbing insurance fast. The application takes just five minutes to complete and returns quotes in less than 60 seconds. Hiscox's general liability policy for plumbers starts at $37.50 per month.
The Hartford is another national carrier with a long history of covering small businesses including plumbers. Through the years, they've developed a business owner's policy (BOP) that can be easily and affordably customized through a number of endorsements.
For plumbers, The Hartford offers endorsements that cover tools owned by you or your employees and income lost because of utility service interruptions. These industry-specific add-ons make The Hartford ideal for plumbers who want to tailor their BOPs to their specific operations.
USLI is a Berkshire Hathaway company that specializes in small business insurance for niche markets including construction. The company offers general liability and property insurance through independent agents to more than 40 types of artisan contractors including plumbers.
USLI is one of the few carriers willing to write insurance policies for new ventures, which makes them ideal for a plumber who is just opening their shop. Additionally, USLI is great for plumbers who regularly use subcontractors. The company's standard general liability insurance allows for up to 50% of subcontracted work and doesn't require subcontractors to name USLI's policyholder as an insured on their own insurance.
CoverWallet is an online insurance brokerage for small business owners that have relationships with top carriers including CNA, Liberty Mutual, and Progressive. The company's insurance application takes less than five minutes to complete and often returns instant quotes for plumbing contractors.
Plumbers should consider working with CoverWallet when they want to compare quotes quickly. As a small business insurance brokerage, CoverWallet can quote multiple carriers through a single application. This means plumbers can shop and compare coverage offers in one spot without having to apply to each carrier separately.
Travelers is a large, financially stable national carrier that sells its products exclusively through independent agents. The company's size allows it to create distinct teams for its target industries so plumbers can work with professionals who have experience insuring construction businesses.
Travelers' size is also the reason they are the best choice for plumbers with lots of property. It can write plumbing insurance policies for businesses with up to $750,000 in payroll, and their business personal property coverage includes damages to off-premises equipment up to $25,000.
How Plumbers Insurance Works
Plumbing insurance protects plumbers' business assets by covering expenses when their work results in lawsuits, accidents, and property damage. Each coverage type pays for a different set of claims, so plumbers typically need a combination of policies to be fully protected. The most common business policy is general liability, which costs between $550 and $2,000 per year.
As small business owners, many plumbers qualify for a BOP. BOPs bundle two fundamental coverages: general liability for third-party property damage and bodily harm and commercial property for the business owner's office space and equipment. Typically, BOPs for plumbers start at $700 per year, but larger companies can see annual premiums of $2,400 or more.
Types of Plumbers Insurance
The majority of plumbers insurance policies cover risks most businesses face like third-party lawsuits and property losses. Plumbers can safeguard against these risks with general liability and commercial property, which most can get in a BOP. However, plumbers face some unique risks, such as the need to transport tools between worksites, that require additional coverages.
Below are some of the most common types of plumbers insurance:
Most Common Types of Plumbers Insurance
| Type of Insurance | What it Covers |
| --- | --- |
| General Liability Insurance | Third-party injuries, property damage, and reputational harm |
| Commercial Property Insurance | Damaged, stolen, or vandalized business property |
| Commercial Auto Insurance | Third-party injuries and property damage caused by business-owned vehicles |
| Inland Marine Insurance | Business property that's stolen or damaged in transit |
| Installation Insurance | Materials and products as they are being installed through acceptance by the purchaser |
| Workers' Compensation Insurance | Employees' work-related illnesses and injuries |
| Surety Bonds | Clients' financial losses if you fail to deliver on contracted services |
General Liability Insurance for Plumbers
General liability insurance is a critical policy for plumbers because it covers the risk of third parties suing over property damage, bodily injury, and reputational harm. Third parties are generally people who don't work for you, such as clients. If a third party claims you harmed them, general liability pays for your legal defense or the injured party's damages.
Some examples of general liability claims for plumbers include:
Property damage: You're working in a customer's house and accidentally knock a hole in their wall with your basin spanner
Bodily injury: A delivery person breaks their leg tripping over the hosepipe you forgot to put away
Reputational harm: A competitor claims you defamed them in your commercial
In these situations, general liability insurance typically covers court costs, attorney's fees, and settlements or judgments against you. Policies also cover medical bills for other people's injuries if you're found to be liable.
Commercial Property Insurance for Plumbers
Commercial property insurance pays to repair or replace business property up to the insured amount if it's damaged in covered events. Policies can be purchased to cover both your shop and its contents while plumbers who rent office space can opt for a policy that only covers their equipment and tools.
Events covered by commercial property typically include:
Theft
Vandalism
Fire
Windstorm
Hail
Plumbers can insure their property for its replacement value or its actual cash value. Insuring for the replacement value means your insurer pays the cost to replace the damaged item with something that matches its value prior to damage, while actual cost value coverage deducts depreciation so that your insurer pays less on the claim. Learn more about the difference between replacement cost and actual cash value in our ultimate guide to Commercial Property Insurance.
Workers' Compensation Insurance for Plumbers
Workers' compensation insurance is coverage required by most states to pay for employees' work-related injuries and illnesses. Without workers' compensation, plumbers would be responsible for covering their injured employees' medical bills and lost wages or pay death benefits to the survivors of an employee who is killed on the job.
Every state has its own workers' compensation laws, but the majority require coverage even when business owners only have one employee. Learn more top workers' comp providers in our buyer's guide.
Commercial Auto Insurance for Plumbers
Plumbers who drive business-owned vehicles need commercial auto insurance to cover costs arising from car accidents. Even plumbers who drive their personal auto for work purposes may need coverage, too, because most personal auto insurance excludes driving for business purposes.
Types of commercial auto insurance coverages include:
Liability: Pays for injuries to a third party or damage to their property
Collision: Pays for repairs to your business-owned vehicle if it is damaged in a car accident
Comprehensive: Pays for repairs to your business-owned vehicle if it is damaged in an event other than a collision, such as vandalism or an act of God
Uninsured & underinsured motorists: Pays for repairs to your business-owned vehicle and medical bills for you, your passengers, and your insured driver if you're in an accident caused by an uninsured or underinsured driver
Medical payments: Pays medical bills for you, your insured driver, and your passengers regardless of fault
Most states require businesses to carry a minimum amount of liability coverage to pay for other motorists' injuries and damaged property, but plumbers can opt for the other coverages to better protect their assets.
Inland Marine Insurance for Plumbers
Inland marine insurance is a policy that plumbers need to cover their tools as they move from location to location. Commercial property only covers business items at the location listed on the policy, which means plumbers' tools are uninsured as they are transported to work sites. Inland marine, however, picks up where commercial property leaves off.
Inland marine insurance also pays to repair or replace property if it is lost, damaged, or stolen in transit. Additionally, inland marine policies usually cover other people's property for those same events when their property is in your care. For instance, if a colleague's motorized drain snake is vandalized while in your control, inland marine insurance pays to repair it.
Installation Floater Insurance for Plumbers
Installation floaters are another type of property insurance that covers plumbers' property when it's away from the policyholder's place of business. In this case, the policy covers materials or equipment as it's being installed, paying to repair or replace it if it's damaged in the process.
For example, let's say a plumber cracks a $5,000 water heater during installation. Instead of replacing the damaged water heater on their own, the plumber can use their installation floater to cover the cost minus their deductible.
Plumbers can purchase installation floaters for work they are doing in buildings that are under construction or those being renovated or repaired. Coverage typically lasts from the date of purchase until the plumber's client accepts the installation.
Surety Bonds for Plumbers
A surety bond works as a guarantee that your work will follow regulations and be completed on time. If your work is incomplete or not up to code, your customer can file a claim with the bond issuer, who then reimburses your client. In most cases, bond issuers expect you to pay back the claims they pay.
Some state governments require plumbers to get surety bonds to obtain licenses, but local government agencies may require them too. Even if you don't need a surety bond for a plumber's license in your state, you may find clients only want to work with plumbers who are bonded. For more information on how bonds work, read our ultimate guide on surety bonds.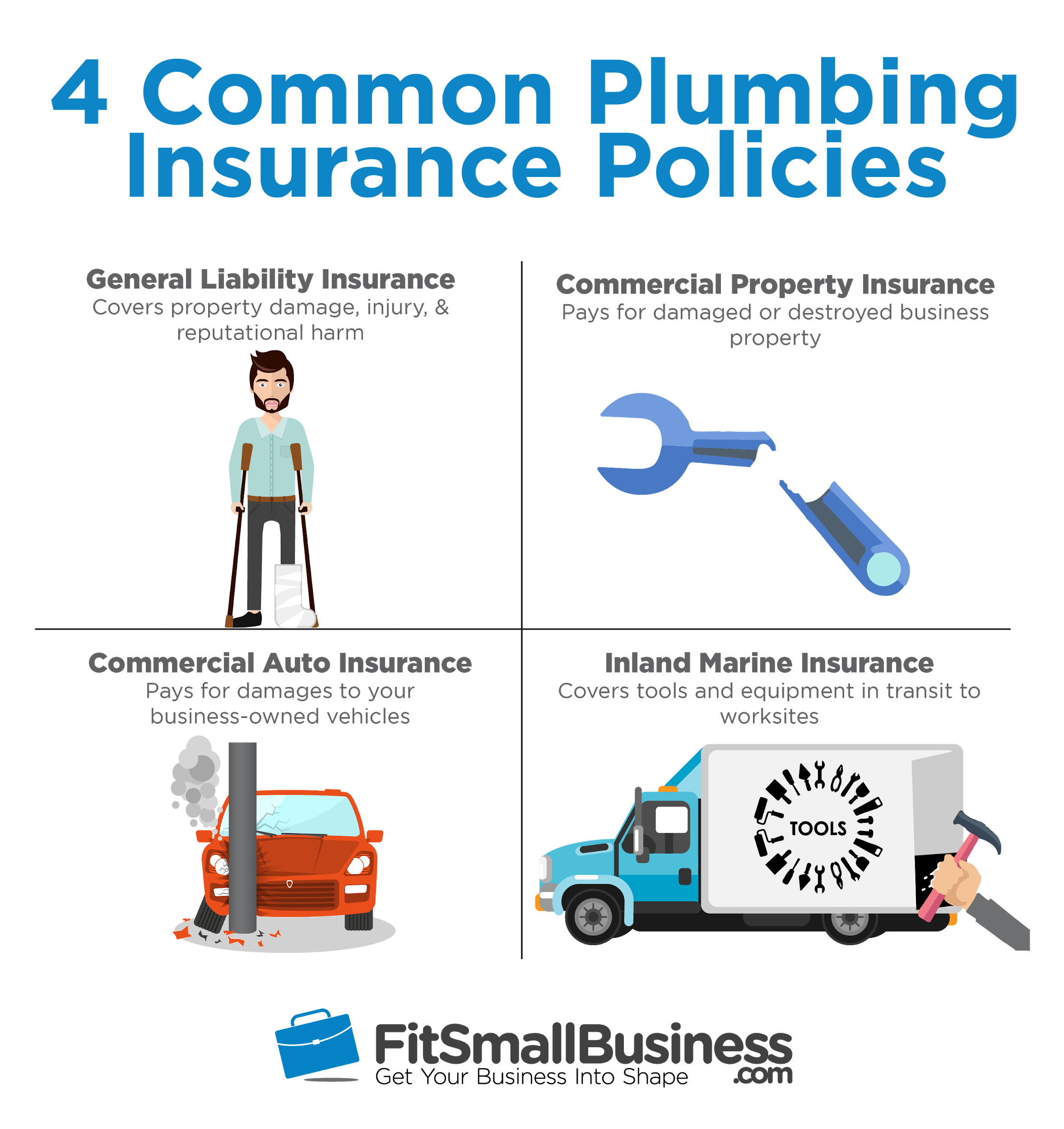 Plumbers Insurance Costs
The total plumbers insurance costs are the combined premiums of all the policies purchased. Most plumbers can find good liability and property coverage in a BOP for around $750 per year. However, plumbers often pay more if they want additional coverage, have employees, or bring in more revenue.
Plumbers Insurance Costs & Deductibles by Coverage Type
| Insurance Type | Typical Annual Premium Range | Typical Deductible | Coverage Amount |
| --- | --- | --- | --- |
| Business Owner's Policy | $750-$2,400 | $0-$1,000 | $1 million-$2 million |
| Commercial Auto Insurance | $800-$2,000 | $500-$1,000 | $1 million |
| Surety Bonds | 0.75%-15% of coverage amount** | $0 | $3,000-$25,000* |
| Inland Marine Insurance | $400-$3,000 | $500-$1,000 | 30,000 |
*This range represents coverage amounts required for various state licenses.
**Plumbers with good credit can find rates on the lower end of this range.
Plumbers insurance costs vary widely in part because different types of business operations require different kinds of coverage. For instance, a plumber who owns a storefront typically pays more for their BOP than one who rents.
Other factors that impact plumbing insurance costs include:
Deductibles: Selecting higher deductibles lowers your premium but means more out-of-pocket costs for claims
Coverage limits: Insurers increase your premium when you opt for higher coverage limits because it means they pay more when you file a claim
Your revenue: Plumbers with higher revenue typically pay more for insurance because carriers assume that they have more to lose and raise costs accordingly
Your employees: Plumbers with employees have to get workers' compensation insurance, plus hiring more staff usually means greater liability risk; both increase your overall premium
Your claims history: Filing multiple claims makes a plumber look risk to insurers, so they typically charge them higher rates
Every insurer gives these factors different weight when determining plumbers insurance costs, so it's a good idea to compare quotes from multiple carriers.
Tips on Getting Plumbers Insurance
Plumbers need to get the right insurance for their business, and that usually requires a little preparation. Knowing what coverage you need and how to get it can help you get accurate quotes and possibly reduce your overall costs.
Here are three things plumbers can do to get the right insurance their businesses:
1. Gather Your Business Information
You need to provide your insurance agent with accurate information about your business so they can correctly assess your risk and recommend policies that fit your particular needs. Moreover, your business information is also the basis for quotes, so getting it wrong may mean the price your quoted is different from what you ultimately pay.
Some of the information you need to apply for plumbing insurance includes:
Business address
Years of plumbing experience
Estimated value of your business equipment
Revenue
Claims history ― at least the past three years
When you apply for insurance online, you're responsible for entering the correct information into your digital application. However, getting these details together also makes the process smoother if you're working with an agent.
2. Work With an Agent Who Specializes in Construction Businesses
Every industry has its quirks, but the risks in construction can be especially difficult to navigate. Projects can have multiple contractors and subcontractors, and it can be hard to know who is responsible for what aspect at any given time. This makes working with an agent who has construction experience a key part of getting the right coverage.
3. Reduce Your Risk
Once you have coverage, Certified Insurance Counselor John Bills of Aegis Insurance Markets says plumbers should try to avoid using it by implementing some basic risk control measures.
"A couple of key things for consideration include having a contract that is current with state contract law in place with all clients, subcontractors, and employees before any work is performed, using quality materials, requiring the use of personal protective equipment as necessary, packing tools and materials in and out each day to reduce the chance of theft, installing both a dash cam and GPS driving behavior tracking device, walking the job site every single day before work begins to identify hazards, and then mitigating or eliminating them as possible and advising all personnel on site what and where to watch out for."
Bottom Line
When it comes to plumbers insurance, business owners need to consider value. While you don't want to spend an arm and a leg for coverage, you do want sufficient coverage in case disaster strikes. This why most plumbers should work with an experienced agent who can assist them find the best policies for their situation.
Hiscox is one provider that business owners in need of plumbers insurance should consider. Once you're ready to buy, you can apply online with an easy application that takes just minutes to complete and returns quotes almost instantly.