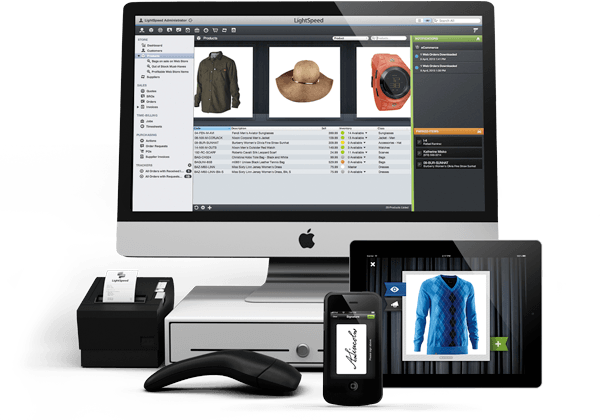 New POS systems for retail, like Lightspeed POS, are easy to learn, intuitive to use, and shockingly powerful tools. If you can download and play games on your smartphone, then you can switch over to and manage a new POS (Point of Sale) system. Doing so brings the following tools to your your retail business:
| Basic POS System | Advanced POS System |
| --- | --- |
| Accept payments | Everything in Basic POS, plus… |
| Print receipts | Purchase order creation & management |
| Process refunds and discounts | Advanced inventory management |
| Inventory Tracking | Advanced employee management |
| Integrate with 3rd-party software | Payroll capabilities |
| Employee access control | CRM capabilities |
| Sales reporting and analytics | Email marketing capabilities |
| Desktop and Mobile | Pricing and taxing tools |
| Create/redeem discounts and coupons | Multi-store/online store integration |
Before we dive into the details on this topic, we also suggest you check out Square, a free POS system that can manage inventory, process credit cards and so much more. Visit Square to learn more.
In this article we are going to explain:
What is a POS System?
POS stands for Point of Sale. A POS system is basically a cash register on steroids. It is package of hardware and software that unites unites all aspects of your retail operation in one central hub.
POS hardware allows your business to accept cash, checks, credit cards, and even newer payment methods like PayPal and Apple Pay. You can do this all from a desktop, tablet, or mobile phone.
The hardware also connects with typical checkout hardware, like cash drawers, barcode scanners, and receipt printers to form one complete checkout unit.
What really sets a POS system apart from a traditional cash register, is the way in which it integrates modern small business software. With a new POS system you will have a tool capable of managing inventory, scheduling and tracking employee hours, capturing customer information, syncing with accounting software, and much more.
POS Systems for Retail: Hardware and Software
| POS Hardware | POS Software/Integration |
| --- | --- |
| Computer, Tablet, and/or Mobile Phone | Payment Processing |
| Cash Drawer | Inventory Management |
| Credit Card Reader | Employee Management |
| Receipt Printer | Accounting |
| Barcode Reader | Payroll |
| Barcode Printer | CRM System |
| Shipping Postage Printer | Reward Programs |
| Shipping Weight Scale | |

If you're still using a basic cash register to accept and record payments at your retail store, you're using a technology invented by a saloon owner in 1883 to prevent employee theft. Even UPC codes (barcodes) is a technology that was rolled out in 1974.
Let's be honest: you can't compete with the Walmarts and Amazons of the world if you're using a machine designed 130 years ago that got its last hardware upgrade during the disco era.
How a POS System Will Save Your Business Time and Money
For small business owners, time is money. Anything that saves you time decreases your labor costs and increases the money and time you can reinvest in your business. In fact, in a 2015 study done by InfusionSoft, small business owners identified "time to get things done" as the #1 "huge challenge" facing their business.
POS systems can save you both time and money by streamlining your whole business management system in 6 key ways.
1.Automatic, Fully Integrated Checkout System
A POS system completely transforms the checkout experience whether using hardware like barcode scanners or simply using a drag-and-drop touch screen checkout.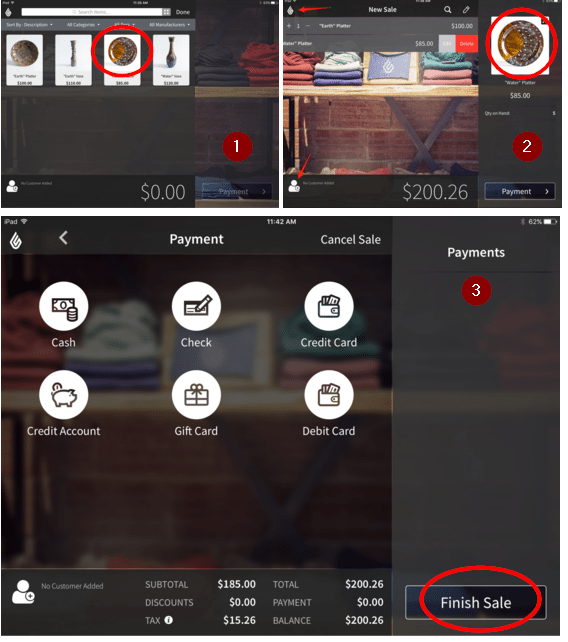 Once items are selected or scanned, any applicable discounts, taxes, inventory counts, and totals are displayed, calculated, and updated automatically in 1-2 seconds. Instead of taking minutes to ring out a customer and enter each sale in manually, the whole process can be completed in a matter of seconds with much more accuracy and consistency.
POS systems also make other register tasks much easier. You can refund a customer, remove an item from the sale, redeem gift cards, and print or send a receipt with just one or two clicks or touches on the screen. Of course, with each action, individual sale totals and overall store totals are automatically adjusted to reflect the change.
2.Quick and Precise Inventory Management Systems are Revolutionary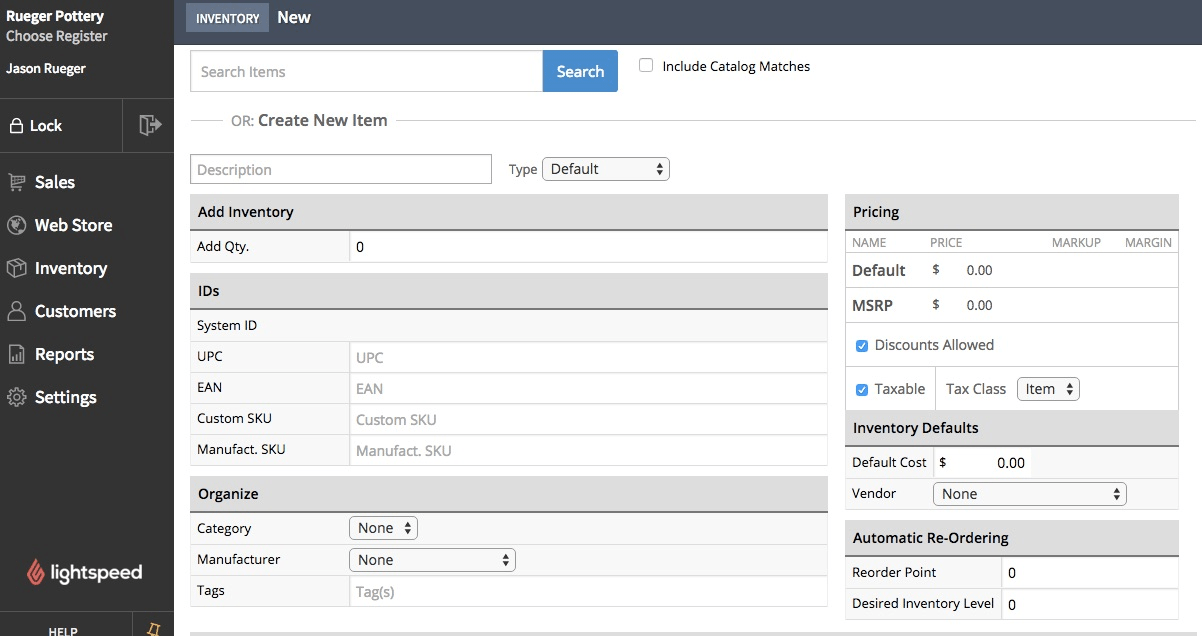 One of the biggest advantages of using a POS system, is its ability to revolutionize the
way you manage your inventory. What use to take many employee-hours can now be done from your office or mobile phone in seconds.
In the old days, to have any kind of accurate inventory count, you had to mark inventory  when it came in, perform physical counts of stock every week, and then cross-compare those lists with printed sales reports. Without doing this, you wouldn't have any idea of how much of a product was sold, spoiled/broken, or stolen. This was such a headache that many small businesses never took the trouble to do it.
Today's POS systems manage inventory more quickly and accurately. When you get a shipment in, you just count your inventory as you are stocking it and input the count into your POS system. This can made even easier if you have a barcode scanner. When an item sells, it is automatically deducted from your inventory list. At any give time, you can access an inventory count on your POS system of any item in your store.
There are several key ways this can help your business:
a. Reduced Labor Costs
You will still have to do occasional physical inventory counts, just to cross check
with your sales data. But those counts will be much fewer and farther between.
b. Increased Sales
With an inventory system that consistently yields quick, accurate results you can instantly know which products are selling and which are not. This allows you to more accurately tailor your purchase orders, ordering less of an under-performing product and more of your top performers.
c. Reduced Retail Shrinkage
Retail shrinkage is the loss of a product between delivery and your point of sale. The most common reasons for shrinkage are employee theft and shoplifting. Shrinkage is huge problem, costing US Businesses an estimated $1.3 billion in losses in 2013 alone.
Unfortunately, most small businesses don't have enough of a grasp on their inventory counts to know what is going missing. Some wouldn't even recognize if there was a shrinkage problem at all.
With an accurate inventory system in place, you will know which products are disappearing. This knowledge allows you to adjust your security and store layout to discourage theft and save your business money. To learn more about preventing retail theft, check out our article, How to Reduce Retail Theft.
3. Managing Employees is Much Less of a Headache
Employee management is a necessary evil of owning a growing small business. Shift schedules, time off, payroll, punctuality – it can be quite the chore. POS systems can go a long way to decreasing the stress of employee management. Here's how.
a.Makes Payroll Much Easier
Payroll is perhaps one of the biggest headaches related to employees that a small business owner faces. With a new POS system, employees can quickly clock-in and -out with an employee PIN. That data can then be exported directly to your payroll software or accountant. POS just made payroll a piece-of-cake.
b.Empower Employees to Manage the Minutia
Many of today's POS systems allow employees to do some of the management
themselves. For example, using their PIN, an employee can login to the POS
system online and request time-off or organize a shift-change. All you have to do, is approve requests. This is a convenience for employees and time saver for you.
c.Accurate Employee Evaluations
A modern POS system can tell you a lot about each employee. Reporting on tardiness, absenteeism, sales records, and more are all quickly available to you.
When it's time for employee reviews you have the accurate, detailed information to see who's making your all-star team. If you have tough employment decisions to make, the information is invaluable and indisputable.
4.Quick, Accurate, and Centralized Reporting and Analytics
Ever feel like banging your head against a wall because you cannot find that one report or time sheet you need?
With a POS system, all the reports and analytics you need are stored digitally and are only a click or two away. You can generate sales reports a variety of ways:
by specifying a specific date-range or time period,

by specific item

By wider category

and much more…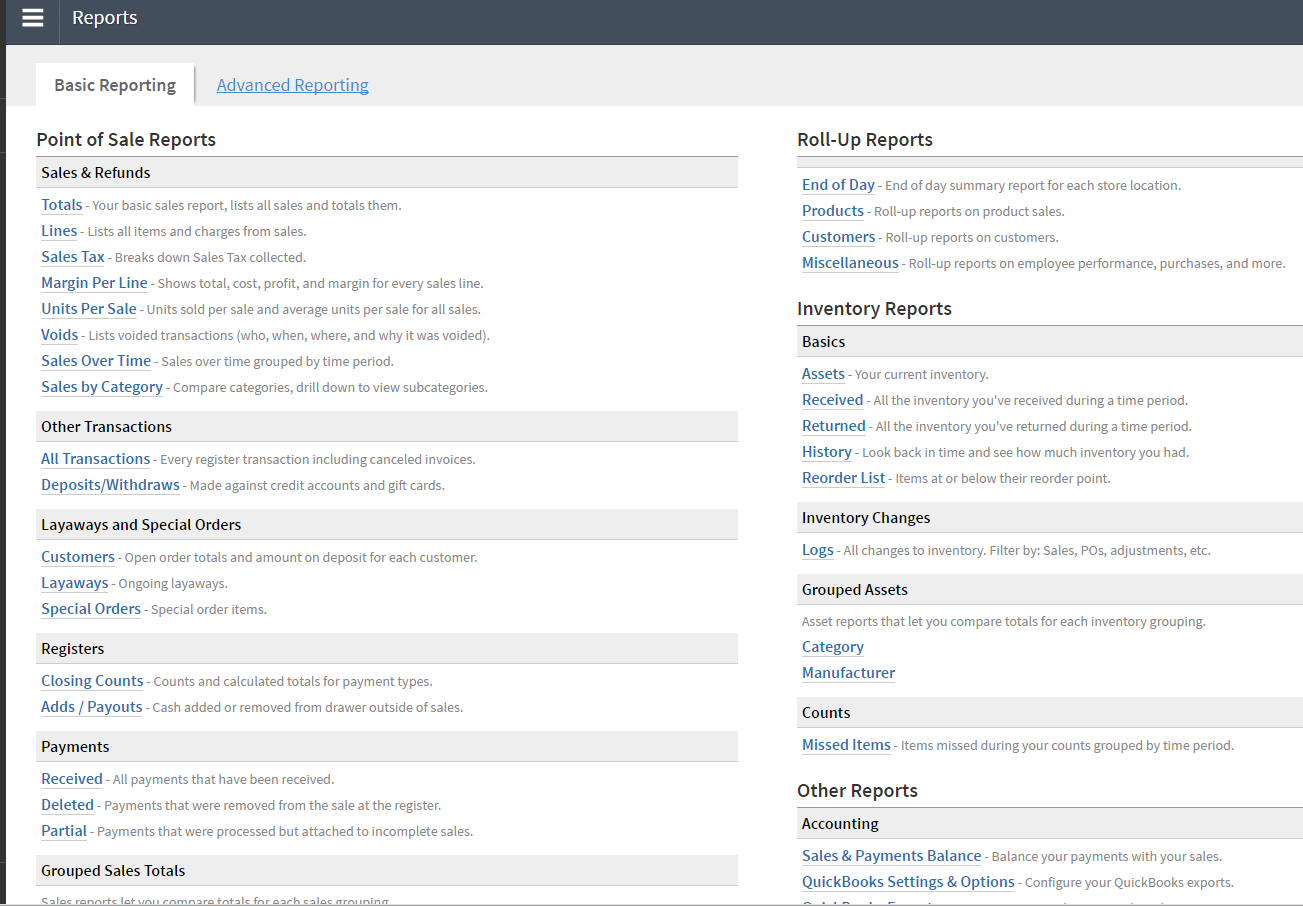 You can generate labor reports, overtime reports, and more as well. If you would need a physical copy for some reason, you can just print it off with a simple click. In other words, when you need an important report, you will know
exactly where to get it and not have to spend fruitless minutes or hours searching
around in the paper piles while getting more and more stressed.
5.Accounting Integration Revolutionizes Your Tax Season  
Every small business owner hates tax time. It seems like it is just endless frustration, paperwork, and recalculation. Some business owner elect to try to do their business taxes themselves. Others, prefer to just pay an accountant. Whatever the case, a POS system will make a big difference for your business come tax season.
If you do taxes yourself, you can just import all your revenue and sales information from your POS system directly (or via CSV file) into your tax preparation software, which will save you all kinds of time. If you pay an accountant, you can just send them over that information and make their job a lot easier, which means you will pay less.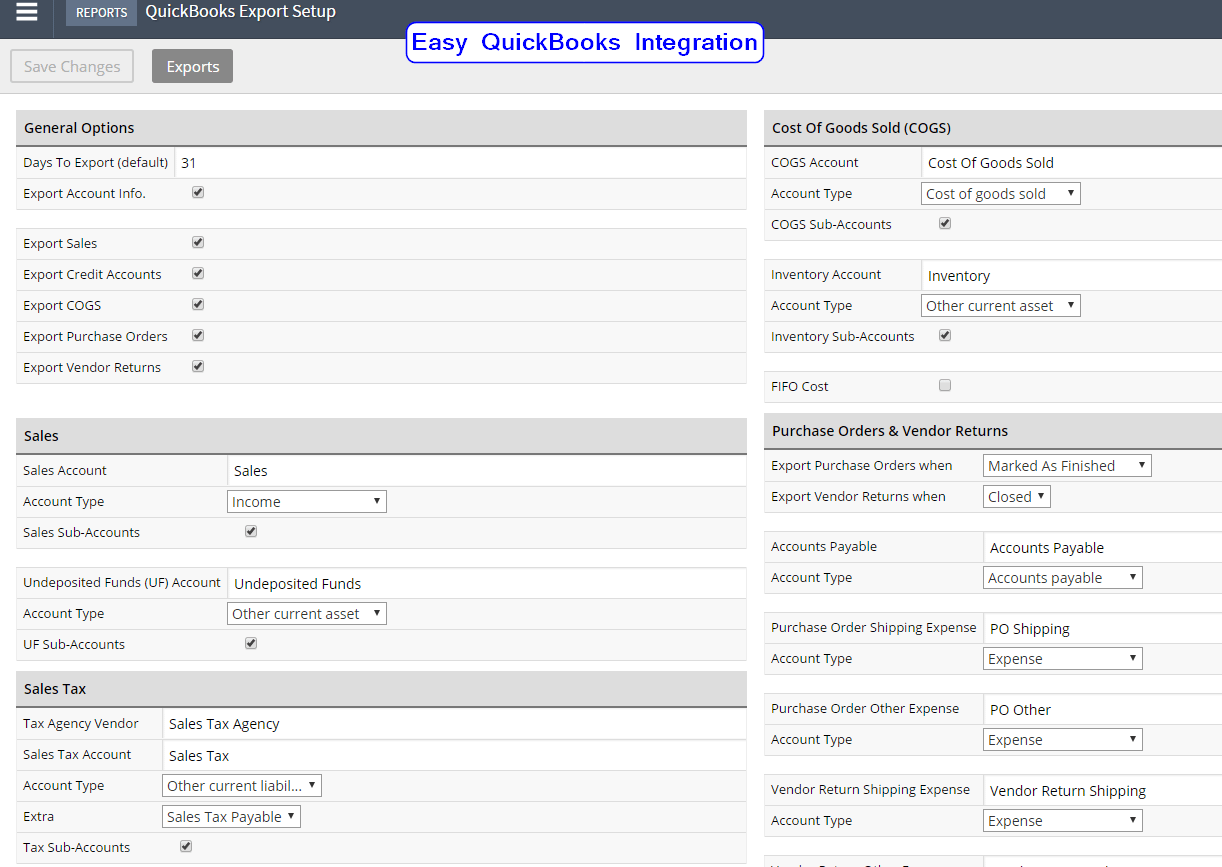 6.All Payment Methods, All in One Place
With an old cash register, you either could not accept credit cards or you needed to set
up a completely separate terminal to do so. With modern POS systems, credit card
processing is a breeze.
If you are using a tablet based POS system, you generally just plug a card swipe into the headphone jack or Thunderport (mac) and you are good to go. With Desktop based systems, you can generally hook up via a USB port.
To actually process credit card payments, you will need a merchant account.  Some POS systems, like Square Register or Paypal Here, have their own merchant account included, meaning you just swipe and go.
Others, like Lightspeed, allow you to pick your own merchant account provider, and connect them with your Lightspeed account. To learn more about merchant accounts, check out our Merchant Services Buyer's Guide. For more information on processing credit cards, visit our guide on How to Accept Credit Cards.
I could write much more on all of the ways a POS system can save your business time and money. But, the above should give you a taste of the wealth of possibilities that a POS system can provide for your business. In short, if you are still using a traditional cash register, you are significantly limiting your business.
How Much Does a New POS System Cost?
The cost of POS systems for retail depends on how sophisticated of a system you want, how many registers you need, and how many employees will be using the system.
If you just want something that will do basic payment processing and inventory tracking, you can go with Square Register. The software is free. The only fee is the 2.75% credit card processing fee and you can expect to pay $179 for their basic hardware package per register.
If you want a more sophisticated system that can has more in-depth inventory controls, purchase order estimation, time tracking, we recommend Lightspeed POS. Lightspeed's retail package starts at $76 per month (plus credit card processing fees) and supports 1 register and 5 employees. In addition, you'll need to spend $999 on their basic hardware package to support one register. There can be additional costs for a credit card reader depending on what merchant processor you use.
For an even more advanced system that is made to handle multiple stores, an online store, and warehouses, you would want to look into ERPLY. Erply starts at $200 per month and hardware for one register will cost $615.
In short, your POS cost will really depend on the complexity and size of the system you need. To learn more about pricing, check out our POS Buyer's Guide.
TIP: Some POS companies will offer discounts or monthly payment on hardware depending on your business's specifics, like monthly plan, etc. It is best to contact their sales team for these details.
Not Sure Which POS System is Best? Try Lightspeed POS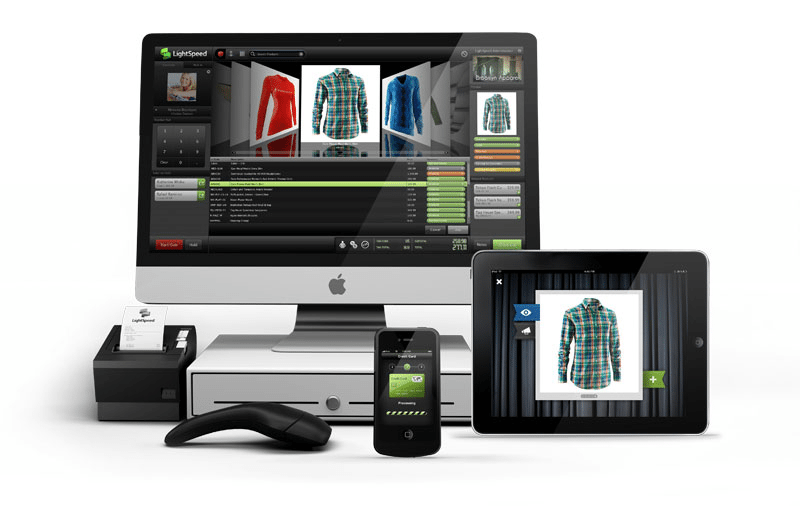 We have tested 15 of the top POS providers to find the best systems for the average small business. We logged a lot of hours on our desktops, tablets, and mobile devices testing each system and talked to many representatives and salespeople from each company. In the end, Lightspeed POS emerged as the clear winner in overall value for the small businesses. There were three main reasons for this:
Lightspeed POS has many of the features of higher-powered POS systems at a fraction of the cost

Lightspeed POS has easy, intuitive setup and use

Lightspeed POS has exceptional customer service and approachability
If your business has exceptionally specific POS requirements (multi-store, always on-the-go, etc), another POS system may be a better fit. To learn more about Lightspeed and other POS systems, check out our Best POS Software Guide, where we recommend different POS solutions based on specific business needs.
Summary
We often hear how an iPhone is more powerful than the computers used to put a man on the moon. Yet they're so intuitive that even preschoolers can use them.
Likewise, today's POS systems are more powerful than the tools that helped build the retail empires of today and infinitely easier to use. If you're not using a new POS system, you're stuck using the equivalent of a wall mounted, rotary phone.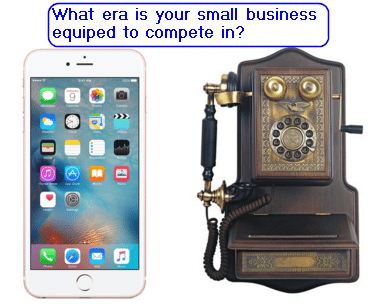 Put simply, POS systems can transform the way you do business. They can save you huge amounts of time and money. They can quickly provide you with the information you need to make the best decisions for your small business.
We recommend Lightspeed POS. Click here for a free 14-day trial.
If you are still inputting each sale individually into a traditional cash register, maybe it is time to consider making the switch.