9 Items to Include in a Winning Prelisting Package (+ Free Checklist)
A prelisting package (also called a pitch packet or pitch deck) is a document you send to sellers before a listing meeting to introduce yourself and explain why they should list with you. It includes elements like a personal introduction, marketing plans, and performance statistics to show potential clients that you understand today's market and are a valuable asset to their homeselling process. A comprehensive prelisting package has the power to take a potential client from skeptical lead to loyal customer. Download our free prelisting checklist below and then read along for a breakdown of each element to include in your prelisting package.
This thorough checklist can help you save time when developing your own real estate prelisting packet. It includes the components essential for creating a package that shows sellers you are a trustworthy and responsive professional focused on helping them throughout their homeselling journey.
1. The Introduction Letter
The introduction of your prelisting presentation should be a personalized letter that directly addresses the homeowner and explains what the package includes. You don't have to write a new letter every time, and you can save time in the future by creating a basic prelisting packet introduction letter, but you should include some personalization.
Dear ________ (Seller Name(s)),
I look forward to chatting with you about the sale of your house at _________(insert property address). Selling your home for the most amount of money and in the shortest amount of time is our ultimate goal. We have outlined our strategies within this package. I am confident that the methods we discuss will give us the greatest possibility of achieving these goals with you.
I've attached various helpful documents about the homeselling process and the services I will provide you. I'm eager to communicate with you, sell your house, and assist you, your friends, and your family with your real estate goals.
Best,
Your Name
Your Phone Number
Your Email Address
Your Website and Social Media Handles (if Applicable)
Since your prelisting presentation packet is meant to demonstrate why you are uniquely qualified to sell their home, sending them a generic package with clip art won't be impactful. Instead, prepare an introduction letter template for types of listing clients, like FSBOs (for sale by owner), expired listings, referrals, or leads from your sphere of influence.
2. A Brief Professional & Personal Biography
The next section of your prelisting package template should be a brief biographical summary (aka bio section), similar to a resume. While your leads won't have the time or interest to read through your junior high soccer history, they want to get a sense of your success as a real estate professional and who you are. After all, they will be working with you on what may be a stressful and emotional transaction for the next few months.
Make sure your bio includes the following:
Brief summary of your experience
What makes you unique
Testimonials from former clients
Your headshot
Any real estate designations and their importance (make it clear how it helps your clients)
Personal tidbits about you so clients can relate
3. Introduction to Your Brokerage & Team
While most homesellers focus more on the real estate agent than their real estate brokerage, providing a brief overview of your brokerage and team is beneficial. It shows clients a glimpse of what services you can offer and that you have additional resources at your disposal.
Include information about your brokerage's history, sales records, awards, and current or recent real estate listings comparable to the prospect's home. Also, add evidence of your firm's marketing prowess to assure prospective real estate clients that a top-notch brokerage further supports your efforts.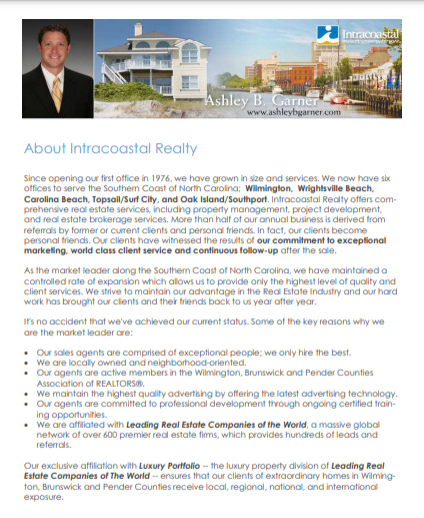 ---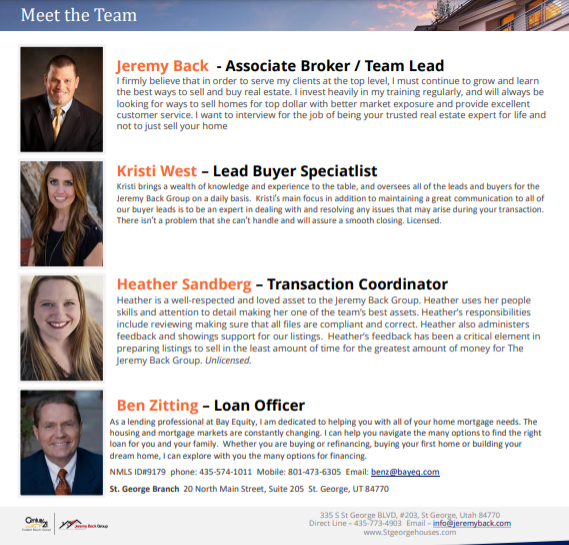 ---
If you work within a real estate team, this is the time to introduce each member's name and job position, especially any team members the sellers will be in contact with or may be working with in case of your absence. Include short bios with headshots of your team leader, associate broker(s), marketing support, and virtual assistant to let your potential listing clients know who they should talk to if issues arise.
4. Marketing & Advertising Plan
While you should hold off on making specific pricing recommendations or sharing customized marketing plans, you should include an overview of the marketing skills and tools you plan to use to capture and generate high-quality leads. The following are some examples of marketing materials and strategies to help you grow your audience and increase your engagement: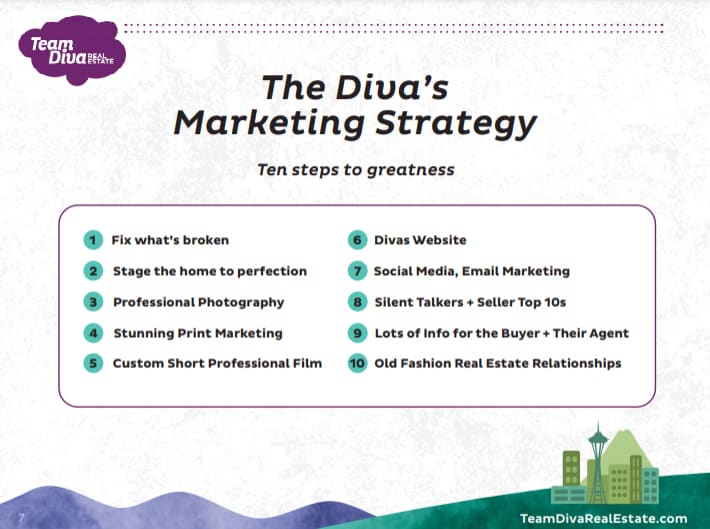 ---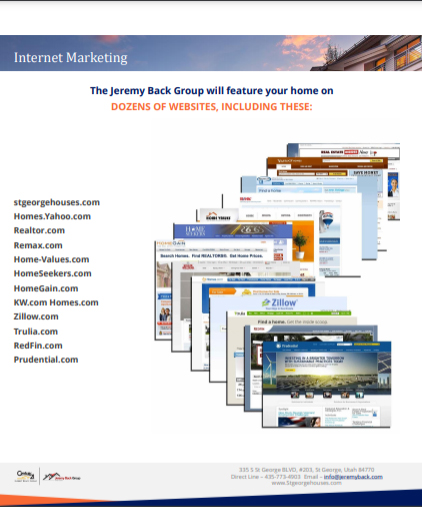 ---
Furthermore, include a marketing case study to show how you achieved a successful sale with a similar home. The study should provide specific details about the tactics you used to demonstrate a property's value, time on the market, and marketing channels you used. For example, if you're pitching an FSBO lead, include a marketing case study on an FSBO property you recently closed. Show the channels you used to market the property and statistics to depict these channels' success and closing timeline.
If you don't already have a system for marketing, take a look at the following options that make your marketing efforts more efficient and stand out from the competition:
Providers

Best For

Agents and brokerages that require lead generation and marketing tools

Real estate professionals looking for social media marketing

Realtors seeking direct mail solutions

Real estate agents who need to create custom websites to showcase their services

Key Features

Print and online advertising
Website builder

Post on Facebook, LinkedIn, Twitter, and Instagram
Email and text message marketing
Marketing automation features

Direct mail options like postcards, flyers, brochures, etc.
Variety of shipping methods
Mail tracking

Do-it-yourself or do-it-for-me website design
Built-in CRM
Internet data exchange (IDX) integration

Starting Price

$169

$9.99 per month

Varies by product

$79 per month

Learn More
5. Statistics Showing Strong Performance
Along with introducing your brokerage, include statistics about your performance and the performance of your brokerage. These numbers will show your listing clients how quickly you've been able to sell houses and how well you can achieve (or even exceed) the listing prices. Statistics like the average days on market, the percentage of sales closed over ask, and the number of sales closed in a specific area will support and act as evidence for your claims.
Include pictures and data for comparable properties to show your neighborhood expertise. This can help establish your presence and value of knowledge in the area your potential client is selling their home.
6. An Overview of the Sales Process
Including an overview of the sales process gives homeowners a clear view of their next steps and helps them envision working with you. While you don't need to write lengthy explanations of the sales process or cover all of the possibilities, a bulleted list of the basics will go a long way to educate your clients and demonstrate your value.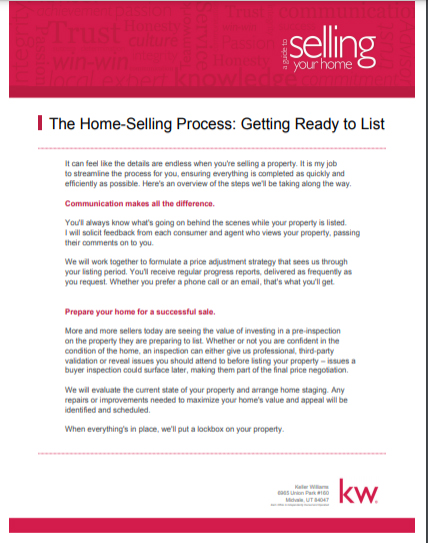 ---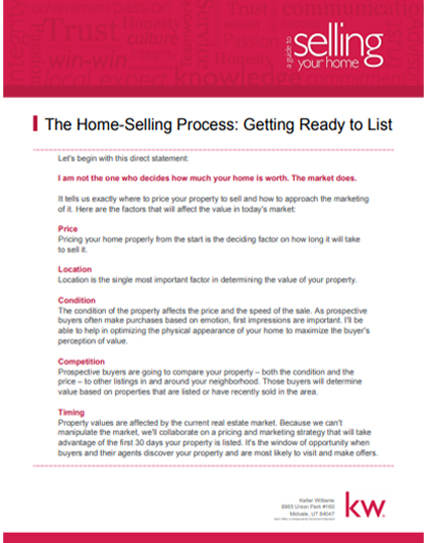 ---
Be sure to include information about how negotiations work, the fee structure for sellers, and any additional services they'll need, such as title company, escrow, real estate attorney, and mortgage broker. The list you give clients should match your real estate listing checklist to keep everyone on the same page throughout the process.
7. Market Statistics & Explanation of Comparative Market Analysis (CMA)
The prelisting package is the place to introduce local real estate market data. Include a few statistics about similar homes in the prospective client's area and mention that you'll present a comparative market analysis (CMA) during your meeting. Don't send the complete CMA to the sellers before your listing presentation, but explain what it is and how it will help them price their home accurately so they can get the most money from the sale of their home.
Providing this data and information gives homeowners time to think about the market data and anticipate the information that will be included in your CMA. You can also mention that you will need to tour their home before making a final pricing recommendation and ask to set up a time.
8. Sample Contracts & Disclosures
Including a sample real estate listing agreement contract in your prelisting packet helps sellers think past getting their property on the market. Homeowners are often so focused on the overwhelming number of tasks and decisions they'll have to make to list their home that they don't think about other vital details, like contracts and disclosures. Including these documents prepares them for what they'll face during and after accepting an offer.
When you and the homeowners are on the same page about the homeselling process and their goals, it allows the whole process to run more smoothly. It will also give you a moment to explain these documents, so homeowners are given transparency throughout the process. Discussing potential disclosures during the listing presentation often reveals important information that prevents problems or miscommunications.
9. Checklists & Anticipatory Questions
A great way to end your prelisting package is with a checklist and questions for the homeowners to consider when choosing an agent to list their home. This helps prepare them for your listing presentation meeting and shows them that your priority is genuinely helping them in the best possible way. Of course, when you present a list of questions to ask a real estate agent, you should also be prepared to answer each question.
Is it a buyers' market or a sellers' market?
Should I hire a real estate agent or try to sell my home alone?
What about all the paperwork and legalities? Can I do it all by myself?
How much should I price my home?
What should I do to have my home in top-selling condition and increase the property's value?
Should I do some renovation or not? If yes, how much should I allot for the renovation?
How much should I fix? How much should I leave as is?
Which part of the property needs to be renovated?
Should I hire a contractor, painters, homestagers, and photographers? Or will I do everything on my own?
What marketing strategies are effective and will help me sell my home quickly?
Do I need to host an open house? If so, how many?
How much of a hassle is involved in showing my home?
Should I list my home on public sites like Zillow and Realtor.com?
Should I buy or rent my next home? If I buy a home, how will I finance it?
You can also personalize these questions based on the seller's situation. For instance, if your potential client is an FSBO or expired listing, include questions like "How long have you been trying to sell your home?" and "Do you have access to all the appropriate contracts, disclosures, and other legal paperwork?"
Prelisting Package Best Practices
Like most effective marketing materials, building an excellent prelisting presentation is as much an art as it is a science. What you include will be primarily determined by your experience, preferences, skills, and what type of homeowner you're pitching. This is why you want to keep the various sellers in mind when constructing your package—to tailor it to their particular needs.
For example, a for sale by owner (FSBO) lead needs different types of education than a typical seller, e.g., the value of working with an agent rather than selling their home independently. A first-time seller might need a more in-depth understanding of the homeselling process than someone who's sold multiple homes. Or an expired listing seller might need to be re-encouraged to work with an agent if their first agent failed to sell their home the first time.
However, in general, a prelisting package should address the following:
Demonstrates how the real estate agent can sell the client's home to meet the homeowner's goals
Describes what the homeowner can expect during the process of selling their home
Give the homeowner an in-depth look at the agent's marketing and sales skills
Provides statistical and social proof of the agent's successful track record
Provides the homeowner with a realistic view of the marketplace and how it relates to their property
It is also a good idea to send a prelisting package at least a couple of days before your first meeting with a potential client. This way, the sellers can review the prelisting package before the actual listing presentation.
Examples of Prelisting Packages
Here are some examples of pieces of prelisting packages that will guide you in creating an excellent prelisting packet that will surely convert your leads into clients. These prelisting package examples showcase the above-mentioned items, like an introduction letter, professional biography, and market statistics demonstrating the agent's expertise and achievements.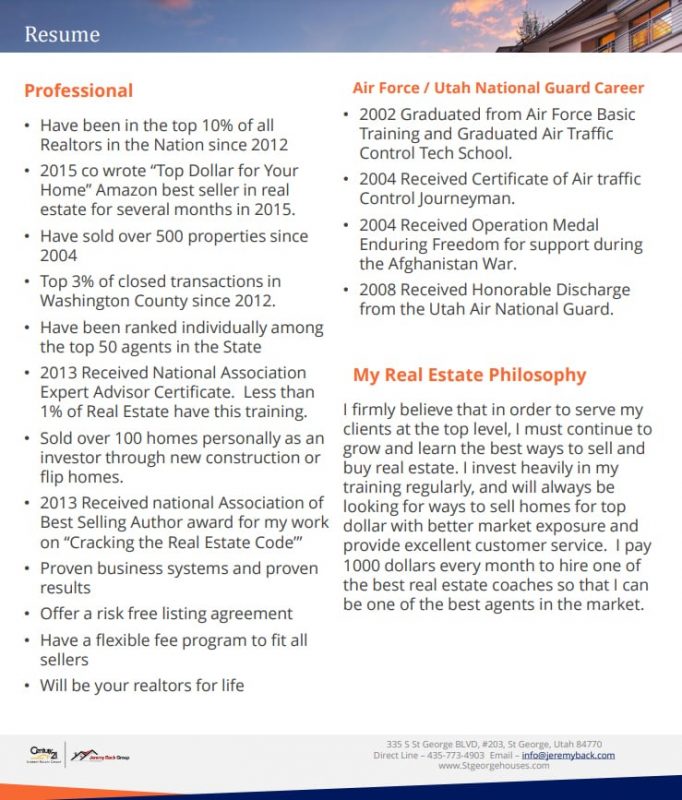 This example prelisting package shows its resume as its first page. It highlights the professional and personal biography of the agent as well as their real estate philosophy. Including this information summarizes and boosts your credibility.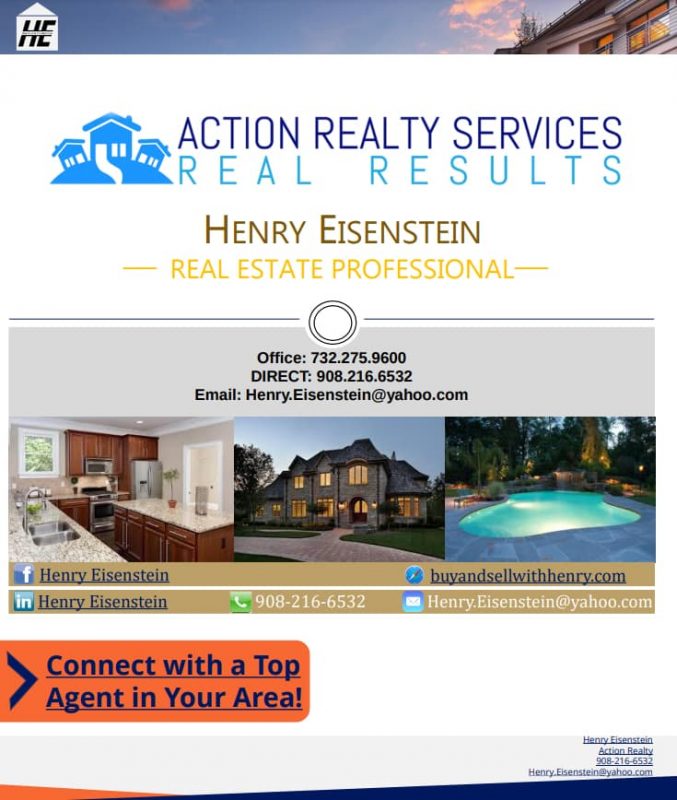 This prelisting packet example highlights your marketing plan. Outlining your marketing strategy and what you offer creatively to get the job done will set you different from other agents. Include your past work as an example of your approach to real estate, and you could also have a mission statement.
This example includes a pricing strategy. It includes how they will determine the market value of your property to get the most money for your home but not over-price it to the point where you discourage offers.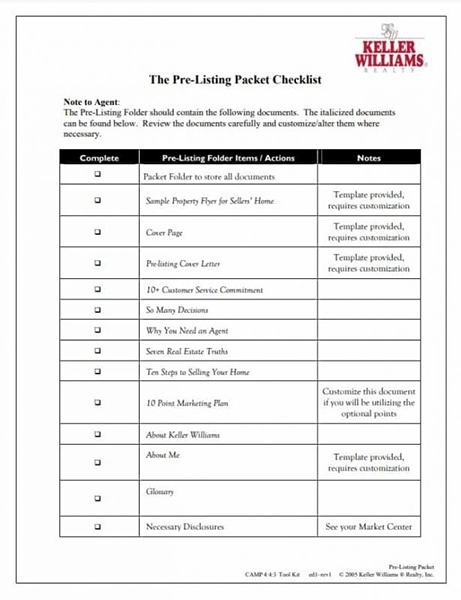 This prelisting packet contains a step-by-step guide on selling your home. Since clients want their agent to be experienced and know every detail in the transaction process, including a concise guide will give clients confidence in your knowledge and inform them of the steps they will experience.
Bottom Line
Your prelisting package is one of the most effective and influential real estate lead generation tools you can create, so spending some time and money to make it shine can positively impact your entire business. By creating different real estate prelisting packages for different types of homesellers and including the correct information, you'll maximize your chances of converting real estate leads into real estate listings.