Predictive Behavioral Routing: A VoIP Feature Spotlight
This article is part of a larger series on VoIP.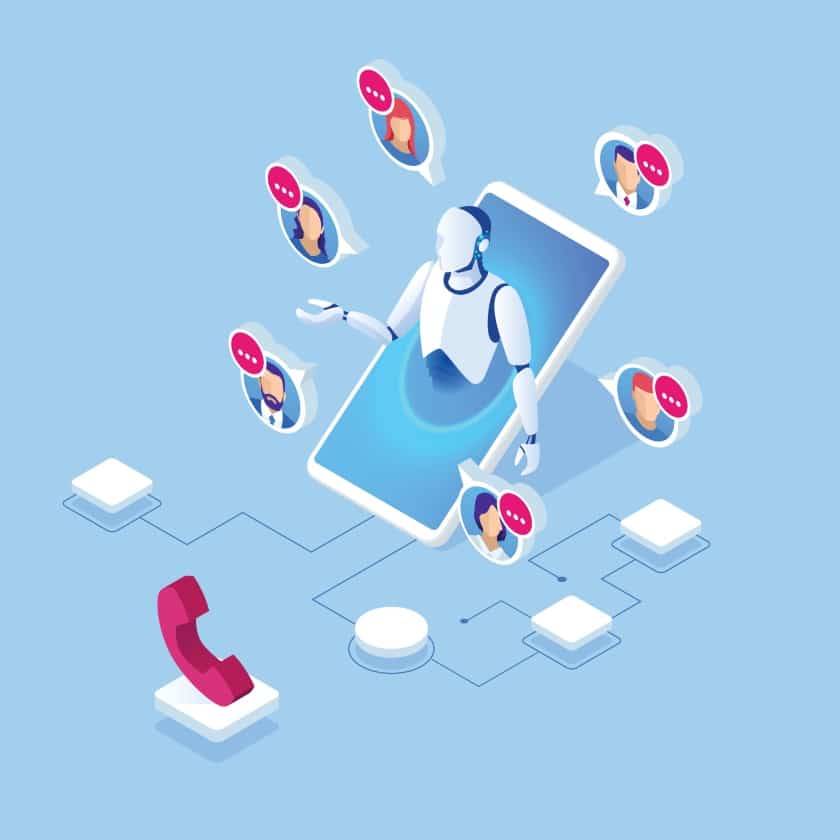 Predictive behavioral routing is a feature that utilizes data on a caller's personality, communication preference, past contact experience, and an agent's skills and performance when pairing them for conversations. It automatically matches the caller to the most qualified agent, enhancing the overall contact experience. Through predictive behavior routing, businesses can expedite call handling and issue resolution.
What Is Predictive Behavioral Routing?
Predictive behavioral routing is artificial intelligence (AI)-based functionality that analyzes both the customer's and agent's recorded information. This analysis is a data-driven pairing used in real time, which works with other call routing and automatic call distribution (ACD) systems.
Predictive behavioral routing is highly recommended for enterprises across various industries, such as financial services, media, healthcare, retail, and technology. It helps agents leverage the information they have on their callers' personalities for effortless and seamless connections.
Mattersight, now acquired by NICE, developed this feature. To experience predictive behavior routing firsthand, you can try NICE inContact CXone free for 60 days. If you are not ready to make any commitments, you may instead request a demo or quote to determine if it fits your business process.
PROS

CONS

More positive conversations between customers and agents
Might be overkill—in both capability and budget—for small businesses
Lessens wait time and eliminates transfers
Not a standard feature for most VoIP and call center software
Faster call handling and issue resolution
As this feature helps provide the perfect match between callers and agents, it does improve customer experiences in various ways. Since the agent assigned is the most skilled to handle a customer's issue, there will be faster resolution and no unnecessary transfers. There will be less wait time and more pleasant customer experience as agents handling their calls are prepared. They have access to information on how to deal with customers and address their needs.
Predictive behavioral routing is an excellent feature with guaranteed results; however, its added costs may not fit the needs of a small business. You may also not see this capability offered by a lot of providers. Additionally, those with low to average call volume may not know the value of adding this expense for their businesses.
How Predictive Behavioral Routing Works
Call forwarding with a predictive behavioral routing feature generally involves three steps:
Customer analysis: When a customer calls, predictive behavioral routing evaluates the caller's personality, experience preferences, and communication style from its database.
Agent identification: Based on historical and performance data, it can predict which one among the skilled agents you have on the team is best for the customer.
Customer-agent routing: Predictive behavioral routing instructs the platform's automatic call distribution (ACD) feature to forward the customer to the identified agent for a personalized and optimized contact experience.
While it sounds simple with a three-step process, there are still a lot of activities involved to ensure accurate pairing. For instance, NICE inContact lets you set up your targeted business metrics and goals, such as customer satisfaction and less talk time.
Additionally, it utilizes millions of algorithms and data assets, along with the industry's largest behavioral database, to complete a call transfer. These technologies enable intelligent call routing and continuously capture information on both parties to consistently train its artificial intelligence (AI) for ideal outcomes.
Predictive Behavioral Routing Alternatives
While predictive behavioral routing is excellent in improving your customers' contact experience, it doesn't mean it is recommended for all use cases. For example, not all businesses have high call volumes or extra budgets for this AI-powered, data-driven capability.
Those looking for a simple call routing feature may check out the following functionalities:
Interactive voice response (IVR): Lets callers communicate with a computer-operated system through voice and dial tone multi-frequency (DTMF) via their keypads. They can either be transferred to an appropriate agent or resolve their issues, such as payments, on their own.
Skills-based routing: Forwards calls to specific agents with skill sets that can address the customer's needs. Routing is based on IVR responses or a customer's historical data, like caller ID.
Time-based routing: Assigns callers to available agents based on their business hours or time zones.
Least occupied routing: Also known as talk-time routing, forwards calls to agents who picked up the least number of calls.
Percentage routing: Divides a percentage of calls and allocates them between teams of agents.
Fixed order routing: Assigns calls in sequential order. For example, the first agent receives the call first, and it will only be forwarded to other agents in the line if the first agent is busy or unavailable.
Rotary routing: Evenly distributes calls by assigning calls to each agent. Calls will be routed to the first agent for the next round, once the system is done assigning calls to all agents in the list.
VIP routing: Prioritizes your most important customers, based on their saved information, like caller ID, and places them first in line.
Most of these alternatives are found in call center software—such as Freshdesk Contact Center—which is highly recommended for enterprises. Meanwhile, small business phone systems and unified communications as a service (UCaaS) platforms, like RingCentral and Nextiva, let users set up simple routing tools like an IVR. It is worth noting that other UCaaS providers, such as Vonage, also provide contact center software.
Bottom Line
Predictive behavioral routing helps enterprises improve their customers' contact experiences through AI-based technologies equipped with databases and algorithms. It utilizes customer information, such as communication preferences, past experiences, personality, and agent performance, to create an excellent match.
There are several alternatives to this feature, like skills-based or rotary routing, but predictive behavioral routing can enhance these capabilities for less wait time and faster resolution. It adds a robust extra layer of analysis to ensure that your callers will be assigned to the most qualified agents.
Predictive behavioral routing is a must-have for enterprises that prioritize great customer experiences. While it adds extra costs for businesses, its return on investment (ROI) is worth looking into.