Check out the following example press release! When you're ready to send, we strongly recommend eReleases, which offers wide distribution through AP and other press networks. Click here to check it out.
BioClarity™ is a direct-to-consumer product with a proprietary new treatment regimen
SAN DIEGO, CA (PRWEB) AUGUST 03, 2016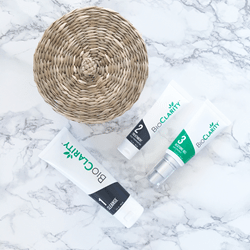 Adigica Health announced today the launch of BioClarity™, a new proprietary skincare regimen specifically formulated for the treatment of acne in teenagers and young adults. Market research indicates that over 85% of this category suffer at some time from mild, moderate or severe acne, and over 90% utilize a consumer product before visiting a physician for treatment. This results in a consumer market estimated to be over $3 billion annually in the US.
The BioClarity™ regimen was formulated by research scientists to include salicylic acid, a proven treatment for acne, combined with natural ingredients including a patented and proprietary ingredient, Floralux™. Floralux™ is a naturally derived ingredient from chlorophyll (the green material in plants), that helps reduce the symptoms of acne and the side effects of acne medications, plus helps to restore the natural balance of the skin. BioClarity™ was formulated without benzoyl peroxide, which is the primary ingredient in most consumer acne treatment products. Products with benzoyl peroxide can cause skin redness, dryness and flakiness and can bleach clothing, towels and linens.
In a clinical trial of BioClarity™ in teenagers and young adults, patients used BioClarity™ for eight weeks. After the trial period, 90% of users reported a favorable reduction in the number of blemishes, while 87% saw an overall improvement in the appearance of their skin and 90% of participants said that they would recommend or strongly recommend BioClarity™ to other acne sufferers. More of the clinical results and patient testimonials can be found on the company's website http://www.bioclarity.com.
Adigica Health was formed to develop and commercialize specialty healthcare products directly to consumers. The company was founded by David Hale, Chairman and CEO of Hale BioPharma Ventures, LLC. Mr. Hale is a life sciences and healthcare serial entrepreneur who has had significant experience in the skincare industry as Chairman of SkinMedica from 2001 to its sale to Allergan in 2014 and the formation of MDRejuvena®, an exciting new professional skincare company, in 2015. Mr. Hale has teamed up with Rick Sliter, President and CEO of Adigica Health. Mr. Sliter is a former senior executive with Provide Commerce, an e-commerce company that built ProFlowers® and Shari's Berries® into major consumer brands. The Board of Adigica Health includes Cam Garner, a longtime serial healthcare entrepreneur; Bill Strauss, former CEO of Provide Commerce; and Howard Palefsky, former venture capitalist and healthcare executive. The Adigica team includes former executives at Provide Commerce as well as additional healthcare and social media professionals.
"We developed BioClarity™ based on our significant experience in skincare and the belief that we could develop an acne treatment regimen especially formulated for the skin of teenagers and young adults. We believe that the BioClarity™ regimen will be well accepted because it produces significant positive results," said David Hale. "We also believe that the e-commerce platform we are building will allow us to develop and market additional proprietary healthcare brands directly to consumers."
Rick Sliter, President and CEO of Adigica Health, stated, "We are very excited to offer BioClarity™ without a prescription directly to millions of teenagers and young adults who suffer from acne, which can be both socially and physically challenging. We believe that our formulation of natural ingredients and proven acne fighting medication will make BioClarity™ the product of choice for acne treatment. BioClarity™ will be available online with a subscription fee and with satisfaction guaranteed."
For more information and to purchase BioClarity™, visit http://www.BioClarity.com. BioClarity™, Floralux™ and Adigica Health are trademarks of Adigica Health, Inc.
About
Adigica Health is an e-commerce company focused on the development and commercialization of proprietary healthcare products directly to consumers. The Company's initial flagship product, BioClarity™, has been especially formulated to treat acne in teenagers and young adults.
---
What's the best way to send a press release? Click here for our guide and find out how to get your press release in front of the Associated Press, PR Newswire, and writers all over the web.