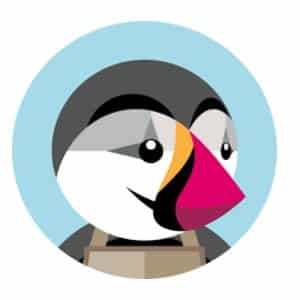 PrestaShop is a free open-source ecommerce platform that helps you create and manage multiple online stores. It offers hundreds of advanced built-in functionalities such as inventory management, hundreds of payment providers, multi-language and multi-currency support, and marketing campaigns.
What We Recommend PrestaShop For
PrestaShop made it to our list of the top free ecommerce platforms, scoring a 4 out of 5 in our evaluation. It earned perfect marks for the quality of its built-in features, eliminating the need for paid add-ons from its app marketplace. However, PrestaShop's steep learning curve and the need to pay for customer support prevented it from earning a perfect score.
We particularly recommend PrestaShop for:
Developing a customized ecommerce solution: PrestaShop's open-source software (OSS) allows you to develop your own features as needed. However, you will need to code them yourself or with the help of a developer.
Those that need to manage multiple online stores and transact in different languages and currencies: PrestaShop has built-in features for users who plan on selling on different websites but want to consolidate orders in a single dashboard. It can also translate your store into 75 languages and lets you accept payments in other currencies.
When PrestaShop Would Not Be a Good Fit
Looking for something different? Read our guide to the best free ecommerce platforms for small businesses to find a service or software that's right for you.
PrestaShop Overview
PROS

CONS

Highly customizable
Expensive customer support
Does not require a lot of third-party apps to build a store
Developer skills required
Has a strong and helpful community forum
Requires a lot of hosting space
Supports over 75 languages
Steep learning curve
PrestaShop Pricing
PrestaShop is a free ecommerce solution, and those interested can visit its website to download the software. Extensions are available in its official marketplace, PrestaShop Addons, with popular apps costing anywhere between $0 – $400 per module. Modules include SEO Expert, Abandoned Cart Reminder, and Loyalty Coupons.
While PrestaShop is free to download, it has the following minimum installation and working requirements:
A domain name (or a subdomain/subfolder)
Recommended web server: Apache 2.x, Nginx
PHP 5.6+
MySQL 5.0+ installed with a database created
FTP access (ask your hosting service for your credentials)
PrestaShop Features
One of PrestaShop's advantages is that it has hundreds of built-in ecommerce features, and these include all the basics most businesses need to get started. The platform allows you to create product listings, configure a checkout page, calculate taxes, and more. Since it is an OSS, the sky's the limit when it comes to customization. We highlight some of its main features below.
Website Builder
PrestaShop offers over 3,000 paid mobile-responsive templates. PrestaShop's only free template comes with a WYSIWYG editor to make it possible to make changes. However, take note that only three templates are developed by PrestaShop, with the rest coming from different developers. Do your research and find out how developers provide support before buying a premium theme.
Store Management
Product listings can be as detailed as you want them to be. The ability to upload multiple product images, zoom in and out on them, set up store policies, product descriptions, and leave customer reviews are just a few of the things you can include in your product page.
The following functionalities are also built-in:
Product navigation (categories and subcategories)
Order management
Inventory management
Customer management
Store catalog
Store "Search" feature
Sales and tax management
Data analytics and reports
Promo codes, coupons, and discounts
Price rules (special offers based on product, customer, or order)
Product highlights
Connect store to social networks
SEO product pages and store
Payment Processing
There are over 270 payment modules in the PrestaShop Addons marketplace such as options for card or wallet payments, bank transfer payments, POS, recurring payments, invoicing, and regular online payment gateways. Most of these are free.
You can choose from popular payment providers such as Square, PayPal, and Stripe. You can also set up mobile payment options like Amazon Pay, Apple Pay, and Google Pay.
For help choosing a payment processor, see our guide on the best payment gateways.
Multi-Language and Multi-Currency Support
If you sell in different countries, then PrestaShop is ideal for you because it enables you to accept multiple currencies. It can also translate your store into more than 75 languages—or you can set it to automatically translate based on a visitor's IP address.
Marketing
Running a variety of marketing campaigns is easily done in PrestaShop. For example, you can advertise promotions via images or banners throughout your store pages, display call to action buttons on product pages, and set up cross-selling and promotional content (like suggest related items).
You can also take advantage of its email marketing function by sending your customers emails containing recently viewed products or alerting them with back-in-stock notifications. Abandoned cart recovery emails are also a great way to increase conversion rate, and this can be personalized from your dashboard.
All of these user experiences can be personalized because the platform allows you to segment customer groups.
Integrations
The PrestaShop Addons marketplace offers close to 4,000 modules (extensions or integrations), including thousands available in languages other than English. Most integrations are available as one-time purchases, and their reviews are available on their respective module pages.
One thing to note since most modules are made by different developers, PrestaShop can't guarantee that all modules are compatible with one another.
PrestaShop Ease of Use
Help desk
Forum
FAQs
Knowledge base
Support plans (starting at $296.30)
PrestaShop experts
Training: Documentation, catalog, and course programs
Phone support: Mondays to Fridays from 9 a.m. to 6:30 p.m.
Setting up PrestaShop requires a lot of time and technical know-how. For example, in the first phase of set up, you'll need to download the software, create a database, upload the software to your server using an FTP client, then install. You can read through PrestaShop's Get Started guide for more information, including the step-by-step installation documentation.
PrestaShop offers email and phone support, though most users said that they had trouble getting the assistance they needed via phone and that most email replies came late. However, support from the community forum is popular—including support for common languages (such as English and Spanish).
PrestaShop also offers training programs and a list of PrestaShop experts if ever you need one. Paid support plans include access to an expert consultant and a guarantee that all concerns and inquiries will be attended to within 48 hours.
Top PrestaShop Alternatives
| | | |
| --- | --- | --- |
| Best for: Small businesses and entrepreneurs offering in-person and local deliveries | Best for: Business that have existing websites (Wix, Squarespace, and Weebly) | Best for: Businesses that have existing WordPress websites |
| Offers a free plan? Yes | Offers a free plan? Yes | Offers a free plan? Yes |
| Paid plans from: $12/month | Paid plans from: $15/month | Paid plans from: N/A |
| | | |
If you're not sure PrestaShop is right for you, see how it compares with our top free ecommerce platforms. However, Shopify is our top recommended ecommerce platform. Though plans start at $29 per month, you can try it free for 14 days.
What Users Think About PrestaShop
Most PrestaShop user reviews online highlight how the software lets them customize almost every aspect of their online stores. They also appreciate the multi-language support. Meanwhile, negative reviews center around its expensive customer support.
At the time of publication, PrestaShop earned the following scores on popular user review sites:
When reading through user reviews, I noticed these trends:
| Users Like | Users Don't Like |
| --- | --- |
| Highly customizable | Module extensions may be incompatible with one another |
| Support available in multiple languages | Needed upgrades to software can make website slow |
| Many templates and modules available | Expensive customer support |
Bottom Line
PrestaShop is made with developers in mind. If you know how to code or can afford to hire a developer, PrestaShop is a great fit. One of PrestaShop's strengths is the number of its built-in integrations, allowing you to develop a store without much need to install a third-party extension. It offers multi-language and multi-currency options for free, compared to other platforms that often require a higher paid plan or a premium integration to unlock the features.
PrestaShop doesn't provide much support unless you pay for access to its experts. So, if you have limited technical knowledge or little experience working with PHP coding language, consider investing in a web developer to help you through the store setup and maintenance.
You May Also Like …