A price quote contains detailed pricing information, the scope of work, and terms of an agreement between a business and its client or prospect. Having a template ready makes it easy for you to fill in the amounts and send it to a client rather than creating a new one from scratch each sale.
However, creating and managing price quotes for all of your prospects and customers can be tedious. Luckily, a customer relationship management (CRM) platform like Pipedrive offers third-party integrations to let you generate price quotes right within your pipeline so that you can spend more time with your customers and less time making quotes. Try PipeDrive CRM free for 14 days with no credit card required.
We've generated a list of 12 price quote templates you can download and use today for more effective sales management.
1. General Use Price Quote Template
Format: Excel, OpenOffice, and Google Sheets
Best for: Small businesses or solopreneurs seeking a simple template
Cost to download: Free
Source: Vertex 42
Because it's customizable, this price quote template is a great basic template that can be used by a variety of businesses. You can choose from two different designs on the Excel 2007+ version with an optional signature line for accepting terms and conditions. It also offers the option to enter a new client discount if you offer incentives to new customers.
2. Price Quote Generator & Tracker
Format: PDF
Best for: Small business that wants more functionality and to generate quotes frequently
Cost to download: One-time payment of $29.95
Source: Someka
You can personalize this template with your company logo, save and select products and services and use them in the drop-down menu, record past quotes, show or hide discounts, and assign a salesperson to each template. While it's not free, this price quote template comes with some handy bells and whistles for a low one-time fee rather than a monthly subscription.
3. Advanced Quote Template for Intricate B2B Sales
Format: Online or PDF
Best for: Most all small to large business-to-business (B2B) businesses
Cost: PDF templates are free to download. Online price quote templates start at $9 per month paid annually or $13 per month for paid monthly for individuals or $25 per month annually or $35 per month paid per month for small teams.
Source: PandaDoc
It might be one of the pricier pricing quotation templates but, as someone who has used PandaDoc in a B2B sales setting, I couldn't leave it out. You can customize and save personalized templates, add videos or testimonials right into the quote, and even accept payment. Plus, I experienced exceptional customer service from their support team. It has a broad array of features to offer, and its team made the product easy to navigate.
Even better, Pipedrive CRM has a PandaDoc integration, which means it can autofill quotes with pricing data straight from the CRM and collect payment after a quote is signed. You can even monitor when your quote was last opened, was commented on, or signed within the CRM. Sign up for a Pipedrive free trial today to test it out.
4. Web-based Price Quote Template
Format: Web-based
Best for: Businesses looking to create and send invoices online
Cost: Free trial for three quotes, then $5.99 per month
Source: Invoice Simple
If you want a web-based price quote template, this is a great option. It saves your clients and product or service items, works great with mobile devices, allowing you to edit quotes on the go and letting clients sign on their phone. It also notifies you when a customer has received your quote. You can add your company logo and colors to represent your brand and send a quote with a web link or download as a PDF and email it to your customer.
5. Database-driven Price Quote Template
Format: Excel, OpenOffice, and Google Docs
Best for: Small businesses seeking a simple price quotation template
Cost: Free
Source: Spreadsheet123
Spreadsheet123 offers a variety of simple business templates useful for a broad range of small business owners. This template is available in a range of formats and provides a settings page that serves as a database for storing company details so you can auto-populate them on each quote. You can also choose to create a price quote in portrait or landscape mode.
6. Hourly Price Quote Template
Format: Excel, OpenOffice, and Google Docs
Best for: Business that charge for services on an hourly rate
Cost: Free
Source: Spreadsheet123
If your business primarily offers services rather than tangible goods, this price template is an excellent choice. Describe what services you are providing and list an hourly rate. Be sure to have a written agreement with your customer about the maximum number of hours allowed for the project, so you know to have a conversation with your client if you're running short on hours and need them to approve additional time.
7. Construction Price Quote Template
Format: Excel
Best for: Small construction businesses
Cost to download: Free
Source: Smartsheet
This a simple, straightforward price quotation template construction that businesses can use with any customer. It includes a breakdown for materials, labor, and miscellaneous charges that's easy to understand. Just add your logo or company name at the top, plug in your numbers, and download to print or share with your customer. This helpful template could also help simplify your quoting process when paired with a construction-specific CRM.
8. Cleaning Service Price Quote Template
Format: Excel, Word, and PDF
Best for: Residential or commercial cleaning businesses
Cost to download: Free
Source: Smartsheet
Whether you own a personal cleaning company by yourself or manage a medium-sized cleaning service, this price quotation template will get the job done. Customers appreciate a detailed list of what they're paying for when you clean their home or business―and this template is perfectly designed to give them that information―and earn their business.
9. Music Event Quote
Format: Google Docs, Word, PDF, Excel, and Pages
Best for: Businesses that provide bands or DJ services to parties and events
Cost: $19.99 or $8 per month for unlimited templates
Source: Template.net
If your business provides music or logistics for events, this editable price quotation template will work well for you. It's simple to use and comes in a variety of formats and automatically calculates your totals. Plus, if you pay $8 per month, you have unlimited access to more than 50,000 professional templates for your business and 24-hour chat and email support.
10. Integrated POS Price Quote Template
Format: Web-based and PDF
Best for: Any small to medium-sized business
Cost: Free
Source: Invoice Home; once you sign in for free, you can access the template.
Invoice Home offers an array of professional-looking price quote templates that you can use for nearly any billing purpose. You can add your logo or use a logo from its gallery and choose from different designs. Once you fill out the web-based form, download it as a PDF or save it right in your online account. Then, you can email it to the customer straight from the website and even collect payment via PayPal or credit card.
11. Web Design Price Quote Template
Format: PDF
Best for: Any small to medium-sized web design business
Cost: Free
Source: JotForm
This price quotation template works well for any business that provides website development services. This is a free, simple template that still looks professional and is easy to read. It's an excellent choice for solopreneurs who don't need a lot of bells and whistles in their price quoting process.
12. Catering Price Quote Template
Format: Web-based with PDF export
Best for: Any small to medium-sized catering business
Cost: Starting at $19.99 per month
Source: Proposify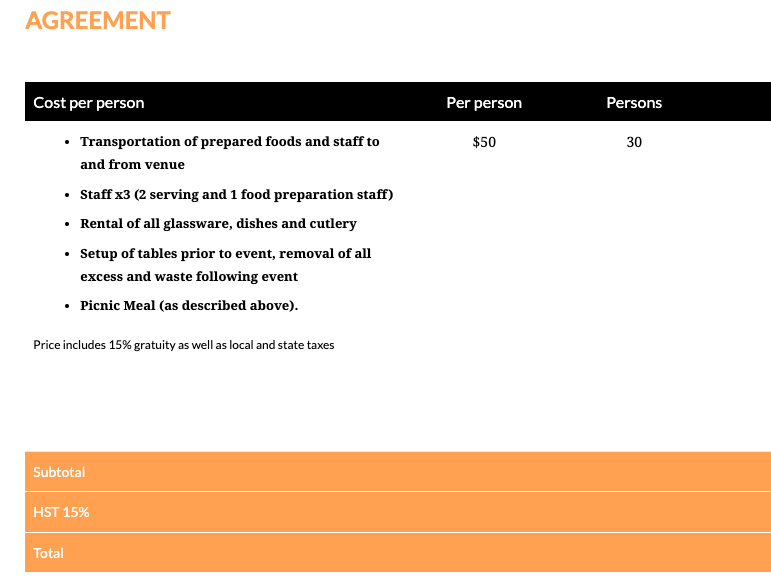 If you want to go beyond with your price quote, use Proposify to impress your customer. It has a broad range of rich features, including a content library, online signatures, notifications and metrics, user roles and permissions, and email and chat support. The "tall" plan is great for solopreneurs and small teams, covering up to three users at $19 per user, per month.
How to Create Your Own Price Quote Template
While there's no shortage of price quote templates available online, sometimes you need to craft your own for your business. Creating your own template doesn't have to be cumbersome no matter what software you use, but you do need to remember to include several key elements.
"A good tip is to make it comprehensive but brief. Include all the standard business information. Have the company name, address, client details, customer ID, and a quote number. Don't make the pricing entries too complicated. Include a time table, any applicable taxes, a 'valid until' date, terms and conditions, payment terms and methods, as well as space for signatures. A key thing to remember is to itemize the quote and have space to explain succinctly where each number comes from."

—John Linden, Interior Designer, MirrorCoop
Below are six details you should typically include in a price quote template:
Your company information: Include your company name, logo, appropriate contacts, physical address, email address, and telephone number.
The customer's information: Include a client name or business name, customer ID, quote number, phone number, address, and email address.
Key dates: While it's important to list the date you generated the quote, don't forget to list the "valid until" date. This can often move a customer towards a decision, especially if you are offering a discount that will expire in a certain amount of time.
Definition of products and services: List every service or product you will be providing, line by line. Write the price of each product or service in the column next to it.
Total cost: Include the sum of all the services described in the product or service definition, tax, and any discounts.
Terms and conditions: Spell out any terms and conditions related to the price quote, such as billing procedures and delivery timeframes.
Pro tip: Don't send out a price quote and let it linger. Once you email a quote, set up a time to follow up and discuss any next steps involved and answer questions the customer may have.
Frequently Asked Questions (FAQs)
What's the difference between a price quote and estimate?
An estimate is a less formal document than a price quote. Typically, a quote isn't sent until the customer is close to making a decision and ready to sign the dotted line. An estimate might even be included in a follow-up email after the first initial sales conversation.
What's the difference between a price quotation templates and an invoice templates?
Price quotes, or price quotation templates, explains what the customer will owe for services that have not yet been completed. One a price quote is accepted, you can use an invoice template to send the customer an invoice. Think of the invoice as you would a bill for services you've sold or work you've already completed for the customer.
When should I send a customer a price quote?
You should send a customer a quote when they indicate they are ready to make a buying decision. If the customer doesn't ask for one, don't assume they are ready. You can help tease out their readiness by asking, "What's a good next step here?"
Are price quotes legally binding?
It depends. If your price quote template includes a signature line, it's usually binding. If it doesn't have a signature line, you typically can't enforce it. It also depends on your company policies and terms and conditions regarding payment.
Bottom Line: Price Quote Templates
You can create a sales quote template yourself, but there is a wide range of templates and software available to make it easier so you can focus on providing the best products and services to your customers. Review the templates outlined in this article and pick a solution that works best for your business. No matter what you choose, make sure to include the key details in this article in any price quote template.
While you can craft a new price quote template for every deal manually, it's more efficient to use a CRM that can auto-generate them for you. Pipedrive CRM offers integrations that allow you to create price quotes for each deal within your CRM, so you can save time and organize everything you need to know about an opportunity in one place.