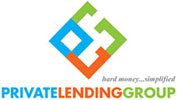 Private Lending Group Reviews & Rates
Private Lending Group offers hard money loans for real estate investors. They have been in business since 1986 and have funded over $250 million in loans. They work with investors of all experience levels. Rates range between 10% and 17% and they'll lend up to 65% ARV or 80% LTV. They were rated 4.4 stars based on 17 Facebook Reviews.
Lender Information
Private Lending Group Inc Rates & Terms
Types of Properties
Single-family homes
Townhouses
Condos
2, 3, and 4 unit buildings
5 to 100 unit apartment buildings
Commercial Properties (all types)
Vacant land (non rural)
Loan Amount
$50,000 to $5 million
LTV
Up to 80%
ARV
Up to 65%
Interest Rates
10% to 17%
Lender Fees
4 to 8 points (minimum of $4000)
Minimum pre-payment of four months' interest
Loan Terms
1 to 4 years
Minimum Qualifications/Documentation
First position only
Typically at least 580 credit score
At least 25% down payment

Time to Funding
7 to 14 days
Other Financing Available
Rehab loans
Investment loans
Commercial loans
*Exceptions may be granted. Lender information is updated often, however exact lender terms may have changed.
States Currently Lending In
Wisconsin, Indiana, Ohio, Pennsylvania, New Jersey, Florida , Illinois, Texas
Work For Private Lending Group Inc? Claim This Page.