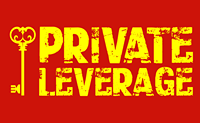 Private Leverage offers hard money loans for real estate investors in Texas metro markets. They have been in business since 2013. They work with investors of all experience levels. Rates start at 10% to 16% and they'll lend up to 80% of appraised value. They were rated 5 stars based on 2 Facebook reviews.
Lender Information
Private Leverage: Rates & Terms
Types of Properties
Multifamily residential properties
Raw land
Office
Retail
Rental properties
Loan Amount
$50,000-$500,000
LTV
Up to 80% of appraised value
ARV
No info
Interest Rates
10% to 16%
Lender Fees
No upfront fees
Loan Terms
1 to 25 years (with 5-year balloon)
Minimum Qualifications / Documentation
First lien position only
Good credit
Time to Funding
Typically 7 days
Other Financing Available
Commercial loans
Residential loans
*Exceptions may be granted. Lender information is updated often, however exact lender terms may have changed.
States Currently Lending In
Texas