A production schedule is a timeline that defines the tasks, milestones, assets, budget, and assignments involved in creating a product. Businesses use them to manage the manufacturing of products, or in the creation of projects like film productions or marketing campaigns and can be as simple as a spreadsheet, or as complex as enterprise-level software.
Monday is a flexible software tool for teams that manage projects, production schedules, or content calendars. It includes calendar and timeline views, as well as more advanced features like Gantt charts and status reporting. Monday offers competitive pricing that begins at $5 per month, per user for up to 5 users. Visit Monday's website to start a 30-day free trial today.
How Production Scheduling Works
Production scheduling works by combining all of the important tasks, assets, people, and responsibilities involved in the creation and delivery of a product into a timeline that allows you to visualize the production process and keep everything moving in the right direction. Production schedules can be created by simply listing the deadlines for various tasks in a spreadsheet, or by using dedicated software tools that help manage all of the variables involved.
Production scheduling allows users to enter orders and schedule them based on the intended delivery date, and help salespeople visualize turnaround times. In addition, many software options include the ability to select inventory, order supplies, and assign the order to a specific time-window for production. In general, production schedules work by answering the questions: what happens, when does it need to happen, who is responsible, and with what resources?
For example, a furniture-maker might create a production schedule that includes each of the steps in creating a dining table, along with the parts required. When a customer order comes in, the salesperson enters the order, the purchasing manager allocates the parts available and orders those that are missing, and the production manager chooses an available slot on the calendar for the table to be built by the carpenter with the necessary tools and parts.

"A production schedule is nothing more than a prioritized allocation of capacity. If done right, this document will align your teams, minimize inventory carrying levels, maximize order fulfillment, and demonstrate performance. The main benefit is that it provides direction and tells all your production folks what they should be doing at any given time." — Brandon Wright, COO, Idaho Grain Flour Mill
Who Should Use a Production Schedule
Production schedules are used primarily by manufacturers, including stamping, molding, and machining facilities. Usually, a production scheduling software tool would be used by operations managers, as well as line workers responsible for various stages of production. However, they are also used by creative firms that produce ads or films.
A few of the roles that can especially benefit from a production schedule include:
Manufacturing Plant Manager: Managers who are responsible for the overall operation of a plant need to know how to staff and prepare.
Production Manager: Production managers use schedules to manage staffing needs, deliver supply materials, and keep track of which workstations are responsible for which stages of production each day.
Production Operator: Needs to know what work to do, and when it must be completed. Operators use a production schedule to organize their workload for the day and have an understanding of which specific tasks they need to complete to stay on deadline.
Sales Managers & Reps: Better understand how production affects the ability to deliver products and services according to contracted terms and timelines. Sales team members can also use the schedule to inform clients of available turnaround times.
In addition, production schedules help film and television crews to stay organized and know which scenes are going to be shot and when, and let the talent know when they are needed for rehearsals and filming. While this type of production schedule is different from the one used for manufacturing, many of the same principles apply in that they both seek to combine deadlines, tasks, and areas of responsibility into one timeline that can be used to keep production moving.
Some of these roles include:
Producers: Individuals responsible for the overall project use the schedule to arrange for financing, make decisions about what sets and props are needed, and transportation for cast and crew
Videographer: Use the production schedule to keep organized as to which scenes are being shot when, to make sure enough time has been allocated to fit everything in. This also helps in editing since not every scene is shot chronologically
Cast: The production schedule lets the crew know which days they are working, and which scenes they need to have prepared for filming
Production Schedule Costs
The cost of a production schedule depends largely on the overall scope of what you are producing and the specific software or tools you choose to manage all of the moving parts. Since the most basic production schedule might just be a to-do list, the cost would primarily be the time required to think through and write down your tasks. At the same time, complex manufacturing might require sophisticated software costing thousands of dollars a month.
Some of the common costs of production scheduling include:
Software: Providers that are designed for managing production schedules range from project management tools that cost from $5 to $50 per month, per user, to complex enterprise MRPs that can cost hundreds or thousands of dollars per month
Hardware: Equipment that tracks inventory counts and locations, including GPS devices and barcode scanners, can cost tens of thousands of dollars
Personnel: While production scheduling saves labor expenses overall, it requires time to manage and oversee the process, including managing order flow and tracking production status
Implementation: Large manufacturers often require outside consultants to assist in configuring and implementing their production scheduling system which can cost $100 to $200 per hour, with total costs often above $10,000.
While there are certainly costs involved in production scheduling, the reality is that they are far outweighed by the time savings, efficiency, and reduction in waste. At the same time, it's important to implement a production scheduling system that aligns with your current as well as future manufacturing needs.
Production Schedule Features
Production scheduling involves a variety of features that depend on the tools you use to create your schedule. Each are designed to help keep track of each aspect of your production process and create efficient workflows that eliminate waste and delays by managing orders, organizing your tasks, and identifying problem areas through status updates and reporting.
Some of the most common features include:
Order Management
The foundation of production scheduling software is the ability to input customer orders, procure inventory, and assign the order for production based on the customer's due date. Advanced versions can automatically notify suppliers that parts and components are needed and update your stock levels based on available supplies or incoming orders.
Timeline & Calendar
The timeline or calendar feature of production schedule software allows you to view your workload and assign customer orders based on the availability of time on a production line. This timeline lays out the entire process from start to finish, often in a Gantt-style, or waterfall chart. The timeline also helps distribute production evenly over time to make sure that you meet customer deadlines without overloading your manufacturing capabilities.
Task Management
Companies that use production scheduling software are often managing the creation of products that require input from multiple resources, including individuals who handle different stages of the process. Production scheduling allows you to assign tasks to the relevant departments or individuals, and monitor their completion. Since stages are often dependent on what comes before them, software apps often include notifications to keep production moving.
Milestones
Milestones let you keep track of important steps in the production process and alert you when they are completed, or when you fail to reach them according to the schedule. Milestones generally represent the completion of a specific stage or group of tasks. For example, parts selection, assembly, finishing, and quality control might all be groups of tasks that represent milestone stages in the manufacturing of furniture.
Collaboration
Production schedules are created to keep the production process moving forward, and the team moving in the same direction. They usually include the ability for team members with different responsibilities to quickly view what is happening with a specific customer order, and share feedback on the production process. In some cases, this includes review and approval features allowing sales or production managers to interact with orders as they move through the process.
Status Reporting
Another aspect of production scheduling is the ability to quickly monitor and assess any issues that occur. Reporting features can help you evaluate your turnaround times and any areas of your production process that are creating bottlenecks or delays. Managers can use these reports to evaluate both company and individual performance and make changes to optimize the overall production process.
For example, software like Monday allows you to create due dates for tasks and lets you quickly identify when production is running behind so that changes can be made and expectations adjusted when necessary. Monday also provides a highly visual status indicator that allows team members to easily see which areas of production are completed, on-schedule, delayed, or waiting to be started.
Integration with Productivity Tools
Keeping your production schedule connected with other tools in your business is important in providing a complete picture of how you are performing. Being able to connect your customer relationship management tool (CRM) or accounting software lets you sync customer information and sales to help you track how your sales efforts, production process, and financial performance are all related.
Production Schedule Tools
There are a variety of software tools available for production scheduling, ranging from flexible project management apps that can be adapted to video or media productions, to full-featured Manufacturing Resource Planning (MRP) software that handles complex production processes for large manufacturers. Finding the right tool for your business should be a decision carefully considered based on your needs and capabilities.
Software providers that offer tools for production scheduling include:
MRPeasy

MRPEasy is a cloud-based manufacturing software tool that includes production scheduling, inventory management, delivery scheduling, and integration with sales and accounting tools. The production planning tool works by providing users with a simple interface for creating and scheduling orders, assigning resources, and distributing tasks. MRPeasy also includes a CRM that allows users to track orders from quote to delivery.
MRPeasy is an ideal solution for small manufacturers looking for an intuitive tool for resource and production planning as well as managing customer orders. Pricing begins at $49 per month, per user, though discounted pricing is available for more than 10 users. A 30-day free trial is also available for each plan.
Insightly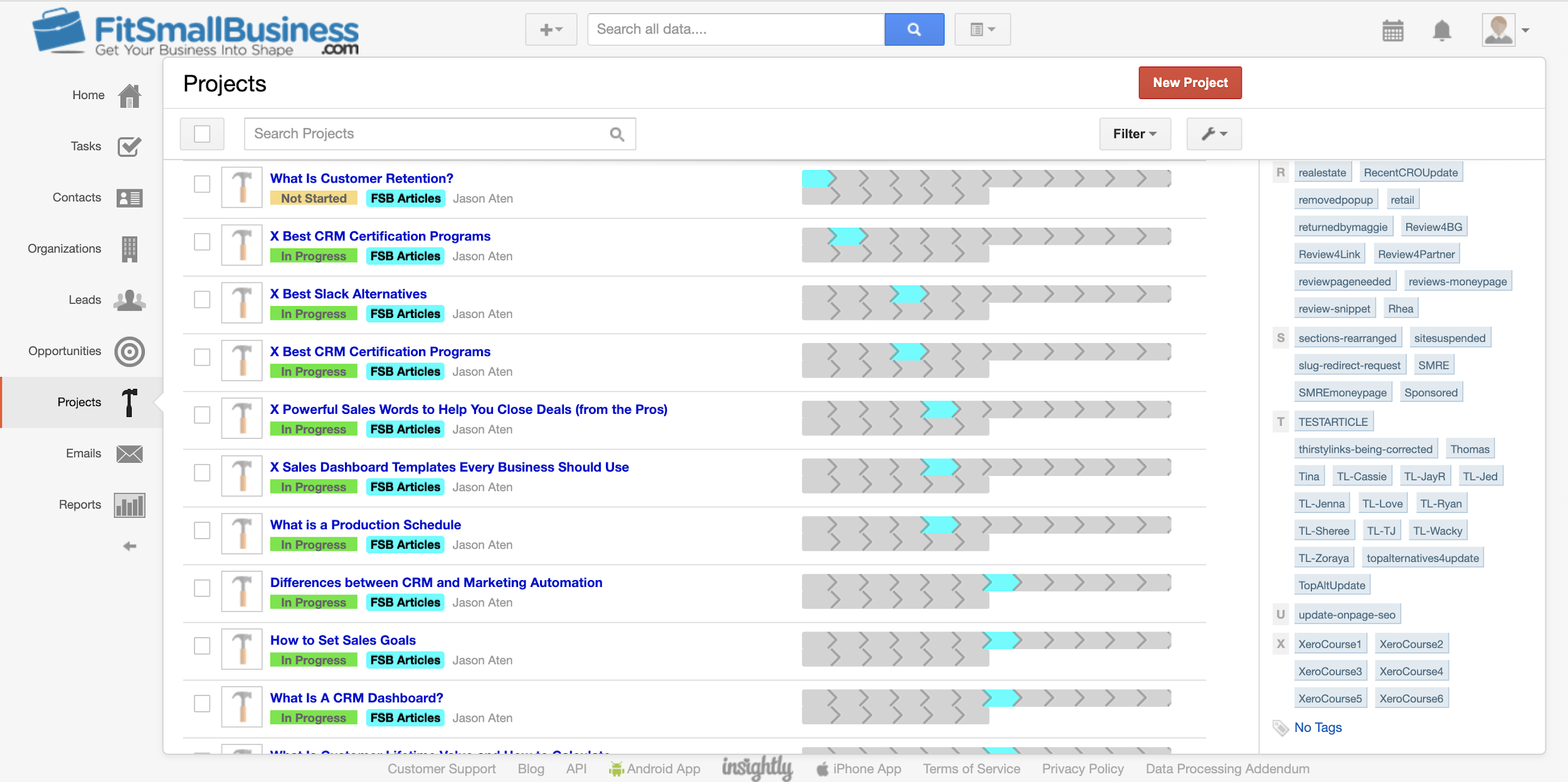 Insightly is a customer relationship and project management tool that allows users to create projects from deals they have won, letting them seamlessly track production. Insightly allows you to track milestones, assign tasks, manage and automate processes, and integrate with external software to keep your production workflow moving efficiently.
Insightly is ideal for agencies that produce digital media and ads for clients, and want to keep track of sales information and projects in one flexible software tool. Insightly includes a free-forever plan for up to three users, and paid plans range from $29 to $99 per month, per user. Users can also sign up for a 30-day free trial of any plan.
Monday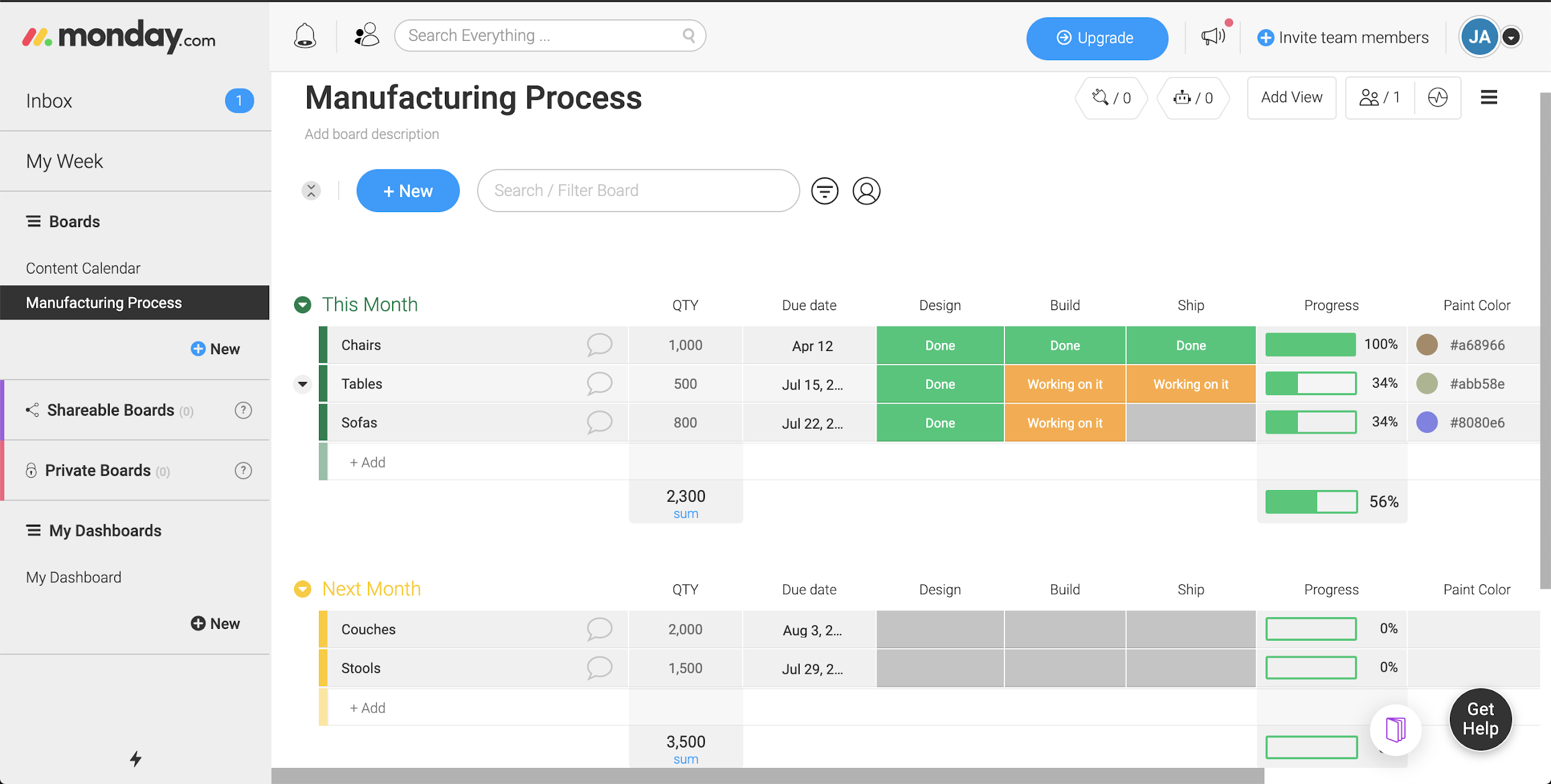 Monday is a project management tool, however, it is adaptable to a variety of project and production types as a result of its highly customizable interface. Monday is especially suited to film and creative productions that involve collaboration among a large number of team members as well as simple manufacturing processes like furniture makers.
Monday includes a library of project templates that make it easy to get started tracking your manufacturing process, content calendar, or film production. Plans range from $25 per month, per user, to $59 per month, per user for up to five users depending on features included such as a mobile app and cloud-based file storage. Users can sign up for a 30-day free trial to get started today.
Benefits of a Production Schedule
The primary benefit of a production schedule is that it streamlines and organizes your production process. This results in savings in terms of both time and money, which helps reduce overall expenses involved in the manufacturing process and increase profitability. It can also help you better manage inventory and supply levels, which results in better turnaround times and less overhead costs.
A few of the primary benefits of production scheduling include:
Saves Money: Production scheduling saves money because it streamlines the overall manufacturing process by eliminating idle stages and wasted resources. It also allows companies to reduce expenses by better planning staffing to meet current needs
Streamlined Supply Chain: Having the ability to track orders, stock levels, parts inventory, and deadlines helps reduce the amount of floor space dedicated to maintaining supplies and completed products
Improved Communication: Utilizing one system to manage your overall production makes it easier for team members to see what is coming down the pipeline, and prepare based on their responsibilities in the process
Happier Customers: By better utilizing your manufacturing capacity to meet customer demand, you can deliver more jobs on time, which increases overall customer satisfaction and leads to increased future revenue opportunities.
Bottom Line
A production schedule is an important tool for businesses who manufacture products or create media or other services. Understanding how they work, and selecting the right tool for your business can save you time and money, and streamline your overall processes resulting in happier clients and increased sales.
If you're looking for a project management tool that can help you track your manufacturing processes, Monday is a good place to start. With flexible templates meant to help you get started, you can easily improve your current processes and help your team stay organized. Monday plans start at $25 per month for up to five users. Visit them today to get started!
Visit Monday