Statista estimates that there are currently over a million practicing lawyers in the United States, making the profession highly competitive. Therefore, it's important that you and your firm always stand out to your target clients. Start by designing attorney business cards that are memorable and effectively promote your brand.
Here are 25 valuable design tips for creating the lawyer business cards that impress as well as some examples to follow.
---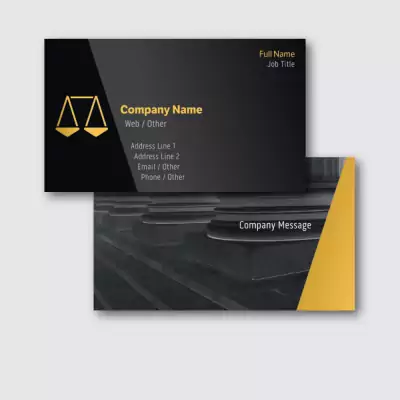 A classic, professional design for marketing materials is one way to attract potential clients. Bold, dark colors and strong lines give clients an impression of competence and skills you bring to the table as a professional lawyer. Try hiring a freelancer from Fiverr to design a simple yet sophisticated business card that properly represents you and your practice. Pricing starts as low as $5. Click here to find a freelancer.
---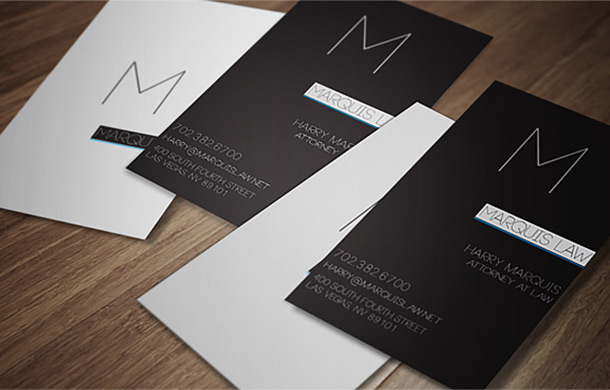 A modern minimalist look gives you the same elegant feel of a minimalist design with an added personality that shows a younger approach to the profession. Notice how the front and back designs are a mirror of each other. There is also no logo or image, but font elements are included to give a modern feel.
---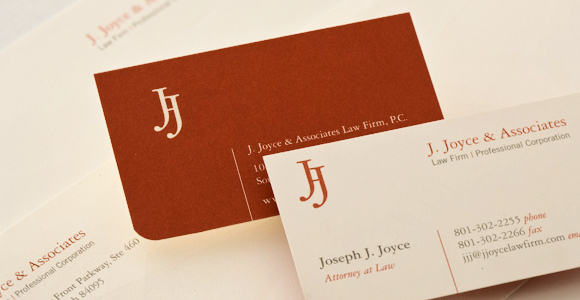 We often see business cards with dark and light backgrounds on either side. When using this kind of design, it's important that both sides have a matching color theme. This promotes a cohesive look and strengthens your business brand.
---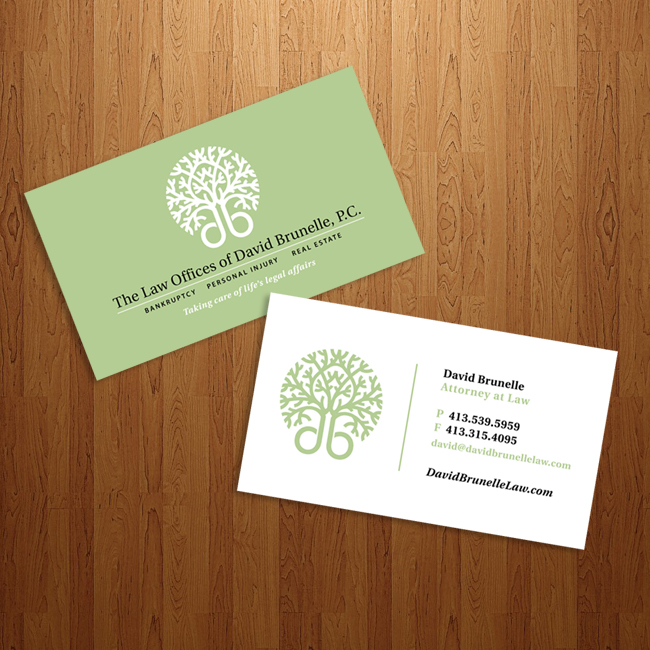 You don't always have to include the traditional scale of justice when designing your lawyer business cards. More and more people are looking for a refreshing look in their marketing materials, giving non-traditional designs a bigger chance to get noticed. Come up with a logo and tagline that speak more personally to potential clients and include them in your business card.
---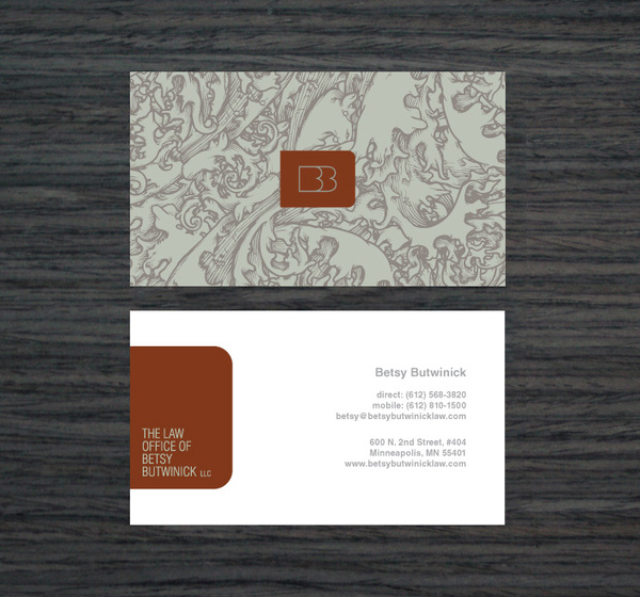 Block-colored business cards are great, but there's also a creative opportunity to use patterned backgrounds. Choose a visually-appealing pattern that reflects your brand and apply it to one side of the card where you add your logo, as in our example.
---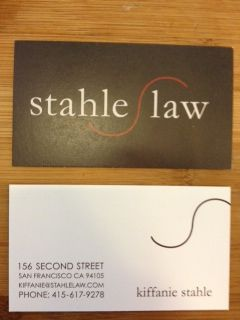 It's a good idea to design your business card specifically to attract your distinct clientele. This ensures that you get to connect with potential clients from your first meeting. For example, if your target clients are artists, choose a business card design that's free and creative instead of the traditional, formal type.
---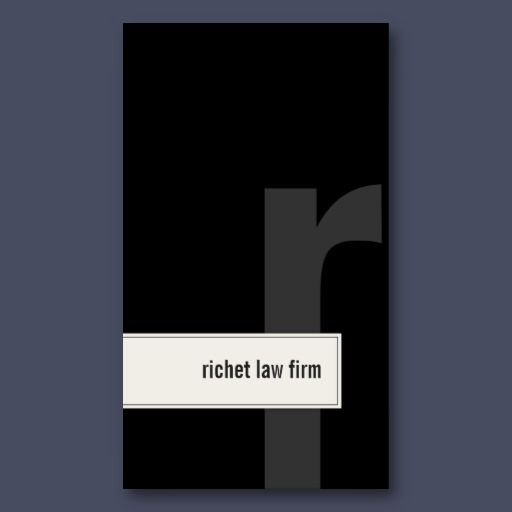 A bold, professional look for lawyer business cards doesn't always have to be stuffy. This one makes use of a simple bold monogram and a rectangular banner to give interesting elements to a gray and black design. It's modern and memorable even without an image or logo.
---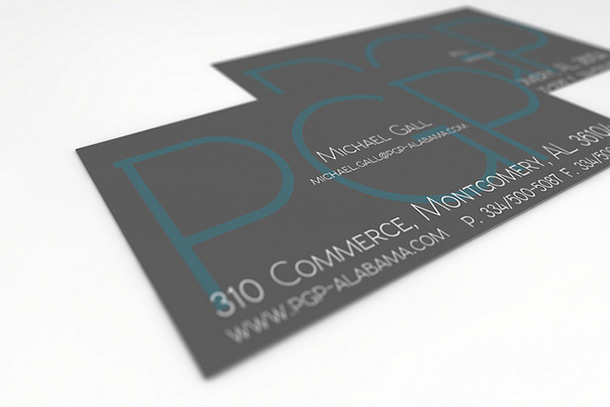 If you're not interested in adding an image on your business card, or you don't have a logo, one unique idea is to use oversized typography. This technique gives emphasis to your choice of typeface, so it's effective for creating a design using your brand color and business name. One tip when using this is to keep the font simple and use colors that stand out but don't overwhelm your business card.
---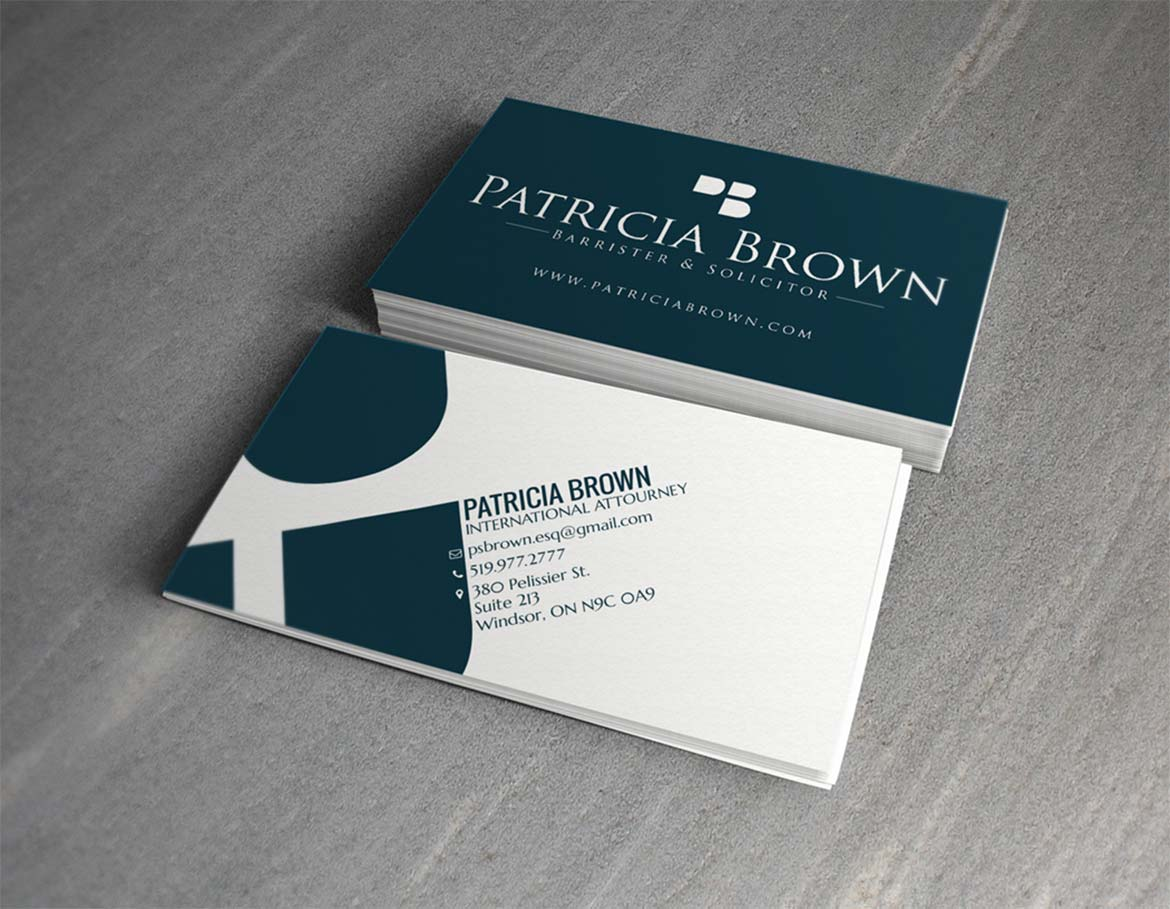 For stronger branding, you might want to incorporate your logo into the design instead. Oversize the logo and have it cropped on one corner. Make sure that it's still recognizable. The colors you use should also be consistent on the back and front of the business card.
---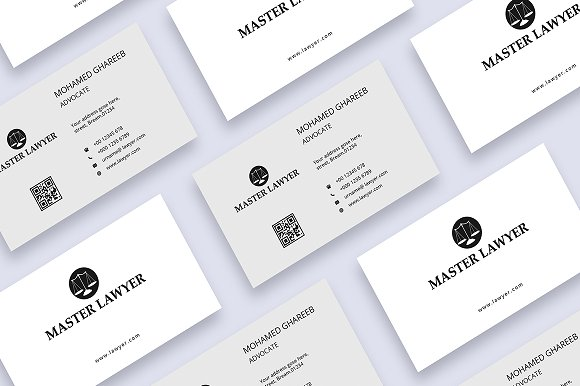 A master lawyer's business card needs to look the part. The design for this template is simple but carries a dignified look, and the white background can easily connote impartiality. Notice how the layout is clean and the choice of fonts makes information clear and easy to read.
---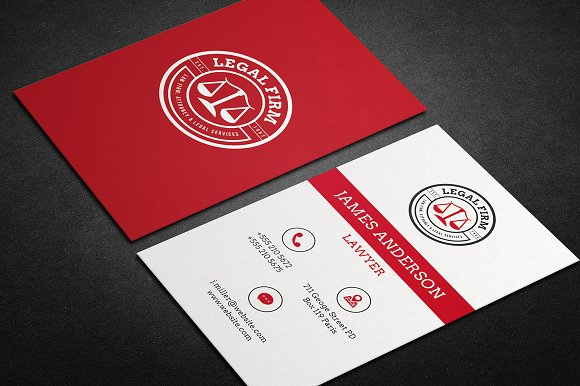 To choose the color red for your brand means you want to evoke the emotion behind it. Red is used universally to signify strength, courage, and intensity, which can work for lawyers specializing in areas such as personal injury, criminal and even divorce.
---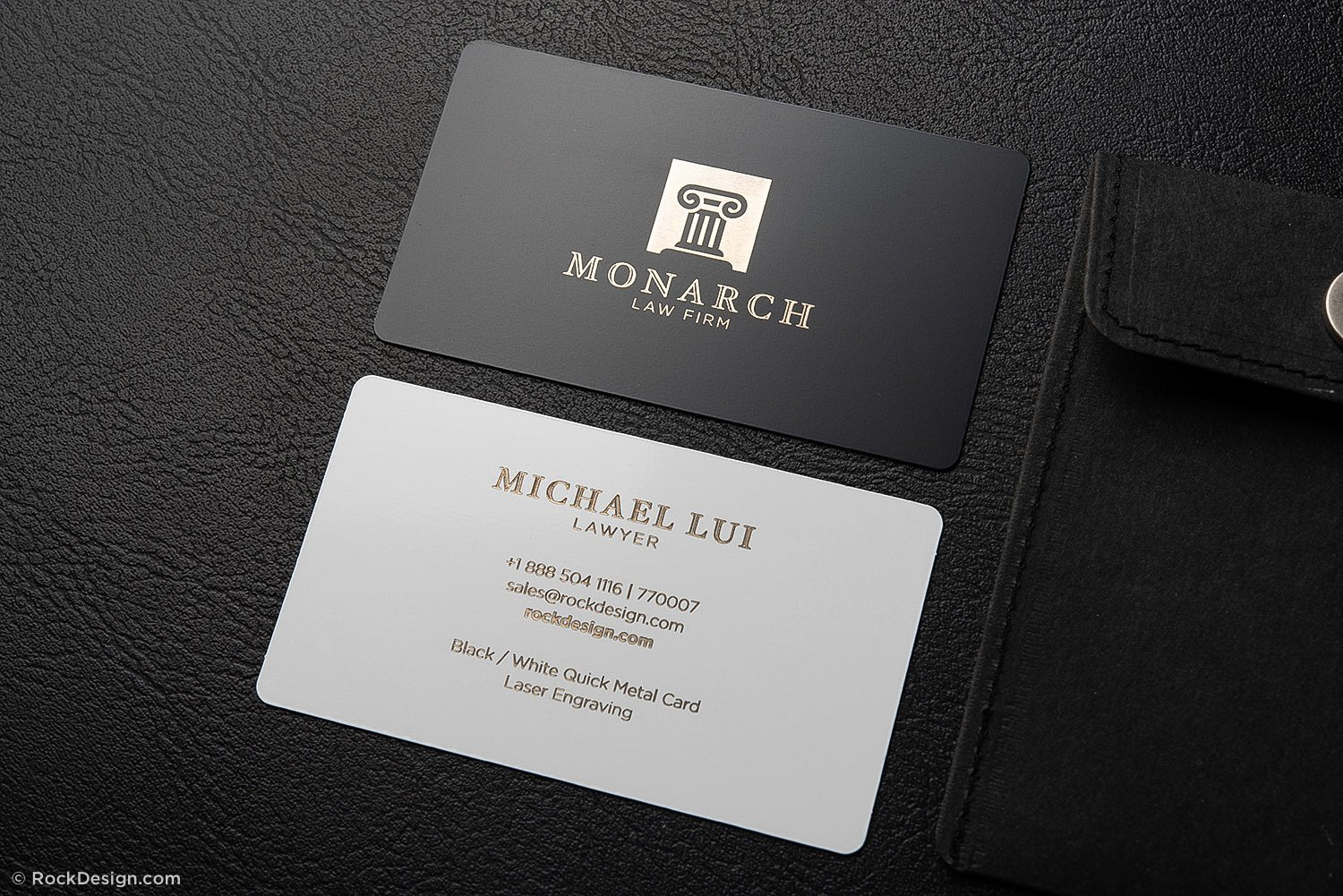 Do you have a unique business name? This black business card with the classic design exudes elegance and exclusivity, which can tell potential clients the level of competency that can be expected from your firm. The whole look plays well with the firm's name and will leave a lasting impression on its audience.
---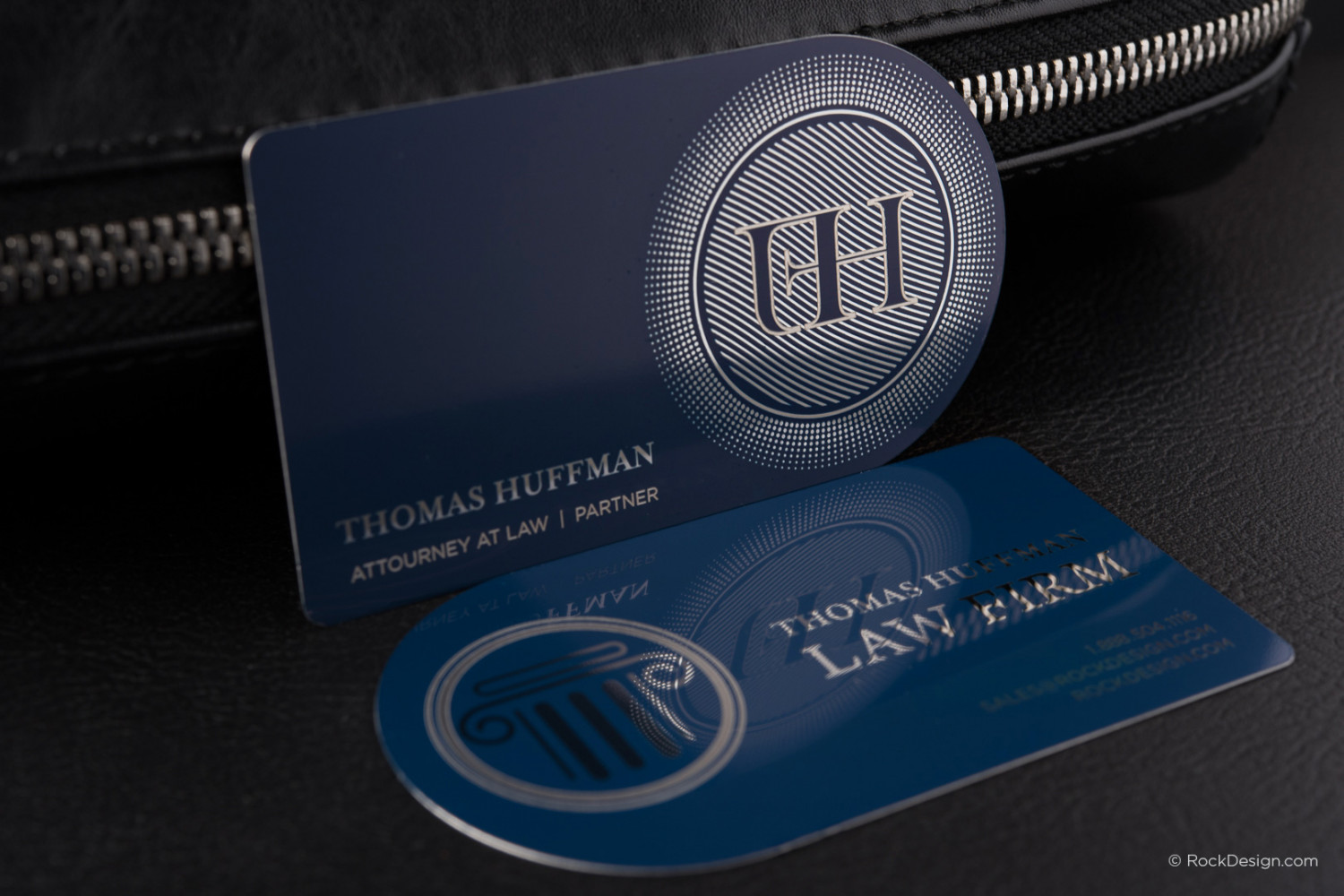 Lawyer business cards don't always have to be too formal. For a business that wants to exude a modern and youthful feel to their brand, adding a die-cut element can easily help you stand out. This template projects an overall modern vibe while maintaining a professional look to impress potential clients.
---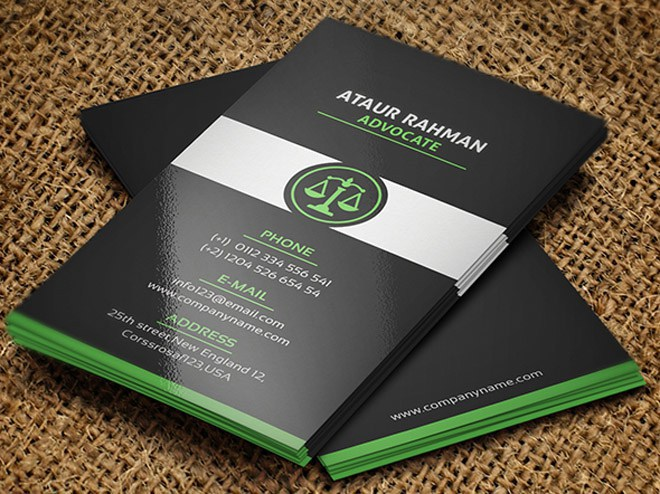 For a more corporate feel to your business card, this template is for you. It uses a professional design with a twist to make it more recognizable over its competitors. The portrait layout and the choice of color give it a standout look and can easily be changed to match your brand.
---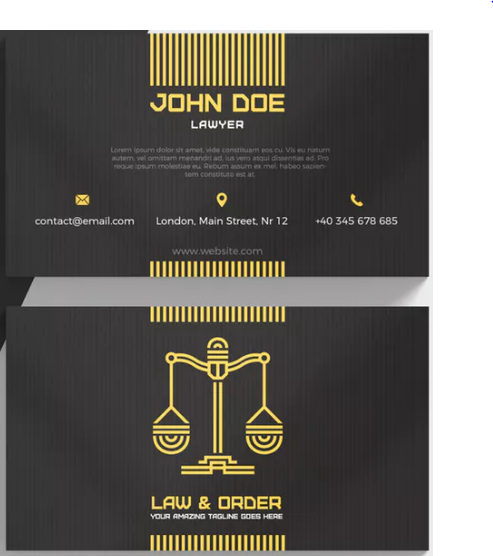 If you are representing yourself instead of a firm, try to bring out more of your personality to become memorable. This template makes use of repetitive lines in its design and illustration, which can mean persistence and focus and which are traits potential clients will look for in a professional lawyer. It also carries a personal statement that can help the audience easily recall your brand.
---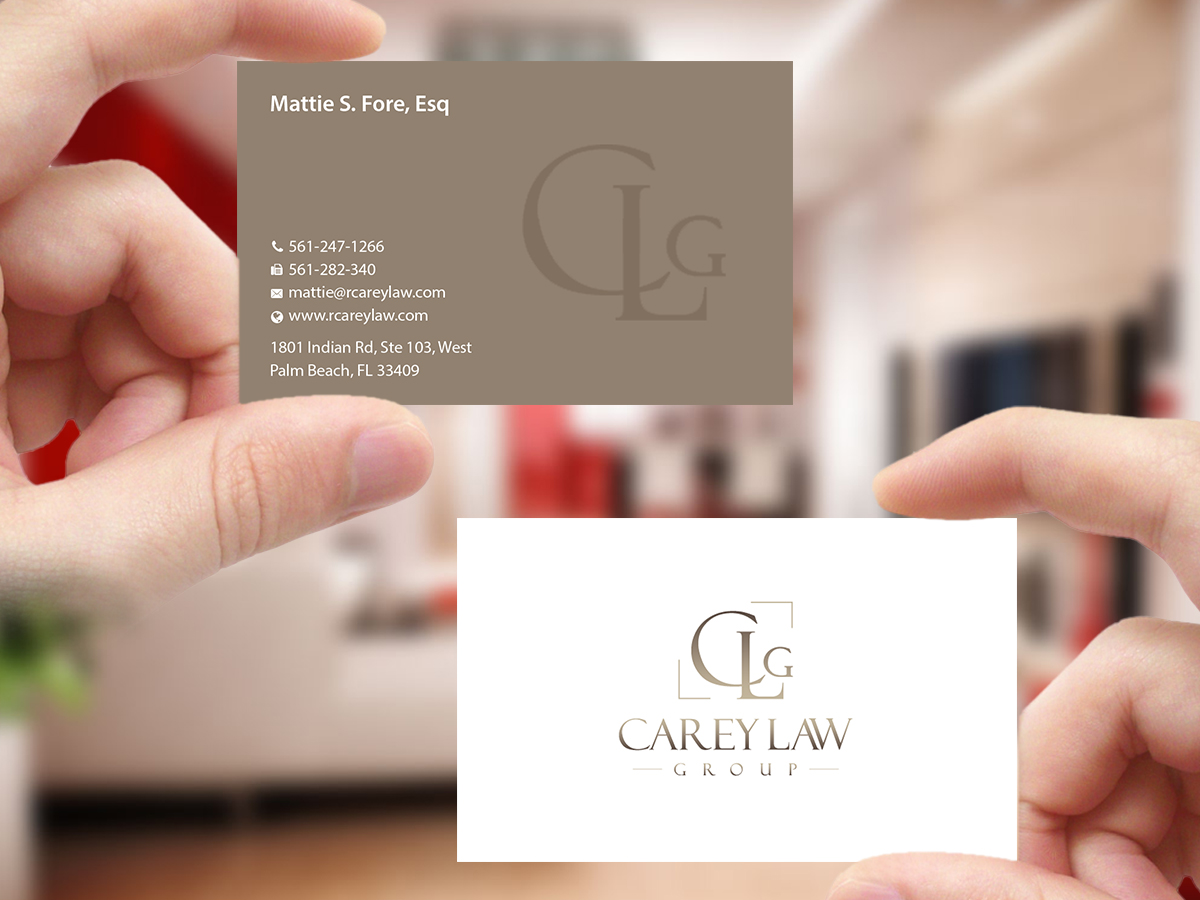 A clean layout ensures that important information is always readable and not getting drowned out by other design elements. The wise use of space helps manage images and text, and is focused on getting your message across to your audience.
---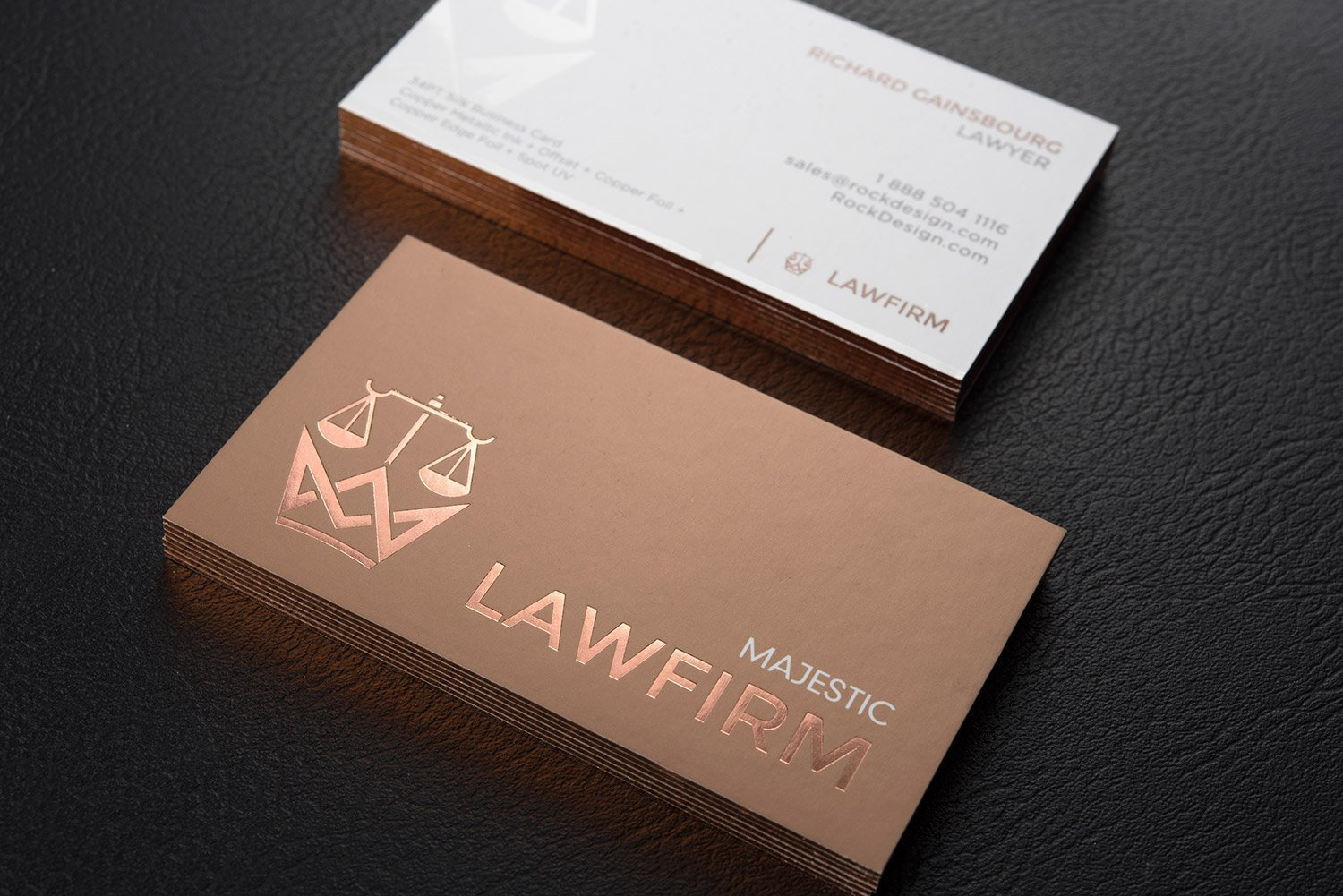 Add a distinct quality to your business card by using special card stock. If your goal is to present your brand as trustworthy, choosing a durable paper option like the 34-point, silk-laminated card stock in our example can send the right message. Design it with copper metallic gold ink and foil as well as spot UV for a subtle gloss to bring attention to your logo.
---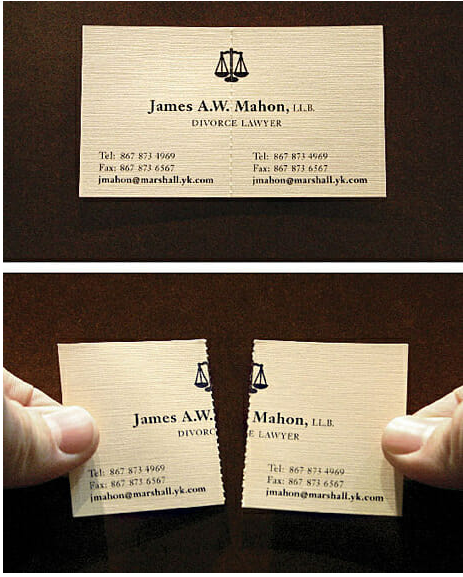 Want an interesting conversation starter for your business card? Then try this example. This is a divorce lawyer's business card. Notice how the contact details are printed twice and a subtle perforation runs through the middle of the card. This design is both witty and functional when you want your clients to refer their acquaintances to your business.
---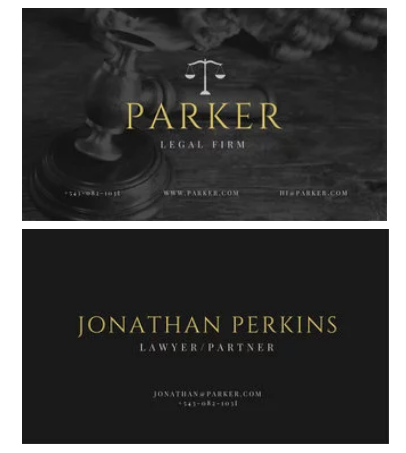 Monochrome themes give a more interesting look to images and serve as better backgrounds to highlight your message. Use overlaid text in sharp colors to emphasize keywords and details you want the audience to remember. Just remember to make sure that information included in the monochrome background is also still legible.
---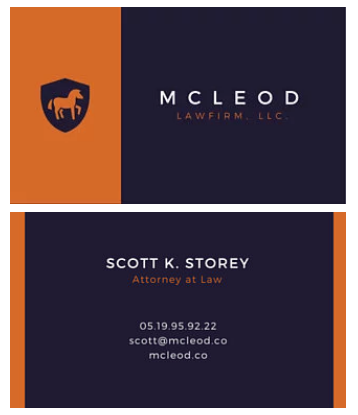 Your brand colors help define your business, so using them as background for your card gives your business an identity that's easily recognizable. Plan your layout carefully, keeping in mind the kind of message you want to give. If you have a logo, make sure that it both stands out and complements your background.
---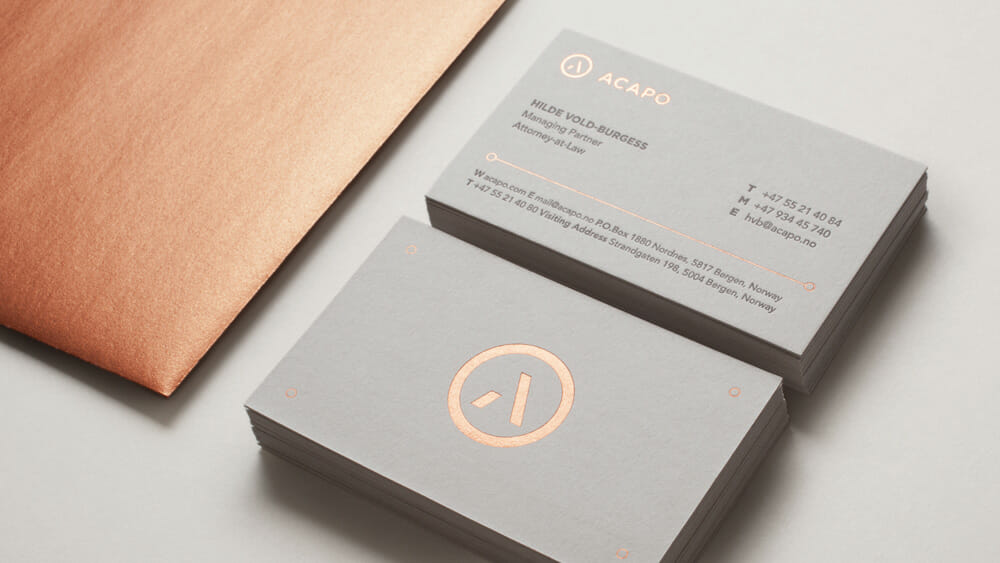 There are different kinds of foil design options available for business cards, but copper is considered rare. The color it creates gives a softer overall look and can work great as accent or feature depending on your brand. Experiment with different color backgrounds and card stock finishes to find what's best for you.
---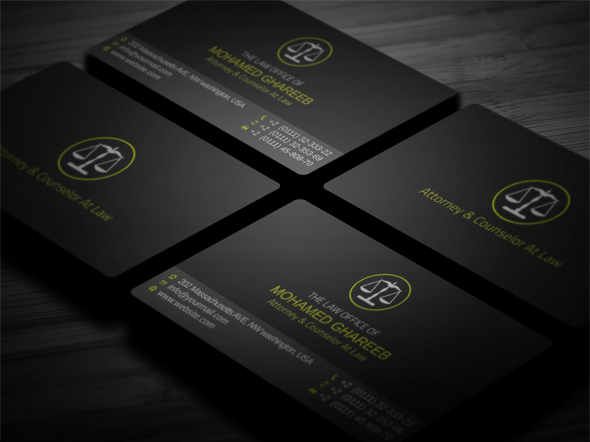 Dark backgrounds can help give off an elegant, exclusive vibe. However, the challenge is to ensure that your message is always readable, with the right accent and contrast. Not all text have the same value, so highlights are used for key information while a more subdued tone is used for everything else. Find the right blend that results in a cohesive look, without one element overwhelming the other.
---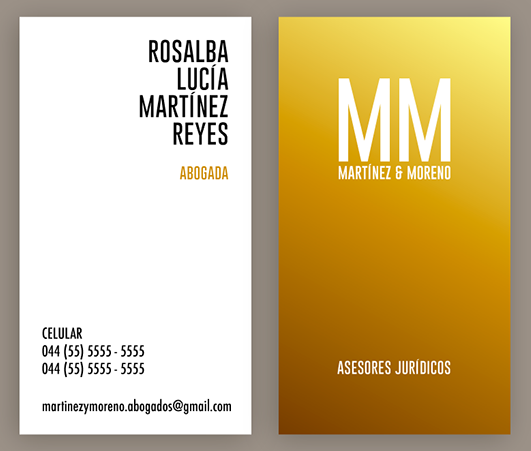 Now we have bold colored backgrounds. Although black and white themes are preferred for a professional, elegant look, brightly colored business cards easily grab attention and are more likely to be noticed. Explore colors outside blacks, grays, browns, and greens to stand out from competitors.
---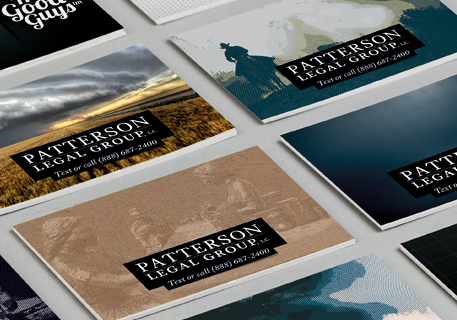 Be careful of falling into the stereotype when using images for your background. Stay away from gavels or scales of justice stock graphics, as it can give the impression of poor creativity or lack of imagination. Use custom designs or abstracts to give your business card the personality it needs to establish your brand.
---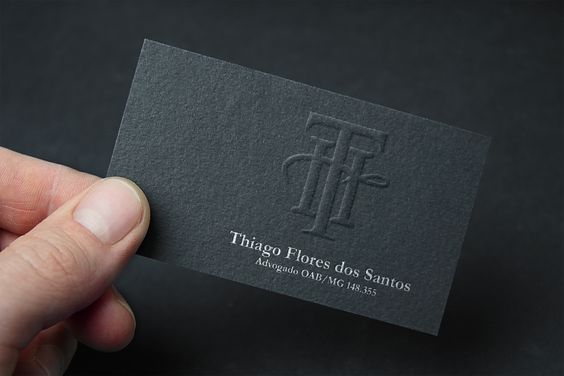 Adding an embossed element to your business card is one way to create a memorable design without the flare of foils or spot UV. This is often used to evoke a subtle, elegant vibe to impress potential clients. Consider using a matte finish instead of a glossy finish, as it works perfectly with embossed elements in giving your business card a more professional look.
---
Over to You
Reaching out to lawyers can be intimidating, so make sure your business card lets potential customers know that you're both professional and approachable. Follow our tips for designing the best attorney business card and get ready to meet new clients.
Want to share your favorite lawyer business card tips? Let us know in the comments.